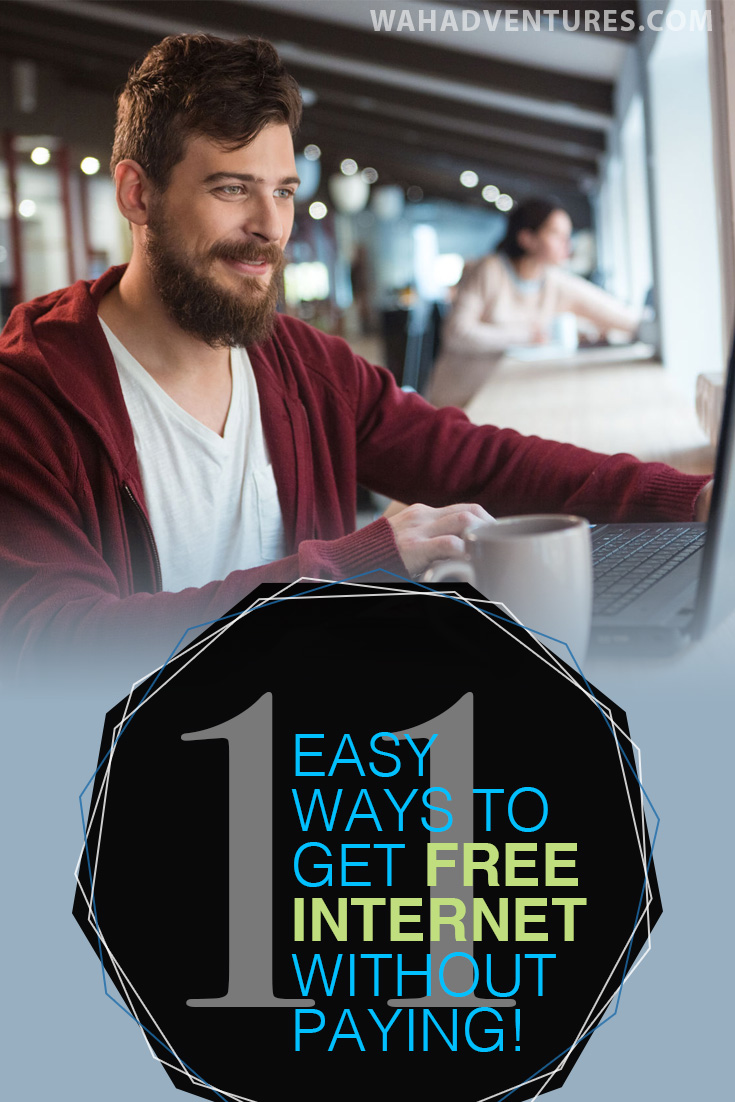 Don't be surprised if the internet service provider you called wants to charge $40 to $60 per month for high-speed internet.
Need Easy Extra $350+/Month For Free?
According to Time, the average person pays about $50 per month for a broadband connection.
Only a decade ago, the average was about $10!
As our internet gets speedier and more people hop on to the web, internet prices keep on rising.
It's no wonder, then, that people take advantage of free WiFi wherever they go, like airports, hotels, and even restaurants.
But, what can you do at home to save money on your internet every month?
There are actually quite a few tricks and tips we have up our sleeves that can get you free internet.
And, they're all 100% legal ways to do it.
Ways to Get Free Internet Connection
Is free internet possible?
Is it legal?
Let me reiterate that nothing about these free internet hacks is illegal.
These are all legit ways to get free internet that won't get you into any legal trouble.
It's all about knowing your rights and what certain companies and organizations provide for consumers.
I will state that some of these are government programs or only for those with low incomes.
So, they may not all fit the bill for you, but you can likely find something on this list that will work for your situation.
Connect to Compete is a program started by the Federal Communications Commission (FCC) and EveryoneOn.org to help low-income families in disadvantaged areas get free internet access.
The internet is almost a necessity in today's world.
Students need it to learn, teachers need it to teach, and families use it to communicate, stay involved with their jobs, and keep up-to-date with news.
Unfortunately, not everyone can afford $50 a month for internet.
This program seeks to change that by getting the internet into more homes and schools.
Earn Everything… nearly!

Join e-Poll, one of the oldest survey panels and earn cash - paid via PayPal - gift cards for Amazon, Best Buy, iTunes, Starbucks, and Walmart, plus Retail e-vouchers.
The surveys are aimed at entertainment-related research, covering such things as personal TV watching habits, give feedback on new TV commercials or to review DVDs that are sent to your home.
For USA residents aged 13+. No hidden fees and completely free!


On the website, you can enter your zip code and click "Find Offers" to see if anything is available for your area.
You may have access to cheap internet access, or even get internet service for free.
It all depends on your location, fund availability, and your income needs.
Typically, if you have low income, live in public housing, or currently receive some sort of government assistance, you may be able to qualify.
If you don't qualify for one of the Connect to Compete low-cost or free plans, you can check out some of the other reduced-price plans from various internet service providers listed on the website.
They'll still have eligibility requirements, but you may qualify for one more easily.
Some programs are even free for students at specific schools or districts.
All Free ISP helps consumers find cheap or free internet service in their areas.
The simple website lets you search your state or area code and lists both cheap and free internet service providers in your area.
The website also provides a rating for each provider based on customer satisfaction, price, reliability, customer service, and other factors.
All Free ISP doesn't provide any internet access itself, but instead maintains an updated database of some of the best offers all over the United States.
The FAQ section mentions that many of the free offers are 100% free with no setup or other fees.
All Free ISP explains that these providers typically make their money from advertisements that get shown before you connect to the internet.
So, if you don't mind viewing some ads before you connect, they could be a great way for you to get free internet access if you live in an area where it's available.
FreedomPop offers free internet access to mobile and computer users.
It also has several offers for those who want cheaper services than what their current ISP provides.
To take advantage of FreedomPop's completely free internet, you can sign up on the website.
Basically, FreedomPop sends you a free internet hotspot device.
It includes everything you need to get started, like a charger and manual.
Your first month, you'll get 10GB of data free.
After that, you'll have up to 500MB of data free.
If you need any more, you can always purchase another plan.
FreedomPop does require a deposit for the device to ensure that it gets returned once you're done with the service.
If you send it back within a year, you get your money back.
Aside from that, it's completely free. 500MB isn't a lot of data, but it could be a good way to save money on mobile data if you're an occasional phone data user.
WiFi Free Spot helps you find businesses and locations in your area that have free WiFi.
Often, it's not advertised, so you may not know a business does unless you visit it regularly.
That's where this site comes in handy.
Click on your state or country – it has a database that covers several countries – and then browse the cities until you find yours.
If you live close enough to one of the local businesses, you may be able to use its public WiFi at home!
If you want to search for public hotspots when you travel, you can also download WiFi Map, an app for iOS and Android.
It works much like the WiFi Free Spot website, only in app form.
Let the app browse your current location to find open hotspots to join when you're staying away from home.
You may even be able to find real-time updates of hotspots near your home to get internet there.
Check with Your Internet Service Provider
Several internet service providers do provide free internet services, but they don't always make it well-known.
Some ISPs have highly discounted internet service – $10 a month or cheaper!
But, they usually try to upsell you to a higher speed that you don't necessarily need.
So, always make sure you ask first about all of your options before signing up (or, if you are a customer, don't be afraid to call and ask!).
But, if you bundle services with the provider, there's a good chance you can get your internet for free.
Many large ISPs are starting to bundle phone, internet, and TV services together to save customers money.
Often, they'll have offers for 1 year or more of internet service free when you bundle more than one service.
If you're considering one of the other services anyway, this can be a great way to save!
Once your year of free service ends, there is usually another similar offer waiting.
Most companies will be happy to switch you to a current offer rather than risk you going to another company.
Get 10 Free Hours of Internet Service Per Month
NetZero and Juno are two ISPs that offer 10 free hours of internet service per month.
This is perfect for those who aren't heavy internet users to save money on the service.
These offers are for dial-up internet rather than broadband. So, it won't work for you if you're into gaming, watching videos, or doing anything on the internet that requires some speed.
But, occasional internet users can enjoy free internet for 10 hours a month in exchange for advertisement displays in their browsers.
You can sign up for NetZero's free service here.
Members of the service are also eligible to receive special discounts on other NetZero products and services.
Juno's free internet program and you can receive multiple free e-mail addresses, too!
Ask a Neighbor
If you have a good relationship with your neighbors, you can always ask them if they'd be willing to share their internet.
You can offer an exchange of services, such as keeping their lawn mowed or windows washed in exchange for internet.
If that's a no-go, maybe offering to pay every other month will convince them to share.
You'll only pay 6 months of the year, making the other 6 months completely free.
When you make an offer, make sure your neighbors know that you'll be responsible with your internet usage by keeping the password safe, using secure websites, and not doing anything illegal with the internet.
Draw up a friendly agreement to keep everyone's best interests at heart.
Check for a Municipal Wireless Network in Your Area
Some areas around the world have free WiFi, known as a municipal wireless network.
This is a citywide network that connects WiFi connections from businesses and government offices throughout a city.
These networks can be instrumental in giving everyone access to the internet, even when they can't afford it, especially underprivileged families and schools.
It's mostly large metropolitan areas that have them, but more areas are starting to catch onto the idea.
Some places have a few restrictions, such as a limit of two free hours per day, or restricted to outdoor and park areas only.
You can check Wikipedia's extensive list of current municipal wireless networks around the world to see if there's one in your area and what, if any, restrictions exist.
If you can't seem to find anything in your area for free internet, keep CheapInternet bookmarked so you can keep checking back on it.
This website keeps an updated database of the cheapest – and free – internet deals so you can always view current offers.
Even if you can't find free offers in your area, you'll likely find something much more affordable than $50 a month.
Don't forget to browse the offers in your state by clicking 'Plans By State' at the top of the site.
Here, you'll find offers for low-income families and other low-cost options.
Use Your Phone as a Hotspot
Most of today's mobile devices offer a "hotspot" feature, which may also be called tethering.
What's a hotspot?
Basically, it turns your mobile device into an internet-giving device. It acts like a router, giving internet signal by using your mobile data.
You can turn on the hotspot feature and then connect other devices to it that are within range using the instructions on your mobile device.
Now, this isn't a great idea if you don't have a lot of mobile data every month because every time you use your hotspot, you'll also use data.
However, unlimited data can be relatively affordable now with most mobile providers, so you might want to check into it. It could end up less expensive than paying for internet separately.
As long as you don't have to worry about going over a data limit and running into overage charges, this can be a great way to connect for no extra cost at home.
See If Your School District Offers Free Internet for Students
Some school districts that serve mostly low-income families may qualify for free internet access for their students to have at home.
Clarksdale, Mississippi, for example, is one district whose high school students get free web access at home, because the district serves several families in poverty.
The details regarding how schools get picked for such a wonderful benefit isn't very clear, but you can always request a meeting with your district superintendent to discuss a program like this for your own school.
There will likely be several hoops the district will need to go through since it's a federally-backed program, but your help getting the ball rolling could benefit the future of all students who attend.
Plus, as a parent or guardian of a student, you'll be able to access the internet for free too!
Saving Money on Your Internet
Sometimes, free may just not work for you. If you need a long-term solution for inexpensive internet, these options may be your best bet.
Save Money Using Super Cheap Internet Services
Like most things, some internet services are much cheaper than others.
They'll likely not offer top speeds like more expensive services, but they'll give you basic internet that'll be enough to check your email and access websites.
Access from AT&T is made especially for low-income citizens who need internet access.
The service is for 3 Mbps internet, which is very slow compared to most internet speeds, but it's only $5 a month. You can't beat the price tag.
To qualify, at least one person in your home must be eligible to receive SNAP benefits.
There's also Internet Essentials by Comcast, which is $9.95 per month and offers 10 Mbps. It's not super fast, but this speed is decent enough to let you get most normal web tasks done.
You can always check with your local internet providers to see what their cheapest services are, most of which are ones they rarely, if ever, advertise.
Remove Some of the Cost of Internet with Lifeline
Lifeline is a federally funded program that helps people lower their phone and internet costs every month.
If you qualify, you could get a $9.95 reduction on your monthly internet bill, which leads to a savings of almost $120 a year.
The only catch is that you can only use it for either your phone or internet service, but not both. Also, only one person in the household can utilize the program at a time.
To be eligible, you'll need to qualify with your income or currently receive some type of government assistance, like Medicaid or SNAP benefits.
You can read more about eligibility by visiting the Lifeline website.
Accessing Free Internet Safely
If you are fortunate enough to have free internet at your home through a special program, then you can safely browse the internet without being concerned about your information spreading across a public WiFi system.
Having a private network at home is definitely the best choice, but it's not an option for everyone.
If instead, you have your free internet through a public hotspot, as some of the free access to internet tips explain, then you'll need to be vigilant about your security.
Using Secure Websites
When you use public internet, like WiFi hotspots, you're opening yourself up to potentially dangerous security issues.
It's especially important to pay attention to the security of the websites you visit.
One of the most important things you can do that's simple is check the URL of the website.
Does it have 'https:' at the front instead of 'http:'? Good, that means it's secure and won't store your data!
You can also look for trust elements on sites on which you intend to make a purchase.
Look for trust seals from Verisign, PayPal, or other trustworthy sites.
But, don't just trust a graphic – make sure you do some research to make sure those websites are actually trusted by the companies.
You should also look for company information with as much detailed contact information as possible.
A legit company will have no problem providing its contact details.
Protecting Your Personal Information
Now, keep your personal data secure.
First, check out your computer's security settings.
You should have a security program installed, like a firewall, that can help blog malicious sites from gaining access to your information.
Make sure your browser doesn't save cookies and helps block sites with security vulnerabilities.
Also, be careful about entering your personal information on websites, like your social security number or bank information.
When you're using public internet, you can easily fall victim to security vulnerabilities that put your information in the wrong hands.
Only use websites you trust with your information.
Finally, make sure you log out of your website and e-mail accounts every time you use them and don't store your passwords in your browser.
Conclusion: How to Get Free Internet at Home Without Paying
See – free internet is possible.
Although it seems more likely to get free internet if you live in a more populated area, more places are starting to catch on to how important it is for residents to stay connected.
It likely won't be long before more locations have municipal wireless networks or businesses with public WiFi as the internet becomes more of a necessity than a want.
Continue to check out your local ISPs, as their offers change frequently.
It might even be a good idea to sign up for their e-mail lists so you can be the first to learn about their new offers and discounts.
Do you have free internet? Do you know of other legal ways to score free internet at home?
If so, tell us about it in a comment!
Related Posts:
Want more money?

Easy Extra Cash! Join the famed Vindale Research site and earn rewards by doing nothing more than sharing your experience of using the internet. Guaranteed 100% free membership.