25 Places to Sell Your Hair Locally and Online for Extra Cash
Updated on: by Amy Kennedy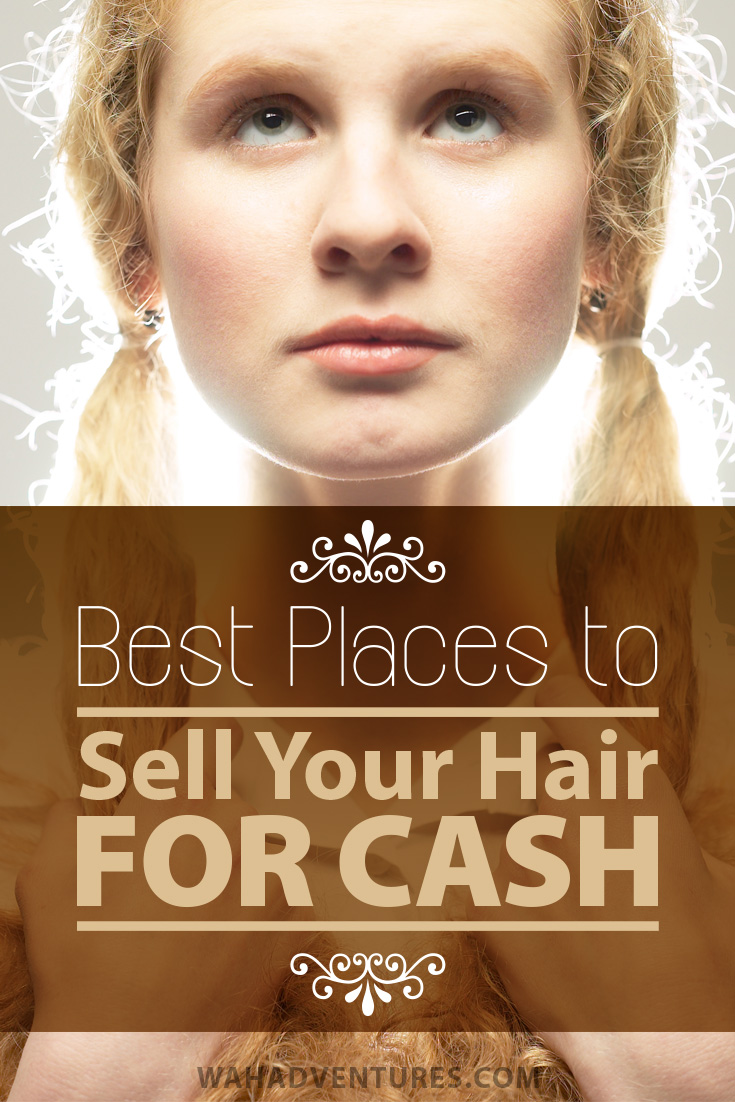 You can sell just about anything online nowadays, from used clothing to bigger items like vehicles and even houses.
Need Easy Extra $350+/Month For Free?
But, did you know that you can sell your hair?
It's true! And there are actual websites that specialize in the process of matching up people who want to sell their hair with those who want to buy it.
You might be surprised to know that there's a fairly large market for real hair, as people use it to make wigs, extensions, and other products that need real hair.
And, you don't have to just sell it for pennies. One woman sold her long, shiny blonde hair for $1,000.
Interested in finding out more about selling your hair? Let's go!
Why Sell Your Hair?
Although many people shy away from cutting their hair to sell it, it shouldn't be something to be nervous about.
Hair grows back, unlike other things you sell.
If you cut your hair to sell and hate having it short, you can still grow it back, so it's not a permanent loss.
People buy hair for a number of reasons. Perhaps they don't grow the type of hair they want and would rather have extensions or a weave in place that looks more like what they're striving for with their own hair.
Cancer patients undergoing radiation and chemotherapy may lose their hair during treatment, so your hair could go toward making them a gorgeous wig.
Some people simply like experimenting with different colors and textures of hair, so they'll buy a variety of real hair to make into different wigs.
Those who sell hair also have their own reasons for doing so.
Maybe you're ready to go with a shorter cut. Of course, you can donate hair, but maybe you'd rather make a little bit of money from the hair you've grown for so long?
Some women (and men!) continue growing and cutting their hair for the sole purpose of making money from it. It takes years to grow to the length they desire, so it's no wonder that they'd want to make some money from cutting their long locks.
Others do it out of desperation. Perhaps they fell into some difficult financial times and selling hair is a quick way to make ends meet.
Need Easy Extra Cash?
Pinecone Research, a leading name in online survey panel honesty, absolutely guarantees $3 cash for every survey you complete!
Take advantage of their time limited New Membership drive and register NOW. Join today: 100% free!


Whatever the reason, selling your hair can help someone else and help yourself get some extra cash at the same time.  
How Much Can You Make from Selling Hair?
Of course, you're probably wondering "How much can I sell my hair for?".
It's a valid question before you go chopping off all your hair and sending it away. There's no point in doing it if it's merely for pennies, right?
Marlys Fladeland of Hairwork.com says that she's seen hair sell from anywhere from $100 and $4,000.
Even $100 isn't a bad price for hair that you can grow back!
The amount you sell your hair for really depends on your type of hair and the current buying market.
Rarer colors – like reds and blondes – tend to sell more than more common colors, like shades of brown.
Also, the longer your hair, the more appealing for most people because you can turn super long locks into a wig easier than shorter locks.
Thicker hair can also help create a wig easier than thinner hair, so that may net you more money.
Finally, hair that hasn't been touched by heating and styling products, damaging shampoos and conditioners, or any types of dye can sell for high prices.
The woman who made $1,000 off her hair had bright blonde hair that was extraordinarily straight and shiny, so her hair's buyer happily forked over the cash for it.
In some cases, the right ponytail can net you about $300, according to Fladeland.
Of course, it always depends on who is in the market for buying hair at the time.
You could get lucky when you post your black-haired ponytail if the right buyer is looking for that at the same time.
Your best bet is to hang around a few of the hair selling websites I'll talk about in a moment.
Browse them and see what seems to be popular on the site at the moment.
Try to find a website that your hair will fit in well with, based on the type of hair people are buying and selling.
Helpful Tips for Selling Your Hair
If you're going to sell your hair, you can benefit from learning a few tricks of the trade.
Most hair selling websites have similar general requirements for the hair you sell, so these tips are based on what most hair selling websites say.
The most important thing you can do when posting an ad on a website for your hair is to take plenty of clear, crisp photos that show your hair's best details.
You should make sure that the color shows well in the photos so buyers aren't deceived by them.
Take some wide-angle shots to show the length, and some close-ups to show a better view of natural highlights and your hair's texture.
In your ad, you'll also want to include the following information so people can get a better idea of your hair and how you take care of it:
Mention the length your hair will be when you cut it to sell

Describe the texture and natural style of your hair (thin, thick, straight, curly, etc.)

Detail your washing habits – how often you wash your hair, what shampoo you use, and your methods for conditioning your hair

Be truthful in whether you use styling products or have ever dyed your hair

Mention if you smoke or drink alcohol – this is important to many hair buyers

Talk about your healthy diet, if you have one, like what you eat daily and if you take multivitamins, as they can help maintain hair health
Once you get your ad set up, it's time to find a buyer!
Make sure you only cut your hair after you've been paid by the buyer. Otherwise, you could be stuck with cut hair that you never get paid for.
As a side note, most sites won't allow you to sell your hair if you're a smoker or have dyed your hair, and it's definitely not in your best interest to fib about either one of these details.
Keep your hair in the best shape possible and you'll likely have an easier time finding a buyer.
Where to Sell Your Hair Locally and Online
So, where's the best place to sell hair?
Online websites have become popular in recent years for selling hair, but you may be able to find a buyer locally too!
Earn Everything… nearly!
Join Opinion Outpost, one of the few faithful and honest survey panels and earn cash and gift cards for your opinion. Stack your points and redeem them: Simple! No hidden fees and completely free!


Here are a few of the best places to sell hair, online and locally:
Buy and Sell Hair is like a Craigslist for hair. The site matches hair sellers to buyers in one convenient location on the web.
It seems that hair sells fairly fast here, and for good prices.
Most listings start at $200 and go up from there, with the average right around $400 to $500, several of which have sold.
The fee is low for this site too, at $14.50, which gives you 3 months on the site. So, just under $5 per month.
Plus, there's no commission taken from sales, so you'll get everything you earn.
Your earnings will go straight to your PayPal account once your hair has been purchased.
Believe it or not, you can sell your hair on Craigslist. The good thing about using this website is there's no fees to list an ad.
Plus, you're in charge of what you sell, so there aren't any specifications about what type of hair you sell.
So, you can try your hand at selling hair that isn't in perfect condition, such as dyed hair.
And, you may even be able to find a local buyer who can see your hair in person before you sell it.
Give it a try! Here are other sites like Craigslist if you want to give something else a whirl, too.
Of course, there's always eBay, where you can sell just about anything and everything under the sun.
There are some listing and selling fees involved with eBay, though, but they could work out to less than other hair selling sites.
If you already have a good seller rating on eBay, you may easily find a buyer for your hair based on the trust factor alone.
Make sure you take very clear photos, of course, as eBay buyers usually rely heavily on photos and clear descriptions.
Facebook's Marketplace is a selling site that most people tend to think of as one that's better for selling low-priced items.
In reality, you can sell anything (within reason – no illegal stuff, of course) on Facebook Marketplace and you might even find a buyer within minutes of listing your items.
So, there's no reason why you can't try selling your hair on here.
It's possible that a local buyer might be gathering hair to create a wig, hair extensions, or some other type of crafty hair project.
They might even look for hair to donate to a charity of their choice.
In other words, you just never know, so it's worth a shot.
Facebook Marketplace is free to use and there are no listing or transaction fees, unlike a lot of other online selling places.
You can set up your listing within seconds, add a few pictures, write a description, and your hair will be on display for anyone near you who's searching for it.
With Facebook Marketplace, you can also share your listing to your wall or Facebook pages to get a bigger audience.
It also lets you share your listing to local buying and selling groups that you're a member of, so everyone in those groups can see it too without searching the Marketplace.
With this method, you won't be sending your hair off to someone through shipping.
Instead, you can meet with the buyer in person at a place and time you agree to, which helps ensure that you get paid for your hair.
Gumtree is an online classifieds site similar to Craigslist, but made for those in the UK.
The site's been around since 2000 and is very popular among the online selling crowd.
Just like Craigslist, you can list stuff for free to find local buyers.
Once you post an ad, potential buyers can message you for more information.
You can still edit your ad, if needed, once you post it, just in case you forgot anything.
Like Craigslist, you can choose where and when to meet potential buyers.
Remember to always meet in a safe location (something public, preferably at or near a police station) to keep yourself safe and secure.
It's also a good idea to accept only cash to make sure you get paid for your hair.
Hairsellon lets you sell your hair that's six inches or longer.
The prices here seem fair as well, and one woman on the site even mentions selling her hair for $4,000 here!
There are different listing fees, ranging from $15 to $50. You can choose to run your ad for 60 days or a lifetime, depending on the listing fee you choose.
There's no commission from sales taken from your final price, so you get to keep what you earn, which gets transferred to PayPal.
Hairwork is the site I mentioned earlier where owner, Marlys Fladeland, has seen hair sell for as high as $4,000.
The site originally started as a place to buy and sell human hair, but it now includes artwork, jewelry, and more made with hair. Interesting, right?
There are even listings for horse hair here.
So, it's not all about human hair anymore, but it's still a place you can turn to if you want to sell your hair.
Or, perhaps you're interested in turning your hair into unique jewelry pieces to sell?
There are plenty of instructional materials on the site to get you started turning your hair into artwork, which could net you more money in the long run.
This is an online marketplace just for buying and selling hair.
The website lists ads, for free, from people just like you who want to get rid of their precious locks.
JustSellMyHair has several categories for hair to make it easy for buyers to find exactly what they want by splitting up hair into color and length.
The good part about this site is that you can sell any hair length, even if it's five inches or less.
You could still find a buyer who's looking for hair that short!
Most hair sells for at least $150 here if it has good length (around ten inches or so), so you may end up with a decent price for high-quality hair and not have to spend a dime to list it.
If you're not sure what to list your hair for, you can use the site's hair calculator to get a better idea.
To place an ad, simply choose your hair's category, fill out some information about your hair, enter your email address, and add a few pictures.
You should see your listing on the site within a day or so.
Be sure to write in your listing how you'll accept payment for your hair (the best method is probably a service like PayPal that offers some protection against scam artists).
Locanto is an online classifieds site similar to Craigslist but with a more eye-catching layout.
Locanto has listings available in most major cities across the United States, and some other countries, like Canada and Mexico, are also included.
You can list almost anything here, your hair included!
It's free to create a listing, and the site even comes up with some recommended categories for you based on what you say you're selling.
Choose the best one for your hair (Fashion & Beauty would likely be the best choice), register an account, and finish setting up your listing with photos and a description.
Locanto listings stay on the site for up to sixty days, and you can relist after that if you don't have any bites.
Online Hair Affair is another hair selling website that's similar to Craigslist.
But, it does have a fee to list your hair, which is $10 for a month's listing, or you can get a discounted fee of $15 for two months.
You can sell any length of hair here, from one inch and up, although I'm not sure that one inch of hair will give you very much money or attract a lot of buyers.
And, if you have gray hair, you're in luck, because there's a category for that too!
Oodle is another rival of Craigslist that's becoming pretty popular with online sellers.
It's free to list your items and you can sell almost anything on the site, so hair is okay to list.
Oodle operates in the United States, the United Kingdom, Canada, India, Ireland, New Zealand, and Australia.
Instead of selling to random people over the internet, you could sell your hair to World of Wigs, a company that turns human hair into beautiful wigs and hairpieces for women.
The website states that hair must "pass the Industry Standard Qualifications", but doesn't necessarily go into detail about that.
If it does, you can get paid between $3 and $5 per oz. of hair you send.
Your hair must be at least 12 inches in length, banded into tight ponytails, and placed in a baggy to be shipped.
It does seem like somewhat of a gamble to ship your hair here because World of Wigs does state that all hair isn't sellable and that if it has an overage of your color or too much hair, period, it may not pay you.
But, if you're willing to take a gamble, you could make a decent amount selling your hair to World of Wigs.
Instagram
Creating an Instagram account dedicated to selling your hair can be a great way to reach a larger audience.
Use high-quality photos that showcase your hair from different angles and provide detailed descriptions, including length, color, texture, and any unique features.
Engage with potential buyers through direct messages, answer their questions promptly, and build a positive reputation.
Utilize relevant hashtags such as #hairforsale, #hairsellers, and #humanhair to attract a wider audience interested in buying hair.
Beauty Salons
Local beauty salons or hair extension studios often have a demand for high-quality human hair.
Reach out to these establishments directly and inquire if they are interested in purchasing hair or if they can refer you to potential buyers.
Some salons may have specific requirements or preferences, so it's essential to discuss the details with them. Providing samples or high-resolution photos of your hair can help in negotiations.
Hair Forums and Communities
Joining online hair forums and communities provides an opportunity to engage with individuals interested in hair care, extensions, and related topics.
Some of these platforms may have dedicated sections or threads for selling hair.
Participate in discussions, establish your credibility, and list your hair for sale in the appropriate sections.
Be sure to provide comprehensive information about your hair, including length, color, condition, and any special attributes.
Engaging with the community and actively responding to inquiries can increase your chances of making a successful sale.
Beauty and Hair Expos/Events
Attending local beauty and hair expos or events can be an excellent way to showcase and sell your hair.
These gatherings often attract professionals, enthusiasts, and potential buyers interested in purchasing high-quality hair.
Reserve a booth or table at the event, display your hair attractively, and provide informative brochures or flyers about your offerings.
Interact with attendees, offer demonstrations if applicable, and be prepared to negotiate prices on the spot.
Other Online Marketplaces
In addition to the platforms mentioned earlier, there are other online marketplaces where you can list your hair for sale:
Create compelling listings on these platforms, including clear photos that accurately represent your hair. Write a detailed description highlighting its qualities, including length, color, texture, and any additional features.
Consider setting competitive prices to attract potential buyers and monitor your listings regularly to respond to inquiries promptly.
Hair Extension Studios
Research hair extension studios or wig makers in your local area and reach out to them to inquire if they are interested in buying hair.
Some businesses have specific requirements or preferences, such as hair length, color, or texture.
Contact them directly to discuss your hair and negotiate a potential sale. Collaborating with hair professionals can often lead to successful transactions and ongoing partnerships.
Local Classified Ads
Check local classified ads platforms or newspapers that have dedicated sections for selling items.
Create a detailed listing that includes contact information and information about your hair, such as length, color, and any unique qualities.
Be clear about your selling terms and specify whether you are open to negotiations. Promote your listing by sharing it on social media platforms or relevant local community groups.
Selling Locally
If selling your luscious locks over the internet isn't yet something you want to tackle, there are a couple of ways you may be able to sell locally.
First, check around your local salons or wig shops, if you have any. It's possible that they may pay for your hair.
Some salons partner with wig shops to sell the hair they cut to turn into wigs. So, you may find one that does that and is willing to pay you a bit of a lower price to later sell your hair to the wig company.
You can also ask salons if they're looking for a hairstyle model. If so, the salon will pay you to be the model and give you a free cut, so you can earn a little cash.
Second, try local Facebook buy/sell groups. It's free to post an ad to these groups and you may be lucky enough to find a buyer right in your neighborhood.
If you're not having any luck selling your hair, you can always donate it to a worthy charity that turns hair into wigs for people who need them, like Wigs4Kids or Pantene Beautiful Lengths.
Using Mobile Apps to Sell Hair Locally
Another way to sell hair locally is by using mobile apps made for helping you sell your stuff. Here are a few of our favorites:
Carousell is an app for iOS and Android devices with a wide range of categories.
Your hair would likely fall in the Health & Beauty section.
It's super easy to start selling on Carousell.
All you need to do is snap a photo of your hair, add a category and description, and then set your price.
Others using the app can contact you through Carousell, keeping your personal information private.
Carousell has Groups, also, that can help you reach more buyers.
When you list items, you can share them to Groups related to them to help people who might be interested see your stuff.
Unfortunately, Carousell isn't available everywhere, but those in Singapore, Hong Kong, Malaysia, Philippines, Indonesia, Taiwan, Australia, New Zealand and Canada can use it.
LetGo is similar to Carousell, but for United States users to buy and sell stuff, including hair.
There are a lot of categories the app offers, but nothing specifically for hair, so you'll probably want to list it in the Other category.
LetGo is available on the App Store and Google Play for free.
It's also completely free to list and sell stuff with LetGo, and you can do it through the app or on the website.
LetGo gives you up to ten photos per listing.
When someone wants to buy your hair, they can message you securely via the app so you can discuss payment and meeting information.
OfferUp lets you snap a photo of your hair and start selling!
This app is also available for both Android and iOS devices and is free to use, list, and sell.
OfferUp has a secure messaging system through the app that helps protect the identities of both buyers and sellers until it's time to meet.
The Beauty & Health category is perfect for listing your hair.
Read More: 
Best Way to Sell Your Breast Milk Online and Earn Over $1600 a Month
30 Best Things to Sell to Make Money (You Have to See Number 26!)
Sell Your Hair to Wig Companies
Last but not least, there's always the option of selling your hair directly to companies that turn them into wigs.
The following wig companies will gladly accept your cut locks to turn into gorgeous wigs for clients:
Banbury Postiche is a well-known wig maker in the United Kingdom.
It helps fit wigs to people with conditions like alopecia that affect their natural hair growth.
The company accepts hair donations, of course, but will also purchase hair that meets the following criteria:
At least 10 inches in length
Is cut only at the nape of the neck
Is in healthy condition without any color treatment or other damaging treatments (must be natural hair and color)
The company accepts any color hair, even gray!
Bansbury Postiche will even send back hair that they can't use unless the sender states otherwise.
You can find out more about the process and how and where to send your hair by emailing [email protected].
Bloomsbury Wigs is a London-based company that creates wigs made from human hair for people who suffer from any type of hair loss.
The company created a sub-company called Hair Harvest, which helps it collect the hair needed to create its beautiful wigs.
You can always donate to Hair Harvest, but Bloomsbury Wigs will also pay for natural human hair rather than sourcing it from an unknown supplier.
To send in your hair, you can cut it yourself following the guidelines on the Hair Harvest website or have your hairdresser do it for you.
Once Bloomsbury Wigs receives your shipment, it will value your hair based on its length, color, and condition and email or call you with a quote.
If you accept the quoted price, you can ask for a check or even get paid with PayPal if you don't live locally.
If you don't accept the price, Bloomsbury Wigs will ship your hair back for free so that you can try to sell it elsewhere.
The Hair Trader
The The Hair Trader is a reputable company that buys human hair directly from individuals. They are known for offering competitive prices for high-quality hair.
The company accepts hair of various lengths and colors, as long as it meets their requirements. To sell your hair to The Hair Trader, you can visit their website and follow the instructions for submitting a hair listing.
Once your hair is approved, they will guide you through the process of shipping your hair and receiving payment.The Hair Trader is a reliable option if you are looking to sell your hair for a fair price.
Conclusion: Where Can I Sell My Hair Locally and Online?
Now you know what it takes to sell your hair online or locally. It's a good way to make some extra cash, right?
I suggest utilizing the hair selling method only when you need it most. Let your hair grow out as long as possible and save it for a time that could really help you financially, like around Christmas or when you want to take a vacation.
The longer your hair is, the likelier you'll be to get an excellent price for it, so don't be too hasty to cut and sell it!
Would you ever consider selling your hair?
Have you used any of the above places to do so?
Let us know in a comment below!
Related Posts:
Earn Everything… nearly!
Join Ipsos iSay, one of the few Faithful and Honest survey panels and earn prizes, gift cards and donations. Stack your points and redeem them: Simple! No hidden fees and completely free!