17 Best Places to Recycle Old Car Batteries for Cash
Updated on: by Amy Kennedy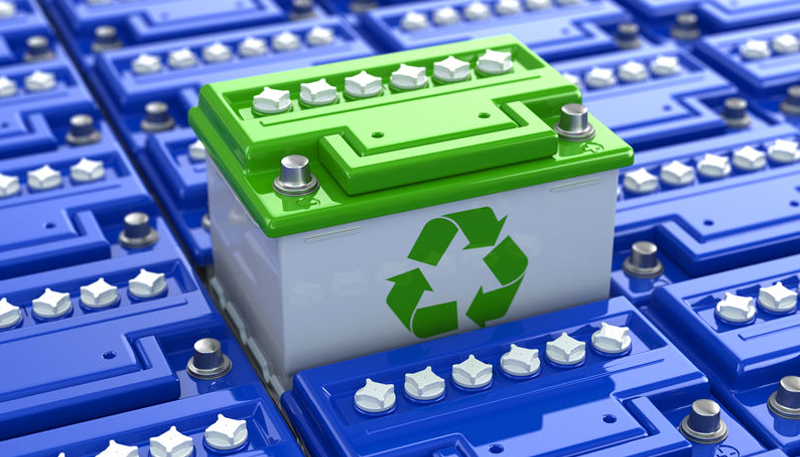 What do you do with old car batteries?
Need Easy Extra $350+/Month For Free?
Many people have no use for them once they start breaking down.
Few know how to dispose of standard batteries used in flashlights or remote controls and even fewer have learned how to dispose of old car batteries.
At your nearby auto shop, you can recycle old car batteries for a fee.
Luckily, these batteries are recycled in high levels.
Scientific American reported that lead-acid car batteries are the most commonly recycled product in the United States.
In fact, more than 99 percent of car batteries are recycled across the country.
While this is great news especially if you want to protect the planet and be 'green,' you could be missing out on some cash if you leave your old car batteries with your local auto shop.
You can get paid for used and old car batteries as well as other standard double-A or triple-A batteries.
If you want to protect the planet from pollution such as the acids and chemicals found in batteries, you'll definitely want to recycle these items.
Also, the potential to make some extra cash for car batteries should make you giddy with excitement!
Have you ever rummaged through your garage and cleaned it out from miscellaneous things you've collected over the years?
I'm sure you've found all sorts of things that can be recycled.
You may also have come upon an old car battery.
You can take that battery to the Interstate All Battery Center found in most states.
If you take the battery to this store, you'll find that you can sell them for around $7 per item.
Need Easy Extra Cash?
Pinecone Research, a leading name in online survey panel honesty, absolutely guarantees $3 cash for every survey you complete!
Take advantage of their time limited New Membership drive and register NOW. Join today: 100% free!


That's right!
You can make money selling car batteries at this location.
So you could actually make a significant profit and a good side job by selling or recycling old car batteries.
Keep reading to learn how you could make this into a viable business.
Car Battery Recycling for Cash: Important Steps to Follow
The most important part about making a profit from recycling these items is to ensure you have a large enough inventory of used car batteries.
You may wonder, 'How much can I get for a used battery?'
Actually, the more batteries you have, the more each one will be worth during the recycling process.
You may end up making as much as $12 per used car battery.
Why Recycle Old Batteries?
You might be wondering why some companies and places might pay you to recycle auto batteries.
To put it simply, batteries can be harmful for the environment when they're thrown away – even those small batteries you find in toys, remote controls, and other household items.
Companies that are eco-friendly are happy to help you recycle your vehicle batteries to help save the environment.
They have practices in place that follow regulations about recycling batteries to make sure they're broken down and disposed of properly, and that any materials that can be saved are saved to use for other things.
That's why some recycling centers and companies are willing to offer incentives to people who help the environment by recycling their old auto batteries.
Where to Collect Used Car Batteries
So, you're interested in getting a bunch of batteries and taking a chance on selling them for a profit.
Where do you find them, though?
Start looking through your home, your garage, and your backyard to find any extra used auto batteries.
You could find smaller used and old batteries in lawn mowers, snowmobiles, or even your children's toys.
Heavier machinery like wheel loaders also contain 8D battery types.
You can also call up your family members or friends to see if anyone may have an extra used car battery they're looking to recycle.
You could make it easy for them and take the battery off their hands.
Also, remember to check with local auto repair shops or junkyards.
These places will likely have some old batteries lying around and might be glad to give them to you for free just to get them out of the way.
Follow State Regulations for Recycling Car Batteries
Even though most of these batteries do not contain much hazardous materials, you should consider looking through your state regulations for battery recycling.
You can look through websites or contact ecosystem protection agencies as well as the EPA [United States Environmental Protection Agency], which is a federal agency aimed at keeping the planet safe.
Be sure to follow the regulations set forth in your state when recycling old batteries.
Additionally, be careful when managing used batteries since these items do hold lead and items.
You'll want to make sure to avoid touching any acids. Always handle batteries with safety gloves and wear goggles.
Make sure to never store your batteries in a high-temperature environment.
Avoid leaving your batteries around open flames.
Earn Everything… nearly!
Join Opinion Outpost, one of the few faithful and honest survey panels and earn cash and gift cards for your opinion. Stack your points and redeem them: Simple! No hidden fees and completely free!


Otherwise, your batteries may actually erupt in a small explosion.
You should also be careful not to handle or transport any batteries that appear to be leaking acid, as the fluid can be harmful to you and anything in its path.
Where to Sell Your Old Car Battery
You may be wondering, 'Who buys used batteries?'
Keep reading to learn where to take your car batteries for recycling and make some cash on the side.
First, Remember to Get Back Your Core Charge
Some places that sell car batteries participate in a program that gives you back a portion of what you paid when you return the battery to that place to recycle it once it's worn down.
You'll get what is known as a battery core charge when you purchase the battery.
The core charge is basically a deposit you put down on the battery that you'll get back once you return it back to the same place for recycling.
Several stores are using this method to ensure that batteries return to them safely for recycling instead of ending up in landfills where they shouldn't be.
Advance Auto Parts is one store that has this type of program.
You can either bring the battery into one of its locations yourself or mail it in, along with your receipt from the original purchase to get your refund.
Some stores will not just give you back what you paid for the core charge but may also give you credit toward purchasing another battery from that store, so you'll make extra on top of getting back your core charge.
All 50 states are allowed to charge this fee to promote safe recycling, but in 30 states, it's required by law to charge it.
You can see if your state is one that participates in this law here.
Auto Parts Stores
If you're looking for where to recycle and sell those old car batteries you've gathered, check out the auto parts stores in your neighborhood.
This may be the easiest and fastest way to recycle the batteries.
You likely have an AutoZone or Advance Auto Parts store in your region.
It may be as close as a five-minute drive from your house!
These stores are often interested in buying old and used up car batteries.
Not all places pay, though, so it's important to remember that before visiting your local store.
The AutoZone battery recycling program is one will gladly take your used vehicle batteries off your hands and dispose of them properly.
Then, it'll give you a $10 AutoZone gift card to use toward the purchase of another battery or anything else in the store you want.
You can use the store locator on its website to find a location near you. Call ahead to make sure it participates in the recycling program.
Check out your local auto parts stores to see if any are willing to buy those batteries and take them off your hands.
These stores can often pay you as much as $8 per battery.
At worst, they'll give you store credit to buy other items after taking your batteries.
Either way, you win out in the end.
Junk Yards
Another place to recycle your car battery is at scrap yards.
You'll likely be able to make some extra cash.
Junk yards often pay for used and even worn-out car batteries.
Also, foundries, which are factories that make metal castings, can pay even more for your inventory of old car batteries.
You can search for some local foundries by looking online.
Craigslist/Local Sources
You can also check out Craigslist for people who are looking to recycle products such as car batteries.
Take a look at local sources and local people through Craigslist.
You'll be able to find some people nearby looking to get these batteries in order to get a cut for themselves.
Be sure to look for the people offering the highest amount for car batteries.
Have a Yard Sale
Someone in your neighborhood might be a battery collector for his or her own side business, so it's possible that you'll find a buyer near you if you host a yard sale.
Bonus: You can also get rid of other junk in your home you don't need anymore and make a profit from it!
Yard sales can be extremely successful if you take some time to advertise them before and during the sale.
Facebook makes it easy to share about your upcoming sale with your friends and family, and you can even post about it on the Marketplace or in buying and selling groups for your town or neighborhood.
You can also create a Facebook event and invite people you know so they can indicate if they have an interest in it and get reminders from Facebook about the sale.
United Battery
The organization United Battery offers cash rewards for batteries through a program called Cash for Junk Batteries.
You can learn more about this by clicking here.
This organization will pay you very high prices for lead-acid batteries.
You'll definitely be happy to work with them.
Check out their website for more info!
Google and Yellow Pages
Do you have an old Yellow Pages book hanging out on your bookshelf at home?
If so, take a quick look through it to find some local "cash for used batteries" programs.
Look through the Internet. Use Google and search for payment programs for junk batteries.
You'll find that as many as a dozen programs like this could easily exist in your town or neighborhood.
eBay
You never know who might be interested in purchasing an old battery, even if it has barely any charge left.
Search around eBay and you'll find some old batteries people are selling successfully, so there's proof that it can be done.
The only issue with eBay is that shipping might cost you more than what you get for the battery itself, causing you to lose money.
It's a good idea to take the battery in to the post office, UPS, or some other shipping company you want to use to get an estimate on its shipping costs before you send it away.
That way, when you create your listing, you can post an accurate shipping cost for people interested in buying your battery.
Alternatively, you can list your battery on eBay with a local pickup only option to notify buyers that they must come pick it up from you instead.
Use the iScrap App
iScrap is a handy app that helps you find scrap yards near you.
Some scrap yards might be willing to take your batteries off your hands to turn their parts into scrap metal.
You could receive a few bucks for each of them, so it's worth a try.
Use the app to search your location and contact some of your local scrap yards to see what they'll offer you.
Facebook Marketplace
Like Craigslist, Facebook Marketplace is a helpful place to sell stuff locally.
Car batteries can be heavy, so they'd cost a lot in shipping if you were to find an online buyer for it.
Facebook Marketplace, however, shows your listing to anyone in your area looking for what you're selling.
They can then contact you to set up a time and date to meet, if interested, and purchase your battery.
You might find an auto mechanic or someone from a recycling center who's interested in buying your old battery for a few bucks.
Pawn Shops
Pawn shops will take just about anything off your hands and pay you for it if they think they can turn a profit of some kind.
Check with local pawn shops to see if they'd be interested in buying your used batteries.
You'd likely need to have at least a little power left in them for a successful sale, but you never know – one might still be open to purchasing a completely dead one.
Walmart
Most Walmart stores that have auto services participate in a battery recycling program for customers.
When you bring back your battery to Walmart, you could qualify for a few dollars toward a new battery you purchase at Walmart.
Walmart also participates in the core charge program to give customers refunds on the core charges they paid when they purchased their old battery at Walmart.
Just make sure you keep that receipt to show the customer service rep when you bring back your battery.
Battery Recycling Centers
Battery recycling centers are specialized facilities that handle the proper disposal and recycling of various types of batteries, including car batteries.
These centers employ specific processes and equipment to safely handle and recycle batteries, preventing environmental pollution.
You can locate battery recycling centers in your area through directories like Earth911 or Call2Recycle.
Metal Recycling Facilities
Metal recycling facilities, commonly known as scrap yards, are locations where different types of metals, including car batteries, can be recycled and processed.
These facilities accept old batteries, dismantle them, and separate the different metal components for recycling purposes.
Typically, they pay based on the weight and type of metal in the battery. You can find metal recycling facilities near you by searching online or using the iScrap App.
Local Automotive Repair Shops
Local automotive repair shops, especially those specializing in car maintenance or battery services, may be interested in purchasing used car batteries.
Some shops refurbish and resell them, while others recycle the components. Contact automotive repair shops in your area and inquire if they buy old car batteries.
They may offer cash or store credit in exchange.
Online classifieds (such as Gumtree)
Online classified platforms like Gumtree provide a convenient way to sell various items, including car batteries.
You can create a listing describing your used car battery and set a price. Interested buyers in your local area can contact you through the platform to arrange a sale.
Ensure that you accurately represent the battery's condition and choose a safe meeting place for the transaction.
GlobalTech Environmental
Do you have a lot of batteries to sell?
Perhaps you went to the junk yard and found several of them, or you've been saving up ones you've gathered from Craigslist or your friends.
If you have more than 500 pounds of batteries in total, you might be able to sell them to GlobalTech Environmental.
This company helps people recycle a variety of items, including car batteries.
Unfortunately, GlobalTech Environmental only works with businesses, but if you've set your battery recycling hobby up as a business, you might qualify.
You can contact the company to schedule a pickup. They'll send someone out to get your batteries anywhere in the United States and bring them back to their facilities for recycling.
While you're on the phone, be sure to discuss getting a quote for your haul. The company's prices are not listed on its website.
How Much You can Make When You Recycle Used Car Batteries for Money
You'll likely make under $10 for a worn-out car battery.
Often, you'll get paid $6 or $7.
However, if you have a number of batteries to recycle, you could make as much as $12 per battery.
Since you weren't using the old battery, you might as well make some money off of it!
It's a great bonus to get the car battery taken off your hands!
At the end of the day, you'll make more money recycling some old batteries than glass bottles or cans.
Read More: Earn $900 a Week Recycling Old Tires for Cash! Everything You Need to Know.
How to Safely Transport Lead Batteries
Are you going to drive and transport these car batteries in your car?
If so, you'll need to check with your local DMV to learn more about the regulations associated with transporting lead batteries.
You may want to incorporate HAZ-MAT into your driver's license.
There are plenty of rules and regulations you'll want to follow in order to protect the environment from the dangers of lead batteries.
It will cost a small fee to get HAZ-MAT incorporated into your driver's license but it is an important step to protecting the environment.
Another Way to Make Money with Used Car Batteries
Are you not having much luck finding buyers for your used batteries?
There might be another way that could actually pay more than selling old batteries that no longer work or have little juice left.
You could consider learning how to recondition the batteries yourself, which brings them back to life a little while longer.
Reconditioned batteries typically sell for less than new ones, but they'll also sell for more than used ones.
It's similar to buying a reconditioned phone or some other type of electronic device.
Reconditioning batteries will require you to spend some time learning how to do it and spend some money up front on equipment you'll need to do the job correctly.
For successful reconditioning, batteries will need to at least be able to register between 10 and 12 volts. You'll need a voltmeter to check it.
You'll also need a set of tools to help you open the battery cell caps, a reliable funnel and container to drain and refill battery fluid, and some safety equipment, like goggles and gloves.
You can learn more about the process of refurbishing batteries here or talk to an experienced mechanic about teaching you the ropes.
Your refurbishing hobby could turn into a business once you become more experienced and efficient with making the batteries work like new again.
If you're good at what you do, you should at least be able to charge people half of what the battery originally costs.
Conclusion – Let's Hear Your Stories!
We hope these suggestions have helped you learn how to properly dispose of and recycle used car batteries for money.
When is the last time you've sold an old car battery?
Have you ever done so?
If so, how did it go?
Where did you sell your batteries?
Let me know in the comments below!
I'd love to hear about it!
Related Posts:
Earn Everything… nearly!
Join Ipsos iSay, one of the few Faithful and Honest survey panels and earn prizes, gift cards and donations. Stack your points and redeem them: Simple! No hidden fees and completely free!