Interesting Way to Earn Cash: Get Paid to Text, Flirt and Talk!
Updated on: by Amy Kennedy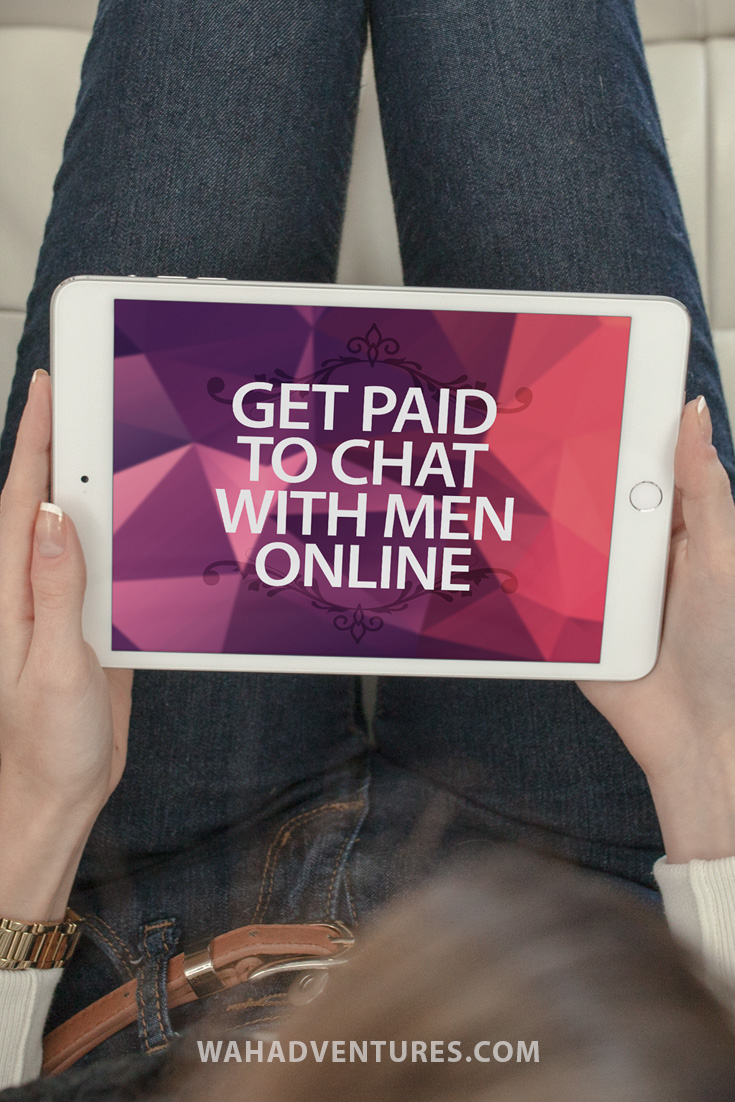 This path to extra income certainly is not for everyone – but it could be perfect for you!
Need Easy Extra $350+/Month For Free?
So, I'm including it as a money-making option on Work at Home Adventures.
When it comes to making money from home, the sky's the limit!
If you love to chat and text (and flirt!), this could be a great opportunity.
If you're already spending your time texting or chatting in online message boards, you could be doing it and getting paid for it instead.
You can chat for money by talking to men online or in paid chat rooms (which, let's face it, is much safer than some alternative options!).
Let's find out some more about this interesting opportunity!
I Can Get Paid to Text, Flirt and Talk?
Let me first start by saying that these jobs are for chatting only.
At no time will you be expected to do anything in front of a camera.
The guys you talk to will never see your face; they'll only see your words or hear your voice.
Most people who use the sites are looking for a fun connection to someone, or they use the service to fill an emotional void.
Usually, a user had to sign up for a subscription or pay per chat, and a portion of that payment goes to you.
It all depends on chat method used (actual chat or text messages) and how long the conversation lasts.
Some websites have a fixed rate per minute, whereas others set their rates per call.
In the scheme of things, it's a generally easy way to make money.
But, you can't usually expect to make a full-time income with it.
Need Easy Extra Cash?
Pinecone Research, a leading name in online survey panel honesty, absolutely guarantees $3 cash for every survey you complete!
Take advantage of their time limited New Membership drive and register NOW. Join today: 100% free!


However, there are some women who have made over $40,000 per year using one of the websites I'll talk about!
Get Paid to Flirt with Men Online
These companies will pay you to chat and flirt with men online. These are legitimate companies that pay, according to internet users who have tried the services.
This site hires women to talk to others for $0.20 per answered text on your phone.
The work is flexible, so you can indicate when you're available for new text chats and wait for customers to contact you.
The company requires workers to be at least 25 years old and you'll need PayPal to receive payments.
Workers must also be available to answer at least 75 text messages each week.
You can chat with men via text or phone on Chat Recruit (but steer clear of TV and Webcam chats if that makes you uncomfortable!).
You can log in whenever you have some extra time available to work.
There are no set schedules, and you technically become your own boss. You're in control of how much, or how little, you work.
Chat Recruit paid via direct deposit to those in Europe and the UK.
Those outside of these countries can get paid via international bank transfer.
Chatters for this company can expect to earn $2 per minute of chat time.
This website is highly focused on women as "models" – meaning that it does encourage sharing photos through text.
However, you can chat with a man solely through SMS (regular texting) with no photos involved if you choose.
The help guides specify regular SMS chatting as an option.
You'll also be able to work your own desired schedule with Dream Lover, so you won't have to worry about a fixed schedule.
You must be at least 18 years old to apply, but the website accepts women from all over the world.
Fiverr is a site that lets you get paid in the ways you want to get paid.
So, if you want to get paid by flirting with guys online, then that's one way you might be able to earn some extra cash!
Unlike other freelance marketplaces, Fiverr has a unique model that lets each freelancer set up gigs doing what they want.
You can browse the current listings just to get an idea of what other people are doing and what category you might want to list yours in.
Once you sign up, you can start your own gig.
Label it something relevant that people will be searching for using keywords, like "flirt" or "text".
Then, in the description section, you can go into more detail about your services and what you'll offer for your price.
Fiverr also lets you set packages where people can order more for you for more money.
For example, you can make your base price something like $5 for 5 minutes of talking time, but then create add-on packages like $10 for 11 minutes, or $20 for 25 minutes.
Once someone orders from you, you can chat with them to get all the details and set up a time to chat with them.
It might be a good idea to use Skype or another service that won't let others have your real phone number, just to keep a bit of privacy between you and your customers.
After your gig is complete, the buyer can approve and pay you, and you'll see those funds in your account after 14 days.
Earn Everything… nearly!
Join Opinion Outpost, one of the few faithful and honest survey panels and earn cash and gift cards for your opinion. Stack your points and redeem them: Simple! No hidden fees and completely free!


You can then request your money via PayPal or Payoneer.
FlirtBucks is perhaps the most well-known of these types of services.
It also seems to be the most popular one, and the easiest to use.
This one mostly focuses on women chatting with men via a chat console.
You'll be known as a "Chat Hostess".
You must be at least 18 years old and have a reliable computer hooked to the internet.
Additionally, FlirtBucks seeks women who have good typing skills, fun personalities, and can hold a great conversation.
You can choose your hours and days to work, and you're always in control of who you want to chat with.
FlirtBucks pays twice per month and you'll usually receive your PayPal payment within 5 business days after the pay period ends.
You can choose to chat with multiple people at once to help maximize your earnings.
Your rate is determined by what type of chat you decide to use: regular chat or video chat, and how long you remain active with the company.
Video chatters will earn more per minute, but a text hostess can still earn up to 15 cents per minute if she's with the company for six months or more.
Freelancer is one of the top freelance marketplaces where people can find just about any type of online opportunity available, including various chat jobs.
Freelancers get 8 free bids to start bidding on interesting opportunities, but you can also purchase more if you run out.
The great thing is that Freelancer takes care of the payments between you and your clients with a secure escrow system that helps you get paid faster and easier for your work.
Clients can also create milestones to break down large projects into smaller ones to ensure payment each step of the way, so if you plan on doing repeat chatting gigs with a client, this could be the way to go.
You can browse the several categories, or use the search bar to find chatting jobs you might be interested in.
You'll send invoices to your clients via the Freelancer system and can get paid via PayPal, wire transfer, bank deposit, Skrill, or a Freelancer Debit Card.
Lip Service is more of a marketplace that matches up chat agencies to qualified chatters.
So, it's more like a place to start a chatting business and find clients through the service.
You must be at least 18 years old for any position, but some may require you to be at least 21 years old.
Lip Service currently accepts chatters in Canada and the United States.
You'll need to fill out a pre-application.
Then, if it's approved, someone from Lip Service will give you a call so he or she can hear your phone-speaking voice.
Lip Service also allows you to be flexible, logging in and working when you're able to.
Your rate will depend on the projects and clients you choose to work with, but you'll receive specific pay information when you're matched with a client.
MyGirlFund is the service I was referring to where some women have claimed to make a full-time income from – up to $40,000 per year!
Doesn't sound bad, right?
The basic idea behind this website is for guys to find "internet girlfriends".
Maybe a guy is too busy to date, travels a lot, or is just not 100% ready to commit to a woman.
So, he uses MyGirlFund to emotionally connect with someone – and pays decent money to do it.
Women can set themselves up with a profile, usually for raising money for something they need.
It's sort of like an online dating version of GoFundMe.
Some men on the website simply send money to women users they really like, for no other reason than to make the woman feel special.
Some women have reported getting money from men for emergencies, like paying off their college tuition.
Basically, the sky is the limit with this one – and you could have your student loans paid off in a few months if you meet the right guys.
Some guys may ask for "content" – a term that means pictures or videos – in exchange for cash. But, of course, that choice is always left up to the woman.
The good thing about this site is it's against the rules to reveal any personal information about yourself.
Therefore, your identity is kept safe and you don't have to worry about your information getting leaked in any way.
Phrendly is a smartphone app with an interesting premise.
Sign up and browse the community of potential people to chat with.
If someone messages you first, you can earn cash.
Others can also send you virtual "drinks" that have monetary value. If they send you a drink worth $5, you keep the $5!
It's true that some people may send you virtual items worth cash in the hope of exchanging photos or video, but again – this is up to you.
The app is currently only available for iOS. If you have an Android device, you can use the website instead.
TextKings has jobs for text chat operators who can type at least 25 words per minute.
You'll be chatting via a web-based program, so typing skills are a must.
The chats can be either casual or more flirty, depending on the customers that request them, so being open to either one is a must.
Some phone work may also be required for customers.
Operators must be at least 18 years old and speak English fluently.
This site has European payments, so if you're in the United States or another country, you'll need to figure out your exchange rate, but the site says that most operators earn between 100 and 300 euros each week.
Text121Chat seeks chat operators for a variety of "adult" chatting services via text and phone calls.
The company hires operators mostly from the United States and United Kingdom, but some are also from New Zealand, Spain, Australia, and the Netherlands.
Bilingual operators are preferred, but it's not a requirement.
Text121Chat provides online training for its operators to keep them in the loop about any changes to the service.
There is no required schedule for operators, but the company does ask that you can commit to somewhere around 2,000 to 3,000 texts or messages per month.
You must have great communication skills for phone or text jobs, and a pleasant speaking voice for phone jobs.
You're also required to have high-speed internet access so you can accept VOIP (Voice Over Internet Protocol) calls.
Although the exact pay isn't listed on the website, various people who have worked with the company say it pays about 7 cents per message, which comes to $140 per month for the lowest commitment of 2,000 messages.
Upwork is a freelance marketplace similar to Freelancer where you might be able to find some of this type of work.
However, the gigs will usually be kind of secretive, so you may have to do a little digging and read between the lines in posts to find them.
There's a whole category dedicated to chat jobs, though, where you might find them pop up from time to time.
Upwork's extremely active with new gigs getting posted all the time, so you can check the site a few times per day to see if anything new comes up.
Instead of browsing categories, you might also want to try using the search feature to find texting jobs on your own.
Upwork gives you 60 connects a month, which is the site's version of bids. Most jobs require 2 connects to bid.
Upwork's escrow system helps freelancers get paid by allowing clients to fund the account before work starts, and then release the payment when the freelancer completes work.
You can transfer payments to PayPal or your bank account.
Texting Factory offers an online chat operator job that involves responding to various text messages.
They hire operators from all over the world, with the only primary requirements being fluency in English and the ability to type at least 25 words per minute.
Operators are especially in demand during night shifts, allowing for those with different schedules to find a suitable time to work.
Payments are processed twice a month and transferred via PayPal, making it a convenient option for those looking for a flexible online job.
Amazon Mechanical Turk (MTurk)
While Amazon Mechanical Turk (MTurk) is not a dedicated chat service, it is a well-regulated and respected crowdsourcing marketplace that offers a variety of tasks.
These tasks can range from online surveys to data validation and sometimes, chat services. The platform allows you to work at your own pace and choose tasks that align with your skills and interests.
Payment for completed tasks goes into your Amazon Payments account, which you can then transfer to a bank account or convert to Amazon gift card balance.
Based in the UK, Juicy Talk hires women to engage in phone or text chat with men.
The platform offers a great deal of flexibility, allowing you to log in and work when it suits your schedule.
The company pays its chat operators on a weekly basis, transferring earnings directly to your bank account. This can be an ideal job for those looking for a casual, part-time gig to earn extra income.
Cloudworkers is a company that provides chat operator jobs where your role involves engaging in text-based chats.
The company stands out for its flexibility, allowing you to decide when and how much you want to work. For those new to this line of work, Cloudworkers offers a supportive team environment and provides training for newcomers.
The company pays its chat operators on a monthly basis, with payments made via bank transfer or PayPal.
OperadorChat is a Spanish company, but it hires chat operators from around the globe.
As a chat operator, your job will be to send text messages, many of which are provided by the company. This makes the job straightforward, as it eliminates the need to come up with conversation topics or replies.
The platform allows for flexible working hours, making it suitable for people with varying schedules. OperadorChat processes payments monthly and transfers earnings via bank transfer.
You won't get chat jobs directly from AdultStaffing.com, but it's a helpful place to find jobs in this industry.
The site curates all types of adult industry jobs, even the more innocent ones like flirting via phone and text messages.
If you can't find anything that interests you with the other sites here, then you may want to bookmark this one and keep checking back to see if there's anything available.
You might also be able to find jobs like this on Craigslist in your local 'Jobs' section.
See also:
Avoiding Scams in the Flirting & Texting Industry
This is one industry in which scams run rampant, unfortunately, so you'll need to take extra precaution to protect yourself and your identity.
Here are a few ways to do that:
Check for Secure Sites
Although not every legitimate site has a "Secure" tag, it's most often scam sites that don't have one.
To tell if a site's secure, you can look up at the address bar where the URL is.
If you see a little lock symbol and the word "Secure," then that site has security technology that keeps your data encrypted.
That means that no one else can see the data you enter on the site, such as your name and address when you sign up.
When you're doing work like this, it's more important than ever to keep your identity safe, so using only secure sites can give you that extra layer of protection.
Research Reviews
Like any company you'd consider doing business with – whether you're the customer or employee – you should take time to research each company before joining.
Reviews from people who have actually worked there can give you some really good information about what it's like and help you decide if it's the right place for you.
You'll likely see some complaints; that happens with just about any business!
The key is to see if there are more complaints than positive reviews, and if those complaints seem to be warranted.
If so, those are big red flags that you could have a similar experience and that the company may not be the right one for you.
Avoid Anything That Asks for Money Up Front
Never, ever begin work for a company that makes you pay money to start working.
This is one of the biggest signs of a scam for online work, and it happens across almost every industry, not just this one.
Sure, you may need to purchase necessary equipment like a phone or headset for chatting, but you should be allowed to do those on your own.
Scam sites will often require you to pay money to them for the equipment you need, and you'll probably never get it once you do.
Legitimate sites will never ask you to pay an "administrative" or "startup" fee, which is usually how scams will classify them.
Looking for More Chat Jobs?
We know that this type of job may not be a good choice for everyone.
Fortunately, there are many other legitimate online chat jobs that let you earn money by answering questions, providing customer or technical support, and more.
These Work at Home Adventures posts should help you find the perfect chat job:
We hope you find the perfect online chat job!
How do you feel about getting paid to text, flirt or talk to people online?
Have you tried any of the listed companies?
Let us know your experiences in a comment below!
Related Posts:
Earn Everything… nearly!
Join Ipsos iSay, one of the few Faithful and Honest survey panels and earn prizes, gift cards and donations. Stack your points and redeem them: Simple! No hidden fees and completely free!