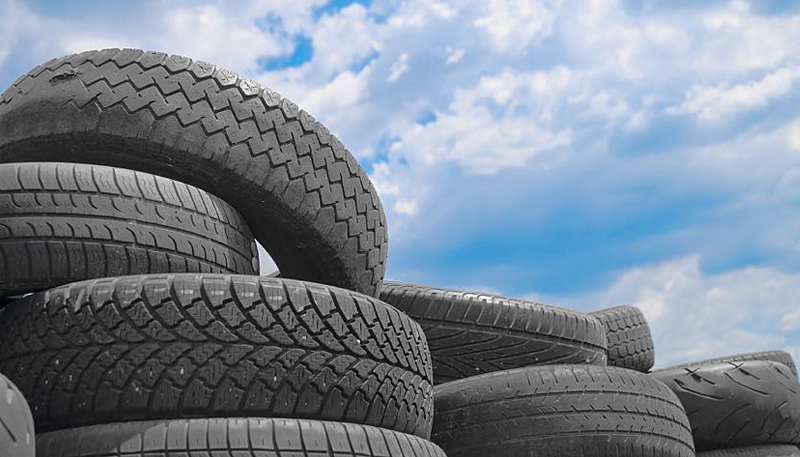 Need some extra money? You might want to recycle old tires for cash.
Need Easy Extra $250+/Month For Free?
Yep, you read that right.
As we discussed in our article on how you can Get Cash for Recycling Old Appliances, recycling is not only good for the planet, it can be great for your wallet!
Believe it or not, there is money to be made in the old junk you see laying around, including tires.
You might be asking yourself: who buys scrap tires, anyway? The good news is that there are many tire centers that retread or recycle old tires.
According to the Environmental Protection Agency, tires are banned from most landfills as they are a breeding ground for mosquitoes and other pests. That means there are a lot of used tires hanging around auto shops and garages, just waiting to be scooped up.
We created this guide to teach you how to get paid for used tires. There's no reason you can't profit from another person's trash!
Let's start with what you really want to know.
Is a Used Tire Business Profitable?
The short answer is: yes.
Tire retailers are required to keep the used tires that they remove from vehicles they are servicing.
But when retailers must get rid of their old tires, they have limited options.
They can either pay their employees to take the tires to a recycling center, or they can pay the recycling center to come pick them up.
Recycling centers can charge retailers anywhere from $1.00 to $10.00 per tire to properly dispose of or recycle tires.
Why is that a good thing? Because it means you can get free tires!
A retailer would much rather have you come pick up their old tires for free, than pay someone to take out what is essentially their trash.
And free tires mean cash in your pocket.
How? It's simple, actually.
You connect with local tire retailers, auto body shops, and even mechanics to let them know that you are in the business of buying used and scrap tires.
How to Get Paid for Used Tires
Your best bet is to go the legal route and start a legit business.
It's important that the retailers recognize you as a legitimate business, and not someone who is just going to illegally store or dispose of their old tires, as that could get you both in trouble.
Also, it is easier to form a relationship with other companies when you are "Joe from Ultra Tire Collection" rather than "Joe from down the block."
So how does one go about getting in the business of selling used tires?
First, be sure to check with the local and state regulations for your area regarding the storage and resale of used tires.
After that, you'll want to register your business and obtain a business license.
Want more money?

Easy Extra Cash! Join the famed Vindale Research site and earn rewards by doing nothing more than sharing your experience of using the internet. Guaranteed 100% free membership.


From there, you can create business cards, fliers, and advertisements to share with local businesses and individuals.
Where to Recycle Tires for Money
After you're legit, you will need to do some research on your local used tire shops. Many of them are willing to buy used tires that can be re-treaded, and will pay good money for them!
There are a few stipulations, of course. The tires must be puncture-free and in decent shape, or they won't be accepted.
Have some less-than-perfect tires on your hands? If you're trying to figure out who buys scrap tires, your best bet is to visit your local tire recycling center.
Tire recycling centers will buy scrap tires, though you won't get as much money for them. You can expect around $1 to $5 per tire, but that's nearly all profit!
If you can't find any businesses locally, the internet always has your back. Recycler's World has been matching buyers and sellers online for over 20 years.
Another great site is Recycle Nation. Bonus: this site helps you find places to recycle almost anything, so why limit yourself to tires?
Of course, Craigslist is always a good place to sell things that you don't have a need for. While you're there, check out want ads to see if anyone is looking for tires already.
Other Things to Consider
If you're going to make a side business out of selling used or scrap tires, you'd better make sure that you have the equipment first.
You're going to need a decent truck or other large vehicle to haul the tires from retail or individual locations and to the recycling center or re-treading location.
Another thing you might want to consider is creating a short-term storage plan for your tires. Many centers will only accept tires at a certain number, like when you have accumulated 100 to recycle.
You'll need somewhere to store the tires until you reach your quota.
Depending on how much time you are willing to invest, this could take a couple of days to a couple of weeks.
Finally, you're going to want to think what you might do with tires you can't sell right away.
As with any product, there are going to be a few duds that won't sell. It would be extremely beneficial to have a plan in place for what you'll do with the tires that won't sell.
You can, of course, bring them to a recycling center without getting paid for them.
Another, more fun, option is to consider recycling them yourself!
What I mean by that is this: there are a lot of really cool things that can be made from old tires!
You can make and sell tire swings as an additional side business. Even more than the traditional round swing with a rope, you can cut and paint the tire to look like a horse!
(For real, check out this awesome tutorial on Instructables.)
If you have a spare minute, head over to Pinterest to check out all the things people have made with old tires.
Simply search "old tires," and you'll see things like planters, see-saws, dog beds, and geodesic domes.
Create some really amazing custom projects and artwork, and you could find yourself with another lucrative business on your hands.
Go take a look at our list of Places to Sell Handmade Crafts Online for websites where you can sell your tire crafts.
To Wrap It Up
As the old saying goes, one man's junk is another man's treasure.
We know that our readers are always looking for the best ways to make real money from home, and this is one of those so-crazy-it-works ideas!
Old and scrap tires do major damage to our environment, as they will not degrade over time.
Rather than destroying our environment by tossing them in a landfill, you can make some money by recycling them.
Do good work, get good cash.
Related Posts:
Earn Everything… nearly!

The internet's Best Paid Surveys are here. Make up to $100 per survey completed.