32 Best Ways to Get A Free Laptop From the Government!
Updated on: by Amy Kennedy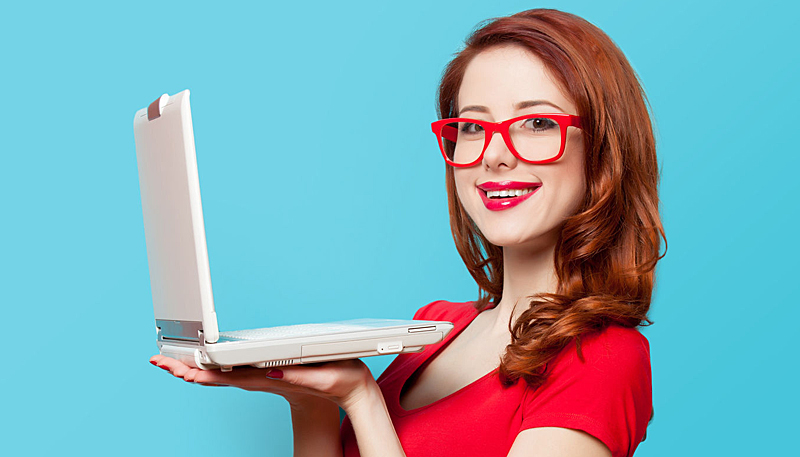 Nowadays, you can't do much of anything without a computer at home.
Need Easy Extra $350+/Month For Free?
Whether you're applying for a job, trying to do your taxes, or even attempting to contact local assistance programs; a computer is practically necessary.
While most of us are lucky enough to have laptop or computer at home, there are many of us who do not.
And it's usually the people who need one the most that can't afford to buy a computer.
Fortunately, there are a few programs available that provide free computers for low income families.
If you don't qualify for a free computer, there are even more programs that allow you to purchase a computer at a very low cost.
It's hard enough worrying about making ends meet.
The additional barrier of being unable to access applications and services due to lacking a computer makes things nearly impossible.
Perhaps you have experienced this.
Or, maybe you know someone who could use this information.
Either way, this guide will be incredibly helpful to so many.
How to Get A Free Laptop From the Government
The truth is that you can't simply call the government and ask for a free computer, no matter what your circumstances are like.
A program like that simply doesn't exist.
However, that doesn't mean you are out of options!
There are some government-funded programs that provide low-cost computers or loaner computers to families and individuals in need.
Your best option is to connect with the following programs in your local areas.
Need Easy Extra Cash?
Pinecone Research, a leading name in online survey panel honesty, absolutely guarantees $3 cash for every survey you complete!
Take advantage of their time limited New Membership drive and register NOW. Join today: 100% free!


NEED EASY EXTRA CASH?
Pinecone Research, a leading name in online survey panel honesty, absolutely guarantees $3 cash for every survey you complete!
Take advantage of their time limited New Membership drive and register NOW. Join today: 100% free!
Department of Social and Health Services: This government department can help connect you with local programs and non-profit organizations that can help you get the assistance you need.
Visit https://www.benefits.gov/ to get access to many government benefits that you may qualify for.
If you were impacted by one of the recent string of hurricanes or other national disasters in the United States, visit www.DisasterAssistance.gov
While we wish there were government programs that could connect low-income families to technology, that infrastructure simply isn't in place yet.
We know that everyone wants free stuff, and who doesn't love shopping on Amazon?
This list of Amazon Review Sites will give you free products.
How great is that?
You may be restricted to using it only a few hours a day, but it can absolu
Tip #1: Ask Your Employer or School
In today's technology-driven society, it's more important than ever to have connections with others via a computer.
That's why so many employers and schools are jumping on the bandwagon and issuing free or discounted laptops to their employees and students.
Before you look into grants and other assistance for your laptop, I suggest you see what might be available to you through your employer or school.
There could be resources waiting for you, but they may not be things your job or school advertise heavily.
Several colleges give away laptops, or at least provide them at discounted costs so that every student can have access to them.
Or, you could talk to a guidance counselor about your need. Sometimes, colleges have special grants in place for needy students that could help you get a free laptop.
Your boss may also be willing to pitch in for a laptop if you'll need one for work purposes and can't afford it on your own.
It never hurts to ask!
Free Computers for Low-Income Families
Now, we won't leave you stranded if your school or job won't pay for your laptop!
Good people and organizations have picked up the slack and put together helpful programs for you to check out.
These programs are best for low-income individuals and families to get a free computer when they can't afford one of their own.
provides free computers to individuals and organizations that are in need.
They have a strict application process, preferring that recipients are "truly in need" and that the computers will allow them to make a positive change in their lives and the lives of others.
However, you are sure of accessing high quality offers once you provide legitimate information. The list of computers that the service also provides is immense.
We recommend you try identifying a few computer specs you prefer ahead of time. That is because it will help you narrow the search process.
The CTAC is a program dedicated to providing refurbished computers to needy individuals, including low-income families, but it also helps schools, libraries, and non-profits get the technology they need.
The program operates with donations of computers and laptops, which the CTAC wipes and refurbishes to give to someone else.
Individuals and families may qualify for a free computer if they're currently receiving some type of government assistance, like Medicaid or Medicare, food stamps, or cash assistance.
If you don't qualify for free assistance, you may still qualify for a low-priced computer, depending on your income.
Prices start at $100 for laptops and $68 for computers.
Earn Everything… nearly!
Join Opinion Outpost, one of the few faithful and honest survey panels and earn cash and gift cards for your opinion. Stack your points and redeem them: Simple! No hidden fees and completely free!


Craigslist may not seem like an obvious choice, but most people don't realize that it has a free section for each city it serves.
It never misses on any list of platforms that you can use to find suitable for offers for items.
It's worth it to check to see if you can find a free laptop or computer.
I've seen one here or there that someone just wants to get rid of because they upgraded or are moving.
Even if it has something wrong with it, you may be able to find a tech-savvy friend to help you out and fix it.
With Craigslist, you are sure of accessing an extensive database of information from different sources. The site is also over 10 years old, meaning that you are sure of quality referrals.
However, since the platform provides different types of offers, its important for you to be patient. Doing this will ensure you have sufficient time and space to find lucrative offers that suit your laptop usage needs.
EveryoneOn is a non-profit organization that provides free or low-cost internet services and computers to low-income families in 48 states and the District of Columbia.
However, the organization has strict regulations regarding applications. They use this approach to ensure that the people who access these computer offers are the ones that really need them.
The link above will take you to a map of all the nonprofit refurbishers and recyclers in the United States.
There are over 80 locations on the list, across the US, that provide computers and services to those in need.
EARN EVERYTHING… NEARLY!
Join Opinion Outpost, one of the few faithful and honest survey panels and earn cash and gift cards for your opinion. Stack your points and redeem them: Simple! No hidden fees and completely free!

For example, the Electronic Access Foundation provides fully-functioning computers to communities in need.
Freecycle is a network of people and businesses who want to give away free things to people who might need them more.
The program operates around the world, so you might be able to find a working chapter near you.
You can use the website to browse the groups and see if anyone's giving away a computer or laptop for free.
Members can also post Wanted listings where you can explain what you need and wait for others to respond.
The On It (Opportunities Necessary to Increase Technology) Foundation is a national nonprofit that provides free computers, computer training, and internet to low-income families.
To qualify, families should have a student in grades K-12 at a public school, that receives free or reduced lunch, and lives in the United States.
Anyone that makes an application to this platform has to go through a few verification steps. The site uses this approach to ensure that only relevant people can access the right government and laptop offers.
The World Computer Exchange is an incredible organization that has chapters all over the world.
Their mission is to provide computers to those in need.
However, they do have some stipulations for how the computers should be utilized.
Many people like using this platform because it provides access to several computer offers from across the country.
Each computer offer the provide also goes through various quality checks. The aim of these checks is to ensure the platform lists high quality computer offers for its users.
Be sure to check out their website for all the details.
PCs for People began in 1998, and has grown every year since then.
In order to be eligible for one of the computers, a potential recipient must meet some criteria in order to qualify.
A recipient should either be below the 200% poverty level, have a family member with a disability, or work with a social worker.
With such an extensive history in offering solutions to people, it's easy to see why PCs for people is a popular place to get computer offers. Again, like the other platforms we have on this list, PCs for PEOPLE maintains high quality standards for its users.
Interconnection connects people in need with affordable laptops and desktops.
Though they are in the Seattle area, you don't have to live there to connect with their services.
Their online store has low-priced desktops and laptops from brands like Apple, Dell, and Lenovo.
Based on our research, we noticed that the race for the devices offered by this platform is immense. While they provide high quality solutions for their users, you have to be thorough with the application process.
Make constant applications, and consult with the customer support team for more insight into suitable solutions you can access.
The World Digital Library is a project by the United Nations Educational, Scientific and Cultural Organization (UNESCO) in collaboration with various institutions worldwide.
While they don't directly offer free computers, their website provides access to a vast collection of digitized cultural materials, including books, manuscripts, photographs, and maps.
Users can explore and access these resources from any computer with internet connectivity, making it a valuable educational and research tool.
FreeGeek is a non-profit organization that promotes digital inclusion and environmental sustainability by recycling and refurbishing donated computers and electronics.
They offer free or low-cost computers to individuals who participate in their volunteering program or meet specific income requirements.
FreeGeek's website provides information on how to get involved, receive a computer, or donate electronic devices.
Human I-T is a non-profit organization that refurbishes and distributes computers, laptops, and other technology devices to low-income individuals and families.
Their goal is to bridge the digital divide by providing access to technology and digital literacy training. They work with businesses and organizations to collect electronic donations and provide them to those in need.
Their website offers information on their programs, eligibility criteria, and how to request a computer.
Worldwide Laptops for Kids is an international initiative that aims to provide laptops to disadvantaged children for educational purposes.
They accept donations of new and used laptops and distribute them to children in need worldwide. Their website provides information on how to donate laptops, the impact of their programs, and how individuals can get involved to support their mission.
Many local school districts have programs in place to provide free or discounted computers to students in need.
These programs are often designed to ensure that students have the necessary technology for educational purposes.
To inquire about such programs, you can contact your local school district's administration office or visit their website. They can provide detailed information on available resources, eligibility criteria, and the application process.
The National Cristina Foundation is dedicated to promoting technology reuse across the nation.
Over 100 organizations are members of the foundation.
The NCF works with the organizations to ensure that they are non-profits who will pass the technology along to individuals and groups who are in need.
The following resources are local resources, and are just examples of some of the many local programs available across the country.
The SCN offers no-cost and low-cost internet-ready computers to folks who need them.
Another resource recommended by the SCN is the Washington Access Fund, which provides access to low-cost computer resources to those in Washington State.
You might have to be patient with this process as we this platform often receives countless offers from people around the country. You also have to provide a few personal details to help legitimize your application.
However, with the right process, you are sure of getting the best offers for your needs.
Komputers 4 R Kids is a resource specific to those in the Los Angeles and Orange County areas.
They provide computers to those who need them while also providing education to young people with their Student Repair Program.
If computers aren't the only thing you need, the following organizations offer free services to low-income families and individuals.
The Women, Infants, and Children (WIC) Program provides nutritional assistance to women, infants, and children in need. They provide vouchers that can be exchanged for healthy food at grocery stores.
Freedom Pop has a mission: to provide free mobile phone and internet service to those who need it. Visit their website to see what is available near you.
Family Promise is an organization with national partners all over the country. They provide services to low-income families, like housing assistance, family mentoring, and financial counseling.
Looking for free stuff for low-income families? We've got that covered, too.
If you're a parent, or you're expecting a child, you should totally check out our list of free baby stuff. You'll find over 25 places you can get free stuff!
If you're a student with a student email account, you can qualify for 6 months of Amazon Prime, for free!
Maybe you're just looking for some free samples or coupons. BzzAgent is a free program where you can sign up for free samples in exchange for your honest reviews on social media!
Microsoft Registered Refurbishers is a program designed to help low-income families, charities, and other places in need get computers.
The program specifically provides refurbishers with Windows and Microsoft software for free to put on their refurbished laptops and PCs.
If you know of anyone who refurbishes PCs, you can point them in the direction of signing up for the program as a registered refurbisher for Microsoft.
They'll then have the chance to help other people by getting free software for their computers!
You can also search the directory on the site to find out who refurbishes these computers, so you'll know where you might be able to get one from.
One main advantage of working with refurbishers is that you gain access to several lucrative computer offers. Even if you encounter a faulty computer, refurbishers often have repair offers, and solutions available for its users.
Before settling on a particular offer, ensure you research further for information the reputation of a particular laptop service provider. Doing this will give you improved access to service providers that can best serve the needs, and results you want.
Fortunately, most refurbishing companies have a good online presence. You can use these platforms to access quality laptop offers that suit the results and needs you have.
This is a government assistance site that's still in its beta phase, so it may or may not stick around.
For now, it's here, and it's a helpful resource for finding federal grants, awards, and other assistance programs.
Click on Search Assistance Listings and you can browse through various assistance programs, search by name, or use the filters to find what you need.
New federal programs and grants could pop up at any time, so it's a good place to bookmark and keep checking back every once in a while, to see if there's anything that might help you.
The town of Riverside, CA, is so devoted to helping its low-income families that it's willing to provide a refurbished computer to low-income residents for free if they qualify financially.
Annual income for families much be $45,000 or less to receive a computer, and the family must also complete a free computer training course for eight hours before they receive it.
The course can either be in English or Spanish.
Things like this aren't just available in Riverside, either. You might have a similar program in your own town, or in a nearby one that can help!
Your best bet is to check with your local welfare office and ask what resources might be available to help you and your family.
Some of the other tips we recommend for you include:
Ensure you prepare the details of your computer access needs ahead of time.

Make constant applications for computer devices and solutions.

Ensure your application is legitimate, and that you really have challenges in finding a computer.
With Causes is a nonprofit organization designed to help various people in need, whether they have low income, a disability, or have faced some type of emergency or hardship.
The charity supports several causes and helps people in just about any way it can, including giving people in need a new vehicle, taking in abused women and children, or providing needy families with a computer.
If you can't find a free computer by any other means and can't afford one yourself, you can fill out the form on this website and explain your situation.
There's no guarantee that it can help, depending on available funds, but it's worth a try.
However, there are a few helpful things that you can do to improve the quality of computers you can access. Some tips we recommend for using this platform include:
Map out the specific computer specs, and functionalities that you expect.

Produce a high-quality application that details all relevant aspects of your computer needs.

Consult with any other people who have made successful applications in the past.

Be patient when making the application process, and accessing user data.
How to Get A Free Laptop for College Students
There are various factors to consider when it comes to getting a free laptop for college students. You have to be thorough with the research process to help ensure the quality of results you receive is suitable for your needs. Laptops are important for performing various functions in academics. You ability to navigate through these systems correctly makes a positive impact on career in future.
Finding a good laptop for free might seem like a simple task, but things get easy when you have the right information. We have identified the top free laptop platforms that you should consider:
The OEDb has a great list of online colleges that offer laptops and iPads to their students.
While some of these are free, others are fee-based and the cost is included in your tuition.
One of the main reasons like using this platform is that it provides access to an extensive range of offers.
Plus, all of the computer solutions that the platform provides go through legitimacy checks. That is because the site lists many devices, and the quality of results their users access is important.
Some of the colleges mentioned on the list are Rochester College, the Illinois Institute of Technology, and Purdue University.
This nonprofit organization was created in 1998 by actual college students who recognized a need for free and reduced-cost laptops for their fellow students.
They have many resources, including free software for college students.
Though they have a strict and lengthy application process, Technology for the Future believes in our current and future generations.
The name of this company is an excellent depiction of the quality of solutions, and benefits offered to their consumers. Part of the company's focus involves in guaranteeing people have access to high quality technology solutions.
But, the process of accessing their offers and solutions requires a step by step process for the best results. You may have to provide a few legitimate identification details to guide this process.
However, you are sure of gaining access to a good laptop that you can use for your projects, or life obligations.
Free Laptops for People with Disabilities
People with disabilities may not have the opportunity to work, or they may be limited with the type of work they do.
Unfortunately, that means that they often have low incomes that make it difficult for them to support themselves and their families.
A new computer could be out of the question, especially if these individuals require special assistive technology to be able to operate it.
Fortunately, there are several ways people with disabilities may be able to get a laptop or computer of their own, thanks to the following grants and programs designed to help.
Check with Your Local Library System
I've heard about some libraries offering grants to people with disabilities and low incomes so that they can purchase a new laptop or computer.
If your local library has a website, you might be able to find information about its available grants there, or you can always call the main branch to ask.
We recommend you find as many libraries as possible in your area. Doing this will ensure you increase the likelihood of you finding lucrative computer offers for your needs.
You may also have to patient, because many other people also probably make applications to local libraries. One of the best ways to make your offers stand out involves showing the legitimate need for computer offers.
Ensure your message requires contain all the details of your current life circumstances. You should also identify the plans and goals you have for using the computer.
Doing this helps improve the likelihood of you accessing a possible computer offer.
Look for Charities That Help People with Your Disability
Disability-specific charities can often help people with that disability get what they need to function in society, including a new computer that can keep them connected with the outside world.
Visit Charities.org to browse available charities and find ones that may help you in your situation.
This site comes from the United States Department of Labor and offers valuable resources for anyone with a disability, including finding work, housing, or technology needed to have a comfortable life.
Since the resources available from the government can change each year, you might want to keep this site bookmarked for future reference, even if there's nothing available right now.
There is a Technology section on here that could help you get what you need, including assistive technology to use a computer or technology you might need for a job.
One of the main benefits of applying through this platform is that it's a legitimate government platform. So, the likelihood of finding suitable offers and solutions for your laptop needs is simple.
The platform also lists high quality solution that can help improve the quality of your user experiences. But, since it's a government platform, this process may require some time.
GiveTech is a charity that doesn't necessarily give away computers for free.
Instead, it helps those with disabilities get the assistive technology they need to be able to operate computers.
Those with missing or disabled limbs, for example, might be eligible to receive talk-to-text software that can help them communicate using a computer.
Eligible individuals must have a significant need for a computer (meaning that their lives could improve with the use of a computer), must be financially eligible for assistance, and must have a severe physical disability that impairs their use of a computer.
You can fill out the form on the website to apply for yourself or someone else.
One way to make the application process successful involves listing out the reasons for purchasing the computer. It helps ensure that you receive high quality computer offers, and that you are first in line for the offers when the finally come through.
Jim Mullen was a police officer for Chicago when he was shot and wounded in 1996, leaving him paralyzed from the next down.
Mullen was originally gifted technology known as Tracer by GiveTech, which gave him the ability to use the computer again just like everyone else.
After the incident, Mullen created this foundation, which helps those with physical impairments or disabilities get computers for free.
The organization has made major leaps over the past few years. Part of this improvement involves the ability of the company to provide high quality solutions to its users.
Laptops are no exception, but finding the ideal one requires a delicate research process.
This organization focuses on improving the lives of elderly, disadvantaged youth, disabled individuals, and anyone else in need by providing important services they may not have access to otherwise.
A computer could be one of the gifts from the charity for eligible people.
One of the areas The Beaumont Foundation of America focuses on is education, ensuring that people all over the country have access to the resources necessary to move ahead in live.
Children and youth may be eligible for grant money from the organization, which is given away every year.
Like the other organizations we have on this list, the Beaumont Foundation of America requires patience. Why is that?
That is because the organization receives countless requests from individuals across the country.
It also has to perform quality checks for each device listed on its portfolio of offerings. Using this approach, ensures individuals receive high quality computers.
The CAP is a program that provides assistive technology to individuals so that they can succeed in just about any work environment, regardless of their disabilities.
Some of the assistive technology the program can help you gain access to includes:
Audio output devices
Large computer monitors
Screen magnifiers
Educational software
Assistive listening devices
Headsets and microphones
Alternative pointing devices
The program can't assist with all technology, but it may be able to help you find a specific type of computer that could help you, depending on your disability and financial eligibility.
You can fill out an accommodation request form on the website.
Need Free Internet Access Too?
So, you ended up with a free computer or laptop (hopefully!), but you're now concerned about affording the internet.
That can be a real problem, considering that internet tends to run at least $30 or more per month for anything faster than turtle speed.
While the cost of the internet access is sometimes expensive, there are options you can use to access it for your needs. You just have to look in the right places.
But, we recommend that you be cautions when you want to access public Wi-Fi and internet resources. The reason is because most of these platforms are prone to issues like illegal access. Your ability to do this is crucial for the quality of internet connectivity benefits you can access.
Here are some helpful options for finding free or low-cost internet services, both in the home and outside the home, so your new computer won't go to waste.
Use Free Wi-Fi Locally
There are probably several places you can visit within ten minutes of your home that offer free Wi-Fi for guests!
The library is a top personal pick of mine. It's quiet, it's comfortable, and being surrounded by books isn't bad either.
My local library lets me sit for as long as I want and take advantage of its free Wi-Fi. It even has outlets so I can charge my laptop.
Another option is a restaurant or fast food place.
Most McDonalds restaurants have free Wi-Fi and comfortable places to sit that are perfect for housing a laptop.
While its possible to use free Wi-Fi locally, the process of accessing these offers requires a cautious approach.
Why is this?
The reason is because public Wi-Fi connections sometimes raise a few computer security issues. Here are some helpful tips for you if you plan on using free wifi for your laptop:
Ensure you use the right computer security systems to secure your devices.

Avoid sharing your passwords and logins with any other secondary parties.

Always track your user traffic and computer procedures when possible.
Need more ideas? Check out this post about getting free internet services!
Check Out FreedomPop
FreedomPop is a service that gives free internet to eligible members.
Your location must qualify, and you can see if you're in an eligible area by entering your zip code on the website.
FreedomPop will send you a free mobile hotspot to use for your internet connection.
You'll get 10 GB of free internet for your first month, and then 500 MB of data the following months.
While this seems like sufficient data for your computer usage needs, we recommend you use a software to track its usage. Why is that?
This will help you ensure you use each of monthly data packages for the right purposes. Windows users can even use a metered system to help with the data management process.
Get 10 Hours Free Every Month
Netzero and Juno are two services that offer ten free hours of internet every month when you sign up with them.
The only requirement is that you have to sign up with legitimate personal details. That is because it helps ensure that only legitimate people can access these privileges.
The connections are dial-up, so they won't be as fast as high-speed connections, but they'll still do the trick when you don't have extra money to spare on internet every month.
Look for Municipal Wireless Networks
Some locations have what's known as a municipal wireless network, where the town or city has free wireless internet available.
You can see if your area has something like this by chtely come in handy when you don't have internet access at home and still need it occasionally for school or work purposes.
Read More: 11 Totally Legal Ways to Get Your Internet at Home Without Paying for It
Make sure to check out the organizations we highlighted on this list to see how you can get a free or low-cost laptop.
What local organizations have you worked with to get a free laptop?
Share your tips in the comments!
Related Posts:
Earn Everything… nearly!
Join Ipsos iSay, one of the few Faithful and Honest survey panels and earn prizes, gift cards and donations. Stack your points and redeem them: Simple! No hidden fees and completely free!