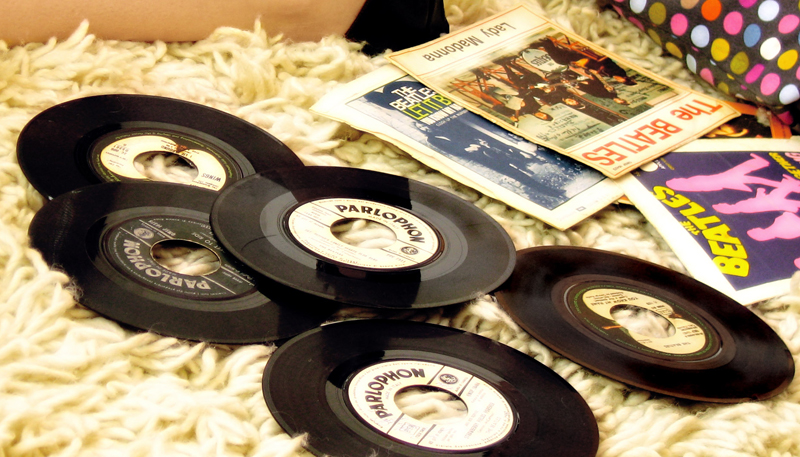 Vinyl records may have been popular decades ago, but that doesn't mean they've outstayed their welcome.
Need Easy Extra $350+/Month For Free?
InboxDollars: Has so far paid its members over $40 Million. Watch videos, take surveys, shop and more. Join InboxDollars Now and Get Free $5
SwagBucks: Watch videos, take surveys, shop and more to earn real money. Earn up to $35 per survey! No hidden fees and completely free. Join Swagbucks Now to Get $5 Free
Toluna Opinions: Earn $1-$5 each time you qualify and take surveys. Test products for free and share your opinions! Join Toluna Opinions Now
Lifepoints: Famed MySurvey just rebranded to LifePoints. Take paid surveys anytime and anywhere via PC or Mobile App. Paid its members over $32 Million so far! Join LifePoints Now
YouGov: A leading name in online panels: Join now and earn $50 cash or vouchers for completing surveys! No hidden fees and completely free! Join YouGov Now
SurveyJunkie: Make $5-$25 in your spare time from home to take online surveys, participating in a Focus Groups and trying new products. Join SurveyJunkie Now
Those round discs can be worth a lot of money to the right person, so hanging onto them for this long could prove to be lucrative for you if you're willing to send them.
The trick is to find out who buys vinyl records for the best prices so that you can sell them for cash quickly.
It's also crucial that you know what you're working with.
It would be a shame to get rid of your collection, only to find out you sold it for much less than you could've gotten.
Let's dig into getting the best price for your collection and finding out where to sell them, both locally and online.
How to Sell Vinyl Records for the Best Price
Selling vinyl records for the price they deserve comes down to a couple of important factors:
Their condition and value
How much you know about them
Here are some helpful details to make sure you're getting every penny from your vinyl record collection that it's worth:
Know the Condition
Vinyl records that are kept in near-perfect condition over the year will, like most things, hold more value than those that are beat up and worn.
People want to see that vintage stuff is taken care of, so they're willing to pay more for things in pristine condition.
This holds true for your records.
Vinyls in good condition will likely play better than worn out records, too.
A few things to look for on your records include:
Bending/warping
Scratches
Playable or not
Condition of the original sleeve
Worn-out labels
Dust
If you're careful about storing your vinyl records safely, you probably won't have many, if any, of the above issues.
Vinyl records should be stored vertically to help them hold their shape and in their original sleeves.
They also should be kept away from extreme temperatures, dryness, or dampness.
Need Easy Extra Cash?

Pinecone Research, a leading name in online survey panel honesty, absolutely guarantees $3 cash for every survey you complete!
Take advantage of their time limited New Membership drive and register NOW. Join today: 100% free!


It's even better if you have a storage container to keep them in, which keeps them protected from things like dust, pets, kids, humidity, and anything else that might affect their condition and, therefore, value.
Keep the Original Stuff
Having vinyl records still in their original sleeves and with anything that came with them originally is much better than trying to sell them without their original stuff.
Some vinyls would come with sheets of lyrics, photos of the artist or band, and other memorabilia that will make your albums worth more if kept and sold together.
Of course, if you have any albums that have been signed or are collector's editions, be sure to hold onto any certificates of authenticity that can significantly boost their value.
Research Popularity
You know what you have and the condition of your collection.
Now, it's time to research how much everything's worth!
Yes, this will take some time to do because you'll need to go through every album, find out any features that might boost their value, and track down current prices.
But it's worth it, in the end, to make sure you're getting every cent your collection's worth.
You might even have special editions you didn't even know about!
WhatSellsBest is a helpful site that you can use to try to find a value for each album in your collection.
The site tells you some of the most-wanted items in various categories, plus what buyers are willing to pay for specific items.
You can even get free appraisals by experts of vinyl records!
You should also find out if your record was an original pressing, which means it made from the first round of pressings rather than a later reissue.
This can be tricky, though, unless you know exactly what you're looking for.
You can join the Vinyl Reddit thread to ask others there about your albums if you're not sure.
There are a lot of experts on vinyl records there who might be able to help you!
Identify Rarities
Most collections have some sort of rare items that hold more value than others, and vinyl records are no exception.
You might have some in your collection that you didn't even know were rare!
In addition to seeking help on Reddit and conversing with the experts on WhatSellsBest, you can always do a little digging of your own.
Rarities in the vinyl record world would include things like Record Store Day releases, special edition albums, and limited-edition releases.
Sometimes, albums go way up in value after the death of an artist, too.
ValueYourMusic could come in handy here.
This site curates prices of albums that have sold on auction sites to give you an idea of what your albums might be going for.
How Much Can I Get for My Vinyl Records?
This is a tough question to answer because the truth is that it'll depend on your collection – what you have in it and what condition it's in!
There are some vinyl records that may only sell for a few dollars.
There are others that can easily garner thousands of dollars, or even tens of thousands of dollars.
It also depends on where you sell your records.
Targeting collectors at an auction will probably get you more for your collection than selling them to a record store that only pays a small portion of what they're worth because they need to sell your records for a profit.
And, it boils down to luck.
Earn Everything… nearly!

Join Opinion Outpost, one of the few faithful and honest survey panels and earn cash and gift cards for your opinion. Stack your points and redeem them: Simple! No hidden fees and completely free!


You could have someone browsing your yard sale who comes across your old Beatles records.
You might have the records they need to complete their collection from their favorite band of all time.
It happens, which is why it's always best to find the perfect buyer who has no problem paying you what your records are worth.
So, to answer the question: Your vinyl records can sell for much more than their value, realistically, if you wait for the right buyer.
You could be looking at anywhere from a few hundred dollars to a few thousand dollars to sell your full collection.
It's important to make sure that you're 100% ready to part with your vinyl records before you do so.
It's equally important to only settle for a price you think is fair rather than taking the first offer you get.
Your records mean something to you, so don't settle for a price any less than one that reflects your love for them.
Where to Sell My Vinyl Records Near Me
Ready to sell your vinyl records?
Finding a local buyer could be the best way to go because the buyer might be more willing to pay an excellent price if they can physically see your collection.
Plus, you won't have to deal with any shipping costs that could eat away at your profits!
Here are some of the best ways to sell your collection locally:
Record Stores
Yes, these still exist in some places (mostly cities, but I've seen them in small, trendy towns too).
Record stores are always on the hunt to replenish their stock of albums, from super common to incredibly rare.
They just want to be able to keep selling awesome records to the public, so they'll usually take what you have.
Even if it's not worth much, they can still likely make some money off customer purchases of your albums.
The problem with this, though, is that you definitely won't get your collection's full value.
The store needs to make money, too, so you should probably only expect about 50% to 70% of your collection's value to make room for the store's markup.
Unless you need to make a really quick buck, it's probably better to wait to find the right buyer for your albums instead of selling them to the local record store.
However, taking a look at some places local to you can't hurt – you never know what they're willing to pay unless you ask.
Here are a few examples of record stores in large areas that will even travel to YOU to buy your albums:
This record store is in Beacon, New York, but if you live in the Hudson Valley area, NYC area, upstate NY, NJ, Connecticut, Pennsylvania, or other surrounding areas, you might be able to have the company come to you and pick up your collection – after they buy it, of course.
This company pays cash for the kinds of records it sells, which include jazz, reggae, and rock.
There are a few types it won't accept, including musicals, classical music, and albums from country artists.
You'll need to use the website to schedule an appointment on the company's pick-up route, as it frequently drives through the areas listed above.
Princeton Record Exchange is a Princeton, NJ-based record store that allows you to sell your album collection locally if you live in Princeton or a surrounding area, like NYC or Philadelphia.
The company lets you fill out a questionnaire about your albums online or you can email a full listing to the company to see if it has interest in your collection.
If so, you can bring in your albums and get them sold.
The store allows you to sell all kinds of albums, even if they're in genres that are of little interest to its customers.
Cash for Records is a company based in Cleveland, Ohio, that will travel a reasonable distance to pick up your albums and buy them from you.
Or, if you live in the area, you can drop them off yourself.
It's a good idea to call the company first (the number's on the website) just to make sure that it's interested in your vinyl record collection before heading over there.
The company primarily loves blues, soul, jazz, and rock, but will also take other albums if they can potentially be a hit for customers.
Flea Markets
It's not uncommon for people to visit the flea market in search of old albums.
You'll usually find at least one or two people selling them already.
The flea market is a great option because people go there looking for vintage stuff they can't find anywhere else.
The right buyer could walk up to your table and be ready to buy several – or all – of your albums without thinking twice.
Even if you can't find someone to buy your full collection, you'll probably find a bunch of separate customers who want to buy one or two, which could actually help you walk away with more money in total than selling your albums together.
Read More: The Ultimate Guide to Profiting from Flea Market Sales
Thrift Shops
If your town has thrift shops, it might be worth your time to pay them a visit.
Although these stores are known for their low prices (which means paying you even less to they get a profit), they also are known for getting some really cool, unique stuff that's worth good money.
They might just think your collection is cool enough to have a place in their shop.
Facebook Marketplace
I love selling stuff with the Facebook Marketplace.
It's really simple to list items on there, add a few pictures and a description, and find a buyer.
The Marketplace even shows your stuff to people in other areas if you don't mind shipping items.
When you list on the Marketplace, you can sync your listings with buying and selling groups, your Facebook profile, and your pages if you want, which gets more eyes on your items.
A lot of people will probably try to get you to sell your albums for a lower price, but don't give up.
You might just find someone who knows the real value of your collection and is willing to pay top dollar for it.
Craigslist
Craigslist is a site where you can sell your albums locally or across the country, but it's typically used locally as a free place to list stuff for sale, kind of like the Classifieds in a newspaper.
You can show photos of your albums with a description for buyers to contact you about, all for free.
When you think you have someone with a legitimate interest, you can set up a meeting place and date for the person to check out your collection in person and pay you.
Just remember that Craigslist has no protection for sellers, so it's up to you to use your best judgment in selling your stuff.
Don't accept checks instead of cash, meet in a public place, and always bring someone with you for your safety.
Craigslist Alternative Sites
Sites like Craigslist can also give you an opportunity to sell your albums locally if Craigslist isn't working out well for you.
Or, list on Craigslist and a few other similar sites to give your stuff more exposure.
Personally, I like Geebo and Hoobly.
Both are really simple sites and operate similarly to Craigslist, so they're not complicated to figure out.
Plus, they both let you list items for free, so you won't have to pay out of pocket just to get your stuff sold.
As you do with Craigslist, be diligent about your selling process.
If anything seems fishy, don't go through with it.
Bring someone with you and meet in a public place. And never give out your personal information to a buyer.
Read More: 24 Websites Like Craigslist: (Most Let You Sell for Free!)
Yard Sales
Host your own yard sale and you might get at least some of your albums sold.
Yard sales aren't generally known for big-time buyers showing up, but it can happen.
Be sure to advertise your sale in the newspaper and online wherever you can, like your social media channels and any local groups you're a part of.
Ask your friends and family to spread the word, too!
Used Bookstores
Used bookstores can also be a treasure trove for other vintage finds, like albums.
If you have any in your town, see if they might be willing to take a look at your collection and offer a price.
Hobbyist Stores
Stores designed for hobbyists can be a great place to sell your vinyl albums too.
Often, these stores sell stuff like superhero collectibles, comic books, figurines, board games, and other stuff that people tend to collect.
Many of them have sections filled with CDs and vinyl albums, so there's no reason why your albums can't belong there, too.
You can expect a similar pricing structure for your albums at hobbyist stores as used bookstores.
You typically won't get full value for them, but you could still get a good price for selling your full collection.
Pawn Shops
The pawn shop might be an option for you if you want to get your collection sold quickly without having to wait for a buyer.
In fact, some pawn shops price very fairly based on the value of what you're selling, especially if they have experts in a variety of areas that can guide them to fair value of different items.
So, if your local pawn shop is well-versed in old albums, you could end up scoring an excellent deal for your collection.
Auctions
Antique auctions happen all over the United States throughout the year, and there could be one coming up in your area.
You'll find them a bit more frequently during the summer months or on the weekends through the year.
Check with collectors in your area to learn where and when you can find them.
The thing with auctions is that the price of an item can go up as high as people want to pay!
There are no caps, which means that your albums could sell for above and beyond what they're valued just because the right collector comes along.
Some auctions are also only for old vinyl albums, which could draw in a specific crowd that's only there to find albums to add to their collections, which could be even better for you.
This record store is in Beacon, New York, but if you live in the Hudson Valley area, NYC area, upstate NY, NJ, Connecticut, Pennsylvania, or other surrounding areas, you might be able to have the company come to you and pick up your collection – after they buy it, of course.
This company pays cash for the kinds of records it sells, which include jazz, reggae, and rock.
There are a few types it won't accept, including musicals, classical music, and albums from country artists.
You'll need to use the website to schedule an appointment on the company's pick-up route, as it frequently drives through the areas listed above.
Where to Sell Old Records Online
Selling your albums online might get you a better profit than selling locally.
You'll reach more buyers this way, so you could find just the right person who knows the worth of your collection and doesn't think twice about shelling out the cash.
Here are some sites to try selling your vinyl records:
This seems to be the holy grail of all things records, or music in general.
Discogs is mentioned by tons of people who have a vested interest in vinyl records, as well as Reddit threads and other online groups dedicated to these albums.
The site offers a database of support about vinyl records in its articles and community.
It's also a marketplace for buying and selling music, and it seems to be mostly experts and avid collectors who hang out here (that means you have a good chance of finding someone who's very interested in the value of your collection!).
The site also has some pretty low fees associated with listing items compared to Amazon or eBay.
eBay is a great place to sell almost anything online, but collectibles tend to do really well on the site.
People go to eBay, in fact, to find the missing pieces of their collections, whether they collect Hot Wheels, dolls, or vinyl albums.
On eBay, sellers can list items for a flat price or put them up for auction and see how high the prices soar.
If you list your collection as an auction and are concerned about it selling for pennies, you can always put a reserve price on it to make sure it doesn't sell for anything lower than you set.
Read More: How to Make a Living Selling on eBay: Step-By-Step Guide
eBay Alternative Sites
There are also a lot of legitimate eBay alternatives that let you sell stuff online that could give you a broader audience for your vinyl albums than selling on eBay alone.
One is Bonanza. This can be an excellent place for vinyl records, especially those that are considered rare, because Bonanza is all about sellers that have out-of-the-ordinary stuff to sell.
So if you have any really unique albums or limited editions, then this could be the right place for them.
There's also eBid, which is about as close to eBay as you can get.
The great thing about this site is that you can upgrade your account to get free listing and sales fees, making you instead pay just a single price for the upgrade rather than a fee for each sale.
Sellers on Etsy don't just sell crafts and handmade stuff.
They also sell antiques and collectibles, meaning that your vinyl albums could certainly find a home there.
To sell on Etsy, you need to open an online shop on the site.
There are no monthly fees to do that; instead, you'll pay small listing, transaction, and selling fees.
What's great about Etsy is that it also advertises products off of its site, so you have the chance to get sales from other places instead of just people browsing Etsy!
You can also advertise your listings yourself on your website or social media channels to bring in more traffic.
Amazon is another option if you don't mind selling each record separately rather than as a full collection.
It's free to create a seller account on Amazon.
You'll just pay fees when your items sell.
The best part about Amazon is that listing your albums is super simple.
Just search for it on Amazon, find the exact match, and add yours. Amazon will use its own photos so you don't have to worry about uploading them.
You can also see how much other sellers are selling the same items for and drop yours a penny lower to make sure you have the best price!
Vinylom is kind of a one-stop shop for vinyl record collectors.
You can find information about albums, community discussions, and a marketplace for buying and selling.
This is an excellent spot to sell your rare albums; many on the site are going for $700 or more.
You can create your own shop on MusicStack to find buyers for your record collection.
It's free to sign up for a shop and list items, but you'll only get 8% commission on everything you sell, so it's likely not the best place to list all your rare stuff.
But, for those odds and ends that you don't think you'll be able to sell for much elsewhere, this can be a good place to get them off your hands.
You'll need a PayPal account to sell here, as that's currently the only payment method available.
This is one of the most popular places right now to both buy and sell vinyl records online.
You can create your own shop on the site and have buyers browse your collection and buy from you.
The company will cash the payment for you and release it to you once the transaction clears, which helps ensure that both you and the buyer are protected from fraudulent sales.
You can even import your listings from other places you sell online to make it easy to see your inventory in one place.
Did you know that the social platform, Reddit, can also be the perfect place to find buyers for your albums or your collection?
There are many subreddits here for music and album lovers that are devoted to news and information.
Because a lot of enthusiasts and other collectors gather in these subreddits, they could become a place where you find people who love your collection and are willing to buy some pieces or the full thing.
Just be sure that selling is allowed in the subreddit (you can read each subreddit's rules when you join them).
r/redditbay is a general marketplace that's like the Reddit version of eBay where you can sell just about everything you have.
You can also try r/vinyldeals for a subreddit that's more specific to buying and selling vinyl albums – you could end up with the perfect buyer here!
Shake It Records is a record store in Cincinnati, Ohio, that will let enthusiasts sell their albums or album collections for it to resell to customers.
You can either send in your albums or have the company make a house call to view and pick up your records if you have a bunch of them.
Of course, you'll need to live within a somewhat close range of the store to have the house call work.
You'll also need to call the store to discuss your collection and arrange either a shipment or a house call, depending on where you live.
This shop will also buy speakers, turntables, and other music equipment if you have them available.
DJ Records USA is a place that will take your old records off your hands and pay you for them.
The company is headquartered in Missouri, but it accepts inquiries from anyone anywhere in the United States.
You can give the number on the site a call to set up an appointment for someone from the company to look at your albums and name a price.
You can get paid on the spot, as an album buyer will come prepared with a payment for you and load your vinyl records themselves.
As an added bonus, this place has been accredited with the BBB since 2012 and currently has an A+ rating, which can give you a little extra peace of mind as you sell your collection.
Time Capsulez is an online record store that sells albums on places like eBay and Discogs.
If you're not into trying to sell your collection yourself, you can sell it to Time Capsulez and let them do the hard work!
Of course, you'll be getting a little less for your collection because the company will need to sell it for a profit, but it can be a convenient way to get your albums off your hands easily.
I'm not 100% sure where this company is located and how far they'll travel to pick up your albums, but it does say on the site that it's willing to travel to you.
You can fill out the online form to get the process started and tell the company more about your collection to see if there's an interest.
Hard to Find Records is another website where you can type in information about your albums and sell them online.
You'll see the recommended price when you do this and can decide whether you want to accept the price or not.
If so, you can ship them in, wait for the company to review them, and get paid.
With your payment, you'll also receive some money toward your shipping costs.
Sell Your Vinyl Record Collection for the Best Price
You've held onto your collection of vinyl records because it obviously meant something to you (and still does).
But there usually comes a time in a collector's life when they're ready to let go and make money from the time and effort it took to build that collection.
By using one of the places I've listed above, or a combination of a few of them, you'll probably start raking in some good money from your album collection in no time.
Take plenty of time to research the albums in your collection before you start selling to make sure you're aware of any rarities and the values of each.
This important step alone will guide you to accepting only the best offers from people who are serious about buying your collection.
Do you currently have an album collection you're looking to sell?
What places have you considered selling so far?
Related Posts:
Earn Everything… nearly!

Join Ipsos iSay, one of the few Faithful and Honest survey panels and earn prizes, gift cards and donations. Stack your points and redeem them: Simple! No hidden fees and completely free!