43 Work from Home Jobs That Give You a Free Computer
Updated on: by Amy Kennedy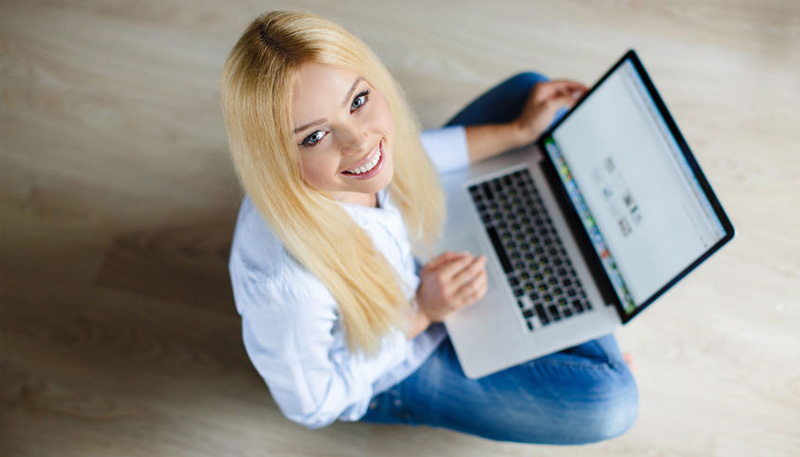 In your work from home searches, you probably notice that most jobs require a computer, right? Does that mean that you can't work from home if you don't have a computer?
Need Easy Extra $350+/Month For Free?
Fortunately, no.
Some companies know that not everyone has a computer at home and are willing to provide their employees with one so they can get started.
And, even if you do have a computer, you shouldn't have to use your personal one for work purposes.
These companies help their employees by giving them the computer that they'll need to complete their job at no cost to the employee.
Usually, you'll need to send the computer back if you terminate employment.
Be sure to keep it in good condition and treat it the way you would your personal computer.
Most importantly, only use it for work purposes, as detailed by your company. Keep your personal computer use separate.
Ready to see the jobs? Let's get started!
Companies That Send You a Computer for Work
A Place for Mom is a helpful resource for those looking for assisted living or nursing home care for elderly loved ones.
The company offers remote positions for people to become Senior Living Advisors and help callers find out more about their best options for their loved ones.
You'll need at least three years of experience in sales and/or customer service, strong phone and typing skills, and you must be able to multitask.
According to others who have worked with the company, they have several benefits available, including a company-furnished computer.
ABC Financial offers products, software and services that help fitness gyms operate.
The company has some remote positions available at times, ranging from information technology to sales management.
Most of the positions will require a lot of experience and a specific degree, but they reported pay and benefits are good.
Need Easy Extra Cash?
Pinecone Research, a leading name in online survey panel honesty, absolutely guarantees $3 cash for every survey you complete!
Take advantage of their time limited New Membership drive and register NOW. Join today: 100% free!


Plus, ABC Financial gives some of its work from home employees a computer as part of its benefits package, but you'll need to check the benefits for each individual position.
Active Network creates mobile apps, cloud systems, and more for sporting teams and events.
If you work from home with Active Network, you'll typically have a customer service position taking reservations and asking questions.
Active Network sends its employees the necessary equipment to complete the job, including a keyboard, mouse, headset for your phone, and the computer.
However, you will need a computer monitor, as Active Network will only provide the computer itself.
With this company, you can work at home as an account representative who takes both inbound and outbound calls to collect money on credit card accounts that are past due.
Workers who want to work at home will need to provide high-speed internet access, but the company will furnish a computer.
Amazon often hires part-time and full-time customer service representatives to work from home, especially during its peak season around the holidays.
Reportedly, some positions will offer computers to workers, as well as headsets and other equipment necessary for the job.
As a virtual worker for American Express, you can potentially get a computer and other equipment you might need for the job.
The company hires for positions like travel consultants, team leaders, and customer support specialists to work from home.
There are both part-time and full-time positions available.
Reportedly, a representative from the company will even come and install the required components to do business.
Apple At-Home Advisor positions are some of the most coveted in the work from home world.
Not only will you work for one of the top companies in the world, but you'll also be able to work from home providing assistance to those who use Apple products.
And, Apple sends you a free MAC computer for those hired for the position!
Some positions for Apple are chat-based, and others require more phone work. They also have either customer service positions or tech support positions.
In addition to a free computer, you can also qualify for benefits as a full-time employee with the company, such as a savings plan, health insurance, and more.
Aspira is a company that provides various outdoor services to outdoor-focused companies, recreation areas, and more.
Aspira hires work at home agents to assist recreation companies with their reservation process, so you'll be taking phone calls from people interested in reserving RV spots, campgrounds, and more.
The company has paid training for everything you need to get your job done and reportedly may furnish a computer to those who need one.
This company offers technology services to healthcare providers and payers to simplify the paying process for medical care.
BroadPath is very remote-friendly, so most of its positions are virtual.
Most jobs will require you to have a high-speed internet connection, but BroadPath Healthcare Solutions will provide the equipment, like a computer, necessary for the jobs.
A couple of the positions the company offers are a Licensed Health Insurance Agent and Workforce Management Manager.
Buffer's team is fully remote, so any position here that you can grab will allow you to work from home!
This company is all about making social media even easier to use through its handy app that allows scheduled posting and other helpful services.
Buffer offers a variety of benefits to employees, including company retreats, paid time off, health insurance, and more.
And, your Macbook needed to complete your work is also covered by Buffer.
Earn Everything… nearly!
Join Opinion Outpost, one of the few faithful and honest survey panels and earn cash and gift cards for your opinion. Stack your points and redeem them: Simple! No hidden fees and completely free!


Oh, and you'll get a Kindle for free, too, as an added bonus!
Care.com is a site that helps match caregivers with their ideal roles.
There are several remote positions available on the site that require phone and computer work, and some note that they'll provide candidates with a computer for work purposes.
Citi Group hires work from home customer service representatives to take phone calls and assist customers with questions.
You'll need to apply to the position that's closest to your town because you're required to work on-site for six months before moving to your home office.
You need a minimum of one year of customer service to apply and a high school diploma is a requirement.
It doesn't mention it on the job description, but those who have worked with the company have stated that a computer can be given to you if needed to work.
Concentrix is a technology-focused company that provides various services to its clients in a remote-friendly way.
You can find jobs in lead generation, account management, creative services, human resources, and more.
Most positions offer fully paid training, bonuses and incentives, paid holidays, and more – plus paid equipment, depending on the job.
Conduent is a company that offers digital solutions for the government and businesses.
You can work with various clients as one of its virtual workers.
There are plenty of industries and clients that partner with Conduent, so there are several opportunities available at any time that could match your skills.
Depending on the exact project you're working on, you could get all equipment needed for the job, including a computer.
You'll need to supply the internet connection, though.
Doctor on Demand is an app that allows people in need of medical advice to call a medical doctor without visiting one in person. The doctor can even put in a prescription for you over the phone!
The company occasionally hires work from home customer service agents to assist customers who have a problem with the app or need general questions answered.
You'll need at least two years of experience in the healthcare field to work with the company. Once you get hired, you'll receive all necessary equipment, like a headset and a computer, to complete the job.
Enterprise is a rental service company that is one of the most remote-friendly companies out there.
Although the positions can change frequently, there have been some that have noted supplying equipment, such as a laptop and headset, to at-home workers.
Note that most of the work at home jobs provided by Enterprise do require workers to live within a specific distance from an on-site location for training and meeting purposes, so some travel may be required.
Express Scripts fulfills online orders for medical prescriptions sent in by doctors.
The company does sometimes have openings for remote workers that will require the use of a computer for work purposes.
Depending on the position, you could reportedly get a free computer from the company.
GC Services has positions for home-based customer service specialists to aid its customers.
Workers will need to go through a training program that could have night and weekend hours and will need to be flexible with their schedules upon hiring.
You'll respond to customers via phone, chat, and email, so you'll need to have good communication skills in all areas.
The company does provide the equipment you'll need for the job, including a computer.
Hilton Hotels has at-home jobs available, mostly for reservation agents to help customers in setting their hotel and travel reservations with the company.
Although you'll need to have a high-speed internet connection, a surge protector, and a monitor, Hilton will give you a mini-PC, keyboard, and mouse for free as part of the job.
Holland America is a cruise company that looks for remote reservation sales agents to help customers complete their reservations online or over the phone.
Most of these positions are based in a specific state.
Candidates must be at least 18 years old, have a quiet and separate work area, be self-motivated, and have great communication skills.
Holland America not only provides a computer for work, but it'll also give employees dual monitors, a headset, and a soft phone.
You'll also get a separate phone line installed for work and paid training.
Kelly Services occasionally has openings for work from home customer service representatives.
The pay is said to be around $12 to $13 per hour and you may be eligible for bonuses.
You'll need to be comfortable utilizing various contact methods, such as live chat, phone, or email.
And, with these positions, you'll benefit from weekly pay.
A free computer isn't listed in the job description, but others report being given a computer for work purposes once they're hired.
Lands' End is a popular clothing company that allows customer service agents to work from home.
You must have excellent typing skills and the ability to multitask. It's also a bonus to have some basic technical support experience, as you may need to assist customers in placing online orders.
When you're hired with the company, you can reportedly get a computer for your work that you can return upon ending employment with the company.
The pay for Lands' End customer service positions ranges from $13 to $14 per hour.
LiveOps is a virtual call center solutions company that connects at-home agents with its clients and their projects.
Agent pay and hours depend on the project on which they're working, and some will even provide agents with a computer and other equipment necessary for success.
Nordstrom is another clothing company that hires customer service agents to work from their home offices providing assistance to customers over the phone.
You must attend training at an on-site location for 10 days, but then you can work from home full-time, 40 hours per week.
The position comes with a lot of perks and benefits, like a 401(k) savings plan, dental, vision, and health coverage and reimbursement for your travel costs for training.
And, you reportedly receive the computer necessary to complete your work from Nordstrom, if needed. You'll just need to provide the monitor and accessories, like the keyboard and mouse.
Become a sales rep, customer service rep, or fulfill another position with insurance company Progressive.
To work from home, you'll need to live within a specific area to be near a Progressive office for training.
In addition to perks like paid training, tuition assistance, medical insurance, and more, employees might also get reimbursed for their computer expenses related to the job.
Reynolds and Reynolds offers a variety of services to businesses, such as training, data management, and customer service solutions.
The company sometimes has work from home job openings for Call Analysts. For this position, you'll listen to phone calls between clients and customers and evaluate the clients' performance.
So, there's no phone work involved; you'll just be listening to recorded calls.
You'll need training first before you begin the job, which you'll get paid for. Pay is reportedly around $7 to $8 per hour as an independent contractor.
Workers have also reported that, if you need a computer to start, you may be able to get one from the company. No Macbooks are allowed for the position.
Sedgwick offers several work from home positions, for both phone and non-phone work.
Most are customer service related positions or claim filing jobs.
You'll need at least a year of clerical/administrative experience and a high school diploma or GED.
Sedgwick not only gives you a computer for the job, but also all other equipment that you'll need. That includes computer monitors (you'll need two), a phone, a keyboard, and a mouse.
You may also get reimbursed for your monthly internet costs to complete your job, up to $75 each month.
SEI is a virtual contact center company that hires work from home agents to provide services to its clients.
You can have a part-time or full-time position with the company.
SEI provides all your training and equipment that you'll need, including a computer. And, even part-time positions will receive paid time off and other benefits.
The only thing you'll be responsible for paying for is your broadband internet connection.
Shyp is a company offering shipping services to individuals and businesses.
The company used to have a Careers page on its website, but has since started listing its job openings on job search sites like Indeed.
You can work from home with Shyp as a customer service representative. The full-time position requires some weekend and evening hours.
You must have at least two years of customer service experience and a college degree.
When you get hired, you'll get several benefits, including flexible vacations, an insurance coverage plan, and your laptop, monitor, mouse, keyboard, and headset are all taken care of by the company.
Sitel is one of the leaders in work from home jobs.
For this company, you'll provide call center solutions for Sitel clients.
You'll have a variety of benefits, like paid training, 401(k), flexible schedules, paid vacation and sick days, and more. Sitel also considers you an employee rather than an independent contractor.
Although Sitel doesn't list a computer as part of its benefits package, several people on work from home forums have mentioned that you can let your recruiter know if you need a computer to do your job and Sitel will provide one.
Synchrony Financial, formerly known as GE Capital, hires customer service representatives to work from home.
Some locations do not offer remote positions, so you'll need to thoroughly check the description for the job nearest you.
You'll need at least a high school diploma or GED and six months of customer service experience.
It's reported that the work from home positions will furnish your computer needed for the job.
Teleperformance is a company that focuses on helping businesses around the world provide customer service with its technology solutions.
Most of the jobs available require at least six months of call center experience.
Agents must also be at least 18 years old, have excellent communication skills, and be able to pass a drug test and background screening.
Some positions do reportedly offer computers.
The Yeomen is another customer support service company for individuals and businesses.
Help desk positions are what the company focuses on, so you may be providing general customer support and more technical support, depending on the client.
The company doesn't always have jobs available, but when it does, it will list them on the site.
People who have worked with The Yeomen have also reported that a computer is part of the benefits you get for working there.
This insurance company focuses on a good work-life balance with its employees, which is why it offers various at-home jobs.
Depending on the position, some employees are allowed to work from home and may be able to use a company computer or laptop for work purposes.
Wayfair hires customer service representatives to work remotely.
You must have a bachelor's degree, excellent communication skills, and a desire to remain in the customer service field.
You'll need to supply a dedicated, quiet office for the job as well as a reliable hard-wired internet connection, but Wayfair will provide a computer and other equipment needed.
Wellbox is a chronic care management company that seeks RNs to work from home on a full-time schedule.
This position is for a Care Coordinator who will work with providers and patients to coordinate a healthcare routine for patients.
You must have a current RN license in your state and be available for calls that are usually between 13 and 48 minutes.
However, you can dictate your exact schedule as long as you're meeting your hourly requirements.
The company will provide a computer, headset, and any other equipment necessary to perform the job.
Wintergreen Resort in Virginia occasionally has openings for work from home Reservation Sales Agents.
Although it's a remote job, you must live within 50 miles of the resort.
Training is on-site and you'll get paid minimum wage for about 120 hours of training during normal business hours.
Then, you'll switch to 10-hour shifts on four days per week. This is a seasonal position running from November to February.
You'll be required to have a high-speed internet connection, but Wintergreen Resort provides your computer, two monitors, and a headset.
World Travel Holdings has several work from home positions. You can sign up to receive alerts when they become available.
If you do decide to work with the company, you'll need to invest in a computer with a $500 deposit, which is spread over several paychecks.
However, this deposit is refundable, so you'll eventually get your money back and World Travel Holdings will pay the cost. You'll also receive a monitor, headset, mouse, and keyboard.
Support.com offers remote technical support services for various technology-related issues. 
They hire remote technicians who can troubleshoot and resolve customers' technical problems. 
While the job description does not explicitly mention providing a computer, you can inquire about the possibility during the application process.
Additionally, support.com provides a comprehensive training program to equip their technicians with the necessary skills and knowledge to assist customers effectively. They offer both full-time and part-time positions, allowing for flexible work hours. 
You will have the opportunity to work from the comfort of your own home while helping customers solve their technical issues.
You can visit their careers page and apply through their application portal.
TTEC (formerly TeleTech) is a customer experience services company that hires remote customer service representatives. 
As a customer service representative at TTEC, your responsibilities may include answering customer inquiries, resolving issues, and providing exceptional customer support. 
TTEC offers paid training and flexible scheduling options to accommodate different availability.
You can visit their website and navigate to their career page. From there, you can search for remote job openings and apply online.
U-Haul is a well-known moving and storage company that offers work-from-home positions in customer service, sales, and reservations. 
Your role may include assisting customers with their inquiries, providing information about U-Haul services, and assisting with reservations and scheduling. 
Note that you will receive paid training and opportunities for career advancement.
On their website, you'll find more information about their work-from-home positions and the application process.
VIPKID is an online teaching platform that connects English teachers with Chinese students. 
They provide one-on-one English lessons through their virtual classroom. 
VIPKID does not explicitly state whether they provide a computer, but they do mention that teachers need a stable internet connection and a computer with a camera.
As an online English teacher at VIPKID, you will have the opportunity to teach English to students in China from the comfort of your own home. 
VIPKID provides a curriculum, and you can choose your own schedule to fit your availability. The teaching materials are provided, so you don't have to spend time creating lesson plans.
Their website provides details about the application process, requirements, and the teaching experience.
Zapier is a startup company that offers several work from home positions, including Content Marketing Managers and Customer Champions (customer service specialists).
The fully remote team gets several benefits, like paid maternity and paternity leave, profit sharing, health coverage, and more.
You even get to pick your own computer and monitor package, plus any software you need for the job, and Zapier will pay for it for you.
Read More: 26 Best Ways to Get Free Audiobooks on Your Computer or Tablet
Other Ways to Get a Free Laptop or Computer for Your Job
What if a job listing looks perfect for you but doesn't mention a free computer for you to get started?
Don't worry – there could be more options for you.
Check out some of the tips below:
Ask Your Interviewer
There's absolutely nothing wrong with asking your interviewer about the potential of getting a computer for work purposes once you move onto the interviewing process.
Yes, there's always a chance they'll say no.
But there's also a chance they'll say yes, especially if you explain your situation and what a good fit you are for the role.
Don't be pushy about it.
Just mention that you've been researching and considering other similar roles in which one was provided and would like to know if that company can match the offer.
Ask People You Know
Your friends and family might be more than willing to help you out in your new and exciting career by giving you a laptop or computer they no longer use.
Ask around in person or online to see if anyone's able to donate one to you!
Get Free Help for Low-Income Households
Computers With Causes is a non-profit organization that donates laptops, desktops, tablets, and other equipment to schools, organizations, and low-income households.
If your income qualifies you for the program, you could get a used computer from the organization to use for work purposes.
The organization looks mostly for computers that can be refurbished, but you might also get lucky and receive a new computer from a donor.
Look on Craigslist
You've probably seen the Free section of your local Craigslist, right?
That's where people go to get rid of anything that they don't particularly care to get money for.
It won't usually be easy to find a computer that someone's just giving away, but it can happen.
Just make it a point to check back daily in your area and surrounding areas to see what people are giving away.
Freecycle is a site in which its members offer the stuff they want to give away for free to other members who need them.
Several locations have their own Freecycle groups, so you can search on the website to see if any are located near you or in places you frequent.
Join your local groups to request what you need!
Get Free Help for People with Disabilities
People with disabilities may qualify for help with getting a free computer for personal or work use.
The Computer/Electronics Accommodations Program is one that helps the deaf and hard of hearing, visually impaired, and other people with special needs get the technology they need.
You can complete a packet for consideration for a computer or laptop that works with your needs to see if you qualify for assistance.
Need more options still?
We have a whole list of ways you can get a free computer from the government!
Avoiding Free Computer Job Scams
Scams in the work at home industry are incredibly common.
Unfortunately, those involving free computers are even more common because scammers know that it's an awesome perk to have a computer come along with a job offer.
The more tempting the offer, the easier it is to get people to fall for it!
There have been a lot of "job search" sites claiming to offer only jobs that give candidates a free PC or laptop for the job.
These often are just scams that try to get you to sign up for offers that'll make the scammers money.
Even checking review sites might not always help you out when you're researching if a company or site is legit.
You might have come across laptopjobs.org reviews and reviews of other companies that talk about jobs that give away free laptops or computers.
Some of the reviews are trustworthy, but others might be affiliated with the site in some way.
If they are, they'll likely give the sites good reviews even if they're scammers, which is why it's so important to only use trusted review sites when researching potential companies to work with.
It's always, always best to visit the careers page of the actual company's website to check out a job listing rather than searching around online.
Alternatively, you can use trusted job search sites like Indeed or Snag-A-Job to help you with your search.
If you do come across any job listings that you just aren't sure about, you may need to put your research skills into action.
Here are a few common things to avoid in this type of work from home computer job scam:
Paying money up front. The point of the perk is for employees to get a free computer, no strings attached, for work purposes. You should never, ever have to pay a fee to get the computer or start the job.
Asking for personal information. You should never have to give out your social security number, bank account numbers, or anything else personal over the phone or via the web.
Generic job listings. If a job listing doesn't describe what you'll actually be doing every day, then it's probably a scam. Never apply to anything unless you have a clear understanding of your responsibilities.
No company name. Scammers will often not even share a company name (because there isn't a legit one!), which is a tell-tale sign something isn't right. Or, it may be a bogus company name that, upon researching further, you find doesn't exist.
No company information or website. Again, if you can't verify information about the company that's supposedly offering the job, it's a huge red flag for the job listing.
Too good to be true. Do the details of a job listing sound too good to be true, like lots of money and bonuses up front, barely working any hours, etc.? If so, it probably is too good to be true.
Be careful to avoid applying to jobs with any of the above red flags and any others that just don't sound right to you.
Trust your gut!
It'll almost always lead you in the right direction.
Conclusion: Work from Home Computer Jobs That Pay for Your Computer
If you'd like to have a separate work computer (which is always a good idea when working from home!), then the jobs I mentioned are perfect for you.
Companies that realize how important it is to allow people to work from home also realize how important it is to supply their workers with equipment they need, just as they would in an on-site office.
With these jobs, you can get started working from home with help from the company in getting your home office off to a good start.
Did we miss any work from home jobs that give you a computer for work? Please let us know in a comment!
Related Posts:
Earn Everything… nearly!
Join Ipsos iSay, one of the few Faithful and Honest survey panels and earn prizes, gift cards and donations. Stack your points and redeem them: Simple! No hidden fees and completely free!