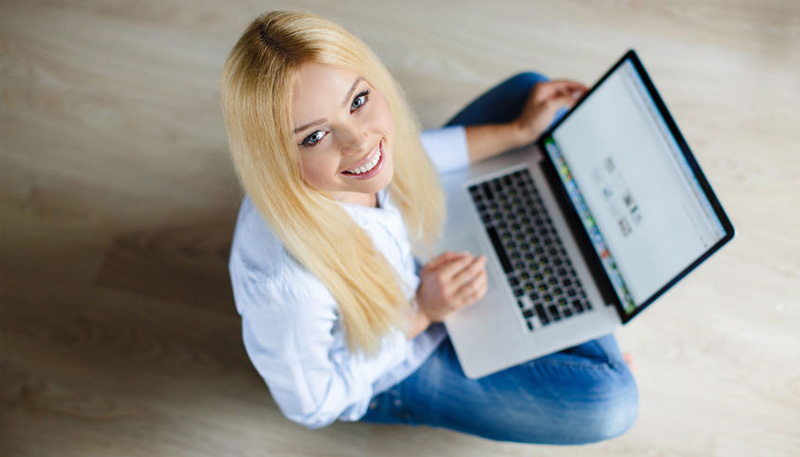 In your work from home searches, you probably notice that most jobs require a computer, right? Does that mean that you can't work from home if you don't have a computer?
Need Easy Extra $350+/Month For Free?
Fortunately, no.
Some companies know that not everyone has a computer at home and are willing to provide their employees with one so they can get started.
And, even if you do have a computer, you shouldn't have to use your personal one for work purposes.
These companies help their employees by giving them the computer that they'll need to complete their job at no cost to the employee.
Usually, you'll need to send the computer back if you terminate employment.
Be sure to keep it in good condition and treat it the way you would your personal computer.
Most importantly, only use it for work purposes, as detailed by your company. Keep your personal computer use separate.
Ready to see the jobs? Let's get started!
Companies That Send You a Computer for Work
A Place for Mom is a helpful resource for those looking for assisted living or nursing home care for elderly loved ones.
The company offers remote positions for people to become Senior Living Advisors and help callers find out more about their best options for their loved ones.
You'll need at least three years of experience in sales and/or customer service, strong phone and typing skills, and you must be able to multitask.
According to others who have worked with the company, they have several benefits available, including a company-furnished computer.
ABC Financial offers products, software and services that help fitness gyms operate.
The company has some remote positions available at times, ranging from information technology to sales management.
Most of the positions will require a lot of experience and a specific degree, but they reported pay and benefits are good.
Plus, ABC Financial gives some of its work from home employees a computer as part of its benefits package, but you'll need to check the benefits for each individual position.
Active Network creates mobile apps, cloud systems, and more for sporting teams and events.
If you work from home with Active Network, you'll typically have a customer service position taking reservations and asking questions.
Active Network sends its employees the necessary equipment to complete the job, including a keyboard, mouse, headset for your phone, and the computer.
Need Easy Extra Cash?

Easy Extra Cash! Join PointClub and get access to the best paid online survey opportunities. Take Online Surveys, Make Money, It's That Easy! No hidden fees and completely free!


However, you will need a computer monitor, as Active Network will only provide the computer itself.
Apple At-Home Advisor positions are some of the most coveted in the work from home world.
Not only will you work for one of the top companies in the world, but you'll also be able to work from home providing assistance to those who use Apple products.
And, Apple sends you a free MAC computer for those hired for the position!
Some positions for Apple are chat-based, and others require more phone work. They also have either customer service positions or tech support positions.
In addition to a free computer, you can also qualify for benefits as a full-time employee with the company, such as a savings plan, health insurance, and more.
Buffer's team is fully remote, so any position here that you can grab will allow you to work from home!
This company is all about making social media even easier to use through its handy app that allows scheduled posting and other helpful services.
Buffer offers a variety of benefits to employees, including company retreats, paid time off, health insurance, and more.
And, your Macbook needed to complete your work is also covered by Buffer.
Oh, and you'll get a Kindle for free, too, as an added bonus!
Citi Group hires work from home customer service representatives to take phone calls and assist customers with questions.
You'll need to apply to the position that's closest to your town because you're required to work on-site for six months before moving to your home office.
You need a minimum of one year of customer service to apply and a high school diploma is a requirement.
It doesn't mention it on the job description, but those who have worked with the company have stated that a computer can be given to you if needed to work.
Doctor on Demand is an app that allows people in need of medical advice to call a medical doctor without visiting one in person. The doctor can even put in a prescription for you over the phone!
The company occasionally hires work from home customer service agents to assist customers who have a problem with the app or need general questions answered.
You'll need at least two years of experience in the healthcare field to work with the company. Once you get hired, you'll receive all necessary equipment, like a headset and a computer, to complete the job.
Kelly Services occasionally has openings for work from home customer service representatives.
The pay is said to be around $12 to $13 per hour and you may be eligible for bonuses.
You'll need to be comfortable utilizing various contact methods, such as live chat, phone, or email.
And, with these positions, you'll benefit from weekly pay.
A free computer isn't listed in the job description, but others report being given a computer for work purposes once they're hired.
Lands' End is a popular clothing company that allows customer service agents to work from home.
You must have excellent typing skills and the ability to multitask. It's also a bonus to have some basic technical support experience, as you may need to assist customers in placing online orders.
When you're hired with the company, you can reportedly get a computer for your work that you can return upon ending employment with the company.
The pay for Lands' End customer service positions ranges from $13 to $14 per hour.
Nordstrom is another clothing company that hires customer service agents to work from their home offices providing assistance to customers over the phone.
You must attend training at an on-site location for 10 days, but then you can work from home full-time, 40 hours per week.
The position comes with a lot of perks and benefits, like a 401(k) savings plan, dental, vision, and health coverage and reimbursement for your travel costs for training.
And, you reportedly receive the computer necessary to complete your work from Nordstrom, if needed. You'll just need to provide the monitor and accessories, like the keyboard and mouse.
Reynolds and Reynolds offers a variety of services to businesses, such as training, data management, and customer service solutions.
The company sometimes has work from home job openings for Call Analysts. For this position, you'll listen to phone calls between clients and customers and evaluate the clients' performance.
So, there's no phone work involved; you'll just be listening to recorded calls.
You'll need training first before you begin the job, which you'll get paid for. Pay is reportedly around $7 to $8 per hour as an independent contractor.
Workers have also reported that, if you need a computer to start, you may be able to get one from the company. No Macbooks are allowed for the position.
Sedgwick offers several work from home positions, for both phone and non-phone work.
Most are customer service related positions or claim filing jobs.
You'll need at least a year of clerical/administrative experience and a high school diploma or GED.
Sedgwick not only gives you a computer for the job, but also all other equipment that you'll need. That includes computer monitors (you'll need two), a phone, a keyboard, and a mouse.
You may also get reimbursed for your monthly internet costs to complete your job, up to $75 each month.
SEI is a virtual contact center company that hires work from home agents to provide services to its clients.
You can have a part-time or full-time position with the company.
SEI provides all your training and equipment that you'll need, including a computer. And, even part-time positions will receive paid time off and other benefits.
The only thing you'll be responsible for paying for is your broadband internet connection.
Shyp is a company offering shipping services to individuals and businesses.
The company used to have a Careers page on its website, but has since started listing its job openings on job search sites like Indeed.
You can work from home with Shyp as a customer service representative. The full-time position requires some weekend and evening hours.
You must have at least two years of customer service experience and a college degree.
When you get hired, you'll get several benefits, including flexible vacations, an insurance coverage plan, and your laptop, monitor, mouse, keyboard, and headset are all taken care of by the company.
Sitel is one of the leaders in work from home jobs.
For this company, you'll provide call center solutions for Sitel clients.
You'll have a variety of benefits, like paid training, 401(k), flexible schedules, paid vacation and sick days, and more. Sitel also considers you an employee rather than an independent contractor.
Although Sitel doesn't list a computer as part of its benefits package, several people on work from home forums have mentioned that you can let your recruiter know if you need a computer to do your job and Sitel will provide one.
Synchrony Financial, formerly known as GE Capital, hires customer service representatives to work from home.
Some locations do not offer remote positions, so you'll need to thoroughly check the description for the job nearest you.
You'll need at least a high school diploma or GED and six months of customer service experience.
It's reported that the work from home positions will furnish your computer needed for the job.
The Yeomen is another customer support service company for individuals and businesses.
Help desk positions are what the company focuses on, so you may be providing general customer support and more technical support, depending on the client.
The company doesn't always have jobs available, but when it does, it will list them on the site.
People who have worked with The Yeomen have also reported that a computer is part of the benefits you get for working there.
Wintergreen Resort in Virginia occasionally has openings for work from home Reservation Sales Agents.
Although it's a remote job, you must live within 50 miles of the resort.
Training is on-site and you'll get paid minimum wage for about 120 hours of training during normal business hours.
Then, you'll switch to 10-hour shifts on four days per week. This is a seasonal position running from November to February.
You'll be required to have a high-speed internet connection, but Wintergreen Resort provides your computer, two monitors, and a headset.
World Travel Holdings has several work from home positions. You can sign up to receive alerts when they become available.
If you do decide to work with the company, you'll need to invest in a computer with a $500 deposit, which is spread over several paychecks.
However, this deposit is refundable, so you'll eventually get your money back and World Travel Holdings will pay the cost. You'll also receive a monitor, headset, mouse, and keyboard.
Zapier is a startup company that offers several work from home positions, including Content Marketing Managers and Customer Champions (customer service specialists).
The fully remote team gets several benefits, like paid maternity and paternity leave, profit sharing, health coverage, and more.
You even get to pick your own computer and monitor package, plus any software you need for the job, and Zapier will pay for it for you.
Conclusion: Work from Home Computer Jobs That Pay for Your Computer
If you'd like to have a separate work computer (which is always a good idea when working from home!), then the jobs I mentioned are perfect for you.
Companies that realize how important it is to allow people to work from home also realize how important it is to supply their workers with equipment they need, just as they would in an on-site office.
With these jobs, you can get started working from home with help from the company in getting your home office off to a good start.
Did we miss any work from home jobs that give you a computer for work? Please let us know in a comment!
Related Posts:
Want more money?

Join Surveyo 24 #1 paid survey site. It's easy - complete a survey and receive payment. No hidden fees and completely free!