Red Lobster Survey – Are Customer Satisfaction Surveys Worth Doing?
Updated on: by Amy Kennedy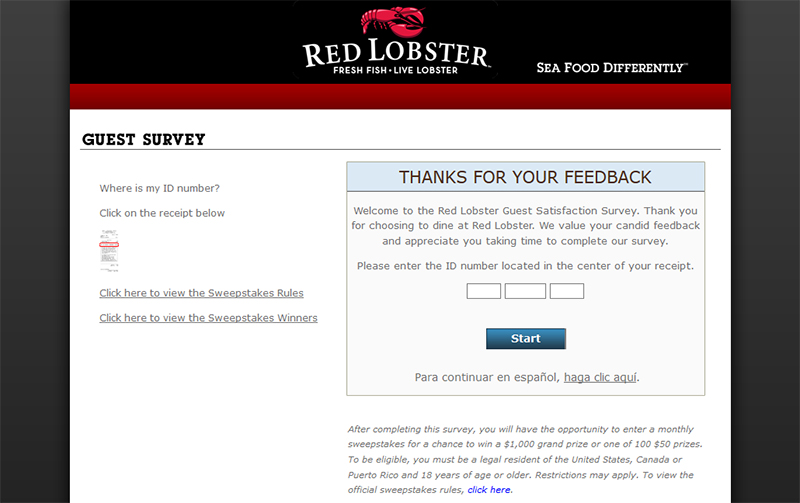 There are so many ways to earn money online.
Need Easy Extra $350+/Month For Free?
Most of these require a lot of effort and time, some are scams, and some end up being a fairly good return for something you can do sitting on the couch in front of the TV.
Then there are some opportunities to earn money that only come around once in a while, but are worth investing the small amount of time it takes to get even a chance of a win.
Let's look at one of those opportunities.
Feedback for businesses
All companies need feedback if they want to appeal to the public and meet the needs of the consumers.  Businesses really only tend to get 3 types of feedback:
Evidence-based feedback. If a company realises that one product is selling in large amounts, they can assume that the customer is happy with the product.  If it isn't selling, it obviously isn't meeting consumer needs.  However, this kind of information is very limited, and often can't help a business.  What if a product is only low-selling because people don't know about it, or if the packaging isn't appealing?  The business can only guess.
Incidental feedback. If a waitress asks, "How was your meal?" she might get a response – but that feedback isn't useful to the company if she can't record it.  It is also limited to what the customer chooses to share, and it's difficult for the company to ask specific questions.
Customer directed feedback. Sometimes customers leave reviews and feedback spontaneously.  Most often, this type of information comes from people who had very strong positive or negative reactions, and leaves out the rest of the consumer base.  It's often public, which can be damaging to the business if the comments are negative.  It also doesn't necessarily address the questions that the company needs to know.
Online Customer Feedback Surveys
A method that many businesses have come to use is the online customer satisfaction survey.
It allows companies to ask the questions that they need the answers to, as well as usually providing extra space for customers to give their own thoughts and opinions.
The customer has time to reflect on their answers, and can be honest and thoughtful as it is usually anonymous.
To get someone to go out of their way to provide answers on their experiences, companies often provide a prize of some description.
Both sides gain – the customer has the chance to win a prize for very little effort, and the business has detailed feedback without having to pay market researchers to gather data on their behalf.
This is where the opportunity comes in for people looking to make some extra money online.
Let's look at Red Lobster and the survey that they have available at www.redlobstersurvey.com as an example.
Red Lobster survey – $1000 gift card up for grabs.
Reb Lobster is a casual dining restaurant that focuses on seafood.
The first restaurant was opened in 1968, and today there are over 700 chains around the US and Canada.
To enhance diners' experiences and encourage guests to give them feedback, Red Lobster offers an online survey that customers can complete to win cash prizes.
How much can you win?
The reward for filling out this short survey is the chance to win a cash prize of $1000, or 100 chances to win $50.
Need Easy Extra Cash?
Pinecone Research, a leading name in online survey panel honesty, absolutely guarantees $3 cash for every survey you complete!
Take advantage of their time limited New Membership drive and register NOW. Join today: 100% free!


Both prizes are awarded as checks to the winners.
Who can enter?
The terms and conditions say multiple times that you do not need to have made a purchase at Red Lobster to enter this competition, but as you need a number from a receipt it seems that some purchase will have to be made – it's not often you get a receipt without a purchase!
Entrants have to be over the age of 18, reside in the U.S. or Canada, and cannot be related to any employees of Red Lobster.
You can enter as many times as you like, but you will need a new I.D. number each time.
How do you enter?
To enter the survey and be in with a chance to win, you need to take the following steps:
Decide whether to enter by mail or online.  If you want to enter by mail, you will have to hand-print your name, telephone number with area code, full address and age on a piece of paper and mail it to Red Lobster Restaurants Guest Satisfaction Survey Sweepstakes, PMI Station, P.O. Box 3511, Southbury, CT 06488-3511 USA.  However, I fully recommend you do the survey online – much less work!
Access the website via the web address printed on your receipt during the promotional period.
Enter the I.D. number on your receipt.  If you can't find it, there are instructions on where to locate it.  If you would like to continue in Spanish, you have that option at this point.
Answer all survey questions based on your experience when you visited the Red Lobster restaurant.
At this point you can choose whether to enter the sweepstakes.  If you don't want to provide any contact information, then you shouldn't choose to enter – however, to get the prize they have to know where to send it!  I recommend you enter.
Enter your contact details.
Submit the survey
Can I just rush through?
Sometimes when taking surveys, people think that they can just rush through without giving careful, honest answers.
While you should be as quick as possible to get the best return for your time, rushing is most often not a good strategy, for two reasons:
Many market research companies will disqualify you if you do not answer carefully or answer too quickly to be considering your answers. This is unlikely to happen on your Red Lobster survey but it's still a good principle to remember.
Your answers are going towards improving the company, and in the case of Red Lobster will probably go directly towards making your local restaurant a better place to eat. If you win, that's great – but you will also have the chance to make a difference at a company you might regularly interact with.  That makes it worth carefully considering your answers.
Is it worth doing these surveys?
If you are eating out and get the chance to make some money as well – why not take it?
If you do win, it's money for almost no effort.
If you don't win, there's no harm done – and you've also had the chance to be a part of improving the restaurant.
That being said, as a regular source of online income there are far superior options.
Survey sites like Swagbucks and Mysurvey are top choices for earning money online, there are many ways to gain money and it's not an uncertain sweepstakes – be paid for the effort you put in!
Competitions can be a good once-off option, but don't spend too much time on a chance to win when you can be gaining actual rewards.
As they say, you've gotta be in it to win it!
There's no harm signing up for competitions like this and they do offer a legitimate chance to earn some money.
Just don't put all your hopes on very slim chances of actually winning, and spend time in places where you know you'll get rewarded for your effort.
Apply to Red Lobster Survey Here
Related Posts:
Earn Everything… nearly!
Join Ipsos iSay, one of the few Faithful and Honest survey panels and earn prizes, gift cards and donations. Stack your points and redeem them: Simple! No hidden fees and completely free!