13 Ways to Attend a Wedding on a Budget
Updated on: by Amy Kennedy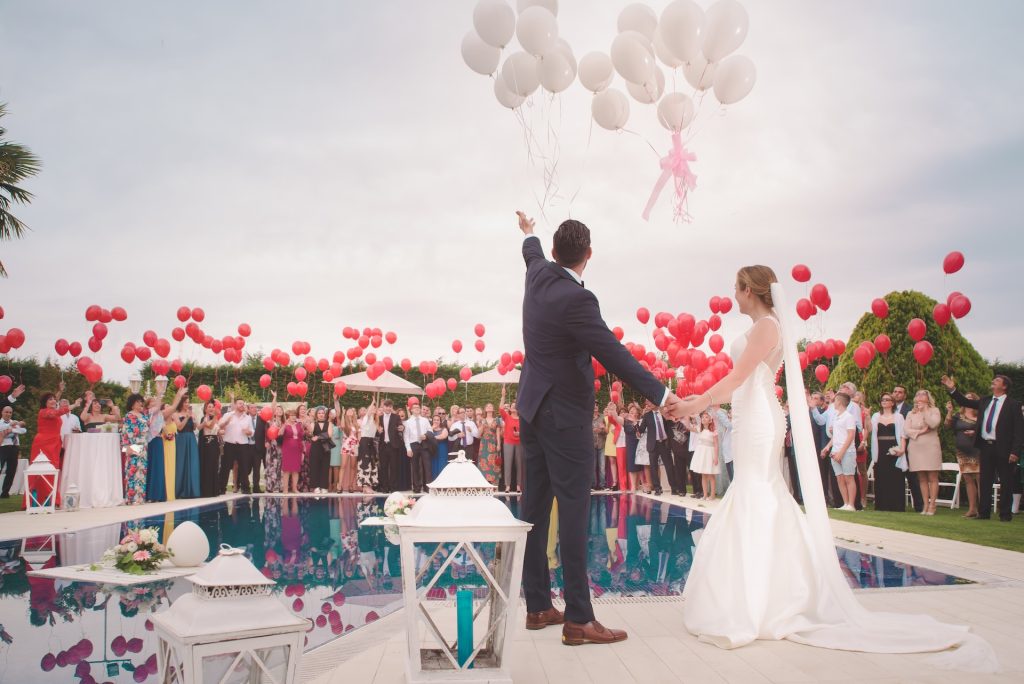 Attending a wedding can be an exciting occasion, but the expenses that come along with it can sometimes be daunting.
Need Easy Extra $350+/Month For Free?
From the outfit to the gift and travel costs, it can all add up quickly.
However, with some strategic planning and smart choices, you can join in the celebration without breaking the bank.
Here are some tips you can use:
1. Choose Your Outfit Wisely
Reuse or Rent
Instead of buying a new outfit for every wedding, consider re-wearing a suit or dress you already own. Most people won't remember exactly what you wore last time, and even if they do, there's no shame in repeating outfits.
If you do crave a fresh look, consider renting attire from a dress or suit rental service. This option allows you to wear a stylish outfit without the hefty price tag.
Shop Sales and Discounts
If buying a new outfit is a must, be a savvy shopper and take advantage of sales and discounts. Look for end-of-season sales or clearance events to score great deals on formal attire.
Additionally, consider shopping at thrift stores or consignment shops, where you might find unique outfits at a fraction of the retail price.
Borrow from Friends or Family
Reach out to friends or family members who have attended weddings before. They may have formalwear they'd be willing to lend you, saving you the cost of buying something new.
Borrowing an outfit not only saves money but can also make for a sentimental touch as you celebrate the special day.
2. Make Travel Arrangements in Advance
Book Flights Early
If you need to travel by air to attend the wedding, book your flights well in advance. Airline prices tend to increase as the date approaches, so securing your tickets early can result in significant savings.
Use Travel Reward Points
If you have travel reward points or frequent flyer miles, now's the time to use them. Redeeming points for flights or hotel stays can significantly reduce your travel expenses and make attending the wedding much more budget-friendly.
Consider Alternate Airports
If the wedding destination has multiple airports nearby, check the prices for all of them. Sometimes, flying into a smaller or less popular airport can result in lower fares.
Just be sure to factor in any additional transportation costs to the wedding venue.
3. Consider Affordable Accommodation Options
Stay with Friends or Family
If possible, ask if any friends or family members in the area are willing to host you during your stay. Staying with them not only saves money but also provides an opportunity to catch up and spend quality time together.
Look for Budget-Friendly Hotels
If staying with friends or family isn't an option, research budget-friendly hotels or motels in the area. Many online booking platforms allow you to filter your search by price, making it easier to find affordable accommodation options.
Need Easy Extra Cash?
Pinecone Research, a leading name in online survey panel honesty, absolutely guarantees $3 cash for every survey you complete!
Take advantage of their time limited New Membership drive and register NOW. Join today: 100% free!


Opt for Shared Accommodation
Consider sharing accommodation costs with other wedding guests. If you know someone attending the same wedding, team up and split the cost of a rental property or a larger hotel room.
Sharing accommodation not only saves money but also creates a fun and social atmosphere.
4. Carpool or Share Rides
Coordinate with Other Guests
Find out if any other guests attending the wedding are coming from your area and coordinate your travel plans.
Carpooling or sharing rides not only reduces fuel expenses but also contributes to a more eco-friendly trip.
Use Ride-Sharing Apps
If you're not driving to the wedding, use ride-sharing apps like Uber or Lyft to get around the wedding destination. These services can often be more affordable than traditional taxis and provide a convenient way to navigate the area without the hassle of driving.
Utilize Public Transportation
If the wedding destination has a reliable public transportation system, take advantage of it. Buses, trains, and subways can be cost-effective ways to travel and explore the area without relying on expensive taxis or rental cars.
5. Be Selective with the Weddings You Attend
Prioritize Close Friends and Family
As much as you'd like to attend every wedding you're invited to, being selective can help manage your budget. Prioritize attending weddings of close friends and immediate family members.
For more distant acquaintances or colleagues, consider sending a heartfelt card and gift instead.
RSVP Promptly
Respond to wedding invitations as soon as possible. This not only helps the couple with their planning but also allows you to budget for attending the wedding well in advance.
Decline with Grace
If you cannot attend a wedding due to financial constraints or other reasons, decline the invitation gracefully. Send your regrets promptly and consider sending a thoughtful gift or card to express your well-wishes to the couple.
6. Contribute to a Group Gift
Team Up with Other Guests
Consider teaming up with other guests to contribute to a group gift for the couple. Pooling resources can allow you to give a more substantial and meaningful present without overspending individually.
Coordinate with other attendees to determine the gift budget and select a thoughtful present together.
DIY or Personalized Gifts
Instead of purchasing an expensive item from the registry, consider creating a DIY gift or finding a personalized present. Handmade gifts or sentimental keepsakes can be just as meaningful and often come with a lower price tag.
Offer Your Talents or Services
If you have a particular talent or skill, consider offering it as a gift to the couple. Whether it's photography, baking, or creating custom artwork, providing your services can be a thoughtful and budget-friendly way to contribute to the wedding celebration.
7. Don't Shy Away from the Registry
Stick to Your Budget
If the couple has a wedding registry, don't feel obligated to choose the most expensive items. Stick to your budget and select a gift that fits comfortably within your financial means.
Remember, the couple will appreciate your thoughtful gesture, no matter the price tag.
Look for Sales and Discounts
Check if the items on the registry go on sale before the wedding date. Many stores offer discounts or promotions on registry items, so keep an eye out for deals that can help you save money on your gift.
Group Gift from the Registry
If you're concerned about the cost of an individual gift, consider teaming up with others to purchase a more expensive item from the registry. Group gifting allows you to give something meaningful without overspending.
8. Make Your Own Gift
Get Crafty
Put your creativity to work and make a heartfelt gift for the couple. Whether it's a handcrafted photo album, a personalized piece of artwork, or a jar of homemade preserves, a DIY gift shows you put thought and effort into your present.
Bake Something Special
If you're skilled in the kitchen, consider baking something special for the couple. A batch of homemade cookies, a beautifully decorated cake, or a box of delicious truffles can make for a thoughtful and cost-effective gift.
Write a Meaningful Letter
Sometimes the most cherished gifts are heartfelt words. Write a letter expressing your love and best wishes for the couple.
A heartfelt message can leave a lasting impression and mean more than any material item.
9. Be Smart with Wedding Attire
Rent or Borrow
If you need to dress up for the wedding, explore options to rent or borrow attire instead of buying brand new. Renting a tuxedo or a formal dress can be more affordable than purchasing one, especially if you don't plan to wear it frequently.
Accessorize Smartly
Elevate a simple outfit with stylish accessories rather than buying an entirely new ensemble. A statement necklace, a tie, or a colorful scarf can breathe new life into your existing wardrobe without the extra cost.
DIY Hair and Makeup
Consider doing your hair and makeup for the wedding instead of booking professional services. There are plenty of online tutorials and beauty blogs that can help you achieve a stunning look on your own.
10. Plan and Budget in Advance
Create a Budget
Before attending the wedding, create a budget to track your expenses. Set a limit for how much you're willing to spend on travel, accommodation, gifts, and other related costs.
Having a clear budget will help you stay on track and avoid overspending.
Save in Advance
If you know you'll be attending a wedding in the future, start saving money well in advance. Setting aside a small amount each month can add up over time and make the financial burden of attending the wedding more manageable.
Opt for Meaningful Gestures
Remember that weddings are about celebrating love and togetherness. Focus on meaningful gestures and creating lasting memories with the couple, rather than spending extravagantly.
Earn Everything… nearly!
Join Opinion Outpost, one of the few faithful and honest survey panels and earn cash and gift cards for your opinion. Stack your points and redeem them: Simple! No hidden fees and completely free!


Your presence and heartfelt wishes are what truly matter.
11. Group Travel with Friends
Coordinate with Friends Attending the Same Wedding
If you have mutual friends attending the wedding, consider coordinating your travel plans and accommodations. Group travel can lead to cost savings, as you can split the expenses for transportation and lodging.
Additionally, sharing the experience with friends can make the wedding even more enjoyable.
Share Expenses for Wedding Gifts
When attending a wedding as a group, consider pooling resources to purchase a joint wedding gift. Not only does this allow you to give a more substantial gift, but it also helps distribute the cost among multiple people.
Plan Pre-Wedding Activities Together
If there are pre-wedding activities or parties, plan and participate in them together with your group of friends. Carpooling or sharing transportation can save on costs, and you'll have each other's company throughout the celebrations.
12. Utilize Public Parks or Free Venues
Consider Outdoor Weddings
Outdoor weddings in public parks or gardens can be a beautiful and cost-effective option. Since the venue is typically free or requires a small permit fee, it can save the couple and guests from incurring expensive venue charges.
Explore Free Wedding Venues
Some cities or towns have historic sites, museums, or community centers that offer free or affordable event spaces. Suggesting these venues to the couple can help them save on venue costs, making it more budget-friendly for everyone.
Support DIY Decorations
If the couple plans to decorate the wedding venue themselves, offer your assistance with DIY decorations. Crafting decorations together can be a fun activity, and it helps the couple avoid hiring costly professional decorators.
13. Be Mindful of Additional Costs
Watch Out for Hidden Fees
When booking accommodation, transportation, or other services for the wedding, be mindful of hidden fees that can add to your expenses. Read the fine print and ask about any additional charges before making reservations.
Limit Alcohol Expenses
Alcoholic beverages can quickly inflate your expenses at a wedding. Consider setting a limit on how much you'll spend on drinks or opt for non-alcoholic alternatives.
Avoid Impulse Shopping
If the wedding is held in a touristy location, be cautious of impulse shopping for souvenirs or unnecessary items. Stick to your budget and prioritize experiences over material goods.
Conclusion
With a little bit of creativity and planning, it's entirely possible to attend a wedding on a budget without sacrificing the joy of the occasion.
Remember, being present to celebrate the couple's love is the most important thing, and this doesn't require spending a fortune.
Take these tips into consideration the next time you're invited to a wedding and save yourself from financial stress.
Related Posts:
Earn Everything… nearly!
Join Ipsos iSay, one of the few Faithful and Honest survey panels and earn prizes, gift cards and donations. Stack your points and redeem them: Simple! No hidden fees and completely free!