Boost Your Home Office: Where to Get Free Office Supplies
Updated on: by Amy Kennedy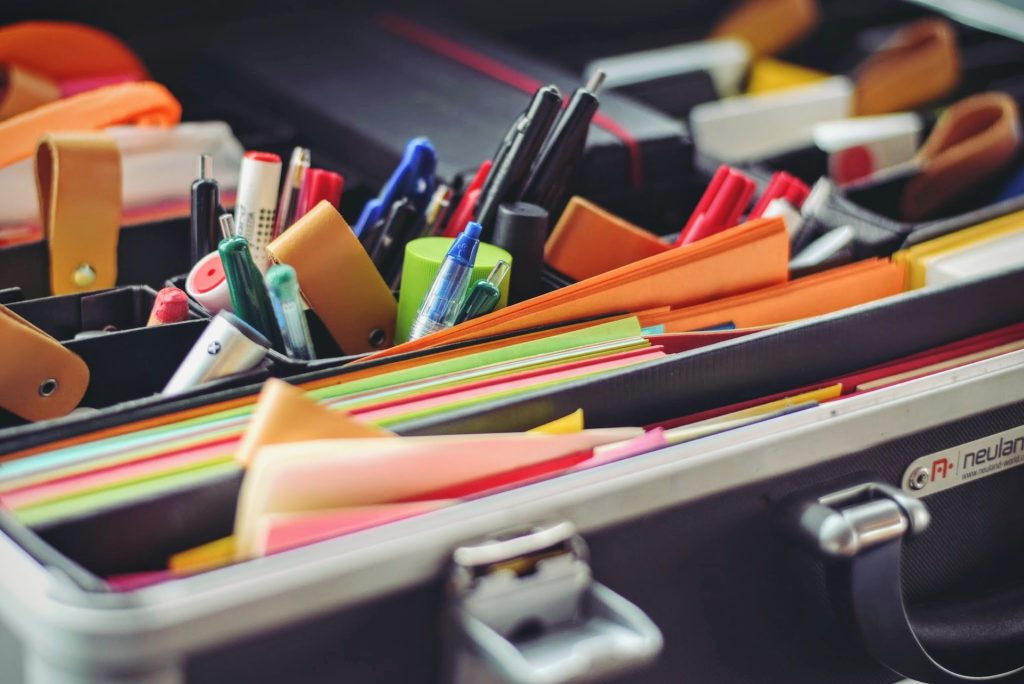 Setting up a home office can be expensive, especially when it comes to purchasing all the essential supplies.
Need Easy Extra $350+/Month For Free?
Thankfully, there are several places where you can find free office supplies, helping you save money without compromising on quality.
From online marketplaces to recycling programs, we've compiled a list of 20 spots that can provide everything you need to outfit your workspace.
Online Marketplaces
Craigslist's Free Section is an area where people give away items for free. Office supplies like chairs, desks, and stationery often appear on the site. You'll need to check the listings regularly, as free items tend to get claimed quickly.
Another advantage of Craigslist is its local approach. By focusing on your specific city or region, you can find supplies close to your location. This minimizes transportation costs and often allows you to pick up items on the same day.
Freecycle aims to keep good stuff out of landfills by connecting local communities. It allows members to post items they're giving away or find items they need for free.
This includes office supplies such as printers, paper, or furniture.
Being a member of Freecycle not only allows you to find free office supplies but also fosters a sense of community. You can build relationships with local individuals and businesses who share your interest in sustainability and recycling.
Facebook Marketplace is a popular platform where users list items they wish to sell or give away. The free section has a variety of office supplies, from pens to filing cabinets.
You can easily search within your local area to find what you need.
The interface of Facebook Marketplace is user-friendly, making it simple to navigate and find exactly what you're looking for. With a massive user base, new items are constantly added, so regular visits to the site may yield exciting finds.
Retailer Giveaways
Office Depot offers a Rewards Program that includes recycling rewards and member-only savings. By joining, you can take advantage of special offers and earn points for free office products.
This rewards program doesn't just help with free or discounted items. Office Depot often provides exclusive member events and sales, allowing you to make the most of your membership.
It's a one-stop solution for office supplies, with potential for great savings.
Staples Rewards is a program where members can earn up to 5% back in rewards, plus free shipping on certain orders. These rewards can be redeemed for free office supplies, and they also offer recycling rewards for ink and toner cartridges.
Staples is renowned for its vast selection of office products. Their rewards program enhances your shopping experience, granting access to exclusive deals and promotions.
Need Easy Extra Cash?
Pinecone Research, a leading name in online survey panel honesty, absolutely guarantees $3 cash for every survey you complete!
Take advantage of their time limited New Membership drive and register NOW. Join today: 100% free!


This can lead to substantial savings on essential office supplies.
Walmart occasionally partners with brands to offer free samples of office supplies. By keeping an eye on their sample section and subscribing to newsletters, you can stay informed about these giveaways.
Walmart's broad network with various brands allows them to offer diverse free samples. These give you an opportunity to try products before committing to purchase.
Free samples can include anything from writing instruments to cleaning products for the office.
Office Supply Exchange Programs
Trash Nothing is a platform that encourages recycling and reuse. Users can post items they're giving away, including office supplies, or request what they need.
This local community-driven approach allows you to find or redistribute supplies easily.
What sets Trash Nothing apart is its ethos of sustainability. Engaging with this platform not only helps you find free office supplies but also contributes to a more eco-friendly world.
The community-driven environment also fosters connections with like-minded individuals.
CalRecycle maintains a directory of reuse centers and material exchanges where businesses and individuals can exchange or obtain free office supplies. These centers are found throughout California and promote environmentally friendly practices.
These centers not only provide access to free supplies but also offer a place to donate items you no longer need. By participating, you contribute to a larger cycle of reuse and sustainability.
It's a win-win solution for both your office needs and the environment.
Non-Profit Organizations
The Freestore redistributes office supplies to teachers and non-profits at no cost. Based in Portland, Oregon, it accepts donations from businesses and redistributes them to those in need.
This initiative supports educational and non-profit entities with vital resources. As a donor or recipient, you become part of a network focused on community support.
The Freestore's model emphasizes reuse and resourcefulness, providing a sustainable solution for office supplies.
Excess Access connects donors of business equipment and supplies with local non-profits in need. Donated items, including office supplies, are claimed for free, promoting a culture of sharing and support within the community.
As a donor, you'll know that your surplus items are going to a worthy cause. As a recipient, you'll be able to access vital resources without expenditure.
Excess Access fosters relationships between businesses and non-profits, creating a more interconnected community.
Educational Programs
NACRO promotes the reuse and recycling of office supplies through community recycling networks in Australia. Schools and charitable organizations can access free office supplies through NACRO's member organizations.
NACRO's mission extends beyond providing free office supplies. It encourages participation in sustainable practices, strengthening community bonds, and supporting educational and charitable institutions.
It's an excellent resource for those in Australia looking to align their office needs with environmental stewardship.
King County in Washington has a School Supplies Sorting Program that redistributes office and school supplies to educators for free. Donations from businesses and individuals are collected, sorted, and distributed to those in need.
This program not only aids teachers and schools but also creates volunteer opportunities for community members. It's an initiative that turns excess into an opportunity for education.
Participation in the program helps build a culture of sharing and sustainability.
Government Surplus Programs
GSAXcess is the Federal Government's asset management application that allows federal agencies to transfer excess property to others. Occasionally, state agencies and non-profits can access these supplies, including office equipment.
GSAXcess's unique position within the Federal Government means that the range of available items can be quite extensive. It allows you to access high-quality government surplus, ensuring that these resources are reused rather than discarded.
It's a great way to find durable and dependable office equipment.
GovDeals allows government agencies to sell surplus items online. Sometimes these items are listed for free or at a very low cost, including office furniture and supplies.
Participating in GovDeals provides an opportunity to access government-quality supplies at a fraction of the price. The auctions are transparent and straightforward, allowing you to find exactly what you need for your home office without breaking the bank.
Corporate Giveaways
3M sometimes offers free product samples of office supplies such as Post-it notes or tapes. You can sign up for their newsletter or keep an eye on their product sample section to take advantage of these offers.
Earn Everything… nearly!
Join Opinion Outpost, one of the few faithful and honest survey panels and earn cash and gift cards for your opinion. Stack your points and redeem them: Simple! No hidden fees and completely free!


3M is a globally recognized brand known for its quality products. Getting free samples from 3M allows you to test their products without any financial commitment.
This is especially helpful if you're looking to explore new office solutions or need specific types of supplies.
Avery manufactures labels and office supplies, and occasionally offers free samples of their products. You can request these through their website to try them before purchasing.
Avery's free samples offer a risk-free way to evaluate their products. Whether you need labels for organization or other office supplies, Avery's reputation for quality ensures that you're getting top-notch items to enhance your home office experience.
Recycling Programs
TerraCycle offers free recycling programs for various office products, including writing instruments. Participate in these programs to reduce waste, and sometimes receive products in return.
TerraCycle is known for its dedication to sustainability. By engaging with their programs, you're contributing to a greener planet and may receive free office supplies as an added incentive.
It's an innovative approach to both office needs and environmental responsibility.
Recycle Free provides a free recycling service for ink and toner cartridges, including prepaid shipping labels. They occasionally offer incentives like products or discounts on office supplies.
Recycle Free's initiative not only helps you get rid of used cartridges but rewards you in the process. It's a win-win scenario where you contribute to recycling efforts and potentially receive free or discounted office supplies in return.
Office Clearance Services
Clear Environment specializes in office clearances in the UK, often having surplus furniture and supplies available for free or minimal cost. They prioritize disposal through reuse and recycling.
Engaging with Clear Environment allows you access to quality office furniture and supplies without a hefty price tag. Their commitment to sustainability means that you're also supporting environmentally responsible practices.
Evolve Recycling offers a free recycling program for electronic waste, including office electronics. Participate in their program to dispose of e-waste responsibly, and sometimes receive incentives like gift cards or products.
Evolve Recycling's focus on responsible e-waste management is an essential service for modern offices. Participation in their program not only clears clutter but supports sustainable practices and may lead to receiving free office supplies or discounts.
Tips for Landing Free Office Supplies
Navigating the world of free office supplies may seem challenging, but with the right strategies, you can find valuable resources without spending a dime.
Here are seven proven tips to help you land free office supplies for your workspace.
1. Join Office Supplies Rewards Programs
Many office supply stores offer rewards programs where you can earn points for purchases and redeem them for free or discounted products. Even without making substantial purchases, some programs might offer welcome bonuses or points for completing surveys.
This loyalty-based approach is an excellent way to save money while accessing quality office products.
2. Leverage Social Media and Online Forums
Following office supply companies on social media and participating in their online activities can lead to free samples and products. Additionally, online forums and deal-sharing websites often have sections dedicated to freebies.
Regularly checking these sources can yield significant savings on office supplies.
3. Collaborate with Local Businesses
Establishing relationships with local businesses and expressing interest in surplus office supplies can lead to mutually beneficial arrangements. Whether it's through a formal partnership or casual networking, local collaboration can uncover hidden opportunities for free office supplies.
4. Participate in Recycling and Exchange Programs
Joining community recycling networks and actively participating in exchange programs can provide ongoing access to free office supplies. By contributing to sustainability efforts, you may receive incentives like free products or discounts.
5. Apply for Grants and Donations
Some organizations offer grants or donations of office supplies to non-profits, schools, and community groups. Researching and applying for these opportunities can yield substantial support for your office needs.
Collaboration with grant writers or utilizing online grant databases can streamline this process.
6. Monitor Corporate Giveaways and Sample Offers
Many companies offer free samples of their products. Staying updated with these offers by subscribing to newsletters or regularly visiting their websites can lead to consistent access to free samples, fulfilling some of your ongoing office needs without any cost.
7. Utilize Government Surplus Programs
Government agencies often have surplus property, including office supplies. Engaging with these programs can provide access to quality, durable supplies at no cost or significantly discounted rates.
Understanding the eligibility criteria and being proactive in monitoring these opportunities can help you acquire valuable office supplies for free.
Conclusion
Equipping your home office doesn't have to be a strain on your budget. By exploring the 20 places listed above, you can find a wide variety of office supplies and equipment for free or at a minimal cost.
These resources range from online marketplaces to retailer giveaways, exchange programs, government surplus, corporate samples, recycling initiatives, and clearance services.
They reflect a growing community commitment to reuse, recycle, and share, making it easier than ever to set up a functional and sustainable home office.
Whether you're looking to furnish a new workspace or upgrade existing facilities, these platforms offer practical solutions that meet both your needs and values.
Related Posts:
Earn Everything… nearly!
Join Ipsos iSay, one of the few Faithful and Honest survey panels and earn prizes, gift cards and donations. Stack your points and redeem them: Simple! No hidden fees and completely free!