24 Best Places to Get Cheap School Supplies Online and Near You!
Updated on: by Amy Kennedy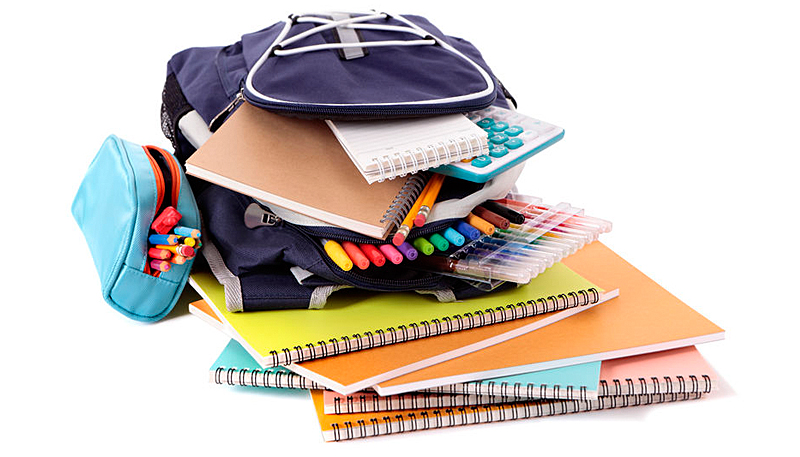 The best place to get cheap school supplies is probably hiding right under your nose.
Need Easy Extra $350+/Month For Free?
According to TIME Money, families are spending upwards of $600 a year on back to school shopping!
If that number makes your head hurt, keep on reading.
It doesn't have to be this way, my friends.
We have scoured the shops, both brick and mortar and online retailers, to find you the cheapest places to buy back to school supplies.
Whether you are a dedicated online shopper, like myself, or prefer to visit your local big box store; the path to affordable school supplies is through this list.
The Best Place to get Cheap School Supplies Near You: The Big 5
Are you shopping for yourself, your children, or maybe your classroom? Look no further than these tried-and-true back to school superheroes for the best deals.
1. Target
There is a reason that Target is a perennial favorite for all back to school shoppers: it is the cheapest place to buy school supplies! If you download their Cartwheel app, you can save even more off in-store prices.
2. Walmart
Walmart is well known for having the lowest price school supplies. They have incredible deals on things like composition notebooks (I saw some for less than a quarter!) as well as packs of paper.
Read more: How to Get Walmart Free Samples & Free Stuff: Top 9 Ways
3. Fred Meyer / Kroger
Fred Meyer/Kroger is a great resource for back to school clothing, as they often have their basics marked down more than 60%!
4. Kmart
If you're lucky enough to live near a Kmart, head there now for amazing savings on brand-name sites, like Crayola crayons for 50 cents! They also have folders for less than 20 cents on sale now.
5. Costco
Costco is a great choice if there are many members of your family heading back to school, or you're willing to make a supply stockpile years to come. Items like copy paper and pens are best suited for Costco.
Where to Buy Cheap School Supplies Online
Of course, not all of us have the time (or the patience!) to put up with the crowds of families completing their back to school sales runs. That's why we came up with the best places to buy cheap school supplies online.
The great thing about shopping on Amazon is that you can get some really unique back to school products for crazy low prices! I found a 12 pack of glue sticks for less than $4.
Read more: 43 Legit Ways to Earn Free Amazon Gift Cards Online
Need Easy Extra Cash?
Pinecone Research, a leading name in online survey panel honesty, absolutely guarantees $3 cash for every survey you complete!
Take advantage of their time limited New Membership drive and register NOW. Join today: 100% free!


Don't worry teachers, we haven't forgotten you! US School Supply is the place to go for motivators or prizes like fun pencils, cool erasers, and stickers in bulk.
While it takes a bit of work to really find the best deals, but there are some amazing prices on this site for items like lunch boxes and dry erase boards.
This one might seem familiar if you have checked out our post on The 11 Best Online Dollar Stores, but that's because it's a great place to save some money!
Unusual Places to Find The Lowest Price School Supplies
Didn't find what you were looking for at those big shops and major retailers? We've got you covered.
Check out these unusual places to check more items off your list.
10. TJ Maxx / Marshalls / Ross
These stores are great places to find back to school clothes, shoes, and backpacks. However, many shoppers also forget that they have a home section where you can find deep discounts on stationery!
11. Big Lots
Big Lots is as great option if you don't mind buying off-brand items. You'll find everything from backpacks to binder clips, all at a low price.
12. Dollar Stores
Buyer beware: some products are great deals, and some just seem like they are. You will find some great prices on pencil boxes and construction paper, but sure to do some comparison shopping.
Specialty Shops
The following stores are best shopped with coupon in hand. Most of them offer at least 40% off of a full price item, and during special sales the discounts can go as high as 60% off full price or 20% off clearance.
13. JoAnn Fabrics
The perfect option for students who have a unique back to school list, as JoAnn Fabrics has many items you won't find anywhere else.
14.  Michaels
If you're taking an art class Michaels is where you want to go. Between their in-store deals and incredible online coupons, you're guaranteed at least 40% off an item you're sure to need.
Even if you're not an art student, Michaels carries a great range of Crayola products, as well as every planner set up imaginable.
15. Staples
In the past, office stores were a no-no on the list of where to buy cheap school supplies, but that has changed. Right now they have spiral bound notebooks for a quarter, and copy paper for $1!
16. Office Depot / Office Max
Take advantage of the rewards program, rebates, and weekly ads to get incredible savings on items like glue sticks, or really get your money's worth with discounts on laptops and printers!
Drugstores
Most people never think to shop at a drugstore for their back to school needs, which is why these options always have affordable school supplies.
17. Walgreens
At Walgreens, you can combine your rewards card with in-store discounts and paperless coupons to be sure you are getting the best prices on your shopping list.
18. CVS
CVS has a pretty sweet rewards program, as well as low in-store prices. If you waited until the last minute to complete your back to school shopping, this is a great option.
19. Rite Aid
You know the drill: shop their weekly ad for the lowest price school supplies. Another hint: wait until school has already started to snag their clearance items.
The Best Place to Get Cheap School Supplies
20. Your Community
Believe it or not, you can totally get school supplies for incredibly cheap or even free. Talk to school officials, check with local churches or parent groups, and even hit up your local Facebook Buy Nothing group to free-source your back to school shopping.
We also have this great list to teach you How to Get Free Stuff Online. If you can't find super cheap school supplies, saving money on other things will help pad your wallet!
There is no need to blow your whole budget in one store for your school supply needs. Check out our tips for making the most of your shopping below.
Online Retailers
eBay is a well-known online marketplace where individuals and businesses can buy and sell a wide variety of items, including school supplies. 
You can find both new and used items on eBay, allowing you to potentially save even more money. 
Many sellers offer competitive prices, and you can often find school supplies in bulk or as individual items. 
eBay also provides user reviews and ratings to help you make informed purchasing decisions.
Overstock is an online retailer that offers a vast selection of products at discounted prices, including school supplies. 
The website features a dedicated section for office and school supplies, making it easy to find everything you need for the upcoming school year. 
Overstock frequently offers deals and promotions, allowing you to get cheap school supplies without compromising on quality.
Wish is a popular online shopping platform known for its affordable prices and wide range of products. 
Earn Everything… nearly!
Join Opinion Outpost, one of the few faithful and honest survey panels and earn cash and gift cards for your opinion. Stack your points and redeem them: Simple! No hidden fees and completely free!


While Wish offers a variety of items, including electronics, clothing, and accessories, you can also find an assortment of school supplies at discounted rates. 
Keep in mind that Wish connects buyers with sellers, so it's important to read product reviews and check seller ratings before making a purchase.
AliExpress is an international online retail platform that offers competitive prices on a vast array of products, including school supplies. 
It connects buyers with sellers from around the world, allowing you to explore a diverse selection of affordable options. 
AliExpress offers buyer protection and customer reviews, enabling you to make informed decisions while shopping for cheap school supplies.
How to Get Cheap (Or Free!) School Supplies
Comparison shop. Collect the weekly ads for all your local stores and match the lowest prices to the items on your list.
Talk to the sales associates. They will know if there are coupons or rewards programs that will get you a better deal, and they can tell you whether the name brand or store brand is a better price.
Ask around. Check in with friends and family to see if they have any supplies they don't need sitting around their house.
Talk to your school. Many schools have programs for their students who cannot afford the back to school lists.
Heading back to school should be exciting, not stressful for you and your budget. Take advantage of sales, coupons, rewards programs, and the generosity of your neighbors to get the lowest price for school supplies.
Don't forget to bookmark this page, so you have all these tips handy for next year's school supply shopping!
Related Posts:
Earn Everything… nearly!
Join Ipsos iSay, one of the few Faithful and Honest survey panels and earn prizes, gift cards and donations. Stack your points and redeem them: Simple! No hidden fees and completely free!