15 Budget Friendly Fall Porch Ideas You Will Love
Updated on: by Amy Kennedy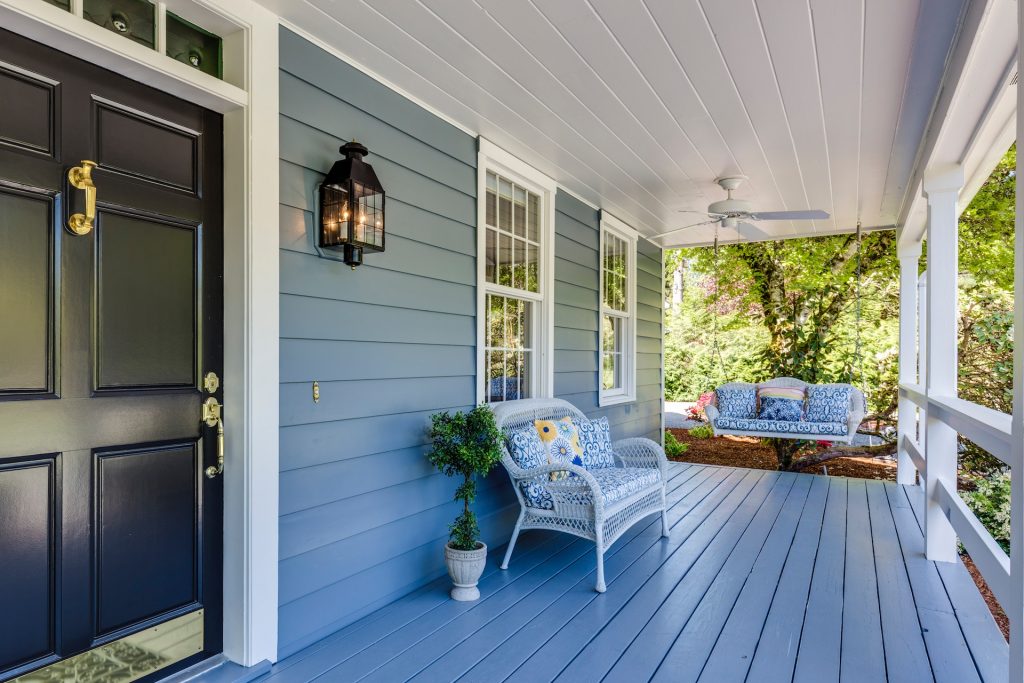 As autumn arrives, there's nothing quite like a cozy and inviting fall porch to welcome the season.
The good news is that you don't need to break the bank to create a charming autumn retreat right at your doorstep.
In this guide, we'll explore 15 budget-friendly fall porch ideas that will help you transform your outdoor space into a warm and welcoming haven for the fall season.
1. Autumn Wreaths
When it comes to ushering in the fall spirit, nothing says "autumn" quite like a beautifully designed wreath gracing your front door. Not only is it the perfect way to welcome guests, but it also sets the tone for the seasonal decorations in your home.
DIY from Natural Materials
Embrace the beauty of nature by gathering fallen leaves, pinecones, and twigs to craft your very own wreath. By using these naturally occurring materials, you not only cut costs but also infuse a personal touch into your decoration.
To complete the look and bring that countryside charm, finish off with a burlap ribbon for a rustic appeal.
Thrift Store Finds
For those who love treasure hunting, your local thrift store could be a goldmine for old wreaths awaiting a new lease of life. With a bit of creativity, these can be refurbished.
A fresh coat of paint, a few decorative touches like painted pumpkins or ribbons, and you can bring them back to life, making them look as good as new.
Incorporate Fall Foliage
One of the most breathtaking sights in autumn is the changing foliage. Why not bring that beauty to your front door?
Using seasonal foliage like branches from trees with vibrant, changing leaves can be a wonderful way to add bursts of color and a touch of nature to your wreath.
2. Stacked Pumpkins
Pumpkins are arguably the most iconic symbols of fall. Whether it's in pies, lattes, or on your porch, they epitomize the season.
Stacking them in creative ways can elevate your porch's look, making it festive and Instagram-worthy.
Painted Pumpkins
Not all pumpkins are created equal, and often, the cheaper, imperfect ones have the most character. By buying these and giving them a fresh coat of paint, you can create a unique and artsy stack.
Metallic paints can add a touch of glamour, while matte paints offer a more subdued, elegant look.
Mix and Match Sizes
Much like in art, variation can be key to visual appeal. Using a mix of large, medium, and small pumpkins creates a dynamic and engaging visual play.
The varying sizes draw the eye, making your porch display more interesting and dimensional.
Add a Message
With the advent of chalk paint and the variety of stencils available today, you can easily personalize your pumpkin stack.
Adding messages like "Welcome" or "Give Thanks" not only makes your display interactive but also sends a warm and inviting message to anyone who passes by.
3. Upcycled Lanterns
A magical autumn evening isn't complete without the soft glow of lanterns. Instead of splurging on new ones, why not upcycle items you already have? It's sustainable, creative, and lends a unique touch to your porch.
Mason Jar Lanterns
Mason jars are versatile items found in almost every household. Filling them with fairy lights or candles instantly transforms them into chic lanterns.
To further enhance their autumnal look, wrap some twine around the neck of the jar and tuck in a few fall leaves, lending a rustic and whimsical touch.
Tin Can Luminaries
Before discarding those used tin cans, consider their decorative potential. By punching holes to create captivating patterns and then placing candles inside, you create a luminous piece of art.
Not only is this approach affordable, but it's also an eco-friendly way to repurpose items.
Vintage Finds
There's something intrinsically charming about vintage items. Flea markets are treasure troves where you can discover old lanterns that, despite their age, radiate timeless beauty.
Even if slightly worn out, with a bit of cleaning and perhaps a new candle, they can infuse a vintage ambiance into your porch setting.
4. Hay Bale Seating
If you're aiming for a countryside feel or hosting a fall-themed gathering, hay bale seating is both practical and festive. Transforming these bales ensures comfort for your guests and adds a distinctive fall charm.
Cover with Blankets
Hay can be a tad uncomfortable to sit on for prolonged periods. By draping them with affordable fleece blankets or throws, you not only make them comfy but also introduce a touch of coziness that's synonymous with fall evenings.
Surround with Pumpkins
Hay and pumpkins are like bread and butter — they just belong together. By strategically placing pumpkins or gourds around your hay bale seating, you enhance the festive aura, making it a delightful spot for conversations and laughter.
Add Outdoor Pillows
Nothing screams comfort more than plush pillows. Introduce outdoor pillows in warm fall colors, patterns, or themes. They not only offer additional comfort but also elevate the aesthetic appeal of your hay bale seating area.
5. Wooden Signage
Communicate your love for autumn with wooden signs. They're a classic way to share messages, directions, or just showcase your artistic flair.
Pallet Wood Signs
Pallets often end up in landfills or left unused in garages. However, with a little paint and creativity, they can be reborn as charming fall-themed signs.
Whether it's a warm greeting or a playful autumn quote, the textured wood of pallets provides the perfect canvas.
Stenciled Messages
For a more polished and professional touch, stencils are the way to go. They ensure clarity and can be reused multiple times.
With a plethora of stencil designs available, you can craft clear, professional-looking messages or designs on your wooden signs with ease.
Incorporate Fall Imagery
Wooden signs don't have to rely on words alone. Introduce fall imagery like beautifully painted leaves, acorns, or pumpkins.
This visual representation can often communicate the essence of fall more profoundly than words, making your sign genuinely resonate with the season.
6. Dried Corn Displays
The golden hues of dried corn are emblematic of the harvest season. Utilizing this natural element can bring both color and texture to your porch.
Corn Stalk Bundle
Creating a dramatic entrance is easy with dried corn stalks. Tying them together and positioning them on either side of your front door offers a traditional and classic fall look that never goes out of style.
Corn Husk Garland
Crafting a garland using dried corn husks can introduce a whimsical and rustic vibe. Draped around railings or hung gracefully from your porch ceiling, it's a testament to autumn's bounty.
Corn Cob Vases
Thinking out of the box? Hollowed-out dried corn cobs can make unique vases. Filled with seasonal fall flowers, they can be both eye-catching and conversation-starting.
7. Burlap Decorations
Burlap, with its natural and rugged texture, can seamlessly evoke rustic charm when introduced into fall décor.
Burlap Ribbon
Burlap ribbons can be versatile. From crafting bows to draping across your porch or wrapping around railings, they effortlessly introduce a countryside feel.
Burlap Plant Wraps
Give your potted plants a seasonal makeover by wrapping them in burlap. This not only insulates them from the early fall chills but also ensures they fit right into your autumn theme.
DIY Burlap Runners
Setting up an outdoor table or seating area? A DIY burlap runner can be the centerpiece. Enhancing it with lace or ribbons can add layers of texture and interest.
8. Repurposed Farm Tools
Farm tools can be more than just functional – they can be decorative. With a touch of creativity, they can be repurposed into unique pieces of fall décor.
Rake Head Wreath
An old rake head can be reborn as an unconventional wreath or wall decor. Hanging fall foliage or flowers from its prongs can turn a mundane tool into a piece of art.
Shovel Display
Positioning an old shovel upright and hanging a lantern or plant from it can be both nostalgic and stylish, adding a touch of farm chic to your porch.
Wheelbarrow Plant Holder
What better way to showcase the season's harvest than with an old wheelbarrow? Filled with vibrant gourds, pumpkins, or mums, it becomes a captivating mobile garden display.
9. DIY Leaf Decorations
Leaves, with their myriad of colors, are the stars of the fall season. Incorporating them in various forms can enhance the natural beauty of your décor.
Leaf Garlands
Be it real or fake leaves, stringing them together results in a gorgeous garland. Hung across your porch or framing your doorway, it's a celebration of nature's canvas.
Leaf Stamping
Leaves can be nature's stamps. Impress their intricate patterns on pillows, table runners, or rugs to imbue your surroundings with a touch of autumn.
Leaf Lanterns
Adorning the outside of glass jars with leaves, secured with mod podge, can lead to enchanting lanterns. With candles inside, they radiate a soft, golden hue, reminiscent of fall sunsets.
10. Chalkboard Messages
Communicate with your visitors even before they ring the doorbell. Chalkboards are a fun and interactive way to share messages, wishes, or even the daily weather!
Welcome Notes
A simple "Hello Autumn" or another seasonal quote on a chalkboard can set a warm and festive tone for anyone approaching your home.
Daily Fall Countdown
The anticipation of significant fall events or holidays can be heightened with a daily countdown. It adds excitement and a sense of celebration to each passing day.
DIY Chalkboard from Old Frames
Old photo frames, with a bit of chalkboard paint, can be transformed into custom chalkboards. Hung on your porch, they offer a canvas for your creativity and messages throughout the season.
10. Chalkboard Messages
Chalkboards offer a rustic charm, bringing a personalized touch to your porch. They serve as both functional and decorative additions to your fall decor.
Welcome Notes
Greet your guests with heartwarming messages or quotes that capture the essence of fall. Whether it's a simple "Welcome" or a poetic autumn quote, a chalkboard can set the mood for the season.
Daily Fall Countdown
Celebrate the progression of autumn with a daily countdown to beloved fall events, be it Halloween, Thanksgiving, or just the first day of snow. It can build anticipation and bring a playful touch to your porch.
DIY Chalkboard from Old Frames
Why buy new when you can repurpose? Transform old photo frames with chalkboard paint, giving them new life. It's not just cost-effective but also a sustainable choice that adds character to your outdoor space.
11. Homemade Candles
There's something undeniably cozy about candles, especially during the chillier months. Crafting your own ensures they fit perfectly with your autumn aesthetic.
Scented Candles
Immerse your porch in the scents of the season. Crafting candles with essential oils like cinnamon or pumpkin spice can transport anyone to a fall wonderland.
Candle Jars
Mason jars can make for the perfect rustic candle holders. Adorned with leaves, ribbons, or wrapped in burlap, they can radiate warmth both literally and figuratively.
Log Candle Holders
For those who love the rugged beauty of nature, hollowing out small logs to cradle candles can create a serene and earthy ambiance.
12. Cozy Textiles
As the temperatures drop, textiles can provide both warmth and a layered visual appeal to your porch.
Flannel Throws
Flannel is synonymous with autumn. Draping these soft throws over chairs or benches invites guests to snuggle up and enjoy the crisp air.
Knit Blankets
Thicker knit blankets not only offer more warmth but also introduce rich textures. Whether draped over railings or benches, they beckon with their coziness.
DIY Pillow Covers
Customize your outdoor seating with DIY pillow covers. By choosing fall patterns or colors, you can make your porch a reflection of the vibrant season.
13. Outdoor Rugs
The ground beneath can be as expressive as the decorations around. Rugs can define spaces and add layers of texture and color.
Layered Rugs
Combine multiple affordable rugs, layering them to create depth and a plush feel underfoot.
DIY Painted Mats
A plain mat can be a canvas. Painting fall motifs or heartfelt messages can make it unique and seasonal.
Upcycled Rug Ideas
Sustainability meets creativity when old fabrics or towels are woven or braided into distinctive rugs, adding a personal touch to your porch.
14. Gourd Displays
Gourds, with their myriad shapes and sizes, are fall's decorative gems. Their versatility ensures they can be both functional and ornamental.
Gourd Bowls
Large gourds can be transformed into organic bowls. Hollowed out, they become vessels for candles, potpourri, or other fall trinkets.
Hanging Gourds
Suspend gourds from your porch ceiling using twine or colorful ribbons. They'll sway gently with the autumn breeze, adding movement to your decor.
Gourd Luminaries
Carving patterns or designs into gourds and placing candles within can cast mesmerizing shadows and offer a warm and inviting glow.
15. Seasonal Flowers
Flowers breathe life into any space. Embracing the blossoms of the season ensures your porch feels alive and in tune with nature.
Potted Mums
Mums, with their rich colors, are a fall favorite. Presented in rustic pots or woven baskets, they can be the floral centerpiece of your porch.
Sunflower Bundles
Sunflowers, standing tall and bright, are a beacon of the harvest season. Grouped together in vases or just lying casually, they can introduce a sunny optimism to your decor.
Wildflower Arrangements
The beauty of wildflowers lies in their spontaneity. Collected from nearby fields or woods, they can bring an unrefined and organic beauty to your porch.
Conclusion
With these budget-friendly fall porch ideas, you can create a welcoming and cozy outdoor space that captures the spirit of autumn.
They are simple yet creative touches and will help you embrace the beauty of the season without breaking the bank.
So, get ready to sip on some apple cider and enjoy the crisp fall evenings on your newly transformed porch.
Related Posts: