Essential Tips for Saving Money on School Supplies
Updated on: by Amy Kennedy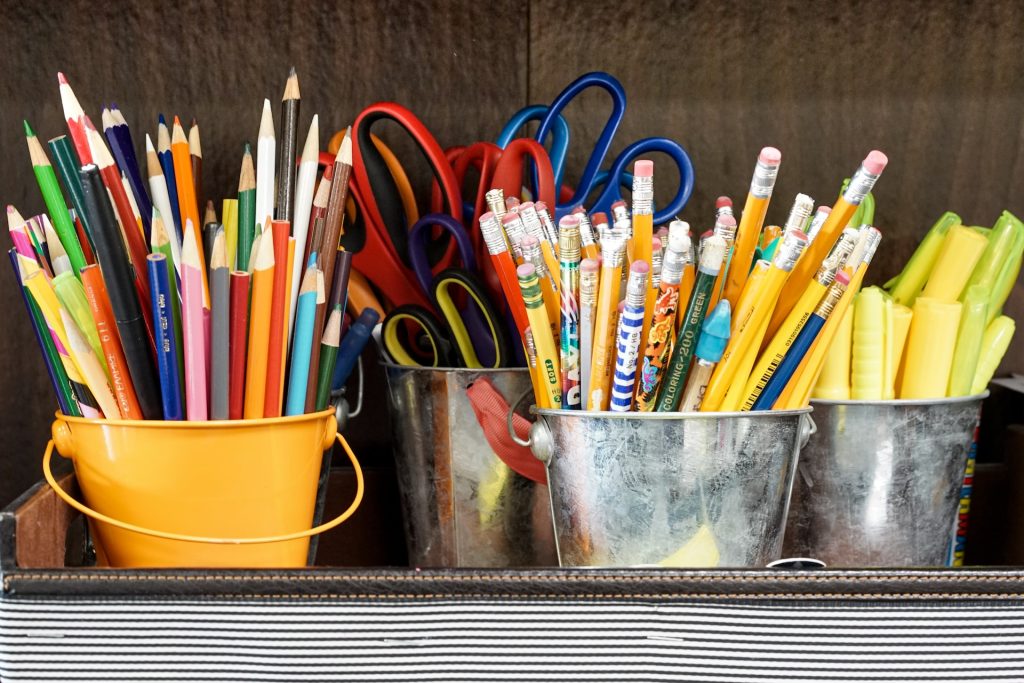 The start of a new school year often brings excitement and anticipation but can also be a source of financial stress for many families.
Need Easy Extra $350+/Month For Free?
With the list of necessary school supplies growing every year, the costs can quickly add up.
Knowing how to navigate sales, choose quality products, and make wise purchasing decisions can lead to substantial savings without sacrificing what's needed for a successful school year.
13 Essential Tips for Saving Money on School Supplies
Below, we explore 13 essential tips to save money on school supplies, while still ensuring you have everything you need.
1. Start with a List and Stick to It
Preparation and Prioritization
Create a detailed list of required school supplies by consulting with teachers or using school-provided lists. By prioritizing needs over wants and sticking to the essentials, you avoid unnecessary spending.
Collaborating with other parents on bulk purchases or checking what you already have at home can also help in economizing.
Utilize Apps for List-Making
There are several mobile apps like Evernote that assist in keeping track of your shopping list and budget. By keeping a digital list, you can easily edit, share, and keep track of what you've purchased, ensuring a more organized and efficient shopping process.
2. Shop During Sales and Use Coupons
Take Advantage of Tax-Free Days
Many states offer tax-free shopping days for back-to-school supplies. By aligning your shopping with these days, you can make significant savings on the total cost.
Always check your state's schedule to ensure you don't miss out.
Search for Coupons and Discounts
Whether in-store or online, always look for coupons or discounts. Websites like RetailMeNot provide online coupon codes, making it easy to apply savings at checkout.
Shop During Clearance Sales
Timing your shopping during clearance sales can lead to huge savings. These sales often happen at the end of a season, and with a little foresight, you can stock up for the next school year.
3. Buy in Bulk When Possible
Evaluate Bulk Buying Opportunities
Items like pens and paper are often cheaper when purchased in bulk. Assess what items can be bought this way without over-buying, and consider sharing bulk purchases with other families.
Join Wholesale Clubs
Wholesale clubs like Costco offer significant discounts on bulk purchases. Though there may be a membership fee, the savings often outweigh the cost, especially if you shop for the entire school year.
Avoid Over-Buying
While bulk buying can save money, buying too much leads to wastage and clutter. Ensure that you are only purchasing quantities that can be used within a reasonable time frame.
4. Consider Quality vs. Price
Invest in Quality Where It Counts
Quality matters for items that need to last. Backpacks, for example, might be worth a higher investment. Choosing quality over cheap alternatives can lead to long-term savings as these items last longer.
Look for Warranties and Guarantees
Investing in items with warranties or guarantees can provide peace of mind and additional value. If something breaks or malfunctions, it might be replaced at no cost to you.
Need Easy Extra Cash?
Pinecone Research, a leading name in online survey panel honesty, absolutely guarantees $3 cash for every survey you complete!
Take advantage of their time limited New Membership drive and register NOW. Join today: 100% free!


Avoid Expensive Brands Where Unnecessary
Not all items need to be name-brand. Often, generic or store-brand items are just as good but come at a fraction of the price.
This approach can save a lot without sacrificing quality.
5. Embrace DIY and Recycle
Create Custom Items
Encourage creativity by personalizing generic items with DIY decorations. This can make basic items special without paying brand-name prices and can be a fun activity for children.
Reuse and Recycle Where Possible
Reusing items like binders or backpacks from previous years is environmentally friendly and cost-effective. Evaluate what's still in good condition and recycle accordingly.
Encourage Sustainability
Consider purchasing recycled or sustainable products. Websites like Ecojot offer eco-friendly notebooks, which is an ethical choice and often comparable in price.
6. Utilize Technology and Digital Resources
Consider Digital Textbooks
Digital textbooks can be a more affordable alternative to hardcopies. Not only can they save money, but they are also more portable, and some even come with interactive features.
Use Free Online Tools
Free online tools like Google Workspace for Education can replace physical supplies, and many schools are adopting these platforms, making them a practical choice.
Evaluate Technology Bundles
Bundled technology products, such as laptops and tablets, can offer savings. Shop around, particularly during back-to-school sales, to find the best deals on essential tech items.
7. Explore Community Resources and Assistance
Check Local Libraries and Community Centers
These local resources often provide free or low-cost supplies. Libraries, community centers, and even schools may have programs or donations available to those in need.
Apply for Assistance If Needed
If finances are tight, check with school districts or local charities for assistance programs. These resources are there to help and can make the difference in obtaining needed supplies.
Participate in School Supply Swaps
Community school supply swaps are a great way to exchange unneeded items for those required. It's an eco-friendly and community-minded way to ensure all children have what they need for school.
8. Compare Prices Online and In-Store
Use Price Comparison Tools
Websites and apps like CamelCamelCamel can help you compare prices across various online retailers, ensuring you get the best deal for each item on your list.
Don't Forget About Local Stores
Sometimes, local stores can offer better deals, especially if they have sales or clearance events. Shopping locally can also support small businesses in your community.
Consider Shipping Costs
When shopping online, always factor in shipping costs. Sometimes what seems like a great deal online can end up being more expensive once shipping is added.
9. Shop Throughout the Year
Look for Off-Season Bargains
Shopping for school supplies during off-season sales can lead to substantial savings. Keep an eye out for clearance events and stock up on basics like pencils, paper, and notebooks.
Set Up Alerts for Sales
Many online retailers allow you to set up alerts for specific items or sales. This way, you're notified when something you need goes on sale.
Keep a Storage Area for School Supplies
By having a designated storage area for school supplies bought throughout the year, you can easily keep track of what you have and what you still need, avoiding duplicate purchases.
10. Consider Second-Hand Options
Explore Thrift Stores and Online Marketplaces
Places like thrift stores or online marketplaces like eBay can be excellent sources for gently used or even new school supplies at a fraction of the retail price.
Participate in Community Swaps
Community swaps or online local swap groups can be excellent ways to exchange items with neighbors, saving money, and reducing waste.
Inspect Items Carefully
When buying second-hand, always inspect the items carefully to ensure they are in good condition. What seems like a bargain isn't a saving if the item quickly breaks or malfunctions.
11. Encourage Children's Involvement
Teach Budgeting Skills
Involving children in the purchasing process and teaching them about budgeting can be an educational experience. Provide them with a budget for certain items and guide them in making wise choices.
Allow for Some Personal Choices
Allowing children to choose specific items, like a favorite notebook or pen, can make them feel involved and valued. It can add personal excitement to the shopping process without breaking the bank.
Communicate the Importance of Value
Explain the importance of value over brand or popularity, teaching them to make wise and responsible purchasing decisions.
12. Collaborate with Other Parents
Coordinate Bulk Purchases
By collaborating with other parents, you can make bulk purchases on common items, significantly cutting costs. Some stores even offer group discounts for large purchases.
Share Information on Sales and Deals
Sharing information with other parents about sales, deals, and discounts can benefit everyone involved. Creating a community that supports each other in this way can lead to collective savings.
Plan Carpooling for Shopping
Organizing shopping trips with other parents can save on fuel costs and also make the shopping experience more enjoyable.
13. Reevaluate and Reflect After Shopping
Assess What Worked and What Didn't
After the shopping is complete, take a moment to evaluate what strategies worked best and what could be improved for next time. This reflection ensures that each year you become more efficient and effective in saving money on school supplies.
Keep Receipts and Track Spending
Keeping track of spending and saving all receipts will help in case of needing returns or exchanges. This organizational step also helps you understand where the money went and how to plan better next time.
Consider Future Needs
Think about future needs and how you can prepare for the next school year. Continual planning ensures that you remain proactive in your approach, leading to ongoing savings.
Earn Everything… nearly!
Join Opinion Outpost, one of the few faithful and honest survey panels and earn cash and gift cards for your opinion. Stack your points and redeem them: Simple! No hidden fees and completely free!


10 Places to Get Free School Supplies
Introduction
There are numerous organizations and places that provide free school supplies to those in need.
If you know where to look and how to access these resources, you can ensure that your children have the essential tools for success in the classroom.
Below, we explore ten places that offer free school supplies and explain how families can take advantage of these valuable resources.
1. Local School Districts
Local school districts often understand the financial strains faced by families within their communities and respond by organizing free school supply programs. These programs may include collaborations with local businesses, charities, or other community organizations.
The specific offerings can vary widely, so it's essential to contact the administration office or visit the local school district's website for detailed information on available programs, application procedures, and eligibility criteria in your area.
2. Boys & Girls Clubs of America
The Boys & Girls Clubs of America provide various youth programs, including those that offer free school supplies. These clubs often organize events where backpacks filled with essential supplies are distributed to children.
Collaboration with local sponsors and volunteers makes these programs possible, and the Boys & Girls Clubs are dedicated to supporting education and easing the financial burden on families. Visit their website or contact your local branch for information on upcoming events.
3. Salvation Army
The Salvation Army is known for its community support, including annual back-to-school events. These events are specially organized to assist low-income families by distributing free school supplies, including backpacks, notebooks, pencils, and more.
Every location may have different offerings, so it is wise to reach out to your local Salvation Army branch to learn about their specific events and qualification requirements.
4. Operation Homefront
For military families, Operation Homefront provides a special program called the Back-to-School Brigade. This initiative distributes free school supplies to military children across various locations in the United States.
The goal is to support military families who often face unique challenges, including financial constraints. Details about registration, events, and eligibility can be found on Operation Homefront's website.
5. United Way
United Way is actively involved in community support and often leads drives to collect and distribute free school supplies. Partnering with schools, local businesses, and volunteers, United Way ensures that children from low-income families have access to the essential tools they need for learning.
Reach out to your local United Way chapter to discover specific programs and events in your community.
6. Churches and Religious Organizations
Many religious organizations are dedicated to community outreach and often host back-to-school events to provide free school supplies. These events are usually open to everyone in the community, regardless of religious affiliation.
Connecting with local religious institutions or checking community event calendars may uncover these valuable opportunities.
7. Kids In Need Foundation
The Kids In Need Foundation operates Resource Centers that offer free supplies to teachers working in low-income schools. These centers enable educators to obtain materials for their students, ensuring that children from disadvantaged backgrounds have access to necessary supplies.
More information on locations and how teachers can access these resources can be found on the Kids In Need Foundation's website.
8. Local Libraries
Public libraries are community hubs that often host events or partner with local organizations to provide free school supplies. These programs may include workshops for parents and children on budgeting and school readiness, coupled with the distribution of essential items.
Contact your local library or check their website for information on upcoming events or ongoing support.
9. Corporate and Business Donations
Several large corporations and local businesses recognize the importance of education and support their communities by donating school supplies. These businesses may sponsor events, work with local schools, or partner with charitable organizations to distribute the items.
Researching local business sponsorships or contacting community business associations can lead to information about these opportunities.
10. Freecycle and Online Swap Groups
Freecycle and online swap groups are platforms where community members give away items they no longer need. These platforms may include free school supplies, especially during the back-to-school season.
Joining local groups on websites like Freecycle or social media platforms can lead to free or swapped supplies.
Conclusion
Saving money on school supplies doesn't mean cutting corners or sacrificing quality.
By applying smart shopping strategies, being aware of sales and discounts, and involving children in the process, parents can turn the back-to-school shopping experience into an enjoyable and economical endeavor.
These essential tips offer a roadmap to more mindful spending, allowing families to start the school year on a positive and financially responsible note.
Related Posts:
Earn Everything… nearly!
Join Ipsos iSay, one of the few Faithful and Honest survey panels and earn prizes, gift cards and donations. Stack your points and redeem them: Simple! No hidden fees and completely free!