85 Free Things Teachers Can Get for Themselves or Their Classroom
Updated on: by Amy Kennedy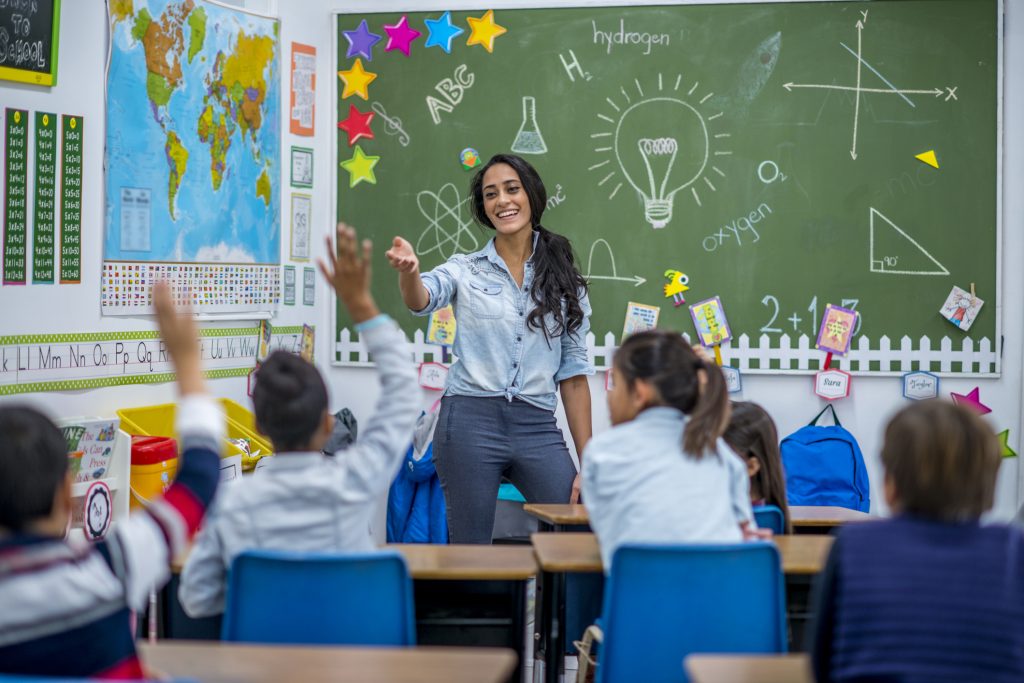 Being a teacher is so rewarding.
Need Easy Extra $350+/Month For Free?
You get to help students learn and grow while giving them tools they'll need to succeed.
However, teachers often need to pay for many of the supplies they need to teach every day.
From replenishing their stock of pencils to buying books for their bookshelves, teachers always seem to be paying money from their own pockets to make sure students have everything they need.
That's exactly why companies and organizations offer free stuff for teachers to take advantage of.
This guide features 80 ways that teachers can get free things to thank them for the selfless job they do every day.
Where to Get Teaching Freebies: Score Free Teacher Supplies by Mail or Online!
I've broken down this list into categories so that you can easily find what you're looking for.
Whether you want free tickets to area attractions, books for your classroom, or teaching supplies, you can find it all here.
Magazines and Books
Getting free magazines and books for your classroom is a dream come true for teachers who often need to stock their bookshelves themselves.
Give your students the gift of reading by snagging these free offers.
There are even some places that have free magazines and books for you to enjoy!
This organization donates free books to teachers who work at schools where the majority of students fall within income poverty guidelines.
All you need to pay is the shipping costs.
Dollar General has an organization that provides grants for schools to supply books for their classrooms.
There are also grants to help schools improve their literacy programs and grants to help families become more involved in their children's literary education.
Try any Scholastic Magazine for free for 30 days to make sure it's a good fit for your classroom.
Need Easy Extra Cash?
Pinecone Research, a leading name in online survey panel honesty, absolutely guarantees $3 cash for every survey you complete!
Take advantage of their time limited New Membership drive and register NOW. Join today: 100% free!


You can choose from digital-only subscriptions or a print and digital subscription to favorites like Scholastic News, DynaMath, Science World, and Scholastic Art.
Teachers who want to teach Ayn Rand novels to their high schoolers may be eligible to receive free novels for the whole class.
There is also a section on the website to sign up for something similar for college classes.
Get SchoolMate catalogs, planners, calendars, and other sample materials and resources from the company by filling out the online form.
If you teach blind or visually impaired students, you could qualify for free books from the Braille Books Program through the American Action Fund for Blind Children and Adults.
Educators can get a deeply discounted rate for a subscription to The New York Times with unlimited articles on the website or app.
This can be an excellent tool for teaching older kids!
The Library of Congress has a surplus books program in which it donates extra books it no longer needs to educators who could use them.
This publishing company sends free book samples to teachers of grades K through 5.
Grab a subscription for half off the usual price to this magazine, which covers important topics like social justice and the economy.
You can choose from a full library of digital storybooks to share with your classroom as part of their lessons or free time.
This program sends donated books to students and classrooms in need.
You can fill out this form to sign up to become a potential recipient of a book box sent to your classroom.
Half Price Books specializes in selling books at discounted rates, but it also has a program that could benefit teachers.
Fill out the form if you need more books for your classroom to teach literacy skills.
The company will consider each donation request and will supply books if your request is accepted.
Wilbooks has several digital books that are available on its site for free for students in Kindergarten through 3rd grade.
Both of these magazines are free in PDF and print formats and can be perfect resources for science classrooms.
Teaching and Classroom Supplies and Materials
The following places offer tons of resources for you to get classroom supplies and materials to help you educate your students every day.
Free Worksheets
Teachers Pay Teachers is one of the best places to find tons of valuable teaching resources and worksheets for almost any lesson plan.
Some creators also give away content for free to other educators.
Just browse the free section to find them!
You can also filter by lesson topic, age, grade, and other categories to help you find the stuff you're looking for.
These classroom kits are designed for students in grades K-1 and includes toothbrushes, toothpaste, and learning materials to help little ones learn to care for their teeth.
Help kids and parents learn about gun safety while educating yourself, too, with these free resources from Project ChildSafe.
There are also informative videos, checklists, and printables.
You can request a free classroom kit from United for Human Rights with information about the Declaration of Independence, teaching materials, and a DVD.
Teaching mental health importance is just as necessary as teaching regular education topics.
This classroom kit gives you a bunch of resources to help your students learn more about emotional awareness and well-being.
Earn Everything… nearly!
Join Opinion Outpost, one of the few faithful and honest survey panels and earn cash and gift cards for your opinion. Stack your points and redeem them: Simple! No hidden fees and completely free!


This website has tons of free videos and resources to teach students advanced math topics, and it could be helpful in supplementing your lessons.
You can get free materials and resources to help you let parents and students know about the choices they have when it comes to their education.
Get a set of free rulers from RentCalculators.org by filling out the quick online form.
The Sesame Street website is an excellent place for educators to find courses, teaching materials, videos, activity guides, and other resources to help teach little learners.
Would your students work better with a project management and collaboration tool?
If so, Basecamp might be for you.
The web-based software lets you and your students work together on a project and stay organized with to-do lists, message boards, and more.
You can get Basecamp for your classroom for free if you work for a K-12 school.
Just sign up for the free trial for 30 days and email the company your credentials to prove that you're an educator.
Basecamp will make your account free as soon as it verifies everything.
Use this tool to record a video of yourself to send to your students.
They can then send a video back to you!
It's perfect for virtual discussions to keep them talking about the topic you're teaching, and it's free for you and your students to use.
Download over 400 worksheets for free that you can print to help your class learn math.
There's also a free two-week online course that you can sign up for to help you learn how best to teach learners who are struggling with math.
What teacher couldn't use free pencils for their classroom?
You can fill out the form on this website to get a free box of #2 pencils.
There is no purchase necessary to receive them, and you can even get free shipping.
Download financial literacy videos, workbooks, guides, and other materials to help teach your class good money skills.
Joann Fabric has a rewards program for teachers where they can get discounts on all kinds of craft supplies and other materials for their classrooms.
You'll even get special discounts through the year to get buy one get one free products, like crayons, markers, scissors, and other stuff you'll need in your class.
Head to the National Geographic website to find a bunch of educational resources for teachers and their classrooms in one spot.
The site has materials and information for kids in grades K through 12 and beyond.
SitSpots are non-adhesive pieces of material that cling to your classroom carpeting or area rugs to help organize students when they need to sit on the carpet.
They come in a variety of styles and shapes, like letters or solid circles.
You can receive a free sample kit to see how they'll work with your classroom and carpet.
T.A. Barron gifts free online teaching materials to educators that teach about writing, literature, and more.
You can download things like book discussion guides and author interviews.
DVDs and Media
These free DVDs, posters, and other media resources can be beneficial for teachers looking to supplement their lessons with more information.
Each film kit from this organization includes a movie and teaching materials that can help your students learn about specific societal issues.
All kits are free to K-12 schools.
This site has several math-focused images and desktop screens you can download for use on your school computer or to use as part of a presentation or other learning materials.
Pass It On is an organization that creates motivational and awareness-building posters, billboards, commercials, and other forms of media to educate the public on different issues.
As an educator, you can request free posters and DVDs for your classroom.
Visit this website to get free songs and activities to help teach little learners their math facts.
Switch Energy Alliance lets educators sign up for a free program that can teach students about global energy and ways to improve it now and in the future.
Are you an art teacher?
You can sign up to receive free posters from the National Gallery of Art to hang in your classroom or use as inspiration for assignments.
Get free teaching tips for your science classroom here, including lab exercises, lesson plans, and more.
Each year, you can get a new DVD with social studies topics to share with your class.
C-SPAN offers a free online teacher training for any teacher who wishes to use the many C-SPAN teaching resources available to them.
The training will help you understand what to do with the resources, how to find them, and how to get your students interested in learning with them.
Get free posters about drug awareness for your classrooms from this organization.
The National Science Teaching Association hosts several seminars throughout the year to help science teachers be the best they can be in their classrooms.
Find webinars on everything from teaching about space to finding scientific problems that students can learn how to solve.
Sign up to get a free poster from your classroom that helps students learn how to create an argumentative essay.
Teachers can request a free copy of Not In Our Town, which talks about the importance of inclusivity and how to combat hate crimes in your own neighborhood.
It can be an excellent resource if you're teaching about tolerance and social injustices.
Help young students learn about animals with free ZooZingo cards.
Just complete the online form to get your pack.
The NEA has resources for teachers to learn more about bullying, an important issue that kids face.
You can sign up for webinars for free.
Fill out the form to get a Dinosaur Train poster to use in your classroom for lessons about nature.
The Bridge So Far is a documentary about the San Francisco Oakland Bay Bridge.
Teachers can fill out the form to request a complementary copy to share with their classrooms.
This database has hundreds of film clips and other video resources that you can use in your classroom as supplementary teaching materials.
Most of them are for high school grade levels.
Lesson Plans
Yes, free lesson plans do exist!
And you can find them in any of the following places for various grade levels.
Save yourself some time writing up your own lesson plans and use some from the resources below instead.
This side offers free lesson plans that go along with books you can read with your class to extend their learning and comprehension.
Learn how to implement using The Wall Street Journal in your classroom to help your students learn about news, politics, and more.
Sign up to receive the materials you're interested in using.
The Education version of Microsoft Office 365 is free for schools to use.
If your school doesn't have it yet, let the administrator know that they can sign up for free access for you and your students to use.
This website is full of free resources for educators on many of the primary topics K-12 students learn, like geography, language arts, and mathematics.
Get little ones learning in style with free Hot Wheels lesson plans that teach all about fun STEM topics.
There's also a classroom kit that you can request when available, but for now, you can receive all the same information on the website.
This packet of lesson plans is designed for grades 5 and 6, but you might be able to use some resources for higher and lower grades, too.
You'll find a poster, lesson plans, worksheets, and more, and it's all in partnership with Scholastic.
Find free lesson plans for your classroom on all kinds of topics for preschoolers through college students, including creative writing, book discussions, STEM skills, and more.
Sign up on the website to receive a free STEM kit from Hess.
The kit comes with curriculum and a guide to help you move through the information with your students.
Tickets
Did you know that, as an educator, you can get into some attractions, like museums and fun spots, for free?
It's true!
Here's how to do it if you live near any of these places:
Teachers can get a free pass to LEGO Land Orlando just for being an educator!
You'll need to bring your teacher's certification and a recent paystub with you.
This offer is only available to Florida teachers.
Visit the home of Elvis Pressley for free if you're a teacher.
You can also visit the website to get educational resources if you want to teach your students about Elvis and his career or if you plan to take your class to Graceland for a field trip.
Visit the website to learn how to get a teacher pass that will get you into the aquarium for free.
You'll also get other benefits, like an exclusive member newsletter and discounts on other memberships and gift shop items.
SeaWorld Orlando grants Florida teachers a free pass when they show their certification.
The pass is good for all certifiable K-12 teachers in Florida.
National Parks
Check with nearby state and national parks to see if you can get into their attractions for free.
Some might offer discounts on lodging or even one free night's stay, for example.
You can also find free educational kits at many of them, which can be a good way to host a low-price field trip for your students.
Get free access to Kennedy Space Center if you live in one of the eligible states and can prove your current teaching certification or licensure.
If you live in a state with a Shedd Aquarium and have a teaching license, you can receive a pass to get into the aquarium for free.
Just fill out the online form to get your pass.
As a teacher, you may qualify for special discounts and free tickets to tons of attractions across the nation.
Check out ID.Me to see what you could qualify for!
As a member, you'll have access to stuff like discounted Disney World tickets, 40% off Coco Key Waterpark tickets, and 30% off ticket prices at Nickelodeon Universe.
After all, you deserve a break!
Get into the Crayola Experience for free just by showing that you're a teacher.
This place will give you a free annual pass to use any time you want to visit.
Other Goodies
Here's where I list everything that doesn't fit neatly into the other categories but can still get you some awesome stuff as a teacher.
Sign up for Staples Classroom Rewards, a program that helps you earn money toward your classroom when others shop at Staples.
When you sign up, you'll get a free $5 reward from Staples.
Get an exclusive discount to shop with Lenovo just for being a teacher!
The company also has teacher-only giveaways every month to help you win cash toward your classroom donation project.
Help host a fun family night with your students and their parents or guardians by signing up for a free family night kit from PTO Today.
There are also virtual family night kits and other resources to take advantage of.
AEP sends educational booklets and safety kits to schools and classrooms that request them.
Speed Stacks can be a super fun game for students to challenge themselves with.
If you're a physical education teacher interested in having your students learn about the game of Speed Stacks, then sign up on this website to have a trainer come to your school for the day.
This is only available in specific states.
Have you wanted a class website where you can share information, news, and resources with your students and their families?
Weebly will let you make one for free (and your students can even have their own websites!).
Consider using this as a way to teach a new skill for a computer class, too.
Attend a workshop for teachers, download helpful materials, or watch webisodes during class to help your students learn about marine animals.
Amazon Education is a collection of tools and resources designed to help educators have everything they need to succeed.
You can join programs like Amazon Ignite to sell teaching resources and AWS Educate to get free training materials designed for educators.
Who knew teachers could even get perks on their automobile insurance?
With Liberty Mutual, you can.
Not only can you get a discounted rate for being an educator, but you might also qualify for additional coverages at no extra cost.
FitCrunch lets people nominate teachers they believe deserve a bunch of school supplies for their classrooms (and a lot of protein bars, of course!).
While you shouldn't nominate yourself, you could let others know about the giveaway to encourage them to nominate you.
Breathe for Change makes sure that educators take care of themselves as much as they take care of their students.
Head to the website to download resources for you and your students, like self-care classroom guides, webinars, videos, and more.
Create a Supply List at TeacherList
TeacherList lets you add supplies that you need for your classroom to a wishlist to share with others, helping you get stuff you need and want for your students.
When you add PaperMate products to your wishlist, the company will send you some PaperMate products for free!
More Goodies!
Khan Academy 
Khan Academy is a popular online platform that offers a wide range of free educational resources. It provides video lessons, practice exercises, and quizzes for various subjects such as math, science, history, and more.
Khan Academy's interactive approach and comprehensive content make it a valuable resource for teachers looking to supplement their lessons. 
You can explore their resources at Khan Academy.
TED-Ed 
TED-Ed is an educational initiative by TED that offers a collection of animated lessons on a diverse range of topics. These engaging videos are designed to spark curiosity and facilitate learning.
In addition to the video lessons, TED-Ed provides lesson plans, discussion questions, and other supporting materials to help teachers integrate TED-Ed content into their teaching. 
You can access TED-Ed's resources at TED-Ed.
Google for Education 
Google for Education provides a suite of free tools and resources for teachers and students. It includes Google Classroom, a platform for managing assignments and communication. 
There are also applications like Google Docs, Sheets, and Slides, which facilitate collaboration and document creation. Additionally, Google for Education offers training resources, lesson plans, and a community for educators to share ideas. 
To explore Google for Education, visit Google for Education.
ReadWriteThink 
ReadWriteThink is a website that offers a plethora of literacy resources for teachers. It provides lesson plans, interactive tools, printouts, and student materials for teaching reading, writing, and language arts.
ReadWriteThink's resources are aligned with educational standards and cover various grade levels. Whether you need ideas for reading comprehension activities or writing prompts, ReadWriteThink has a wealth of resources to support your literacy instruction.
Visit ReadWriteThink to access their resources.
NASA Education 
NASA Education offers a wide array of educational resources that explore the wonders of space and aeronautics. 
Teachers can access lesson plans, multimedia galleries, interactive games, and virtual experiences to engage students in STEM subjects. NASA Education's resources cover topics such as Earth science, astronomy, robotics, and more. 
These materials can help educators inspire a sense of curiosity and exploration in their students. 
Explore NASA Education's resources at NASA Education.
Get Free Stuff for Teachers Online or by Mail!
Teachers deserve the very best, and plenty of companies and organizations know it.
They put their own well-being to the side to make sure their students are taken care of.
I hope that you find several of the above resources helpful for you to get what you need for your lessons and classroom.
I also want to point out that there's a place called Donors Choose that can come in handy for teachers.
Donors Choose lets you set up a fundraiser for classroom supplies and other things you need for teaching.
People you know or complete strangers can donate to your cause to help you get everything on your list.
It's a good way to make sure you're getting exactly what you and your students need.
Thank you for everything you do, teachers!
Related Posts:
Earn Everything… nearly!
Join Ipsos iSay, one of the few Faithful and Honest survey panels and earn prizes, gift cards and donations. Stack your points and redeem them: Simple! No hidden fees and completely free!