16 Millionaires & Billionaires Giving Away Money
Updated on: by Amy Kennedy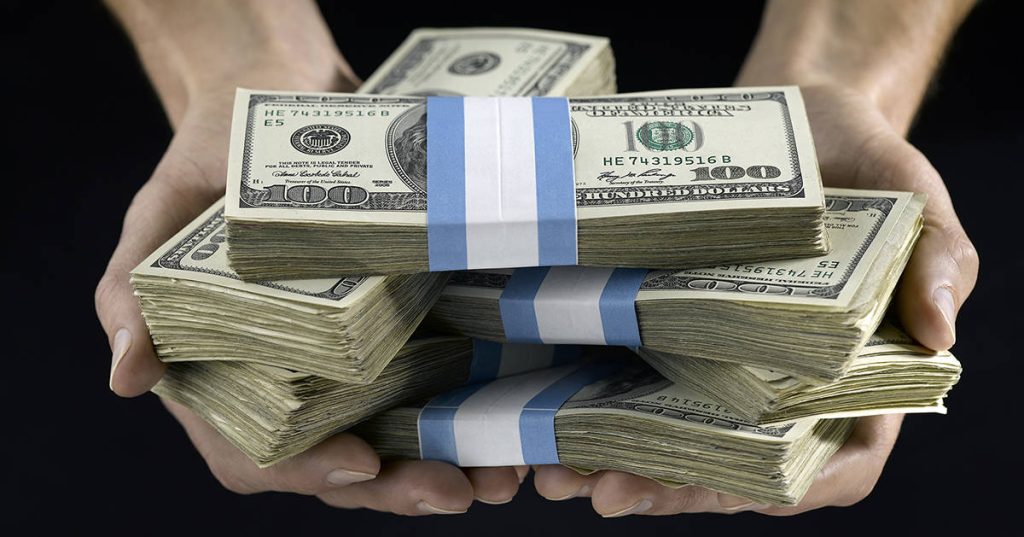 Ever wondered if wealthy individuals have an obligation to donate their fortune? People's attitudes toward wealth creation, accumulation, and spending depend on their familial, religious, social, or cultural influences. And since everyone's perspective on morality is different, super-rich individuals have no obligation to give away their money.
Donating your time, money, talent, skills, or experience to charitable causes should come naturally. The world's biggest givers can relate to this fact. Over the course of their lifetimes, their donations amount to billions of dollars.
Millionaires & billionaires who give money away to causes they care for on a larger scale deserve the critical acclaim they get. Most of them have charitable organizations they use to donate their wealth. Learn more about the world's 12 biggest givers in this guide:
1. Warren Buffet
Throughout his lifetime, Warren Buffet donated $46.1 billion to different charitable causes. His net worth of $115.6 billion largely comes from Berkshire Hathaway, a multinational conglomerate holding company with diverse investments.
Buffet mostly gives to poverty alleviation and health causes. The gifts draw inspiration to the commitment that he made back in 2006 to donate all of his Berkshire Hathaway stock.
Through partnerships with some of his charitable friends like Bill and Melinda French Gates, his donations help alleviate poverty and improve education access in third-world countries. He founded The Giving Pledge with Bill and Melinda to advance his philanthropic activities.
Warren Buffet is on a mission to give away 99 percent of his fortune to charity. While this commitment seems large, he believes that it is nothing compared to the philanthropic causes that need it. He also encourages other people to give more every day if they have the means to do so.
Besides money, Buffet also contributes his valuable time and talents to helping others. According to him, such gifts are more valuable than cash. He donates them through mentoring, nurturing, and caregiving to needy people.
Buffet expects to distribute close to 4 percent of his shares at Berkshire Hathaway every year. He projects that the proceeds from his stock will go toward philanthropy in the future instead of endowments.
2. Bill Gates and Melinda French Gates
Though their 27-year marriage ended recently, Bill Gates and Melinda French Gates continue giving to poverty alleviation and health causes around the world. From their net worth of $133.3 billion and $6.1 billion, respectively, their combined lifetime contributions are $33.4 billion.
The divorcees currently serve as co-chairs of the Bill and Melinda Gates Foundation, which helps advance their philanthropic activities. Melinda also runs an incubation and investment company (Pivotal Ventures) that helps her donate to charity.
Over the past two decades since its inception, the Bill and Melinda Gates Foundation ranks as the second-largest charitable organization worldwide. It holds about $49.8 billion in assets and operates with a mission of reducing extreme poverty and enhancing healthcare. The foundation also helps expand IT access and educational opportunities in different parts of the world.
Through their foundation, Bill and Melinda support various education, health, and social developments. In particular, Cambridge University's Gates Cambridge Scholarships is an initiative they helped develop.
Bill and Melinda dedicate at least 5 percent of their assets yearly to maintain their foundation's charitable status. The organization's program areas include global development, global health, the US, global policy and advocacy, and global growth and opportunity.
3. George Soros
Over the course of his philanthropic life, George Soros' lifetime giving stands at $18.1 billion. Soros is extremely generous for a person with a net worth of $8.6 billion that comes from hedge funds. His philanthropic activities focus on healthcare, anti-discrimination, education, and democracy initiatives across the world.
Soros founded the Open Society Foundations to help champion justice reform, human rights, and economic equity, among other causes. Through this organization, he made a $500 million pledge to the Bard College endowment to support liberal arts students. He also established Open Society Foundations centers in over 120 countries to expand his charitable giving.
Open Society Foundations operates as a network of projects, partners, and foundations. Its mission is to help societies flourish by supporting human rights, freedom of expression, and democratic governance.
Soros' philanthropic journey began in 1979 when he gave scholarships to Black South Africans during the apartheid era. He also funded independent cultural groups and institutions like the Central European University that champion critical thinking.
The Institute for New Economic Thinking, the European Council on Foreign Relations, the International Crisis Group, and Global Witness benefit from his charitable giving. Soros travels widely to advocate for and support positive policy changes across countries. He believes that the goal of philanthropy is doing the right thing, no matter the level of success one anticipates.
4. Micheal Bloomberg
With a net worth of $70 billion largely coming from Bloomberg LP, Michael Bloomberg's lifetime charitable donations amount to $12.7 billion. Most of his donations go to health and climate change initiatives around the world.
Michael Bloomberg participates in charitable causes through his foundation, Bloomberg Philanthropies. Through the foundation, he made a pledge of $1.8 billion to his former university, Johns Hopkins University, and donated more than $1 billion to initiatives that discourage tobacco use.
Bloomberg Philanthropies gave away $100 million to four historically Black medical schools in the wake of the 2020 George Floyd protest. The organization also made a pledge of $750 million to US charter schools spread across 20 metro areas.
Michael Bloomberg aims to give away most of his fortune to philanthropy. His main giving focus areas include education, government innovation, the arts, public health, and the environment.
Thanks to his enthusiasm for curbing climate change and adopting green energy, his foundation donated $50 million with help from the Beyond Coal Campaign to shut down coal-driven power plants. Bloomberg Philanthropies also made a $30 million donation to the campaign to help close and replace half of all coal power plants in the US with green energy.
Michael Bloomberg's foundation gives away millions to the arts sector, including the $32 million pledge to fund arts initiatives and organizations in New York City. It also supports efforts that help make city governments more innovative and efficient through grants.
5. Mackenzie Scott
Most people know Mackenzie Scott as the ex-wife of Jeff Bezos (the Amazon founder). What a few people know is that her lifetime charitable contributions amount to $8.61 billion. These contributions are significant, given that her net worth is $53.5 billion.
Scott mostly contributes to economic, gender, and racial inequality causes. She aims to give away a large portion of the fortune she got from divorcing Bezos. Though she rarely speaks about her philanthropy, in December 2021, she revealed the recipients of her latest beneficiaries in response to getting criticism for failing to share this information.
Through the Giving Pledge, Scott gave away $1.7 billion to non-profit organizations focusing on climate change, democracy, LGBTQ+ equality, and racial equality. Her donations also go to Hispanic-serving institutions, historically Black colleges and universities, and tribal colleges.
During the COVID-19 pandemic, Scott donated to more than 300 organizations that supported victims of the pandemic. She focused on organizations with resilient leadership teams and outstanding results. Her donations also targeted communities with high local poverty rates, racial inequity, and food insecurity.
Scott partnered with Melinda French Gates in launching a contest to foster gender equality. The Equality Can't Wait Challenge also expands women's influence and power in the US. Other organizations that benefit from her contributions include The Big Brothers Big Sisters foundation and the California Community Foundation.
6. Charles "Chuck" Feeney
With lifetime donations totaling $8 billion and a net worth of under $2 million, Chuck Feeney of the Duty Free Shoppers went out of his way to give away most of his fortune. His philanthropic interests lie in youth, human rights, and science causes.
Feeney started donating most of his wealth anonymously as his retail chain made billions in profit. Over the years, he embraced the "Giving While Living" principle and went public with his donations. His approach to philanthropy inspired the launch of The Giving Pledge by Warren Buffet, Bill Gates, and Melinda French Gates.
Of his lifetime charitable contributions, $3.7 billion helped education initiatives. In particular, he donated $1 billion to Cornell University, his alma mater.
The Atlantic Philanthropies facilitated most of these donations before shutting down in 2020 after Feeney and Helga (his wife) gave away the organization's remaining assets.
Feeney donated to third-level institutions in Ireland and supported the revamping of Vietnam's public health structures. He is also a donor to Sinn Fein, an Irish nationalistic party with ties to the IRA.
Despite the mixed reactions he got from his approach to charitable giving, Feeney continues to help causes he's passionate about. He believes that giving while one is living is the most rewarding and appropriate use of fortune. Also, he encourages others to devote themselves to efforts aimed at improving the human condition.
7. Gordon and Betty Moore
Despite having a net worth of $11.1 billion (from Intel), Gordon and Betty Moore's combined lifetime giving amounts to $5.5 billion. Their charitable contributions mainly go to Bay Area, patient care, environment, and science initiatives.
The couple runs a philanthropic foundation, the Moore Foundation, funded with shares from Intel. Thanks to this organization, they partnered with Bloomberg Philanthropies and Bezos Earth Fund to pledge $5 billion towards supporting biodiversity. The pledge aims to protect 30 percent of the planet by 2030.
Gordon and Betty have a shared vision of enabling meaningful and lasting change through sustainable, scientifically-sound philanthropy. As venture capitalists, they take calculated risks and make bold investments geared toward improving the future.
As the co-founder and former CEO of Intel, Gordon Moore is an influential figure in the world of computing. He uses his background in computing and executive administration to drive the Moore Foundation to sustainable projects. His philanthropic goal is to foster long-lasting progress in the world.
To date, the Moore Foundation donated over 3,7111 grants to different initiatives. The San Francisco Bay Area is undeniably among the biggest beneficiaries of these donations.
Betty's personal commitment is to improve patients' experiences. She also shares the vision to preserve the Bay Area, conserve the natural world, and expand knowledge with her husband.
8. Jim and Marilyn Simons
Besides being the founder of Renaissance Technologies, a quantitative trading hedge fund, Jim Simons is a dedicated philanthropist. Of his $24.4 billion net worth, his charitable donations stand at $3.3 billion. He mostly supports STEM research and education together with his wife, Marilyn Simons.
Jim and Marilyn Simons launched the Simons Foundation as their charitable vehicle. The organization is the main donor of Math for America, which empowers math and science teachers at the high school level. It also supports autism research at the Autism Research Initiative and science research at the New York Genome Center by financing some of its projects.
The Simons Foundation seeks to improve the frontiers in science and math research efforts. It identifies discovery-driven research that helps people understand the world. Its support comes in the form of grants to academic institutions and individual investigators and in-house scientific research facilitated by highly-competent computational scientists.
Jim Simons is a huge advocate for new experimental techniques in study fields that create large amounts of raw, noisy, and complex data. His goal is to help the scientific community understand and learn from these data sets and model complex processes. He also believes that advances in computation, algorithms, and concepts can enable new kinds of simulations.
Through the Flatiron Institute, the Simons Foundation supports data scientists, computational scientists, programmers, chemists, neuroscientists, astronomers, biologists, and physicists. The organization brings these practitioners together to advance modern computational methods.
9. Phil Knight and Family
Nike's co-founder, Phil Knight, has a net worth of $54.8 billion, from which his total lifetime philanthropic giving stands at $3.1 billion. Knight and his family are passionate about contributing to education initiatives. In particular, they made over $2.5 in pledges to Stanford University, Oregon Health and Science University, and the University of Oregon.
As his net worth keeps increasing, his contributions to philanthropy keep increasing too. He established the Knight Charitable Foundation Trust back in 1990 to facilitate these contributions.
Through the Knight Charitable Foundation Trust, Knight and his wife helped set up the University of Oregon Athletics Legacy Fund. The fund helps empower athletic programs at the institution with the goal of enabling the university to shine in the national athletic arena.
Knight partnered with Pat Kilkenny, a former athletic director, to construct the Matthew Knight Arena for UO's basketball team. The arena bears the name of Knight's deceased son. Knight also helped finance the construction of a football facility and a new sports complex project at the university.
The Knight Charitable Foundation identifies initiatives and causes that need financial support. Knight and his wife vet these initiatives and allocate sizable donations to help propel them to a new level. They expect the contributions to surpass the $3 billion mark in the coming years as they impact lives.
10. Mark Zuckerberg and Priscilla Chan
The Meta Platforms CEO Mark Zuckerberg and his wife Priscilla Chan make it to this list for their charitable donations that amount to $3 billion. These contributions mainly go to criminal justice, education, and science projects. They represent a small fraction of the couple's net worth of $112.8 billion.
Through the Chan Zuckerberg Initiative, Zuckerberg and Chan give out grants and financial support to different causes. In particular, they made a $3.4 billion pledge in 2021 that will help measure and analyze biological processes in the human body. The contribution will help set up an advanced biomedical imaging facility at Havard powered by AI and machine learning-driven biological and medical research.
The Chan Zuckerberg Initiative's mission is to improve inclusivity and sustainability in the world. It seeks to embrace the latest technologies in empowering different charitable causes. Zuckerberg and Chan believe that pairing technology with collaboration, impact investing, and grantmaking is key to making the world a better place.
Through this foundation, the couple fosters collaboration between engineers and scientists and backs the scientific research community financially. They believe in improving access to education systems tailored to people's needs and development aspects.
Priscilla Chan is a huge advocate for women's empowerment, inclusion, equity, and diversity. Together with her husband, she empowers the foundation's Women's Coding Circle members and offers financial incentives to Afrotech (aimed at improving inclusivity in tech).
11. Edythe Broad and Family
From their estimated net worth of $6.9 billion, Edythe Broad and her family's philanthropic contributions equal $2.8 billion. The family derives most of their wealth from investments and largely gives away their money to science, arts, and education initiatives.
Edythe Broad's late husband was an insurance and homebuilding tycoon. Together, they established the Broad Institute with a $600 million fund. The institute currently partners with Havard and MIT to advance biomedical research.
The couple is a huge supporter of the arts scene, sciences, voters, and college students' education in Los Angeles. In particular, they established the Broad Art Foundation back in 1984, which lent thousands of artworks to museums across the country.
Through the Eli and Edythe Broad Foundation, the couple empowered institutions focusing on the arts, science, and education. They also offered financial support to leaders, initiatives, and organizations that seek to find solutions for modern problems and offer opportunities to historically marginalized communities in Los Angeles.
Edythe Broad and her family envision a world where everyone can contribute to an equitable and sustainable economy. They believe in building a brighter future and serving the public good with their charitable contributions. To them, establishing an environment where people from different backgrounds can grow and thrive is crucial in philanthropy.
Today, the Eli and Edythe Broad Foundation's values continue to revolve around integrity, justice, inclusion, and equity. They also center around collective action, bold thinking, and commitment to the public good.
12. Michael and Susan Dell
Besides being popular for Dell Computers, Michael Dell has a philanthropic side. Together with his wife, Susan, he established the Michael and Susan Dell Foundation.
The Michael and Susan Dell Foundation serves as the philanthropic vehicle for Michael and Susan Dell. It helped the couple give away over $2.25 billion to education and poverty elevation causes from their combined net worth of $60.3 billion. Beneficiaries of the donations include poverty-stricken children in South Africa, India, and the US and homeless people in Austin.
With a dedication to improving families' economic stability, health, and education, the foundation runs education programs across the world. These programs improve access to great-quality schools and learning infrastructure. The organization also partners with local communities to brainstorm solutions for society's benefit.
Michael and Susan Dell believe that empowered families lead to empowered communities. Their philanthropic activities largely help families get a footing in a tough economy and give children a better chance of succeeding in their future lives.
Dell Computers is also at the forefront of Michael and Susan's philanthropic activities. For instance, stock from the company helps fund the Michael and Susan Dell Foundation. The company also provides the educational infrastructure in the form of computers and tablets for initiatives run by the foundation.
Expect to hear more about the work Michael and Susan are doing to empower children and families. As they continue to foster skill development through their charitable programs, the world is likely to have more people connected to resources for self-improvement and economic development.
13. Jack Dorsey
Jack Dorsey is a prominent technology entrepreneur and philanthropist.
He co-founded Twitter, a popular social media platform, and Square, a mobile payments company.
With a deep commitment to social impact, Dorsey has leveraged his resources and influence to drive positive change.
In 2020, Dorsey announced the creation of the Start Small initiative by pledging $1 billion, approximately 28% of his wealth, to support various causes.
Through Start Small, Dorsey aims to address pressing global challenges such as COVID-19 relief, education, and economic equality.
The initiative has provided funding to organizations like GiveDirectly, which facilitates direct cash transfers to individuals in need.
Beyond Start Small, Dorsey has also made personal donations to various initiatives.
He has contributed to education, public health, and disaster relief efforts.
His philanthropic endeavors reflect a commitment to empowering individuals, improving access to resources, and driving systemic change.
14. Pierre Omidyar
Pierre Omidyar, a French-American entrepreneur and philanthropist, is widely known as the founder of eBay, one of the world's largest online marketplaces.
Omidyar has embraced a philanthropic approach that seeks to create positive social impact through strategic investments and initiatives.
In 2004, Omidyar and his wife established the Omidyar Network, a philanthropic investment firm.
The Omidyar Network aims to address pressing global challenges by supporting innovative organizations and projects.
Their focus areas include education, government transparency, economic development, and human rights.
By providing both financial and intellectual resources, the Omidyar Network seeks to catalyze social change and empower individuals and communities.
Omidyar's philanthropic efforts extend beyond the Omidyar Network. He has supported initiatives promoting social entrepreneurship, journalism, and civic engagement.
His commitment to fostering inclusive societies and creating opportunities for underserved populations is at the core of his philanthropic endeavors.
15. Laurene Powell Jobs
Laurene Powell Jobs is an accomplished businesswoman, executive, and philanthropist.
She is the widow of Steve Jobs, the co-founder of Apple Inc. Powell Jobs has dedicated herself to various philanthropic pursuits, aiming to make a positive impact on society.
Powell Jobs is the founder of the Emerson Collective, an organization that focuses on education, immigration reform, the environment, and other social justice initiatives.
Through the Emerson Collective, Powell Jobs supports innovative projects and partnerships that seek to address systemic challenges and drive sustainable change.
Additionally, Powell Jobs has invested in media and journalism through the acquisition of The Atlantic, an influential publication known for its in-depth reporting and analysis.
16. Azim Premji
Azim Premji is an Indian business tycoon, investor, and philanthropist.
He is the chairman of Wipro Limited, one of India's largest IT services and consulting companies.
Premji is known for his significant contributions to education and social causes.
Through the Azim Premji Foundation, which he established in 2001, Premji focuses on improving the quality of education in India.
The foundation works with various state governments to enhance school infrastructure, develop curriculum materials, and provide professional development opportunities for teachers.
It also supports initiatives aimed at promoting inclusive education and improving the learning outcomes of disadvantaged children.
In addition to his efforts in the education sector, Premji has made substantial contributions to philanthropic causes.
He has donated a significant portion of his wealth towards initiatives related to healthcare, rural development, and disaster relief.
Premji's philanthropy reflects his commitment to addressing social inequalities and creating sustainable change in society.
Final Thoughts
From this piece, it's clear that charitable giving is an act of kindness. It also helps make the world a better place for future generations.
The Millionaires & billionaires who give money away are passionate about what they do. Most of them run their own charitable organizations that help distribute the money to needy causes. It's highly certain that they will continue touching lives with their donations and foster empowerment in various forms.
Related Posts: