Museum Freebies: What You Can Get and Where to Find Them
Updated on: by Amy Kennedy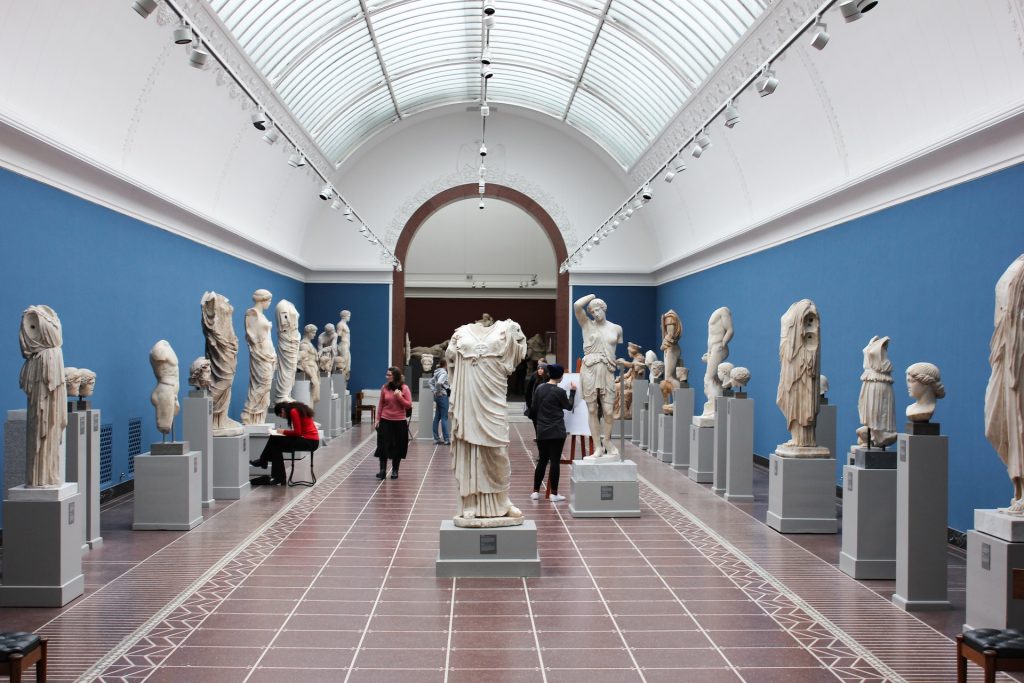 Visiting museums is not only a delightful way to immerse yourself in art, culture, and history, but it can also be surprisingly budget-friendly with the array of museum freebies available.
Need Easy Extra $350+/Month For Free?
Beyond the captivating exhibits, many museums offer an assortment of complimentary perks and benefits that enhance the visitor experience.
In this blog, we will delve into the world of museum freebies and uncover where you can find them.
1. Free Admission Days: Unlocking the Doors to Culture
Explore the world of art, history, and culture without spending a penny on certain days when renowned museums offer free admission.
Take advantage of these opportunities to immerse yourself in extraordinary collections and exhibits.
One of the most iconic examples of free admission days is the Smithsonian Museums in Washington D.C. These world-class institutions, including the National Museum of American History, National Air and Space Museum, and National Gallery of Art, offer free access to the public every day of the year.
Visitors can marvel at the Wright brothers' aircraft, view the Star-Spangled Banner, and appreciate masterpieces from renowned artists like Leonardo da Vinci and Vincent van Gogh.
Many museums across the United States, such as the Brooklyn Museum in New York and the Los Angeles County Museum of Art (LACMA) in California, offer free admission on the first Saturday of each month.
Target Free First Saturdays encourage families and art enthusiasts to explore their exhibits, participate in hands-on activities, and enjoy live performances without any entry fees.
Bank of America offers an enticing program called "Museums on Us," allowing their cardholders to enjoy free admission to participating museums on the first full weekend of each month.
With over 200 cultural institutions participating nationwide, Bank of America cardholders can access various art, science, and history museums to enrich their cultural experiences.
2. Membership Benefits: Embrace the Perks
Becoming a museum member goes beyond just supporting the institution; it also unlocks a wealth of exclusive freebies and privileges. Consider joining as a member to make the most of your museum visits and enjoy a host of benefits.
Free Unlimited Admission
One of the significant perks of museum membership is free unlimited admission throughout the year. Whether you want to visit your favorite exhibits frequently or explore new installations, being a member allows you to do so without worrying about admission fees.
Discounts at Museum Shops and Cafes
Museum members often receive discounts at on-site shops and cafes, making it an ideal opportunity to purchase unique souvenirs, art prints, or books related to the exhibits.
Enjoy a cup of coffee or a delicious meal at the museum cafe while saving some money as a member.
Early Access to Special Exhibitions
Museums frequently host special exhibitions that generate considerable excitement among art enthusiasts. As a member, you may enjoy early access to these exhibitions before they open to the general public, providing a more intimate and immersive experience.
Need Easy Extra Cash?
Pinecone Research, a leading name in online survey panel honesty, absolutely guarantees $3 cash for every survey you complete!
Take advantage of their time limited New Membership drive and register NOW. Join today: 100% free!


Member-Only Events and Programs
Museum memberships often come with invitations to exclusive member-only events and programs. These events may include curator-led tours, behind-the-scenes access, private receptions, and engaging lectures.
Interact with experts and fellow art lovers in these intimate gatherings.
Priority Registration for Workshops and Programs
Museum workshops and educational programs can be highly sought after, and space may be limited. As a member, you may have the advantage of priority registration, ensuring you don't miss out on exciting learning opportunities and hands-on activities.
3. Free Guided Tours: Unraveling Hidden Treasures
Enhance your museum visit by embarking on free guided tours that breathe life into the exhibits. Led by knowledgeable docents, these tours offer invaluable insights and anecdotes that enrich your understanding of the artwork or artifacts on display.
Take advantage of these guided tours to unravel hidden treasures and engage in thought-provoking discussions with fellow visitors.
The Louvre Museum in Paris, France, is renowned for its vast collection of art and historical treasures. Offering free guided tours, the museum's expert guides provide captivating narratives, illuminating masterpieces like the Mona Lisa, the Venus de Milo, and the Winged Victory of Samothrace.
The British Museum in London, UK, houses an impressive array of artifacts from various civilizations. With free guided tours, you can delve into the museum's rich history, explore the Rosetta Stone, the Egyptian mummies, and the Parthenon sculptures with expert guidance.
4. Educational Workshops and Programs: Learning Beyond the Exhibits
Museums are not just passive spaces for observation; they are interactive hubs for learning and exploration. Embrace the opportunity to participate in free educational workshops and programs that cater to all ages.
From hands-on art workshops to interactive science demonstrations, these programs provide an immersive and enriching experience that goes beyond the exhibits.
The Metropolitan Museum of Art in New York City offers a wide range of free educational programs for visitors of all ages.
From art-making workshops to art history lectures, these programs foster creativity and appreciation for art while allowing participants to engage with the museum's renowned collections.
The California Academy of Sciences in San Francisco hosts free educational workshops and programs that explore various
scientific disciplines. Visitors can participate in hands-on activities, attend fascinating talks by experts, and even interact with live animals to gain a deeper understanding of the natural world.
The Smithsonian National Air and Space Museum offers a range of engaging educational programs for aviation and space enthusiasts of all ages.
From astronaut talks to rocket-building workshops, these programs provide a glimpse into the wonders of flight and space exploration.
The Exploratorium is renowned for its interactive exhibits that inspire curiosity and creativity. The museum regularly hosts free workshops and demonstrations where visitors can engage with science, art, and technology in fun and innovative ways.
5. Digital Resources: Virtual Access to Collections
In the digital age, many museums are expanding their offerings beyond the physical exhibits. Explore a treasure trove of online resources, virtual exhibits, and educational materials that provide access to the museum's collections from the comfort of your home.
The British Museum offers a virtual museum experience in collaboration with Google Arts & Culture. Explore digital exhibits and immerse yourself in the museum's galleries to discover artifacts and historical objects from civilizations across the globe.
The Louvre Museum provides a selection of online tours that allow you to explore its iconic artworks and sculptures virtually.
Take a digital stroll through the museum's halls and gain insights into the world-famous masterpieces.
6. Community Events and Festivals: Art and Culture Extravaganzas
Keep an eye out for community events and festivals organized by museums, as they often offer free admission and special activities.
These events celebrate art, culture, and local heritage, providing a fantastic opportunity to experience the museum in a festive and vibrant atmosphere.
The Smithsonian Folklife Festival is a renowned annual event that celebrates diverse cultural traditions from around the world.
Held on the National Mall in Washington D.C., the festival features music, dance, crafts, and interactive exhibits, all showcasing the richness of global heritage.
The Museum Mile Festival in New York City transforms Fifth Avenue into a pedestrian paradise, allowing visitors to access nine participating museums for free.
Enjoy live performances, art activities, and extended museum hours during this vibrant cultural extravaganza.
7. Members-Only Previews: Exclusive Early Access
As a member of certain museums, you may gain exclusive early access to new exhibitions and collections before they open to the general public. These members-only previews provide an intimate and serene setting to explore the latest additions to the museum's offerings without the usual crowds.
It's a fantastic chance to appreciate the artwork or artifacts up close and fully immerse yourself in the stories they tell.
The Metropolitan Museum of Art in New York City hosts member previews for its special exhibitions. Members can enjoy priority access to these exhibitions, giving them a chance to explore the artworks and artifacts with expert guidance before the general public.
Earn Everything… nearly!
Join Opinion Outpost, one of the few faithful and honest survey panels and earn cash and gift cards for your opinion. Stack your points and redeem them: Simple! No hidden fees and completely free!


The Museum of Fine Arts in Boston offers exclusive member events, including previews of new exhibitions and gallery openings. Members get the privilege of being among the first to experience the museum's latest installations.
8. Free Art Demonstrations and Performances: Unleashing Creativity
Many museums host free art demonstrations and performances, providing visitors with a front-row seat to witness artists and performers in action. These live demonstrations can range from painting and sculpting to dance and musical performances, showcasing the creative process and the magic of artistic expression.
The National Gallery of Art in Washington D.C. regularly features free art demonstrations and performances. Visitors can witness artists working on their masterpieces and experience the beauty of live performances in the museum's stunning spaces.
The Museum of Contemporary Art in Chicago hosts a diverse range of free events, including live performances and art demonstrations. Experience the cutting-edge world of contemporary art come to life through captivating performances and interactive displays.
9. Family Activity Packs: Fun for All Ages
Museums often provide family activity packs that are perfect for a fun and educational day out with loved ones. These packs include engaging activities, games, and interactive challenges designed to keep children and families entertained as they explore the museum's exhibits together.
The Smithsonian Institution offers a variety of family activity packs that cater to different age groups and interests. Families can embark on exciting scavenger hunts, creative art projects, and informative quests to learn and bond as they navigate the museums.
The British Museum offers family trails that lead young adventurers on captivating journeys through the museum's galleries. These interactive trails make learning about history and cultures an enjoyable experience for the whole family.
Conclusion
Museums offer a diverse array of freebies that cater to various interests and age groups.
From free admission days and guided tours to educational workshops and digital resources, these perks enhance the museum experience without breaking the bank.
Embrace the cultural offerings and immerse yourself in the beauty of art, history, and knowledge that museums provide for all to enjoy.
Take advantage of these museum freebies and embark on a journey of discovery and appreciation for our shared heritage.
Related Posts:
Earn Everything… nearly!
Join Ipsos iSay, one of the few Faithful and Honest survey panels and earn prizes, gift cards and donations. Stack your points and redeem them: Simple! No hidden fees and completely free!