"How Can I Get Free Air for Tires Near Me?": 12 Ways to Find It!
Updated on: by Amy Kennedy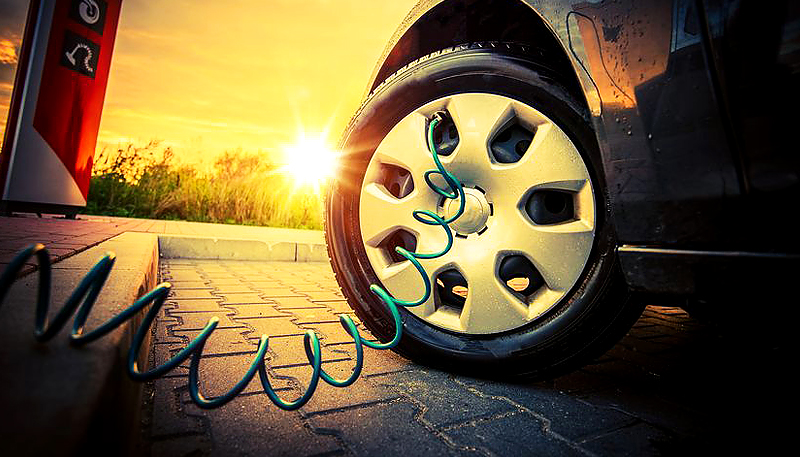 Air is all around us, so it should be free right?
Need Easy Extra $350+/Month For Free?
You would think so, but it's usually not when it comes to filling your car's tires.
The pumps used to pump air into your tires cost money to operate (albeit not a huge cost in electricity), so many gas stations and grocery stores with them choose to charge a fee to use them.
The fee also prevents people from hogging the compressor to blow up other inflatable things that aren't intended for use with the machines.
While it makes sense to an extent, it's still an inconvenience when you're in a pinch and need air in your tires fast.
Most of the machines only take quarters (who even uses change anymore?) and they can charge $1 or more just for a minute of use, which is hardly enough time to fill a tire or two.
Instead of paying for another pump to get air for your tire, check out the 12 ways I've outlined below to find free air near you.
The Problem with Low Tire Air Pressure
First, if you're new to driving or owning a car, you might not know why keeping the right amount of air in your tire is so important.
Let me explain a few reasons:
Low tire pressure can lead to uneven wear on your tires, making them even likelier to bust while you're driving. Super unsafe!
If a tire is low enough, you could end up with a warped wheel, which can be super expensive to repair.
A tire with low air could signal a leak; ignoring it could lead to a bigger leak that costs more to repair down the road.
Something most people don't know is that keeping your tires inflated properly leads to better fuel efficiency, while under-inflated tires can boost your gas bill.
So, do yourself (and your car) a favor, avoid the tire shop, and keep those tires at the right pressure.
How do you know how much to fill your tire?
You can either check your car's manual or the tires themselves.
Usually, your tires will state the maximum PSI (pound per square inch) to inflate your tires to, but you'll want to stay under that.
Some will list the recommended PSI, too. If so, go with that number.
Your car's door jam might also have this information listed on a sticker.
If you have a newer car with a tire pressure monitoring system, your car should alert you when your tires are low and tell you how much to fill them.
Need Easy Extra Cash?
Pinecone Research, a leading name in online survey panel honesty, absolutely guarantees $3 cash for every survey you complete!
Take advantage of their time limited New Membership drive and register NOW. Join today: 100% free!


"How Can I Get Free Air for Tires Near Me?"
Looking for air near your location?
We've got you covered!
Here are the best ways to find free air near you.
Take Advantage of Your State's Laws
First, what state do you live in?
You are probably wondering why that matters.
The thing is, if you live in California or Connecticut, you should have no problem finding free air.
That's because gas stations in these states are required, by law, to provide a functioning air pump for people to use at no charge.
Cool, right?
Currently, these are the only two states to have this law.
The good news is that if you're visiting those states, you also get access to those free pumps (it's not necessary to be a resident).
You technically don't even have to be a customer, either.
Just swing by a gas station, pump up the tires, and be on your way if that's all you need.
Ask Your Gas Attendant
New Jersey is currently the only state in the United States that doesn't allow customers to pump their own gas.
Instead, this job is saved for gas station attendants who pump it for you.
Still, there are some gas stations in other states that still employ attendants for at least a couple of their pumps for customers who don't want to get out of their vehicles to do it.
It's a convenient service to use, but it can be even more convenient if the gas station also allows customers to get free air for their tires.
At some stations, you can simply ask the attendant to fill your tires, too, at no extra charge.
It never hurts to ask if you're not sure.
Visit Gas Stations with Free Air
Although many gas stations do require you to pay for air, there are still plenty who offer a compressor for no fee, even if you're not a paying customer.
Unfortunately, you won't know what gas stations near you offer it until you do some research.
In your area, the best way to do it is call local gas stations and make a list of those that offer a free pump.
You can keep it in your car for future reference when you need it.
If you're traveling, you'll need an app like Gas Buddy to find gas stations near you.
A few quick calls to those stations is all it'll take to find out where to go to fill your tires to a safe level.
BONUS: Using Gas Buddy even helps you save money at the gas pump!
I also really love FreeAirPump.com to help me find places to fill my tires if I'm in unfamiliar territory while traveling.
Free Air Pump is a website with a map of places that offer free air for tires, no matter where you are in the United States.
Users can even add new locations they discover that aren't currently on the map to help out others.
Go to the map, input your location, and click Find Free Air!
Earn Everything… nearly!
Join Opinion Outpost, one of the few faithful and honest survey panels and earn cash and gift cards for your opinion. Stack your points and redeem them: Simple! No hidden fees and completely free!


The map will mark where, within a radius of a few miles, you can find air for your tires at no cost.
Click the link to get directions to that location via Google Maps.
The website is also mobile-friendly, so you should be able to use it on the go with your smartphone or tablet.
Other Ways to Get Free Air for Your Tires
Pump Them Yourself
I've found that one of the best ways to not have to rely on finding places that give free air for tires is to do it yourself – with an air pump, of course.
These handy gadgets are fairly inexpensive nowadays and they pay for themselves quickly if you find yourself having to pump up tires frequently.
You can get a decent one for $50 or less, usually, that connects to your car via your car's power adapter.
Plug it in, attach the pump to the tire, and power it on to inflate.
Some even come with a gauge that shows you how much air is currently in your tire so you know exactly when to stop it.
But before you go buying one, be sure to look in your car's trunk!
Many cars now come with one when you buy them, which is super convenient when you need more air quickly.
If you don't have one, head to a local hardware store or browse Amazon to buy one.
In a Pinch, Use a Bike Pump
It's not ideal, but if you don't have the money to shell out for an air pump, you can use a bike pump in an emergency.
Most bike pumps are much smaller and won't pump air as quickly because they're only meant for thin bike tires.
But it'll still do the trick.
It's not a bad idea to keep one in your trunk for emergencies, especially if you don't have cash on hand to pay for air at a gas station.
Get a Car Wash
Some self-serve car washes have free vacuums, air pumps, and other amenities on-site to offer a convenient full-service wash.
Want to stick with a regular car wash where an actual person washes your car?
No problem; you might be able to get free air there, too.
Just ask the employee if it's possible to get a complimentary air top-off for your tires.
Some packages will even come with this service for free, so be sure to check out the package options first.
Ask Your Repair Shop
Do you have a repair shop you frequent for anything having to do with your vehicle, from routine maintenance to emergency repair?
With an already-there relationship, it's likely that the shop won't have any problem spending a couple of minutes pumping up your tires for free, as long as you don't take advantage of its kindness.
A lot of shops will do this even if you're not a regular customer if you need air quickly and don't think your tires will make it to the nearest gas station.
Get an Oil Change
Similar to car washes, some oil change packages will offer convenient extras for free, like a quick car wash or topping off the air in your tires.
You can call around to oil change services in your area to see if any offer it as part of their oil change service.
You'll need to get an oil change every 3 to 6 months anyway, so you might as well take advantage of all the perks that come along with it!
Ask Your Dealership
Go to the dealership you got your car from if it has a repair and maintenance shop (most do) to see if it can quickly pump up your tires.
Dealerships tend to treat their customers well in the hope that they'll return in the future for more car purchases.
It's highly unlikely that they'd turn you away for a few free pumps of air unless they're extremely busy.
In that case, ask if you can stop by at a better time for a few minutes.
Check Your Car's Warranty
Your vehicle's warranty might cover basic maintenance and repairs that help it stay reliable and functional.
It's possible that part of the manufacturer's warranty for regular maintenance includes free checks and fillings for your tires.
You can usually find your vehicle's warranty information included in the paperwork you got when you bought it.
If not, call your dealership or the manufacturer's customer service department to find out what it covers.
Check Your Credit Card's Rewards
One of the most frustrating things that can happen when you're driving is being on the highway and not close to any exits when you have an emergency.
If you notice your tires are too low and don't trust driving even farther to find a gas station, having roadside assistance can come in handy.
However, those services can be pricey.
Don't forget about your credit card perks, though!
Some credit cards come with rewards and benefits for customers.
One common benefit is roadside assistance in some form.
Find the information about your credit card rewards programs now to see if any have roadside assistance protection.
Jot the information down and keep it handy with you in your car or wallet.
If you're ever in a sticky situation on the road where you need more air in your tires quickly, that credit card reward program can save the day.
Check Tire Retailers
Tire retailers or dealerships often provide free air pumps outside their stores as a convenient service for their customers.
These air pumps are typically positioned near the entrance or in the parking area.
They are intended for customers to check and maintain proper tire pressure.
When visiting a tire retailer, look for a designated area with an air pump, usually accompanied by clear signage indicating its availability for customer use.
If you're unsure, don't hesitate to ask a staff member for assistance or inquire about their free air service.
Check Community Resources
Some communities have public air stations specifically installed to provide free tire inflation services to the public.
These stations are often situated in easily accessible locations, such as parks, community centers, or public parking lots.
These resources are typically maintained by local governments or transportation departments to promote road safety and ensure proper tire maintenance.
To find out if your area has public air stations, you can reach out to your local government office or transportation department.
They will be able to provide information on the locations and availability of these community air stations.
Read More:
Earn $900 a Week Recycling Old Tires for Cash! Everything You Need to Know
5 Best Places to Recycle Old Car Batteries for Cash
How to Get Free Air for Tires
See – getting free air for your tires is easy!
By taking advantage of warranties, rewards, and packages you already purchase, you can likely get free tire air whenever you need it.
The best way to ensure you don't have to rely on anyone or anywhere else to provide air, though, is to buy an air pump, so I'd recommend purchasing one as soon as you can.
Leave it in your trunk and you'll never have to worry about going flat again.
Do you know of any other websites, apps, or programs that can help you get air for your tires for free?
Let us know in the comments.
Related Posts:
Earn Everything… nearly!
Join Ipsos iSay, one of the few Faithful and Honest survey panels and earn prizes, gift cards and donations. Stack your points and redeem them: Simple! No hidden fees and completely free!