Best Way to Pay Off Your Mortgage by Renting Extra Rooms in Your Home
Updated on: by Amy Kennedy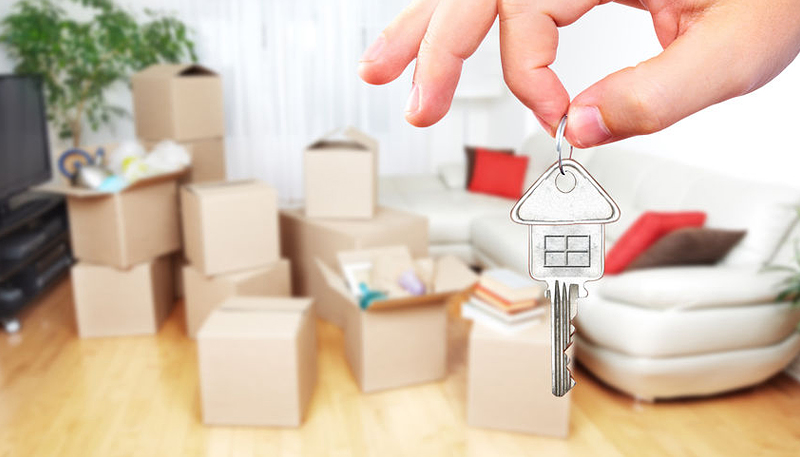 Need Easy Extra $350+/Month For Free?
The average mortgage loan term is about 25 years.
That's a long time.
If you're 30 now and purchasing your first home, you should expect to be in your 50's before you can make your final payment.
What if I told you that you can potentially cut that time down by several years just by doing one thing?
Did that pique your interest?
Well, by renting an extra room in your home, you could cut off 5 or 10 years from your mortgage term, depending on how much you rent the room for.
If you have a large space to rent out – like a full basement – you could tack on even more to the monthly rent and cut your mortgage life in half.
I know the thought of renting out a room in your home to a complete stranger is enough to give many of your anxiety.
I'd be the same!
But it also could be the perfect opportunity to own your home free and clear faster and get on the path to financial freedom.
Why Rent Extra Rooms?
If you have space in your home that you rarely use, then why not?
Sure, you can set it aside as a "guest room" that gets used maybe once or twice a year when the grandparents come to visit.
Or, you could make money from it all day, every day by renting it out to someone who could actually use it all year.
This is an especially excellent opportunity for people who have a somewhat separate space that can keep a new person and the homeowner a bit separate.
This is also usually a better opportunity for a single person or a couple rather than a family with kids.
Need Easy Extra Cash?
Pinecone Research, a leading name in online survey panel honesty, absolutely guarantees $3 cash for every survey you complete!
Take advantage of their time limited New Membership drive and register NOW. Join today: 100% free!


It's not only a little scarier to have a stranger in your home when you have kids involved, but it also may not be the best fit for your renter who won't particularly love being woken up by children playing in the room next door.
There's a lot to consider before renting out your extra room, but there's also a lot to be gained if you think it could work for you.
That hefty mortgage payment that you struggle to pay each month could become less of a struggle when you have someone else footing a portion of the bill.
Consider it like this:
Your current mortgage is $1,000 a month.
You make about $3,000 a month. Your mortgage is 1/3 of your income, which is more than it should be.
You rent out a room for $500 a month (which is doable for most people, especially with utilities included).
That's half your mortgage cost, and now you'll only be responsible for paying a mortgage that's about 17% of your income.
If that's not enough to at least get you to consider the idea, then I don't know what is!
How to Start Renting Your Rooms
If you do think that this could potentially be a great way to lessen the burden of your monthly mortgage payments, then let's dive into learning about renting rooms in your home.
First things first: You need to sit down and figure out a plan.
This plan should outline everything that you'd expect from a tenant and everything that they should expect from you.
Is there any part of your home that will be off-limits (like your bedroom and private bathroom)?
Will you include utilities in your rental cost (it's a good idea to do so, and if you will, you'll need to figure out a fair price to bundle it up in the rent based on what you pay in utilities every month)?
What rules will you have in place for a curfew, friends/relatives visiting, pets, etc.?
Get as detailed as possible now. Think of everything that could go wrong and have some rules in place, just in case.
The more you plan now, the less of a sticky situation you'll find yourself in later if anything does happen with your future tenant.
How Much Does It Cost to Rent a Room in a Home?
The cost to rent a room in your home will, of course, vary depending on the rules you set forth for your tenant, your mortgage cost, what's included in the rent, and the area in which you live.
The most important thing is to price your rent fairly for both you and your tenant.
You should consider rental prices in your area. If needed, talk to a real estate agent to get some prices.
Remember, though, that you're renting a room, not a full house.
However, your tenant should have access to necessities in your home, like the kitchen and bathroom.
But, be sure to keep in mind that it's not exactly the same as renting a full house or apartment, so price accordingly.
You can think of it more like a hotel cost if it helps.
Checking the prices of local hotels can also be incredibly helpful for pricing out your rental.
Consider how much you pay in utilities every month, too, if you plan to bundle the utilities with the rent.
If you pay about $500 in electric, gas, water, and trash every month, then split that cost among each member of the household and the tenant and then tack that price onto the monthly rent.
For example, $500 split between your three household members and the tenant (four people) is $125.
Some people charge weekly, like a hotel, while others charge monthly.
Earn Everything… nearly!
Join Opinion Outpost, one of the few faithful and honest survey panels and earn cash and gift cards for your opinion. Stack your points and redeem them: Simple! No hidden fees and completely free!


This is your decision and can be whatever you feel more comfortable with.
A lot of tenants who choose to rent a spare room do so because they aren't the best with handling their money.
In cases like this, it might make it easier for the tenant to pay weekly or bi-weekly to coincide the rent with his or her paychecks.
It's important to stay competitive with other similar listings in your area.
Checking Craigslist's Rooms/Shared listings can give you a good idea of what other people in your area are charging for similar rooms.
Keep your price just below other prices, and you may find yourself a tenant even quicker than you thought!
Learn the Laws
As with regular rentals, there are laws that govern how you can rent rooms in your home.
These vary according to your locality, so you'll have to look up the laws in your town or city to get the details.
It's important to note that, in many cases, you can't rent out a room if you, yourself, are renting the home.
The only time that's okay to do is if you have a sub-leasing agreement in place with your landlord.
If not, you could wind up in some serious legal trouble for sub-leasing your space without the landlord's permission.
If you do own your home, then most of the time, you should be able to rent your space.
However, most localities will require you to have a legal lease in place to protect both yourself and your tenant if something goes wrong.
It might be worth it to speak to an attorney through a free consultation to find out exactly what you need to do to get yourself running in a way that obeys the laws.
Get a Signed Agreement
Speaking of the lease, you'll probably want to draw one up for you and your tenant even if you find out that it's not required by law.
The lease can serve as an agreement that you and the tenant understand everything that you can expect from each other.
It can also come in handy in the event that you do have any issues with the tenant that would require eviction.
Your written agreement should outline everything that you had in mind when you created your plan, so there are no holes that leaves anyone wondering what to do.
Make sure you spell out everything related to the rent (grace period, late fee, etc.), your pet policy, kid policy, rules for visitors, parking, smoking, and anything else you think is important, or that your tenant needs more clarification on.
You and your tenant should sign and date this agreement before he or she moves in.
Be sure to give a copy to your tenant too.
Things to Consider in Possible Tenants
The trickiest part of renting out a room is knowing what type of tenant you want and finding the right person.
There are no rules to finding your perfect tenant, but it certainly could help if you both have similar likes, dislikes, and lifestyles.
You'll probably need to ask a lot of questions before anyone moves in.
Don't feel bad; this is part of the process!
Here are several things you should consider asking about when you interview potential tenants:
What are their work schedules like?
Do they like animals? Do they have any they'd like to move in?
Do they like kids? Do they have any that will be living with them?
What's their lifestyle like (is he a morning person, night owl, daytime napper)?
Have they ever lived in a roommate-type situation before? If so, how did it turn out?
Have they run into legal or financial trouble (be careful here, because some questions may be discriminatory)?
What do they expect as far as kitchen/bathroom/living room access and how does it mesh with what you're offering?
Your tenant could potentially be someone who sticks around for a long time.
Even if you find yourself in a situation where the tenant needs to be evicted, you can't expect it to happen overnight.
Some evictions can take several weeks to a few months to finalize, which means you'll be stuck with the tenant until that happens.
It's best to avoid potentially negative situations in the first place by doing your research and asking all the right questions before anyone signs the papers.
Pros and Cons of Renting Out Rooms to Pay Mortgage
Renting out rooms in your home to help pay your mortgage can be an effective way to offset costs.
However, it comes with both advantages and disadvantages that are important to consider.
Pros of Renting Out Rooms to Pay Mortgage
1. Financial Relief
By renting out rooms, you can earn income to help pay your mortgage.
This can significantly reduce your financial burden and potentially help you pay off your mortgage sooner.
2. Shared Utility Costs
With more people in the house, you can divide utility costs like water, electricity, and internet among more individuals, reducing the amount each person pays.
3. Companionship
If you live alone, renting out a room can provide companionship.
It can be comforting and enjoyable to have others in your living space.
Cons of Renting Out Rooms to Pay Mortgage
1. Reduced Privacy
Having renters in your home means less privacy.
Renters will have access to common areas such as the kitchen, living room, and bathroom, which can be inconvenient for some homeowners.
2. Potential for Difficult Tenants
There is always the risk of renting to someone who is irresponsible or disruptive.
They might cause damage, neglect to pay rent on time, or create a hostile living environment.
3. Increased Responsibility
As a landlord, you will have additional responsibilities, including maintenance, repairs, and potentially dealing with conflicts among tenants.
This can take up considerable time and energy.
Where to Find Potential Renters
Plenty of people are searching Google for "rooms for rent near me" so it's time that you cash in on the action.
You, of course, don't want to spend weeks searching for the perfect roommate online.
Fortunately, the internet has made it easier than ever to have those who are interested in renting a room find the perfect place for them.
That also means that it's easier for YOU, the owner, to find people who need a room.
The following places are some of the best places to go to find a roommate you can live with.
Craigslist
Craigslist is very active, especially in the rental sections.
If you live in a large town or city, you'll likely be able to find several interested potential tenants within a couple of days of having your ad on the site.
Best of all, it's free in most areas to create a listing (aside from some of the largest cities).
People can respond to you via a cloaked email address so they'll never need to know your real information unless you give it to them.
EasyRoommate is another site that lets you post your room listing for free.
The best part is that this site is completely dedicated to matching homeowners with potential tenants looking to rent a room in a home.
The only downside is that you'll need a premium membership to be able to contact any interested renters.
With only a basic membership, you'll only be able to contact renters who have a premium membership.
Still, it might be worth the cost to snag your ideal roommate.
Facebook Groups
I love my local Facebook groups for all things local, from selling things I don't need to find jobs for job-seeking friends in my area.
Most people can find buying and selling Facebook groups that are at least somewhat local to them, even if the group covers their whole county instead of their town.
Post your room listing in your group (just check the group's rules first).
Make sure you have plenty of clear photos and keep notifications on so that you can respond to people quickly.
Roommates.com has a lot of free features that make it simple to find your perfect roommate, like a free 2-way matching system that connects you with people likely to be a good match!
The site is more active in some cities than others, but you're welcome to post your listing no matter where you live in the U.S.
You can even deactivate your profile once you find the right tenant, so you won't continue to get messages from other members.
Read Also: 
Make Money Renting Out Your Space at Airbnb
Turo–Make Money Renting Out Your Car
Working From Home For Enterprise Rent-A-Car
Make Your Listings Stand Out
No matter where you place your room listing, you need to make it stand out.
The best way to do that is to include, at the very least, the following information:
At least two photos of the room from different angles and an outside view of the home.
A photo of where the tenant can park his or her car (garage, on-street parking, driveway, parking garage, etc.).
The rental price and whether or not utilities are included.
Clear guidelines for your rental (smoking and pet policies, kids allowed/not allowed, visitor requirements, etc.).
Amenities, such as nearby gyms, schools, parks, recreation centers, pools, etc.
Get as detailed as you can to weed out anyone who doesn't match your criteria.
Conclusion: Rent Out a Room in Your House for Extra Cash Each Month
Getting some help with your mortgage is totally possible if you don't mind sharing some of your home with a roommate.
If you follow the above steps and advice, you can probably find a tenant who meshes well with your home, lifestyle, and family.
Good luck!
Have you ever rented out a room in your house?
What was your experience like?
We'd love to hear from people who've been there!
Leave us a comment below.
Related Posts:
Earn Everything… nearly!
Join Ipsos iSay, one of the few Faithful and Honest survey panels and earn prizes, gift cards and donations. Stack your points and redeem them: Simple! No hidden fees and completely free!