BestMark Review: Legit Mystery Shopping or a Waste of Time?
Updated on: by Amy Kennedy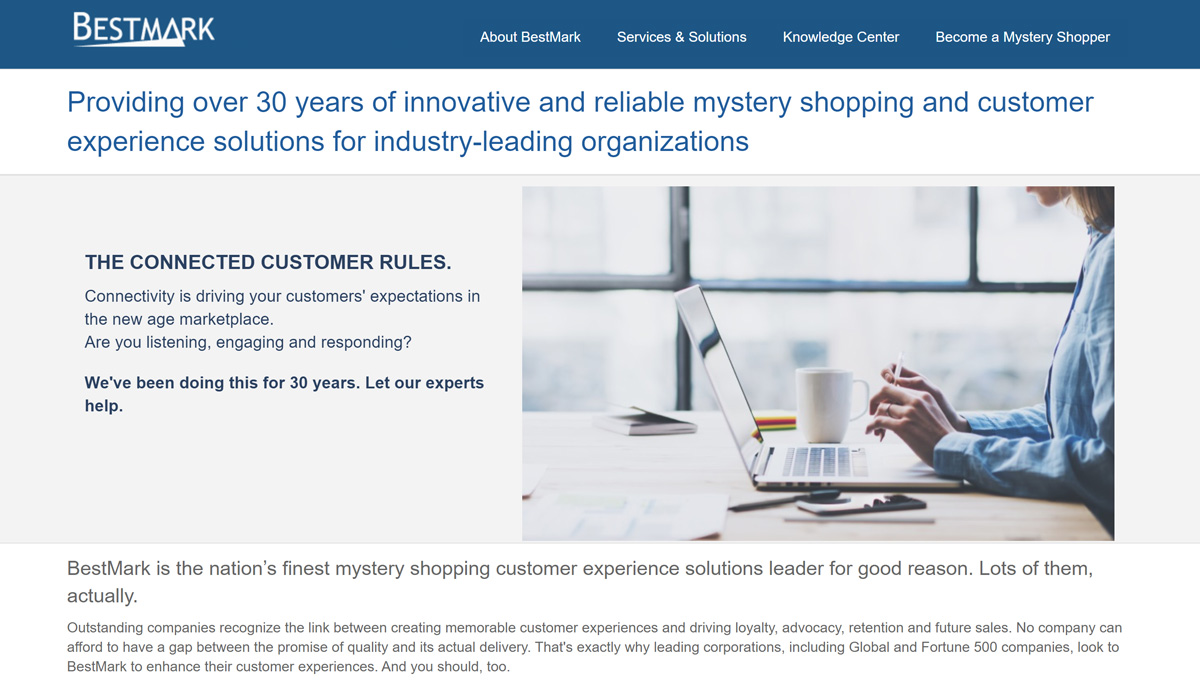 Mystery shopping is one of the most popular side gigs for people who want a flexible schedule, a fun job, and some money on the side.
Need Easy Extra $350+/Month For Free?
It's not surprising, considering that mystery shopping can let you work from home and get paid just for sharing your opinions.
Haven't heard of mystery shopping?
Basically, you call or visit a store or restaurant posing as a regular customer.
You'd do exactly what you would do normally, like ordering a meal or checking out the aisles.
Each task will have a set of instructions of other things you should do, like asking a customer service representative a question or getting extra help from management.
After you're done, you'll report your experience to the mystery shopping company that sent you on the mission.
These companies work with various businesses to help them improve their services through the eyes of a customer.
Because you used your valuable time to help out, you can get paid!
One of the companies that let you do this is known as BestMark, and it's what we're focusing our review on today.
What is BestMark Mystery Shopping?
BestMark is a company that offers a variety of mystery shopping solutions to businesses and organizations.
In addition to regular mystery shops, there's also:
Compliance audits
Internal evaluations
Web surveys
Customer experience consulting
Employee engagement surveys
BestMark offers a range of other surveys, too, to help its business clients learn more about what they need to improve upon, both internally and with their customers.
The company started in 1986 and works with several Fortune 500 clients.
The BestMark Mystery Shopper Opportunity
BestMark invites people interested in mystery shopping to apply for an independent contractor position with the company.
This means that you won't be an employee.
Need Easy Extra Cash?
Pinecone Research, a leading name in online survey panel honesty, absolutely guarantees $3 cash for every survey you complete!
Take advantage of their time limited New Membership drive and register NOW. Join today: 100% free!


Instead, you'll work for yourself and be responsible for paying taxes out of your income.
You'll also be able to have control over your schedule, which is something you can't do as an employee.
Sound good?
Here's more information about BestMark mystery shopping jobs for you to decide if it's a good choice for you:
Who Can Join?
To become a BestMark mystery shopper, you can sign up online with its form.
First, you'll need to meet a few requirements, such as be at least 18 years old, have reliable transportation, and be able to pay attention to detail.
Good written and verbal communication skills are necessary, too.
You'll also need to have reliable internet access to complete jobs.
BestMark mystery shopping jobs are available in all 50 United States, Puerto Rico, and Canada.
Other than that, BestMark doesn't require much from its mystery shoppers except for, of course, being dependable, but that's something you should expect from any job.
What Do You Do?
It appears that BestMark usually works with mystery shoppers for in-person shops rather than telephone shops.
This means that you'll actually need to drive to a store or restaurant to complete your mystery shop.
You'll get invited when a new shop is available.
You can either choose to accept it or decline the assignment.
If you do accept it, you'll have a specific amount of time in which to get the shop done, so make sure you have availability to complete it by the deadline.
BestMark will also give you a set of instructions that will detail what you need to do when you arrive at the shopping location.
This will vary by assignment but could be things like:
Look for and purchase a specific type of item (you'll get reimbursed for your purchase or it'll be wrapped up into your compensation)
Ask team members questions
Use a self-checkout
Take note of promotional displays and provide your feedback
You'll need to make sure you understand the requirements of each shop before you head to the store because you're not allowed to bring in any forms for the shop with you (this, obviously, would show that you're a mystery shopper!).
When you've completed a shop, you'll usually have a feedback form you'll need to send into BestMark.
Most of the time, you can do this online.
In some cases, you may need to mail or fax it in.
You'll need to complete these forms within 24 hours after completing a shop to get your pay.
Some shops will also require you to turn in receipts if you had to make a purchase, so make sure you save your receipts and send them in, too.
How Does It Pay?
Your pay from BestMark depends on the assignment.
Some assignments will require more from you and will, therefore, pay more.
Others are quick and may only take you a few minutes, so you won't make as much.
In some cases, you may have to travel long distances to get to the shop location, so you'll want to weigh this factor into the pay BestMark is offering.
If you'll pay more in gas just to get there and back, then the shop pay won't be worth your time.
Reportedly, you can earn up to $20 an hour here, but you don't actually get paid hourly.
Earn Everything… nearly!
Join Opinion Outpost, one of the few faithful and honest survey panels and earn cash and gift cards for your opinion. Stack your points and redeem them: Simple! No hidden fees and completely free!


You get paid per shop, so it really depends on how many opportunities are available in your area and how often you can complete them.
People in rural areas don't usually have as many shopping opps as those in larger suburban areas and cities.
You're also capped at completing a maximum of nine shops per month.
So, if each of them pay an average of $20, that's only $180 for the month.
Shops pay for different things, too.
Some only pay you for the products you had to purchase while others only pay you for completing the shop. Others pay for both!
But you won't get paid for gas, travel expenses, or shopping time itself, so you'll need to take these all into consideration when you see the pay offered for the shop.
In some cases, tips for meals at restaurants will be covered by BestMark up to a certain amount.
BestMark pays out your earnings once it's verified that all parts of the shop were done correctly and everything you needed to turn in, like receipts and feedback, were turned in.
This process could take a couple of weeks.
But you'll get paid for everything as you do each shop rather than needing to wait to reach a certain amount of earnings to cash out.
BestMark pays via mailed check, gift card, PayPal, or direct deposit.
Another Opportunity for Mystery Shoppers
In addition to mystery shopping, BestMark has another way for its shoppers to get paid if they want.
It's called exit interviewing.
As an Exit Interviewer, you'll gather feedback from customers at a store or restaurant as they leave the location.
In doing so, you're getting real opinions from other customers about their experience at that location, like what they liked, what they didn't like, or what they thought could have been better about their experience there.
These opportunities aren't as available as mystery shopping because a lot of businesses prefer not to use exit interviews.
Customers don't always appreciate having to stop and answer questions when they're trying to leave!
But if you're really good around people and enjoy meeting and talking to others, then this could be a good opportunity for you.
There isn't much information about this particular gig on the site, but it appears that it's also for independent contractors and offers a somewhat flexible schedule.
However, you'll need to be available during regular business hours and within a certain timeframe (like the busy periods at that particular store).
You can indicate if you're interested in participating in exit interviews when you apply to become a mystery shopper with BestMark.
BestMark Review: Is It Legit or a Scam?
BestMark is a legitimate mystery shopping company, but you might see or hear different opinions about it.
Unfortunately, BestMark gets a lot of negative comments about it, but most of these stem from scams that people didn't realize were scams.
If you check out the company's BBB page, for example, it has an A+ rating but several complaints.
Some of these complaints are from the company doing sketchy things, like sending checks to people in the mail that they can't cash because they're fraudulent, according to their bank.
These are scams that look completely legitimate because the scammers use BestMark's good name for an element of trust.
BestMark addresses many of the common scams that involve the company's name on its website, which include the check scam, paying to become a mystery shopper, and even transferring your own money over to a BestMark account.
These aren't things the company will ever ask you to do.
If you're ever unsure if something you received in the mail or email is actually from BestMark, you can call the number on the website to verify it.
Here are some of the real pros and cons of BestMark based on stuff it actually does!
Pro: Responsive on the BBB
Despite all the negative comments BestMark has on the BBB, it maintains it's A+ rating.
That's mostly due to being very responsive in trying to resolve matters posted on the site.
Most complaints, like I mentioned, stem from scams and people not realizing they've been scammed, rather than something that BestMark is at fault for.
Others are specific complaints about assignments that people had issues with and decided to go to the BBB instead of contacting their field manager first.
The BBB is there to help people resolve unresolved issues rather than a first line of defense to complain against a company.
I think it's great that BestMark is extremely responsive and takes care to try to resolve every problem posted on the BBB, even when it's not the company's fault.
Pro: It's Fun and Different
Mystery shopping is definitely an interesting way to make some money in your spare time and working with BestMark on its shops is no different.
You can get a chance to visit stores you wouldn't otherwise go into and talk to new people.
Your shops can be very different each time you do one, which is perfect for people who love some variety in what they do.
Con: Caps on Monthly Shops
You can only complete up to nine shops per month.
I've seen some reviews on the web saying people were able to make several hundred dollars each month or even $10,000 or so each year.
With only nine shops max each month, I don't see how that's possible.
Maybe the company used to be more lenient with shops, but it says right on the website that nine is the max.
I'm assuming this is so that everyone gets a fair shot at getting shops to prevent a few shoppers from hogging them all.
That's a good thing, but being capped to so few is disheartening.
Con: You'll Need to Spend Some Money
Some shops won't reimburse you for things you buy during your shopping trip.
You also won't get paid for gas, wear and tear on your car, or any other travel-related expenses.
So, you may need to spend some money in order to make money from mystery shopping with BestMark.
Even if you do get reimbursed for what you buy, you'll need to wait until after you complete the shop, turn everything in, and a quality assurance checker verifies it all to get your money back.
That means you'll always need to have some money up front to complete your shops and get paid.
How to Maximize Your Earnings on BestMark as a Mystery Shopper or Exit Interviewer
As a mystery shopper or exit interviewer, there are ways you can maximize your earnings.
Here are five tips:
1. Accept Multiple Assignments
BestMark, like many mystery shopping companies, often has shops in the same general area.
If you're able to schedule multiple assignments in the same day, you can maximize your time and earnings.
Always ensure you can complete all assignments to the required standard before accepting them.
2. Be Reliable
The more reliable and trustworthy you are, the more likely you are to get offered more complex (and often higher-paying) assignments.
Complete your assignments on time, follow all instructions, and submit high-quality reports.
3. Become Certified
Some organizations, like the Mystery Shopping Providers Association (MSPA), offer certification for mystery shoppers.
While not required by all companies, being certified may give you an edge and could potentially lead to more assignments or higher pay.
4. Pay Attention to Detail
The more detailed and accurate your reports, the more valuable you are as a shopper.
Companies like BestMark value detailed feedback that can help their clients improve their business.
5. Expense Reimbursement
Some of the payments you receive will be in the form of reimbursements for required purchases during your mystery shop.
By strategically choosing assignments where you would typically spend money (such as restaurants or clothing stores), you can effectively increase your earnings.
Final Thoughts
BestMark is a legit company with a lot going for it.
Mystery shoppers here say that the pay is decent and even much better than similar companies offer.
Like any mystery shopping company, you shouldn't rely on BestMark for all your income.
It's more of a side gig that can give you a little extra money each month for spending or bills.
Still, it's good to know that BestMark is dedicated to making sure people don't get scammed by others claiming to be from the company and making its current shoppers happy.
If you've had any experience with BestMark (not scammers claiming to be from the company!) please let us know in the comments below.
Related Posts:
Earn Everything… nearly!
Join Ipsos iSay, one of the few Faithful and Honest survey panels and earn prizes, gift cards and donations. Stack your points and redeem them: Simple! No hidden fees and completely free!