LifePoints Panel Review: Why This New Panel Might Be One of the Best
Updated on: by Amy Kennedy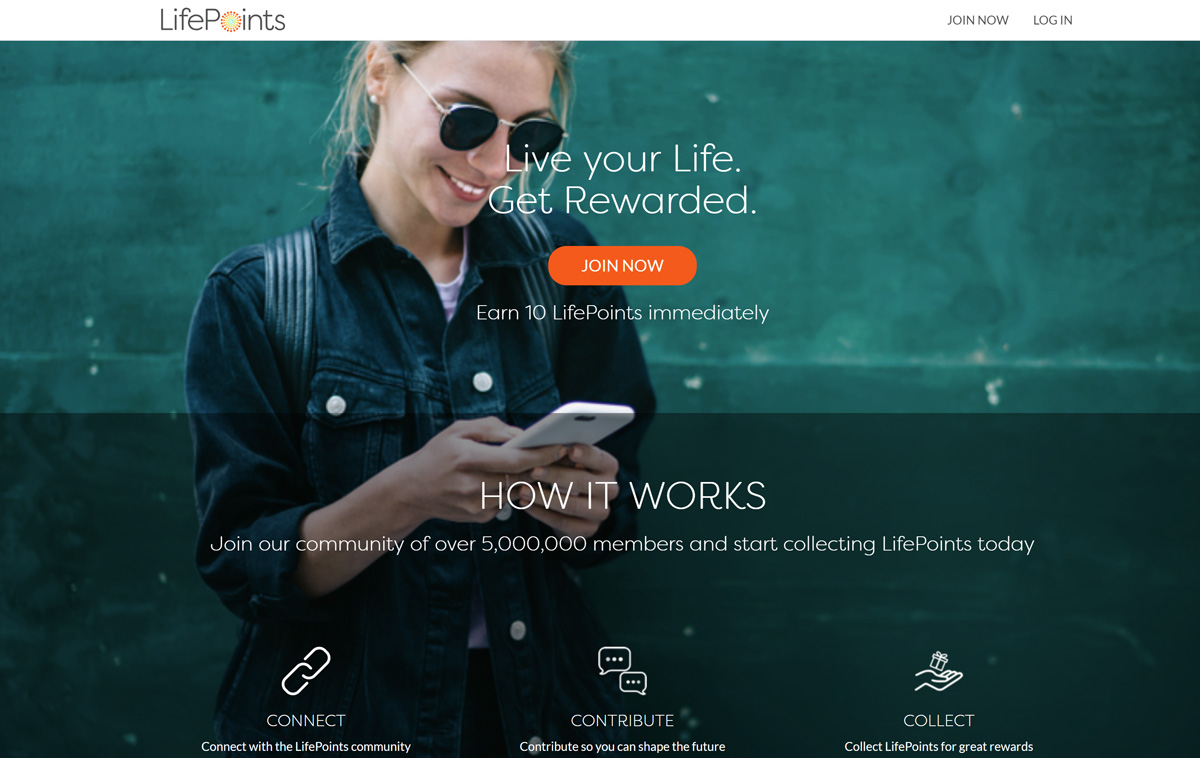 In the world of online surveys, there are a lot of options available.
Need Easy Extra $350+/Month For Free?
Paid survey sites are about a dime a dozen online, so it can be tough to weed out the frauds from the legitimate panels, and to know which ones are the best to use.
One of the newer survey panels is LifePoints, which is a combination of Global Test Market and MySurvey, two of the survey sites we've recommended most.
LifePoints functions similarly to most survey panels you're used to, but like any, there are some key features it has that might make help you decide if it's the right panel for you to join.
I've tested LifePoints myself to learn more about how it works and whether it's worth joining and using, so that you can make a decision for yourself.
What is LifePoints?
We've reviewed and recommended many survey sites here, but MySurvey and Global Test Market have always been some of our favorites for earning top points and rewards.
These two panels come from Lightspeed, a market research company that uses survey panels to ask questions from members to help inform the companies that need them.
Starting in 2017, Lightspeed began to merge Global Test Market and MySurvey into one panel known as LifePoints.
Some countries got to witness the merge several months ago, but the merger has only recently started for panelists in the United States.
As the companies come together, it's been reported that Lightspeed will begin phasing out Global Test Market and MySurvey completely.
Panelists there will automatically be moved over to LifePoints and can resume using their login details there.
LifePoints is similar to its predecessors in many ways.
On the site, you can take paid surveys, participate in the community, and even have home product testing opportunities available.
When you do any of these tasks, you'll earn LifePoints, which are the company's version of rewards.
The rewards you get depend mostly on the length and complexity of the surveys you take.
How is LifePoints Different from Global Test Market and MySurvey?
Although LifePoints is very similar to its merged panels, it also has some key differences.
Need Easy Extra Cash?
Pinecone Research, a leading name in online survey panel honesty, absolutely guarantees $3 cash for every survey you complete!
Take advantage of their time limited New Membership drive and register NOW. Join today: 100% free!


One of the most obvious ones is that LifePoints has a significantly more modern website look.
One of the common complaints about both MySurvey and Global Test Market, which have similar website setups, is that their websites are extremely outdated.
To be fair, the survey sites are both some of the longest-running on the web, but there's no denying that they could use a refresh.
LifePoints has done just that with its clean, up-to-date design that's super easy to navigate, making it especially helpful for those who aren't so tech-savvy.
Another important difference is that LifePoints has several ways to earn rewards beyond surveys, which we'll get more in-depth within a bit.
Finally, unlike most survey sites, LifePoints gives its members a few points even when they disqualify from a survey.
Other similar sites won't give you any rewards when you aren't able to complete a survey.
You won't earn much from disqualifications (usually up to 3 points, for up to 10 points a day) but it's still better than getting nothing for your time.
How the Panel Works
Now, let's get into how LifePoints works, so you can decide if it might be the next best panel for you to try out.
Taking Paid Surveys on LifePoints
Taking paid surveys is the main way you'll earn points on LifePoints.
Like most panels, you'll receive invitations by email when a new survey is available.
You can click the link in the email to be brought to the survey, where you'll learn about how long the survey will take to complete and how many points you'll get.
Most surveys will have some qualifying questions you'll need to answer first.
This is to make sure that you're a right fit for the survey and will mostly be basic demographic information, but will also include some questions about your hobbies, interests, and other information relevant to that specific survey.
If you don't qualify for the full survey, LifePoints will tell you and will reward you with a few points to thank you for your time.
If you do qualify, you'll move onto the full survey, complete it, and get rewarded.
All surveys will vary in complexity, length, and subject matter, depending on what clients LifePoints is currently working with.
You'll typically get paid more for long surveys with several questions than you would short surveys.
Most surveys fall within the 10 and 20-minute range, but some may take an hour or more.
Your identity is completely protected while you're taking surveys, so you won't have to worry about anything you share getting out there in the world.
When you sign up for LifePoints, you'll first need to fill out your profile and take an initial survey.
This survey and profile information helps inform the site of your interests, hobbies, activities, and more that will assist it in matching you with the right surveys.
Take your time filling out this initial information and ensure that you've filled it all out correctly.
The more accurate your responses, the better your chances of getting relevant surveys in the future and qualifying for the ones you get.
Other Ways to Earn Rewards
Survey panels that offer other ways to earn rewards are some of the best ones to join because they give you more opportunities for getting cash than sometimes slow-paying surveys alone.
Here are the other ways you can earn at LifePoints:
Product Testing
Sometimes, you might get asked to sample a product in your home rather than just answering questions about your interest in it in a survey.
These testing opportunities will generally provide you with a free product and offer you compensation for your time testing it.
You'll need to spend some time using the product and then take a follow-up survey that asks for your opinions about it.
Earn Everything… nearly!
Join Opinion Outpost, one of the few faithful and honest survey panels and earn cash and gift cards for your opinion. Stack your points and redeem them: Simple! No hidden fees and completely free!


These opportunities aren't as common as surveys, but if you're an active member of the site with a filled out profile, you'll probably be one of the first panelists LifePoints picks for them.
Video Surveys
The site sometimes has video surveys, too, where you can share your opinions using your mobile device's video camera instead of sitting at your computer.
These are helpful for companies who want to see you speak your authentic thoughts about things that might need more explanation than a text survey can provide.
Community Boards
The community discussion boards on LifePoints are a fun way to earn rewards while sharing your opinions.
Think of them like surveys, only you get to interact genuinely with other LifePoints members having interesting conversations about the topics at hand.
You'll see the prompts given by LifePoints on the right side of your screen and you can respond to as many as you wish.
Sweepstakes and Contests
LifePoints occasionally has sweepstakes and contests for members that give them a chance to win prizes without having to do anything but enter!
LifePoints Pay and Rewards
How does LifePoints pay?
You'll earn points for every task you complete, whether it's a survey, community discussion or poll, or a product testing project.
Most surveys pay in the range of 50 to 100 points.
Disqualifications from surveys will give you 2 or 3 points.
Participating in open polls and discussions typically gives you a few points.
Prizes start at just 165 points, which is enough for a charity donation.
Other rewards, mostly gift cards, start at 550 points and up.
Here are a few rewards LifePoints offers:
Amazon gift cards
PayPal cash
com gift cards
GameStop gift cards
iTunes gift cards
Lowe's gift cards
Joining LifePoints
Joining LifePoints couldn't be easier, especially if you're a member of MySurvey or Global Test Market already.
If so, you can simply use your login details from that site to log in to LifePoints.
Once there, you'll need to complete your profile questionnaire before you can continue taking other paid surveys.
If you're not already a member of the other sites, that's okay too.
Just click the Join Now link at the top of the page, enter your information, and submit.
LifePoints will send you an email to the address you listed.
Click the link in the email (it might take a couple of hours to show up but remember to check your spam folder too) to verify your account.
After that, you should be taken right to the site to fill out your first questionnaire and begin earning rewards.
Your profile survey should only take about 10 minutes to complete.
Finish that and you'll get another 10 points for free!
Once you're all signed up, you'll be able to start getting survey invites sent to your email inbox as they become available.
You can also check the site to see if any new ones have been posted.
LifePoints Reviews
LifePoints has its pros and cons, just like any other website of its kind.
I checked several online reviews from people who have tried the panel, and here's what they said:
Cons
Most of the negative comments about LifePoints had to do with the site's slowness.
It's true that the site, especially when taking surveys, can seem a little on the slower side during certain parts of the day, probably during peak periods when more people are online.
However, it's far from being the slowest site out there.
Some members have also had issues with slow payments, but I haven't seen many mention that they haven't gotten paid at all.
Usually, a quick email or chat can resolve the issue.
You can find the contact information for LifePoints on this page.
Pros
Plenty of members have good things to say about LifePoints.
One of the perks of the site is that there are a lot of reward offerings.
This is a personal like of mine because I like having several options to choose from rather than just one or two.
Another good thing about this site is that there are several ways to earn points in addition to taking surveys.
I realize that survey taking isn't for everyone, so it's nice to have other avenues for earning points when you aren't in the mood for another survey.
Is LifePoints Legit or a Scam?
LifePoints, in our opinion, is a legitimate survey site that's an excellent replacement for MySurvey and Global Test Market.
From my time spent on the site, I've been able to navigate the site, qualify for surveys, and earn rewards with ease.
One thing I do wish the company would bring back is its mobile app, which seemed to have a lot of fun activities and functionality that the website doesn't offer.
However, the LifePoints website still has several ways to earn rewards and offers a fun sense of community that rewards you for participating.
Plus, it's super easy to navigate.
I also like that LifePoints has a large database of help articles that you can use if you ever get stuck.
You'll notice, generally, that scam sites don't tend to have a lot of information about them or how to use them, so this is a welcome feature.
One downfall is that LifePoints is still very new.
As the site continues to merge MySurvey and Global Test Market, there's going to be a bit of a learning curve.
You might see some delays in payments or issues with not getting points for surveys and other tasks.
The site can also be a bit slow when loading pages and surveys, probably because it's growing so fast as more members join.
However, I do believe these issues will continue to get corrected as LifePoints expands.
From my experience, my points have always shown up and I've been able to cash out when I reach the minimum threshold.
I recommend signing up for or transferring over from one of the other sites to, LifePoints to try it out for yourself.
Critical Tips To Help You Thrive on LifePoints Panel
1. Complete your profile
Take the time to complete your profile with accurate information.
This helps the LifePoints Panel platform send you survey invitations that match your demographic profile.
By providing accurate details about your age, gender, location, interests, and other relevant information, you increase your chances of receiving surveys that are more tailored to your background and interests.
2. Act promptly
Survey opportunities on LifePoints Panel are often limited and can fill up quickly.
When you receive a survey invitation, try to respond and participate as soon as possible.
By acting promptly, you increase your chances of securing a spot in the survey before it reaches its maximum capacity.
3. Be honest and consistent
Honesty is crucial when participating in surveys.
Provide truthful and consistent responses throughout the surveys.
Market research companies value genuine feedback, and being honest increases your credibility as a participant.
Inconsistency or dishonesty in your responses can negatively impact your eligibility for future surveys and may even result in account suspension.
4. Complete pre-screening surveys
Some surveys may start with pre-screening questions to determine if you fit the specific target audience.
Even if you don't qualify for a particular survey based on these pre-screening questions, it's important to complete them.
These pre-screening surveys help the LifePoints Panel platform better understand your profile and preferences, increasing the likelihood of receiving more relevant survey invitations in the future.
5. Be active and engaged
To maximize your opportunities on the LifePoints Panel platform, make it a habit to log in regularly.
Check for new survey opportunities and participate consistently.
The more active and engaged you are, the more likely you are to receive a steady stream of survey invitations.
6. Refer friends
LifePoints Panel often has referral programs where you can earn additional rewards by referring friends or family members to join the platform.
Take advantage of these referral programs by sharing your unique referral link with others.
When they sign up and participate in surveys, you'll receive bonus points or rewards as a thank you for the referral.
7. Explore other activities
In addition to surveys, LifePoints Panel may offer other activities such as mini-polls, product testing, or diary studies.
These activities can provide additional rewards and engagement.
Keep an eye out for these opportunities on the platform and participate in them whenever available.
They can offer a different way to earn points and contribute to your overall experience.
8. Redeem rewards strategically
As you accumulate points on the LifePoints Panel platform, you'll have the opportunity to redeem your rewards.
Take the time to compare the available redemption options. Some options may offer better value than others, such as gift cards or cash rewards.
Consider your preferences and choose the option that aligns with your needs and interests.
The Ultimate LifePoints Panel Review
Is LifePoints right for you?
You'll only know if you try it out.
You can sign up for LifePoints here.
Be sure to come back here and let us know your thoughts in the comments!
Related Posts:
Earn Everything… nearly!
Join Ipsos iSay, one of the few Faithful and Honest survey panels and earn prizes, gift cards and donations. Stack your points and redeem them: Simple! No hidden fees and completely free!