Points2Shop Review – To Join Or Not To Join
Updated on: by Amy Kennedy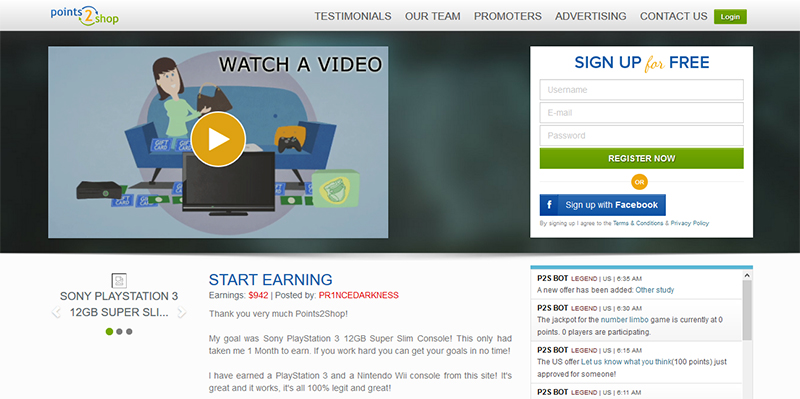 GPT is a relatively new kind of online paid market research opportunity.
Need Easy Extra $350+/Month For Free?
On the positive side, you can earn money with more opportunities than simply filling out surveys.
On the negative side, you will find yourself giving out more personal information to fulfill requirements such as completing paid offers.
Because of this sensitive information, you want to choose a company you can trust.
There are some major GPT sites affiliated with huge international brands that are worth investing your time into.
Then there are sites like Points2Shop – as they cover a much smaller area, they need to perform really well to be worth your time.
Let's look at whether or not Points2shop is worth your time.
What is Points2Shop?
Points2Shop is a GPT website, although it takes a long time when reading through their information to actually find that out.
GPT stands for "Get Paid To," and it's used to describe a market research sites that has a number of different tasks available for you to earn money from.
Points2Shop, LLC. is located in Alpharetta, GA and have a Better Business Bureau file available to look at – although it doesn't send a great message.
They have been in business for 10 years, but while the business started in 2007, the BBB file was not opened until 2013.
Is Points2Shop legit or a scam?
This site has some ticks on both sides of the equation.
Legit:
Current security certificate
Free sign up
Known to the BBB
Some happy customers
Clear Terms and Conditions, FAQ and Privacy Policy
Scam:
Poorly designed site with many errors
Reviews that look very fake
Obvious exaggerations or lies, such as advertising "Redeem your points for millions of rewards"
Written in poor English with bad spelling, grammar, and sentence structure – a regular person shouldn't have to worry too much, but someone who wants your personal details should at least spellcheck their work.
Their Better Business Bureau file is rated F and has 37 complaints against them
It might not be a scam, but it's not looking good either.
Key Features
Free to join
App available
250 points ($2.50) on joining.
Account is locked after 4 months of inactivity
Collect cash and points
Redeem on Amazon goods.
Who can join?
18+ years old or 13+ with parent's approval.
Read and agree to the Terms & Conditions before joining.
Must be a resident of the United States, United Kingdom or Canada – only US residents can get a gift card, only $50 available.
One account per household.
How do you earn?
Surveys. 
Surveys are the traditional way to earn, but they're almost not worth it on this site.
Most of those surveys take 15- 20 minute and will earn about 50-60 points – that means $0.50 – $0.60 per 25-minute survey.
That's low, even for similar sites.
Need Easy Extra Cash?
Pinecone Research, a leading name in online survey panel honesty, absolutely guarantees $3 cash for every survey you complete!
Take advantage of their time limited New Membership drive and register NOW. Join today: 100% free!


Videos. 
Being paid to watch videos sounds good – 1 point per video sounds very bad.  Not worth your time.
Games. 
Unfortunately, the games can be quite frustrating, and on some games, you have to reach a certain level to get your points.
Contests. 
Daily Survey, Completion, High Value, and Referral are categories of contests that can win you money.
Prizes range from $15 for winning 1st place, down to $1 for 10th place.
Offers.
GPT sites often pay the most for offers.
There are two types: paid and free.
Free offers mean clicking a link and signing up in return for points.
Paid offers are the same, but they will either require your credit card to charge you and pay you the amount you spent plus extra as a bonus, or they could take the money out at the end of your trial period.
Be careful and watch what you sign up for.
Lottery tickets.
Lottery tickets can be earned for a number of things, such as posting in the forum.
How much can you earn?
You earn in either points or cash – points can be exchanged for cash, but cash can't be exchanged for points.
It's unusual, to say the least.
It's hard to say exactly how much you could earn, but it won't be a lot.
The website has some obviously false statements such as, "Most members have the opportunity to make thousands of dollars and redeem them for items offered by Amazon.com via the Points2Shop reward gallery."
I can tell you that if that were true, people would break the site trying to sign up.
Points2Shop reserves the right to cancel your account at any point.
That's not very reassuring!
They also insist many times over in the FAQ that you should read the Terms and Conditions – that means if something goes wrong, the blame can be placed on you.
Unfortunately, it seems like a lot of members have experienced this exact scenario.
Redeeming your points/cash.
Once you have enough points or cash available to get products as a reward, it turns out there is a classification system for what you're buying:
New:  Brand new, in unopened packaging.
New Mint:  New but might be lightly used (!)
Used Mint:  It has been open and used, might have wear and tear but still looks and works ok.
Used:  It has been opened and used, and may or may not even work properly (!!!)
I personally cannot imagine redeeming hard-earned points on used goods, especially when there is no guarantee they will even work!
This seems so strange to me.
Points2Shop also repeatedly say they have free shipping on the goods from Amazon that make up your rewards, but there are complex conditions:  you must have 2,000 points worth of goods before qualifying (3000 for UK), and then a number of other conditions will disqualify you from free shipping, or require you to pay shipping on some items.
Referrals.
Points2Shop does have a referral program, but the truth is that it is extremely complicated.
No one can explain it better than the Points2shop website itself:
Earn Everything… nearly!
Join Opinion Outpost, one of the few faithful and honest survey panels and earn cash and gift cards for your opinion. Stack your points and redeem them: Simple! No hidden fees and completely free!


"There is actually more than one level to our referral program.
You get 15% of what your first level earns, 3% of the second level and 2% of the third level.
You will also get .50$ when they verify their email and another .50$ when they completed their first offer which will give you $1.00 total.
The promotion rate is dynamic: Make sure your referrals are active.
If a lot of your referrals are inactive, your earn rate will decrease."
There is another tiered system for recruiting different nationalities to sign up to Points2Shop.
They also have banners, links and other promotional material that people can use to earn.
It looks like most people making use of that material are simply referring people, so they get money, not because it's actually a worthwhile website.
Privacy and Terms & Conditions
Points2shop has an extensive, well-written privacy policy.
However, it does have a few concerns.
Most worrying for me is a clause in their privacy policy that says they automatically collect data from whatever device you're using.
They can also share your data with their clients and partners.
Enough said.
They also have some very strange sentences, like saying "Points2Shop LLC may charge up to $5 per spam email sent."
Obviously, they discourage spam and their members sending unsolicited emails to others, but it's strange to suggest that even after closing down the account and confiscating earnings, they will charge someone for sending the mail?
People have also pointed to strange breaches of privacy made when disputing an all-too-common account closure.
They have been asked for proof such as a driver's license, a phone call or giving other very sensitive information.
Even after that, people have even been asked to upload a photo of themselves onto PhotoBucket, as some strange verifying technique.  It sounds very shady.
The reviews.
The reviews tend towards two extremes – 1 star and 5 stars.
The most common complaints for the 1-star reviewers is that just when they get within a few points of cashing out, their account is frozen.
That has happened to nearly every person reviewing the company.
The other extreme seems to be people who have some other motive for reviewing the company.
A good example is this 5-star review – "I've been on this website for less than a month, and I've already earned enough points for 3 $10 gift cards!"
Which is great, but this site doesn't offer $10 gift cards.
It's obvious at least some people are lying.
Should you join?
Honestly, I can't recommend this site.
There are so many better GPT sites that you can choose, who can offer you deals and discounts in your local area and who always pay what you're owed.
Points2Shop are wheeler-dealers who seem very comfortable attempting to avoid paying you for your time and effort.
Earning money online is a great way to spend your free time, but Points2Shop is not a good option to choose.
Find a site that values you as a member, offers you fair deals and pays you what you're owed.
This site gets a big no from me.
Official website: www.points2shop.com
Related Posts:
Earn Everything… nearly!
Join Ipsos iSay, one of the few Faithful and Honest survey panels and earn prizes, gift cards and donations. Stack your points and redeem them: Simple! No hidden fees and completely free!