13 Ways to Make Money as a Personal Shopper
Updated on: by Amy Kennedy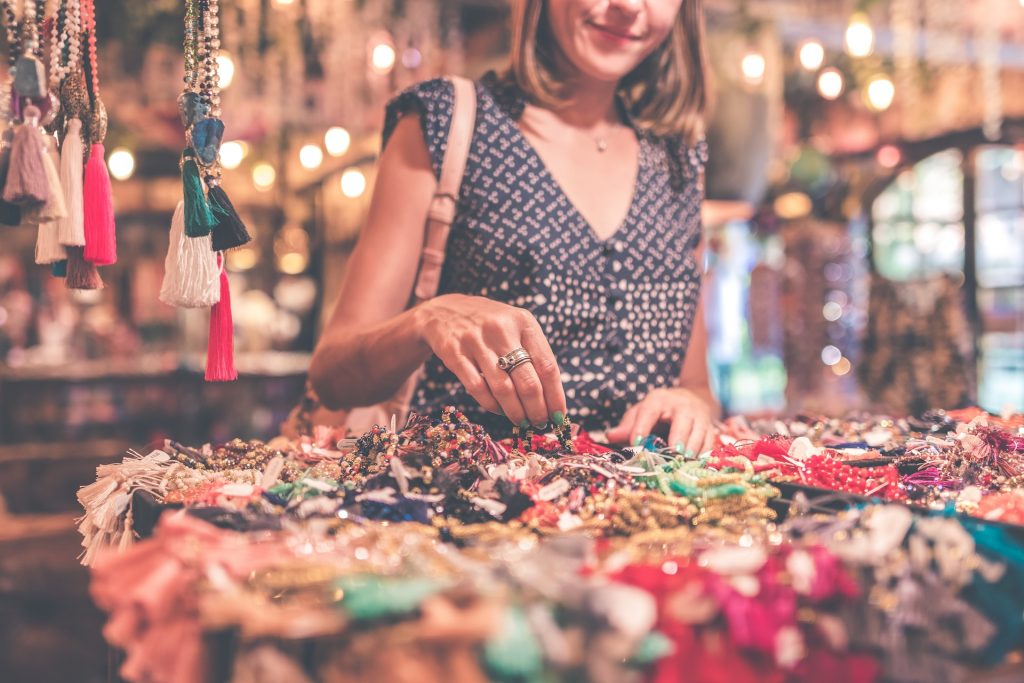 Personal shopping is an exciting career choice that combines a love for shopping with the opportunity to earn a substantial income.
Need Easy Extra $350+/Month For Free?
As a personal shopper, you get to explore diverse shopping arenas, help clients make the right purchase decisions, and in turn, convert your passion into a profitable business.
This comprehensive guide will provide you with profitable ways to make money as a personal shopper, highlighting essential skills, knowledge, and various income avenues in the personal shopping industry.
Who is a Personal Shopper?
A personal shopper is a professional who assists individuals in making purchases based on their personal needs and preferences.
This section provides a quick overview of the role and responsibilities of a personal shopper, shedding light on who they are, what they do, and the skills required for the job.
Personal Shopper: The Role Explained
The role of a personal shopper is to assist their clients in buying products that cater to their specific needs. Let's dive deeper into understanding the core of their work.
Understanding Client Needs
A personal shopper's foremost task is to understand their client's needs, be it clothing, groceries, or any specific products. They must communicate effectively to grasp the client's style, budget, and preferences.
Shopping on Behalf of Clients
Once the personal shopper has a clear understanding of the client's needs, they hit the stores (physical or online) to find items that best fit those requirements. Websites like Amazon and Walmart are commonly used platforms for online shopping.
Delivering Personalized Service
The job isn't simply about buying and delivering items. It's about offering a personalized service that gives clients a unique and stress-free shopping experience.
Essential Skills for a Personal Shopper
A personal shopper requires a specific skill set to succeed in their role. Here are the top skills needed.
Excellent Communication Skills
As a personal shopper, you'll need to interact with a variety of people, making excellent communication skills crucial. This skill ensures you understand your client's needs and can negotiate with sellers effectively.
Good Sense of Style and Trends
A good sense of style and staying updated with the latest trends is essential, especially for personal shoppers specializing in fashion. Websites like Vogue can be useful resources for keeping up with the fashion world.
Attention to Detail
Attention to detail is a must in this role. Whether it's noting a client's specific preferences, spotting the perfect item in a store, or managing purchase receipts, meticulousness goes a long way in this profession.
Personal Shoppers: Job Prospects and Growth
With the evolution of shopping habits and the rise in online shopping, personal shoppers have ample opportunities to thrive in their career.
Rising Demand
There's a rising demand for personal shoppers, especially in cities and for individuals with busy schedules. Websites like Indeed often list multiple job opportunities for personal shoppers.
Diverse Work Environments
The role of a personal shopper isn't confined to one type of retail environment. From high-end fashion boutiques to online e-commerce platforms, the job opportunities are diverse.
Need Easy Extra Cash?
Pinecone Research, a leading name in online survey panel honesty, absolutely guarantees $3 cash for every survey you complete!
Take advantage of their time limited New Membership drive and register NOW. Join today: 100% free!


Career Growth
With experience, personal shoppers can venture into more specialized niches, like luxury or celebrity shopping, thereby increasing their earning potential.
Developing Skills and Knowledge
Becoming a successful personal shopper involves honing a specific set of skills and acquiring knowledge in certain areas. This section details the skills you should develop and the knowledge areas you should focus on.
Key Skills for Personal Shoppers
Building a successful career as a personal shopper requires both interpersonal and practical skills.
Interpersonal Skills
Strong interpersonal skills are crucial to understanding and catering to clients' needs effectively.
Active Listening
Active listening is key to comprehending the clients' needs and preferences. It involves not just hearing but understanding and responding to your clients effectively.
Empathy
Empathy allows you to connect with clients on a deeper level and better understand their needs.
Problem-Solving
Inevitably, challenges will arise during shopping. Strong problem-solving skills can help you navigate these situations and provide solutions that satisfy your clients.
Practical Skills
Practical skills encompass the more tangible skills required for the job.
Knowledge of Trends
Stay current with the latest trends, be it fashion, technology, or home decor. Websites like Fashionista or TechRadar can help keep you updated.
Budget Management
Managing a client's budget effectively while meeting their needs is a crucial skill for a personal shopper.
Time Management
Shopping efficiently within a specific time frame is vital, especially when dealing with multiple clients.
Enhancing Your Knowledge as a Personal Shopper
Enhancing your knowledge in specific areas can significantly boost your efficiency and success rate as a personal shopper.
Knowledge of Retail and Brands
Understanding various brands, their offerings, and their positioning in the market can make your shopping trips more efficient and successful.
High-End Brands
Knowledge of high-end brands is essential, especially when dealing with luxury shopping. Websites like Gucci or Prada offer insights into the luxury retail world.
Affordable Brands
Being aware of brands that offer quality products at affordable prices is equally important, especially when working with clients on a budget. Retailers like H&M or Zara fall into this category.
Specialty Brands
For niche requirements, knowledge of specialty brands, such as those that offer sustainable products or cater to specific dietary needs, is beneficial.
Knowledge of Sales and Discounts
Being aware of sales periods and discount offers can help you secure the best deals for your clients. Websites like RetailMeNot can help track deals and offers.
Understanding Client Demographics
Understanding different client demographics, such as their age, occupation, lifestyle, and cultural background, can help you cater to their needs more effectively. You can gain this understanding through both formal research and practical experience.
The 13 Ways to Earn Money as a Personal Shopper
The world of personal shopping offers a myriad of opportunities for making money. Let's delve into these 13 profitable ways that can transform your shopping passion into a thriving income source.
1. In-Store Personal Shopper
Being an in-store personal shopper involves working within physical retail stores to help clients make their purchases.
Assisting Busy Clients
You can assist busy clients by shopping on their behalf, saving their time while making a profit for yourself.
Partnering with Stores
Consider partnering with stores who might offer commissions for bringing in customers.
Shopping for Unique Items
Offer your services to find unique or hard-to-find items that are available only in brick-and-mortar stores.
2. Online Personal Shopper
The online realm offers ample opportunities for personal shoppers to earn money.
E-commerce Platforms
Shop on Amazon, eBay, and other e-commerce platforms on behalf of clients.
Subscription Services
Consider starting a subscription service where you pick out items for clients monthly.
Online Sales and Discounts
Take advantage of online sales and discounts to save money for your clients and earn more for yourself.
3. Freelancing
Freelancing as a personal shopper gives you the flexibility to choose your clients and work hours.
Setting Your Rates
As a freelancer, you have the freedom to set your own rates based on your services.
Earn Everything… nearly!
Join Opinion Outpost, one of the few faithful and honest survey panels and earn cash and gift cards for your opinion. Stack your points and redeem them: Simple! No hidden fees and completely free!


Building a Client Base
Use platforms like Upwork or Fiverr to connect with potential clients.
Offering Specialized Services
Offer services tailored to specific needs, like holiday shopping or wardrobe revamping, to attract a diverse clientele.
4. Working for a Shopping or Retail Company
Working for an established retail company can provide a steady income and valuable experience.
Employee Benefits
Some companies provide employee benefits, such as health insurance and retirement plans, adding to your income indirectly.
Building a Network
Working with a company can help you build a network and gain exposure to diverse clients.
Learning from the Best
Gain valuable insights from experienced colleagues and industry experts.
5. Affiliate Marketing
Affiliate marketing is a great way to earn passive income as a personal shopper.
Earning Commissions
Earn commissions by recommending products through your affiliate links on platforms like Amazon Affiliates.
Starting a Blog or YouTube Channel
Consider starting a blog or YouTube channel where you can share your affiliate links and earn money.
Partnering with Brands
Partner with brands relevant to your client base for exclusive affiliate marketing deals.
6. Image Consulting
Image consulting is a specialized form of personal shopping that can be highly profitable.
Styling for Individuals
Help clients improve their image by curating a personal style for them.
Corporate Image Consulting
Offer your services to corporate clients who want to improve their company's image.
Brand Partnerships
Partner with brands to offer exclusive styling services using their products.
7. Styling for Events
Offering personal shopping services for events can be a profitable niche.
Wedding Shopping
Provide shopping services for weddings, helping brides, grooms, and wedding parties to look their best.
Special Events
Offer your services for other events such as parties, conferences, or photoshoots.
Collaborating with Event Planners
Collaborate with event planners to offer your services to their clients.
8. Shopping for Corporate Clients
Corporate clients can provide a steady stream of income for personal shoppers.
Corporate Gifting
Offer services to shop for corporate gifts for employees and clients.
Office Supplies
Help companies shop for office supplies, furnishings, or other necessary items.
Employee Uniforms
Assist in choosing and purchasing employee uniforms.
9. Offering Shopping Tours
Shopping tours can be a fun and lucrative way to earn money as a personal shopper.
Shopping Tours for Tourists
Offer shopping tours for tourists who want to explore local shops and markets.
Specialty Shopping Tours
Specialize in certain types of shopping tours, such as fashion, antiques, or local products.
Collaborating with Travel Agencies
Partner with travel agencies to offer your shopping tours to their clients.
10. Subscription Box Services
Curating and selling personalized subscription boxes can be a great income source.
Personalized Subscription Boxes
Create personalized boxes based on clients' preferences and deliver them on a subscription basis.
Partnering with Brands
Partner with brands to include their products in your subscription boxes.
Online Marketing
Promote your subscription box service through social media and online marketing.
11. Virtual Personal Shopping
Offering virtual personal shopping services can broaden your client base.
Shopping for International Clients
Provide your services to clients around the world through virtual shopping.
Online Consultations
Offer online consultations to help clients make shopping decisions.
Digital Tools
Leverage digital tools like virtual fitting rooms and augmented reality for a better shopping experience.
12. Shopping for Individuals with Special Needs
Catering to individuals with special needs can be a rewarding niche for personal shoppers.
Shopping for the Elderly
Provide shopping services to elderly individuals who may have difficulty going shopping themselves.
Shopping for Individuals with Disabilities
Offer your services to individuals with disabilities, providing a valuable service while earning income.
Partnering with Organizations
Partner with organizations that serve these communities to offer your services.
13. Luxury Personal Shopping
Luxury personal shopping can be a highly profitable niche.
High-End Clients
Offer your services to high-end clients looking for luxury items.
Exclusive Stores and Brands
Shop at exclusive stores and luxury brands for your clients.
Specialized Knowledge
Leverage your specialized knowledge of luxury trends and items to provide exceptional service.
Marketing Your Personal Shopping Business
To turn your personal shopping business into a profitable venture, marketing your services effectively is key. This section will guide you on strategies to attract and retain clients.
Building a Strong Online Presence
In the digital age, having a strong online presence is vital.
A Well-Designed Website
Having a professionally designed website allows potential clients to find you easily and learn more about your services.
Active Social Media Channels
Platforms like Instagram and Pinterest are great for showcasing your work, sharing client testimonials, and engaging with potential customers.
SEO Optimization
Optimize your online content with relevant keywords to improve your visibility on search engines like Google.
Networking
Networking can open doors to new opportunities and client referrals.
Attend Industry Events
Participate in industry events to connect with potential clients and fellow personal shoppers.
Collaborate with Related Businesses
Consider collaborations with businesses that share your client base, such as fashion boutiques or event planners.
Join Professional Associations
Professional associations like Association of Image Consultants International offer networking opportunities and resources for personal shoppers.
Client Retention Strategies
Keeping clients satisfied is just as important as attracting new ones.
Exceptional Customer Service
Providing excellent service ensures your clients are satisfied and more likely to return.
Regular Communication
Keep in touch with clients through regular newsletters or personalized offers.
Loyalty Programs
Consider offering loyalty programs or referral incentives to encourage repeat business.
Legal and Ethical Considerations
Understanding the legal and ethical considerations in personal shopping is crucial to running a legitimate and respected business.
Legal Considerations
It's important to understand and comply with the laws and regulations related to your business.
Business Registration
Make sure to register your business with the appropriate local or national authorities.
Tax Obligations
Understanding your tax obligations is crucial. Websites like IRS can provide necessary information for U.S. based businesses.
Contracts and Agreements
Using clear and comprehensive contracts can protect both you and your clients. It might be beneficial to seek legal counsel for this.
Ethical Considerations
Maintaining high ethical standards is key to gaining your clients' trust and respect.
Confidentiality
Respecting clients' privacy and maintaining confidentiality is paramount in personal shopping.
Transparency
Be transparent about your fees, affiliations, and any commissions you might receive.
Conflict of Interest
Avoid any situations that could present a conflict of interest. Always prioritize your client's needs and preferences.
Conclusion
Becoming a successful personal shopper is about leveraging your shopping skills, understanding client needs, and utilizing the best strategies to earn a profitable income.
The journey may be challenging, but with the right skills, knowledge, and a passion for shopping, you can turn this fascinating profession into a profitable venture.
Remember, the key to a successful personal shopping business is to provide excellent service, continually enhance your skills, and keep up with the latest trends and market dynamics.
Related Posts:
Earn Everything… nearly!
Join Ipsos iSay, one of the few Faithful and Honest survey panels and earn prizes, gift cards and donations. Stack your points and redeem them: Simple! No hidden fees and completely free!