16 Ways to Save Money in College
Updated on: by Amy Kennedy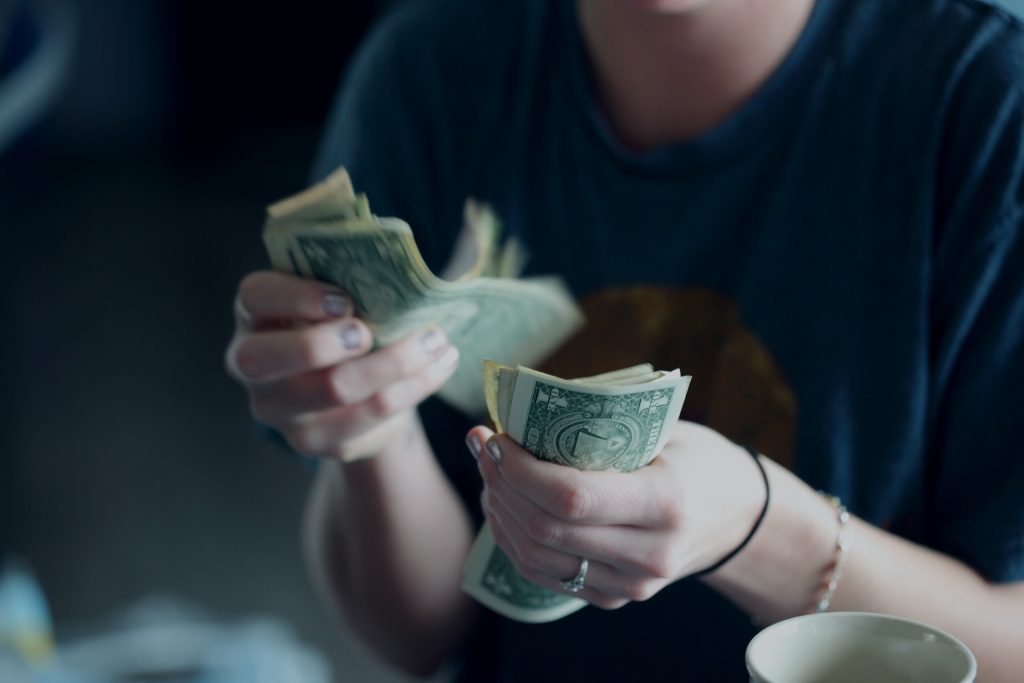 Embarking on your college journey is an exciting step towards independence, but it can also bring financial challenges.
Need Easy Extra $350+/Month For Free?
As tuition fees and living costs continue to rise, it becomes increasingly important to find smart ways to save money.
Our guide explores 16 practical methods to help you manage your budget and save money during your college years.
Why You Should Save Money in College
College is a significant investment, both in terms of time and money. For many students, it's the first time they have to manage their finances independently, making it a critical period for establishing good money habits.
Here are a few reasons why you should strive to save money while in college:
Minimize Debt
One of the most significant benefits of saving money in college is reducing the amount of student loan debt you'll have after graduation. Less debt means you'll have more financial freedom and flexibility in the future, allowing you to pursue your goals without the burden of significant loan repayments.
Prepare for Emergencies
Life is unpredictable, and having a financial safety net can give you peace of mind. By saving money in college, you're preparing for unexpected expenses such as car repairs, medical bills, or sudden changes in living situations.
Develop Financial Discipline
Learning to save money in college helps to instill financial discipline, which will be invaluable later in life. Understanding how to budget, save, and make wise spending decisions are crucial skills that will benefit you throughout your life.
Plan for the Future
Whether you're dreaming of traveling, buying a home, or starting your own business, having savings can help you reach these goals. Starting to save in college can give you a head start in making your dreams a reality.
Reduce Financial Stress
Financial worries can add a significant amount of stress to the already demanding college experience. By managing your money wisely and saving where you can, you can minimize this stress and focus more on your academic success.
1. Use Student Discounts
Maximize Student Discounts
Your student ID can be a key to numerous discounts. Many retailers, restaurants, and online services like Spotify, Amazon, and Apple offer reduced prices for students.
Using these discounts can significantly reduce your expenses.
Research and Keep Track
Be proactive in researching the places that offer student discounts and keep track of them. Not every business advertises their student discounts, so it might require a bit of digging.
Every penny saved adds up over time, helping you make the most of your student status.
2. Buy Used or Rent Textbooks
Consider Used Textbooks
New textbooks can be exorbitantly expensive. Look for used versions in your campus bookstore or online platforms like Amazon, Chegg, and eBay.
Used textbooks can often be purchased for a fraction of the price of new ones.
Need Easy Extra Cash?
Pinecone Research, a leading name in online survey panel honesty, absolutely guarantees $3 cash for every survey you complete!
Take advantage of their time limited New Membership drive and register NOW. Join today: 100% free!


Renting Instead of Buying
If you don't need to keep the textbook for future reference, consider renting. Many online outlets offer textbook rental services for a fraction of the cost of buying the book.
Just ensure you return the books on time to avoid late fees.
3. Cook at Home and Limit Eating Out
Save Money by Cooking
Eating out frequently can quickly drain your budget. Cooking at home is typically more cost-effective, and it also allows you to control what goes into your meals.
Consider meal prepping to save time during the week.
Smart Grocery Shopping
Plan your meals ahead and make a shopping list before you go to the grocery store. This can help you avoid impulse purchases.
Also, look out for sales and discounts in your local grocery stores.
Minimize Eating Out
While it's perfectly fine to treat yourself occasionally, try to limit how often you eat out. If you do go out, look for student discounts, share meals, or choose less expensive items from the menu.
4. Use Public Transportation or Carpool
The Benefits of Public Transit
If your college town has a reliable public transportation system, take advantage of it. It's usually less expensive than maintaining and fueling a car, and you can often get discounted student rates.
Consider Carpooling
If public transportation isn't an option, consider carpooling with friends or classmates. It's an excellent way to share transportation costs and reduce carbon emissions.
5. Share Living Expenses
The Benefits of Having Roommates
Living alone can be costly. By having roommates, you can split rent and utility costs, saving a significant amount of money each month.
Coordinating Purchases
Coordinate with your roommates when buying shared items like kitchen appliances or cleaning supplies to avoid duplication and waste.
6. Keep Track of Your Spending
Using Budgeting Tools
Budgeting tools like Mint or You Need a Budget can help you track your spending and stay within your budget. They offer insights into your spending habits, helping you identify areas where you can cut back.
Regularly Review Your Expenses
Regularly reviewing your spending can help you spot trends and identify areas where you may be overspending. It allows you to adjust your budget as necessary and stay on track with your financial goals.
7. Consider Part-Time Work or Internships
Working Part-Time
A part-time job can provide a steady income stream while you're in college. Many campuses offer work-study programs, which provide flexible job opportunities on campus.
Internships
Internships can offer valuable work experience and sometimes come with a stipend or a wage. They can also open doors for future employment opportunities.
8. Cut Unnecessary Subscriptions
Review Your Subscriptions
Take time to review all your subscriptions – from streaming services to magazines. If you're not using a subscription regularly, consider cancelling it.
Many platforms allow you to restart your subscription later if you decide you need it.
Share Subscriptions
Consider sharing certain subscriptions, like Netflix or Hulu, with roommates or close friends. Most streaming services offer plans that allow for multiple users at once, often for a minimal increase in cost.
9. Use Your Campus Gym
Save on Fitness Expenses
Instead of paying for a pricey gym membership, take advantage of your campus gym. Most colleges include gym access in your tuition fees, and the campus gym often has top-notch equipment and facilities.
Consider Campus Sports Clubs and Teams
Joining sports clubs or teams is also a great way to stay fit without spending extra money. It can also be a great way to socialize and make new friends.
10. Be Smart About Credit
Understand Credit Cards
Credit cards can be helpful for building credit history, but it's crucial to understand how to use them responsibly. Avoid carrying a balance whenever possible to sidestep interest charges.
Regularly Check Your Credit Score
Regularly checking your credit score and report can help you understand your financial health and spot any potential issues. Many banks offer this service for free.
11. Be Thrifty with Entertainment
Free Campus Activities
Many universities offer free or low-cost entertainment events, such as movie nights, concerts, guest speakers, and intramural sports. Check your campus event calendar regularly to take advantage of these opportunities.
Utilize Libraries and Online Resources
Instead of buying books or movies, use your campus library or online resources like Project Gutenberg for free books, or platforms like YouTube for free documentaries and educational content.
Organize Budget-Friendly Social Events
Instead of going out, consider organizing budget-friendly activities with friends like potlucks, game nights, or hiking trips. These can be just as fun and will save you money.
12. Save on Travel
Plan Ahead
If you plan to travel, book your tickets well in advance to get the best deals. Use comparison websites like Skyscanner or Expedia to find the best prices.
Travel Light
Airlines often charge hefty fees for checked luggage. If possible, travel light to avoid these additional costs.
Utilize Student Travel Discounts
Many travel companies offer student discounts. Companies like STA Travel specialize in discounted student travel, and websites like Student Universe offer discounted flights for students.
13. Avoid Impulse Buying
Make a Shopping List
When you're going grocery shopping, make a list and stick to it. This can help prevent impulse buys, which can quickly add up.
Earn Everything… nearly!
Join Opinion Outpost, one of the few faithful and honest survey panels and earn cash and gift cards for your opinion. Stack your points and redeem them: Simple! No hidden fees and completely free!


Wait Before Making Big Purchases
If you're considering making a large purchase, give yourself time to think it over. This can help prevent regrettable impulse buys.
Shop with a Budget in Mind
When shopping, especially for non-essential items, have a budget in mind and stick to it.
14. Save on Utilities
Limit AC and Heating Usage
Limiting your use of air conditioning and heating can save a significant amount on utility bills. Dress appropriately for the weather, and use fans or blankets to adjust your comfort level.
Use Energy-Efficient Appliances
Whenever possible, use energy-efficient appliances and light bulbs. They can be a bit more expensive upfront but will save you money in the long run.
Limit Water Usage
Be mindful of your water usage. Taking shorter showers, not leaving the tap running when you brush your teeth, and only doing full loads of laundry can all help reduce your water bill.
15. Apply for Scholarships and Grants
Research Opportunities
There are countless scholarships and grants out there for college students. Research and apply for as many as you qualify for. Websites like Fastweb can help you find opportunities.
Apply Early and Often
Many scholarships and grants have early deadlines, and some are on a first-come, first-served basis. Apply early and often to increase your chances of receiving aid.
Don't Disregard Smaller Awards
Every little bit helps. Even smaller scholarships and grants can add up and help reduce your college expenses.
16. Use Second-Hand Stores
Buy Used
Second-hand stores can be great places to find clothing, furniture, kitchen appliances, and more at significantly lower prices than buying new.
Sell Unwanted Items
If you have items you no longer need, consider selling them. This can earn you a bit of extra cash and help keep your living space clutter-free.
Swap Items with Friends
Consider organizing a swap meet with friends. It can be a fun way to update your wardrobe or exchange items without spending any money.
Tools to Help You Save Money in College
Managing finances can be a daunting task for a busy college student. Thankfully, several tools can help make this process more straightforward. Here are six highly-rated ones that can assist you in saving money:
1. Mint
Mint is a comprehensive personal finance tool that allows you to track your spending, create budgets, and manage your bills in one place. It also provides free credit score updates, which can be beneficial if you're using a credit card to build your credit history.
2. You Need A Budget (YNAB)
YNAB is a budgeting tool designed to help you stop living paycheck to paycheck and save more money. It uses a unique approach to budgeting, where every dollar you earn is assigned a job, making it easier to track your spending and savings.
3. Honey
Honey is a browser extension that automatically finds and applies coupon codes at checkout when you're shopping online. This tool can help you save money on books, supplies, groceries, and other college essentials.
4. Chegg
Chegg offers a range of services for college students, including discounted textbooks, study resources, and online tutoring. This platform can help you save a significant amount on textbooks and other study materials.
5. PocketGuard
PocketGuard is an app that gives you a clear view of your financial picture and helps you stay on top of your spending. The app also identifies recurring subscriptions and bills, helping you eliminate unwanted expenses.
6. UNiDAYS
UNiDAYS provides students with exclusive discounts and deals from top brands. You can save on everything from clothing to technology, making it a fantastic tool for stretching your college budget.
Conclusion
College is an exciting, transformative period in your life, but it doesn't have to leave you strapped for cash.
By implementing these 10 money-saving strategies, you can enjoy your college experience without financial stress, setting the foundation for smart money habits that will benefit you long beyond graduation.
Related Posts:
Earn Everything… nearly!
Join Ipsos iSay, one of the few Faithful and Honest survey panels and earn prizes, gift cards and donations. Stack your points and redeem them: Simple! No hidden fees and completely free!