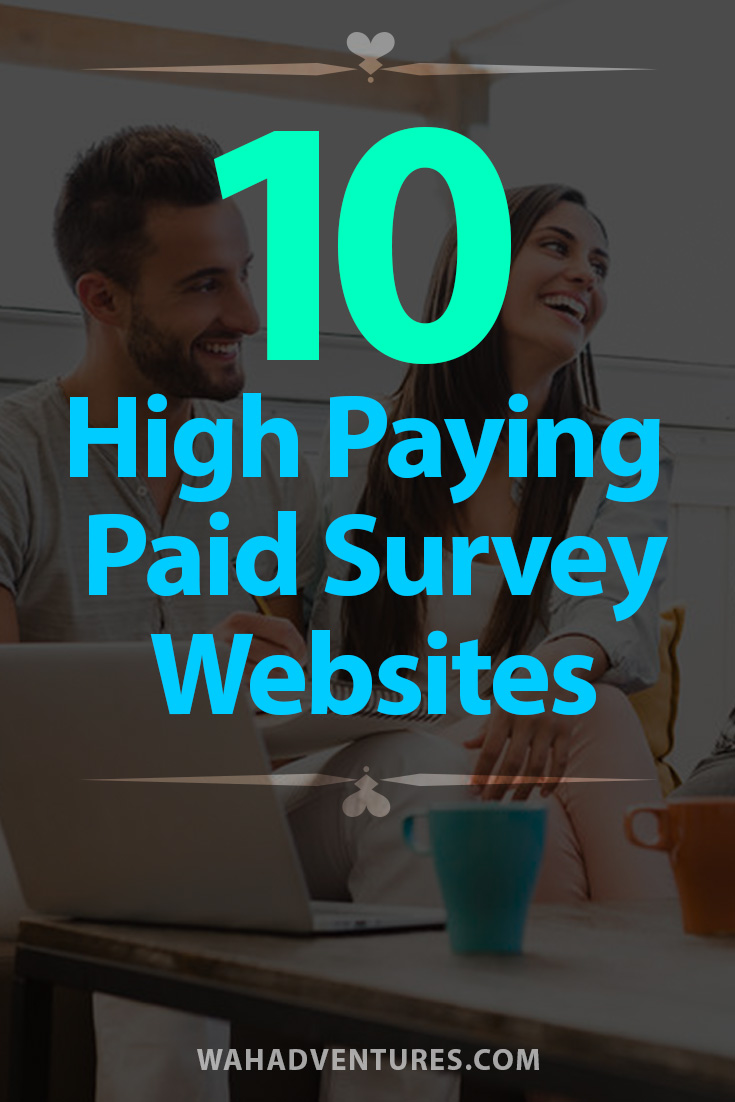 When I was in college, I found myself with hours between classes and nothing much to do.
After being in classes all day I needed a break from studying, and I tried to find a rewarding way to spend my time.
This is when I found paid survey sites.
Since then, I have been through many different life stages – having full-time employment, working freelance, having children, traveling – and through each stage, there has always been a small amount of time most days that I can dedicate to surveys.
Although I have never made millions from surveys, I have always seen the rewards I do make as a way to treat myself and the people around me – without needing to spend my own money.
My favorite rewards are vouchers for stores that I already love to shop at, vouchers to go to the cinema, or cash so that I can buy whatever I like.
People might think that the rate of return is less than impressive – but it depends on how you look at it!
I complete online surveys while watching TV, waiting at the doctor's office, when a friend is running late to our meet-up – anywhere I have an internet connection and a few minutes spare.
It's not like I am doing anything else with that time!
Plus, I really do love the opportunity to have my opinions influence products that I see on the shelves of my local shops.
If you find the right sites, paid surveys are a great way to turn your spare time into some great rewards.
They are free to join, simple to participate in and offer a huge range of ways that you can benefit.
You might get to test new products, influence the packaging and pricing of items you regularly buy, and can receive many other great advantages.
Let's look at why good quality paid survey sites are definitely worth signing up for.
How Can You Find The Best Sites?
I've already done the hard work for you – at the end of the page you will find the top 10 recommended companies that will give you the best opportunity to earn and the most reward for your time.
However, here I have also included a brief description of 10 websites in total that you should try out – that should be more than enough to get started.
10 High Paying and Legitimate Online Survey Sites (all are free to join):
1. Swagbucks
Swagbucks is a leading legitimate survey site with a difference that makes it stand out above other sites – it offers the widest range of money-making opportunities out of any site I have used.
Swagbucks is affiliated with some of the biggest worldwide brands, and has an A+ rating from the Better Business Bureau, so you know it's trustworthy.
Swagbucks members can watch videos, use coupons, shop with cash back in the form of points, and have many other options – all earning you points.
Another stand-out feature that Swagbucks offers is one of the best referral programs around – as well as cash bonuses if someone signs up using your referral, you will receive 10% of their earnings for as long as you both are members.
Members are able to redeem their points, called SB, on a huge range of options including vouchers, PayPal deposits and charity giving.
There is no minimum amount for redemption.
There really are almost no downsides to joining SwagBucks.
Join SwagBucks here or read review.
2. Vindale Research
VIndale is a trustworthy website that also offers a number of ways its members can earn extra cash, including watching videos and clicking affiliate links sent via email.
It is available on multiple platforms, such as mobile, tablet and desktop computer, which makes it easier to complete surveys on the go.
Vindale offers only cash as a reward scheme, which might be a negative or a positive depending on your preference.
The cash out limit is unfortunately quite high, and when you do cash out it can take up to 5 days to receive payment – although that is much better than some other sites.
Vindale Research is good for frequent, easy-to-complete opportunities to earn.
While you will definitely see rewards from this company, it is probably better that you use it with other sites so that you are making the most of your opportunities.
Vindale Research also sends a lot of email, so a separate address is essential.
Join Vindale Research here or read review.
3. Pinecone Research
The question with Pinecone Research is not should you sign up, but can you?!
Pinecone research is very exclusive, and sign-up is only via banners and occasional invitations to apply.
Very rarely the panel is opened up via the website.
If you are given the opportunity, Pinecone Research has one of the highest rates of payment for survey completion, and also offer product testing to some of their members.
There is no minimum to cash out, so members can receive their cash after the first survey if they want to.
The two most common complaints are not being able to sign up, and that the surveys are infrequent.
Because of this I recommend that if you do get the opportunity to sign up – take it, but also supplement it with some other top paid survey sites.
Join Pinecone Research here or read review.
4. My Survey
My Survey is a respected and legitimate site that focuses primarily on online surveys.
They have some cutting edge technology like webcam surveys which monitor viewer's facial reactions to visual cues, and they also make their website available on multiple platforms such as mobile, tablet or computer.
They do offer occasional product testing opportunities.
My Survey points are worth different amounts of cash based on what you choose to redeem them on – for example, a $10 charity donation might cost 1,100 points, while a $10 PayPal donation costs 1,200 points.
There is a 1,100 point minimum balance before redemption.
My Survey is a trusted, reliable paid survey site that is worth signing up for as part of a range of survey-taking options.
Join MySurvey here or read review.
5. Ipsos I-say
Ipsos I-say offers surveys primarily as a money-making opportunity, and members are able to use it on a range of devices.
Ipsos I-say emphasizes the community of members, and allows them to create their own polls and discussions.
Ipsos I-Say has a range of redemption options available, with an 1,100-point minimum balance required before redeeming (about $10, depending on how you want to cash it in).
They also offer a Sweepstakes for new members, and encourage referrals with great incentives.
Ipsos I-Say does not send as many invitations as some other sites, but their biggest point of difference is how they reward loyalty – rates of pay increase depending on how active a member has been, and how long they have held their membership.
This is another example of a great site when used in conjunction with other sites that will offer more surveys to complete.
Join Ipsos I-Say here or read review.
6. MyPoints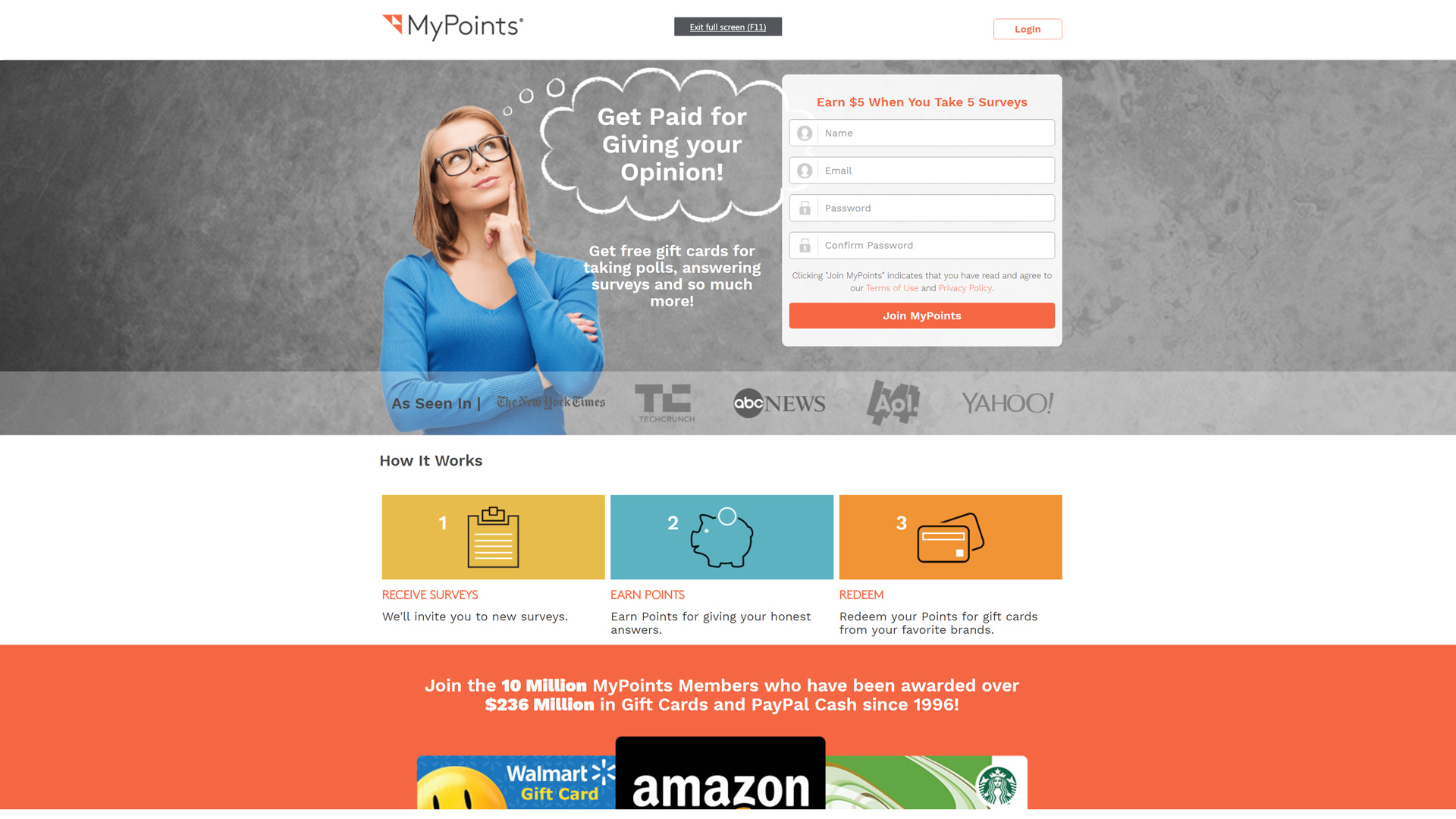 MyPoints offers a wide range of different opportunities to earn, with surveys being only a small slice of the pie.
MyPoints members can shop through links on the website to earn points, watch videos, complete simple surveys and follow email links.
There are coupons to use, a search bar to download, and games to play – there are so many ways to earn!
There is no standard conversion rate of points-to-rewards, and MyPoints sometimes has special "deals" where members can redeem certain vouchers for a lower number of points.
There is a wide range of reward options, and points expire within a year of the account being inactive.
MyPoints is a site where you can choose how much time you want to invest in all the different money-making options, but the surveys are not really the main focus.
Even with so many different choices, it is still worth signing up for additional sites that will regularly send you surveys.
Join MyPoints here or read review.
7. InboxDollars
InboxDollars started as a cash-back rewards system for online shoppers, and has grown to include paid surveys and other market research tools.
They offer product testing and online focus groups to supplement the surveys on offer.
There are also emails to be read that will earn you points, and members are regularly offered discounts.
InboxDollars has a very strict policy on completing surveys carefully, so no carelessly speeding through is tolerated.
For the members who do carefully earn their points, there is a $30 minimum cash out amount.
InboxDollars will generate a large number of emails coming into your account, so a separate account is essential.
They have an emphasis on paid trials – but be aware that if you don't cancel your trial after the stated period, you might be liable for any ongoing costs.
InboxDollars doesn't offer top rates for taking surveys but does give a good variety of earning options.
Join InboxDollars here.
8. Global Test Market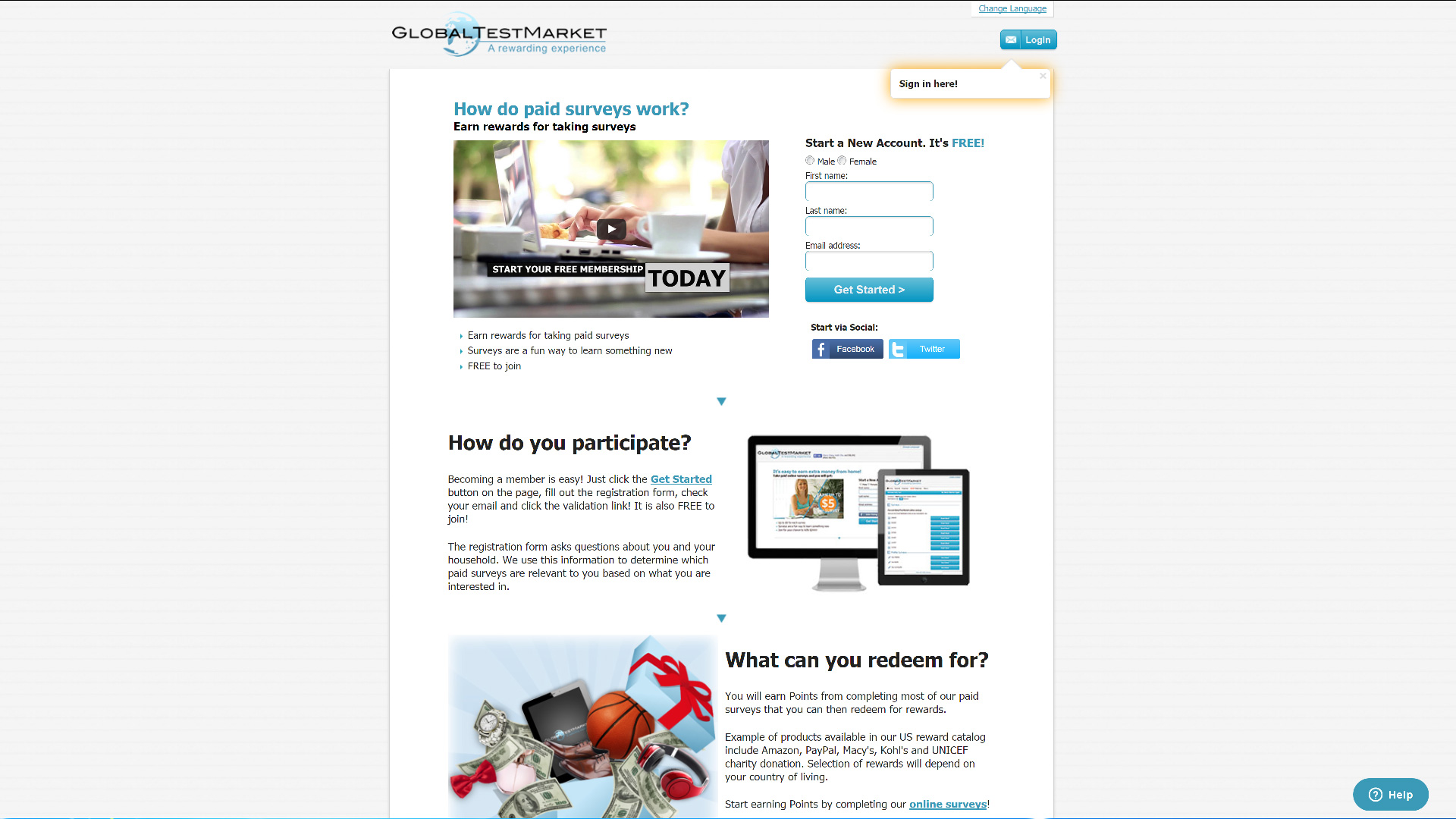 Global Test Market focuses on paid surveys, and works with some of the leading brands to bring mostly interesting, relevant surveys.
It is not uncommon for members to be asked to complete a survey about a product from a major brand that has not been released for general sale.
Members receive points for taking online surveys, and they must wait for a minimum balance of 1,200 ($50) before cashing out.
When they have accumulated enough points, there is a large number of options for redemption.
There is also a sweepstakes that is entered into by completing surveys – the more surveys you complete, the higher your chances are of winning.
Global Test Market is a great option for taking surveys, but with such a high minimum balance it is better to use other sites at the same time to spread out your earnings.
Join Global Test Market here or read review.
9. Toluna
Toluna is a survey site with an emphasis on their vibrant community of users who create their own mini-surveys and polls, allowing regular members to get opinions from a large database of people.
Toluna have an app to make completing surveys even easier.
In addition to the usual cash and vouchers, Toluna has an initiative called "Gifties" where you can use a small number of your points to purchase a chance to win an item valued at a much higher rate.
If you win, you have purchased a great item at a very low price – if you lose, your points have gone.
Toluna also holds a regular sweepstakes.
Toluna is another great, trustworthy site to supplement your earnings from online surveys.
Join Toluna here or read review.
10. Opinion Outpost
Opinion Outpost is primarily a paid survey site, and they do it well.
Members are more likely to qualify for surveys, and if they are screened out it tends to happen quickly, so they can move on to the next survey.
Most people have one or two invitations emailed per day – some earning them points, while others are in exchange for sweepstakes entries.
Surveys from Opinion Outpost will normally earn you between 5 – 30 points depending on complexity, and there is a 100 point minimum cash out ($10).
Opinion Outpost offers a wide range of rewards but also achieves an instant deposit of funds into PayPal if that reward is selected – some other companies take weeks.
It is worth becoming a member of Opinion Outpost for the surveys, but this site alone will not give you the best earning potential.
As with similar sites, it is best used with other paid survey opportunities.
Join Opinion Outpost here.
Why is Market Research Important?
You might not have realized it, but you have influence over the people trying to sell you things!
Major companies are interested in your opinions because they want to sell as much of their product as possible, which means making their product as appealing as they can.
There are a number of ways that experts do that, but their marketing expertise means nothing if the end result does not appeal to people like you.
Before the internet, the only place to conduct research was with small focus groups, and by offering surveys in person or by phone.
Now that there are websites devoted to linking up major brands with huge groups of consumers, it is easier than ever for companies to get opinions from a large group and for you to access rewards for completing some easy tasks
How Can They Afford to Pay You?
Major companies and brands spend millions on research, and survey websites simply provide a service where they join people looking to earn extra money with the companies who want their opinions.
The company decides on the kind of people whose opinions they would like (Single, University-educated women? Married men with an interest in sports?), and an amount of money they agree to spend.
The online surveys panel does all the rest of the work for them.
From their huge pool of members, the market research group selects some people to offer the survey to, and if candidates pass the first set of profiling questions and provide sufficient responses they are given a reward for their time and effort.
The money to pay you comes from the client company's lump sum divided up between members (after the website has taken their cut, of course!).
Other ways that the sites get money to pay you is by offering affiliate links – links that will give the website a percentage of the profit if you make any purchases through that link.
Most websites also feature advertising which will make them money.
There are lots of legitimate market research websites that use this system to pass profits on to members.
To get some of these rewards for yourself, all you have to do is sign up and start answering questions.
However, before you do that it is important to be sure that the site you are looking at is a legitimate way to earn cash and rewards.
Is it a Scam? How Can You Tell?
Unfortunately, there are a few scams around – but fortunately, there are some easy ways to spot them!
The sites I will show you here are trusted and recommended, so you can feel safe clicking those links.
However, if you choose to look somewhere else, here are some things to look out for:
They want credit card details or other payment. None of the sites recommended here will ask you to pay them – after all, they want to pay you!  Some will even pay you a sign-up bonus.  If a site is asking you for payment, beware.  Even if it seems like a small amount, some scammers rely on small amounts from many people to very quickly add up to a big total.
They don't have a clear privacy policy.  Even though these things can be faked, some scammers don't bother to make a policy they have no intention of keeping.  Your personal information can be sold, so don't give it to a website that isn't very clear about how they will use the data you give them.
You can't find contact information and they aren't affiliated with scam watch companies.  It's often hard to reach anyone for information on a scammer site, and they don't put details of other affiliated companies.  It's not hard to see why!
Their claims seem too good to be true.  There are old sayings about this – "If it seems too good to be true, it probably is" and, "There's no such thing as a free lunch!"  If someone is offering you $200 a day through their paid survey program, they are almost certainly either exaggerating or completely lying.  $200 a month is more realistic for most people.
Do an online search.  Be aware that when reviewing survey sites, many disappointed people like to shout "SCAM!" – when really they just didn't follow requirements or were expecting too much.  The internet should still be your first place to check a site's safety and reliability.
Only follow trusted links.  Only click through links that are specifically mentioned on trusted sites – some websites have little to no control over the banner ads displayed on their sites, so just because there is a banner does not necessarily mean that it is endorsed by the website you are on.
Privacy policy, contact information, affiliation with reputable internet checks are all good areas to be aware of – but they can be faked.
The best way to access a trustworthy site that will reward you and keep your information safe is to get recommendations – and that's what we're here for!
How Safe is Your Personal Information?
Some people are concerned about giving so much personal information to a website.
If you are with a reputable site, then they will have a privacy policy you can read through.
All good sites should promise not to spam, not to share your information with anyone else, and to keep your information safe.
One way your information might get leaked from a safe site is if you follow links or banners, even to affiliate companies – they may not have the same excellent standards as the company you signed up with, so each time someone asks for your information, read their policy.
Most trustworthy sites will aggregate your information before sending it – that means that the companies that pay for your information might be able to learn that 28-year-old, high school-educated women from California prefer blue packaging, but not your name or any other identifying information.
It will also be mixed in with all the information from other people, so you are basically unidentifiable.
The Most Common Incentives (and How To Choose Which Is Right For You).
Different sites offer different incentives – that's not surprising information.
What you might not have considered is how those rewards affects your decision to join.
Most sites offer points that can be redeemed for rewards (maybe because the actual dollar amount looks quite small – 100 points looks much more appealing than 10 cents!).  Others do offer cash amounts directly.
Sometimes those points translate directly to dollars, and sometimes there are incentives to redeem on gift cards over cash, for example, or they might sell higher denomination gift cards at a lower rate to encourage you to keep earning before you redeem your points.
How To Sign Up
Once you have decided which sites to join (or have decided to join all of them!), click on the link and follow it to their website.
Check that the company operates in your country, and that you meet the requirements for signing up – some have age restrictions, and some will not allow new intake when their quota of members is full.
Then comes the boring part – even if you just skim read, have a look through the site's FAQ section.
It is really important to have an idea of what you are getting yourself in for, and I have found most sites are refreshingly open and honest about how they operate.
If you understand the terms and conditions of using the site, you are greatly reducing your chances of making a mistake, which could lead to your account being deleted.
For example, some sites have rules against two people from the same household signing up – an innocent mistake to make, but it could get you barred.
Once you have read the information, sign up is usually just a few personal details including your email address, which you will most likely have to confirm by clicking on a link that is emailed to you.
Once you have confirmed your account, most sites will offer you chances to give them more demographic information in the form of short and unpaid questionnaires.
These will help the site to send you the best surveys for you.  Complete as many questions as possible to get the most out of the site.
Once you have signed up, confirmed your email and have filled out your personal information, you are ready to go!
Spend some time familiarizing yourself with the site, and remember to check your emails regularly to make the most of any new opportunities.
It's time to get rewarded!
How to Make Real Money Taking Online Surveys
There are normally several ways that sites will offer you opportunities to earn points.
Surveys are sometimes emailed directly to you, and sometimes are available on the website when you log in regularly.
Most sites will give you a basic breakdown of the points you can earn, and an approximate time that it will take.
Some sites are better than others at estimating how long the survey will take – it's always worth considering if the points you are receiving is worth the effort you will put in.
Once you find a survey and it is available for you to begin, follow the link and start filling in your information.
Almost all surveys will start with screening questions.
These are designed to check that you are in the right demographic for the answers they want.
Some legitimate websites do a better job than others at pre-screening you based on your profile information so you are more likely to qualify for surveys – it can be frustrating to complete many questions only to be told you do not qualify.
If you do qualify, answer all questions as honestly as you can.
The key is to work quickly but not to rush your questions too much – market research companies often have ways of working out that you are not giving the task the attention it requires, and you can get penalized for that.
Once the task is completed, double check that you have received the promised points (although some sites take a while to approve and release the points) and then start on the next one!
The Most Common Rewards Are:
PayPal deposits
Online vouchers
Charity giving
Sweepstakes entries
Physical Vouchers or Checks
Goods (such as electronics)
Rewards can help determine which site is right for you, based on your expectations and needs.
Do you love to give to charity, but find it hard to spare the cash?
Some sites will allow you to redeem your points as charitable donations, which allows you to help others.
Some sites have sweepstakes as a large part of their earning scheme – if you feel lucky, that might work for you.
If you prefer solid rewards in exchange for your time, you might look elsewhere.
Time it takes to redeem points is very often a consideration as well – if you are saving for a special occasion (such as gift cards to give as Christmas or birthday gifts) you will need to be aware that some sites have processing times that can take weeks, whereas some offer almost instant redemption.
There are a lot of aspects to take into consideration, but your time is valuable and deserves to be rewarded – so rewards should definitely be something you think about when deciding where to spend your time.
Other Ways to Earn
Not all of these earning options are available on each site, but some additional ways to earn might be:
Shopping through links for cash back.
Redeeming coupons
Using a company search engine
Installing toolbars
Referral programs for friends and family
Playing games
Watching videos
Product testing
Sweepstakes
Tips For Getting The Most 
Think about your purpose for earning rewards.  Is it to go towards household expenses, or as an extra treat for you?  Could you use the gift cards as presents for friends and family?  Having an idea about what you want to achieve in advance helps motivate you to earn – and lets you make good decisions when it's time to cash out.
Create a dedicated email address.  Signing up for market research companies can result in a lot of email.  It shouldn't be spam (meaning email you did not sign up to receive) but getting notifications for every survey from every website can be a lot of information.  There are many platforms like Gmail and Outlook that offer free email addresses that can be checked when you have time.
Sign up for multiple sites.  Some sites pay higher rates but have less surveys, some have frequent opportunities but less compensation.  The key is to have a range of both!  You will quickly learn what sites suit you best and are getting you the most rewards.  Sign up to a range of recommended sites and then you can pick and choose the tasks that suit you.
Be honest.  It can be tempting to try to give the answers that you think might qualify you for more surveys, but you never know what they might be looking for.  For example, if a company asks you if you suffer from chronic back pain – it could be someone wanting to sell a pain relief medication designed for back pain, or a sports product that would not work for someone with back pain. You ca  not guess what the best answer is!  If you answer honestly, you are less likely to be barred and are providing quality information that might influence some branding decisions.
Keep your profile up to date.  Getting exempted from surveys based on the initial questions is very frustrating, even for those sites that offer a small compensation.  Keeping your profile and demographic information up to date is the best defense against being sent surveys that aren't relevant to you.
Consider all your demographic information.  Remember to include new life events – the birth of a child, an increase in salary range, graduating up to a new level of education, or even adopting a pet can mean you receive more survey opportunities.  You will often be asked to list your interests – make them as wide and diverse as you can without being dishonest, in order to broaden your opportunities.
Tips for Maximizing Your Profit
Make informed choices when redeeming points.  Each site is different, but sometimes there is a difference in the redemption rate for gift vouchers and cash deposits, for example.  Vouchers are often cheaper to buy, but they would only be worth it if you would normally spend the money at that shop anyway.
Choose your surveys.  If you have followed advice and signed up for multiple sites, you should have a variety of options to choose from.  Of course they will not earn you much, but some surveys are definitely worth more than others.  Choose the ones that will give you the best return on your time to complete first, and move on to the others if you still have time.
Spend gift vouchers.  One of the most common reasons that people miss out on using their vouchers is that they forget to use them before they expire!  Make a reminder and redeem them at the first opportunity to make sure your hard work doesn't go to waste.
Points expire too.  In most cases, points do have an expiry date, and although it rarely happens for no reason, accounts can get deleted.  If there's no real reason to wait for a large sum of points, consider cashing out small amounts often.
Check emails regularly.  Surveys often close after the required number of participants is reached, and the best ones often have the most people anxious to fill it out.  Keep up to date on surveys and fill them out as soon as possible to get the most benefit.
Refer friends and family.  Using your rewards vouchers as a gift is a good way to get the conversation started.  If you do have people successfully sign up through your referral, some sites will actually give you a percentage of their earnings for as long as you are both signed up – that's an amazing way to earn a basically passive income.
Set time aside.  To make the most out of surveys, it does help to have a dedicated time each day to check emails and complete surveys.  Ideally that will be while doing something else so you can multitask.  Television is a great way to unwind while filling in surveys, for example.
Frequently Asked Questions
How Much Can I Expect To Earn?
It really does depend on how much effort you are willing to put in.
Some people make $250 a month relatively easily, whereas some people quit within their first month because they haven't seen any rewards.
You decide how much time is worth investing.
Do Some Sites Pay More Than Others?
The chances are that you will earn more if the survey takes a long time to complete, has more difficult or specific questions, requires further commitments, or needs a very specific type of demographic.
Sometimes companies are in a rush and offer higher incentives to fulfill their quota sooner.
Surveys normally range from 0.25 cents to $30.
Can I Really Get Cash And Vouchers For My Time?
You absolutely can get rewarded for your time and opinions, as long as you choose trustworthy sites with good pay rates, and stick with it.
Keep your expectations realistic – I can't say enough that this is supplementary income and will probably not earn enough to equal even part-time work.
However, I find that when I receive my vouchers, I don't think about how many surveys they are worth – I just go shopping!
The rewards are definitely worth the effort, especially if you use your spare time to get the work done.
Which sites are worth joining?
The ten sites listed above are all worth considering, but check out Swagbucks, Ipsos i-Say, Vindale Research, MySurvey, Pinecone Research and InboxDollars.
Not all market research companies are created equal, and these sites are the most likely to offer you higher paying tasks that will lead you on the path to greater rewards.
Real cash and rewards for giving some opinions in your spare time – it's a really great swap!
Why don't you sign up now, and start earning today!