The 10 Best Black Friday Hacks to Save Money
Updated on: by Amy Kennedy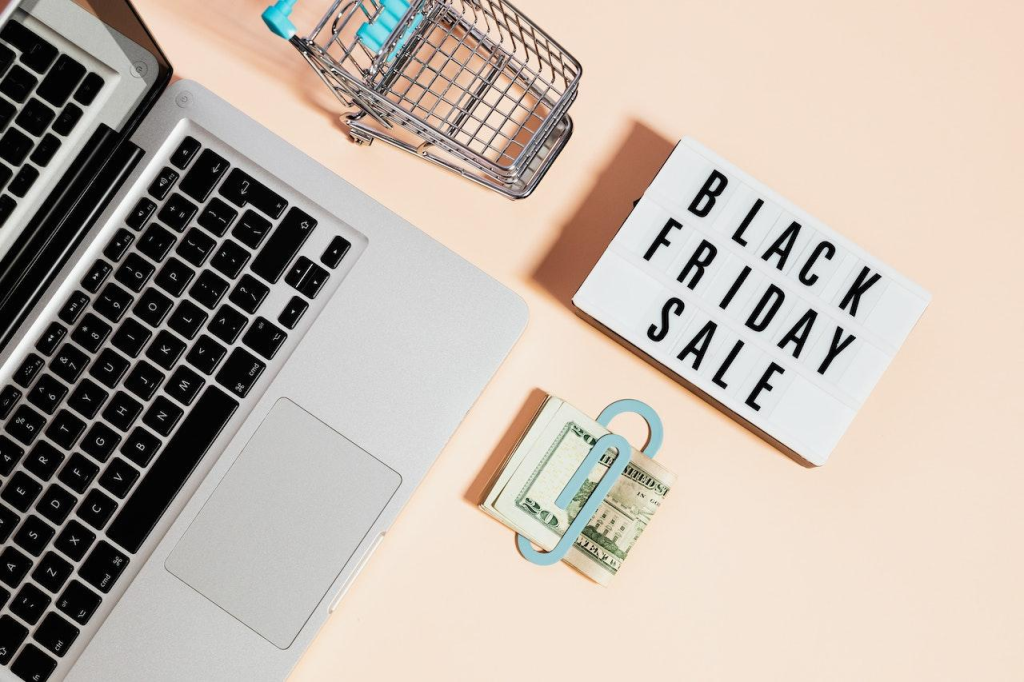 Black Friday, that exhilarating shopping frenzy, is the ultimate annual event for deal hunters.
Need Easy Extra $350+/Month For Free?
It's a day when shoppers across the country gear up for incredible discounts and jaw-dropping offers.
But here's the secret: Black Friday isn't just about battling the crowds and hoping to snag a bargain.
It's an art, a strategic game, and a skill that can save you a significant chunk of change during the holiday season.
To truly master the Black Friday experience, you need more than just a shopping list – you need a set of hacks that can elevate your savings game.
This guide unveils the top 10 Black Friday hacks that will help you navigate the chaos, maximize your savings, and emerge as a true Black Friday champion.
Best Black Friday Hacks to Save Money
Here are some money-saving hacks you can adopt when shopping on Black Friday:
1. Subscribe to Retailer Newsletters
Subscribing to retailer newsletters is a straightforward yet highly effective strategy for unlocking exclusive Black Friday discounts.
Many stores provide special promotions and early access deals to their subscribers.
By signing up, you not only stay informed about upcoming Black Friday sales but also often receive unique discounts that are unavailable to the general public.
To make the most of this tactic, create a dedicated email folder for these newsletters.
This ensures your inbox stays organized, making it easier to sort through promotions and access exclusive deals as they roll in.
2. Follow Social Media Channels
Retailers are increasingly using their social media platforms to promote Black Friday deals.
Following your favorite stores on platforms like Facebook, Twitter, and Instagram can grant you access to sneak peeks, limited-time offers, and flash sales.
Social media becomes a valuable tool for staying ahead of the curve and fine-tuning your Black Friday shopping strategy.
Engage with the content, turn on notifications, and bookmark posts to help you remember important sale dates, ensuring you're well-prepared to seize the best deals.
Need Easy Extra Cash?
Pinecone Research, a leading name in online survey panel honesty, absolutely guarantees $3 cash for every survey you complete!
Take advantage of their time limited New Membership drive and register NOW. Join today: 100% free!


3. Use Cashback and Reward Programs
To maximize your savings on Black Friday, it's wise to enroll in cashback and reward programs.
Various websites and credit cards offer cashback rewards for shopping through their portals.
When you shop through these programs, you can earn a percentage of your purchase amount back as cash or accumulate points that can be redeemed for future purchases.
This approach essentially provides an extra layer of savings, allowing you to stretch your Black Friday budget further and get more value out of every dollar spent.
4. Shop Online Early
One of the strategic advantages of Black Friday shopping is the opportunity to make purchases online a day or two before the in-store rush.
Many retailers initiate their online Black Friday sales ahead of the main event.
This early access not only lets you beat the crowds but also ensures you secure the items you desire before they potentially sell out.
By shopping online early, you can comfortably browse deals from the comfort of your home, making it a convenient and efficient way to kick off your Black Friday shopping spree.
5. Stack Coupons and Discounts
On Black Friday, a plethora of coupons, promo codes, and store discounts become available.
To maximize your savings, get creative and combine these offers.
The technique of "stacking" involves using multiple discounts simultaneously.
You might pair a storewide discount with a clearance sale and then apply a coupon on top of it.
By implementing this strategic approach, you can witness a substantial drop in your overall price, ultimately ensuring you secure the most significant savings possible during the Black Friday shopping extravaganza.
6. Consider Refurbished Items
While seeking deals, don't underestimate the value of certified refurbished products.
These items are typically as good as new, come with warranties, and boast price tags significantly lower than their brand-new counterparts.
Keep an open mind when considering refurbished electronics, appliances, and gadgets.
Opting for these items allows you to enjoy high-quality products while stretching your Black Friday budget further, making it a cost-effective way to acquire the items you desire.
7. Shop Strategically
Rather than taking a scattergun approach to Black Friday shopping, focus on specific product categories offering the highest discounts.
This targeted approach allows you to prioritize items that genuinely interest you and that align with your shopping goals.
Conduct thorough research to identify which stores are offering the best deals for the products you seek.
By being strategic in your purchases, you ensure that your Black Friday shopping expedition maximizes the value you receive for your hard-earned money.
8. Price Match Policies
Some retailers offer price matching, a policy where they agree to match a lower price if you find the same item at a lower cost elsewhere.
Being aware of stores with price match policies can be a game-changer on Black Friday.
By keeping an eye on competitors' prices and having the relevant information handy, you can take advantage of price matching to secure the best possible deal without the hassle of visiting multiple stores.
This strategic approach saves you time and effort while guaranteeing you get the most bang for your buck.
9. Bundle Deals
During Black Friday, keep an eye out for bundle deals offered by retailers.
These packages often combine multiple related products and offer them together at a reduced price compared to purchasing each item individually.
By considering bundle deals, you can reap significant savings, especially if you originally planned to buy the included items separately.
Whether it's electronics, home appliances, or other items of interest, exploring these bundled offerings can lead to impressive discounts and a more cost-effective Black Friday shopping experience.
Earn Everything… nearly!
Join Opinion Outpost, one of the few faithful and honest survey panels and earn cash and gift cards for your opinion. Stack your points and redeem them: Simple! No hidden fees and completely free!


10. Shop Outlet Stores Online
Outlet stores are renowned for their discounted prices, and many of them have established online shops.
When planning your Black Friday shopping strategy, don't overlook these digital outlets.
Explore outlet stores that cater to your interests or specific product preferences.
You might discover hidden gems, top-quality brands, and remarkable bargains.
Shopping at online outlet stores on Black Friday is an excellent way to secure premium products at exceptionally low prices, all from the comfort of your home.
Online Tools to Help Track Black Friday Price Drops
If you want to track Black Friday price drops, the tools below will help you go about the process:
CamelCamelCamel is a powerful price tracking tool specifically tailored for Amazon shoppers.
It provides an extensive price history for products listed on Amazon.
With this tool, you can create price drop alerts, allowing you to receive notifications when a product's price falls to your desired level.
CamelCamelCamel's price history charts help you make informed decisions by showing you how a product's price has fluctuated over time.
Whether you're hunting for Black Friday deals or tracking prices year-round, this tool is invaluable for Amazon enthusiasts.
Honey is more than just a coupon-finding browser extension; it's a comprehensive savings tool.
In addition to its coupon feature, Honey offers price tracking and alerts.
When you add items to your Honey Droplist, it monitors price changes over time and notifies you when prices drop.
This means you can effortlessly track Black Friday deals and any price fluctuations on your favorite online retailers.
With Honey, you'll not only find coupons but also maximize your savings by purchasing items at their lowest prices.
Slickdeals is a vibrant online community where users share, discover, and discuss deals from various retailers.
One of its standout features is Deal Alerts, allowing you to set up notifications for specific products or categories.
During Black Friday, this feature becomes exceptionally handy. You can configure alerts to inform you when a deal matching your criteria is posted.
This way, you'll be among the first to know about Black Friday discounts and can swiftly take advantage of the hottest deals.
ShopSavvy is a mobile app that transforms your smartphone into a powerful shopping companion.
With its barcode scanning feature, you can scan product barcodes in-store to instantly compare prices online.
Additionally, the app provides price history charts, allowing you to track price fluctuations over time.
This real-time price comparison ensures you're getting the best deal, especially on Black Friday when prices can change rapidly.
PriceBlink is a browser extension that automatically searches for better prices while you shop online.
It not only compares prices but also displays coupons and offers for the product you're viewing.
This tool ensures that you're always aware of the best available prices and discounts.
It's a handy way to track price drops and take advantage of Black Friday deals as they emerge.
PriceSpider goes beyond simple price tracking. It offers in-depth insights into product availability, reviews, and more.
This tool is especially valuable when making significant purchases on Black Friday.
It helps you monitor prices, assess product quality, and make informed decisions by providing a comprehensive overview of the product landscape.
Keepa is a versatile tool for tracking price changes on Amazon.
It offers price history charts, customizable price drop alerts, and browser extensions.
By utilizing Keepa, you can monitor Amazon product prices and receive timely notifications when your desired items reach your target price.
Paribus is a unique tool that focuses on price tracking through email receipts.
It scans your email inbox for digital receipts from online purchases and tracks the prices of those items.
If it finds a lower price or a price drop within a specified timeframe, it helps you get a refund for the price difference.
This automated process can be particularly beneficial during the busy Black Friday shopping season.
Tracktor is a Shopify app designed to help customers track the price and availability of products from Shopify-powered online stores.
It's a valuable tool if you plan to shop from Shopify-based retailers during Black Friday.
Tracktor lets you set up price alerts, ensuring you don't miss out on any discounts.
Price Tracker by Price.com is a browser extension that assists you in tracking prices across various websites.
It automatically compares the prices of the product you're viewing with those on other online retailers.
Additionally, it provides historical price data, giving you a clear picture of how prices have changed over time.
This tool is particularly useful for tracking Black Friday price drops and ensuring you're getting the best deals available.
Strategies for Finding Early Black Friday Deals
There are various ways you can find early Black Friday deals, including the following:
1. Join Loyalty Programs
Joining loyalty programs offered by retailers can provide you with exclusive access to early Black Friday deals.
Retailers often reward their loyal customers by giving them a head start on discounts and promotions.
These programs may offer perks such as early access to sales, special discounts, and even personalized recommendations based on your past purchases.
By becoming a member of these loyalty programs, you increase your chances of securing early Black Friday bargains while enjoying other benefits like faster checkout and member-only events.
2. Monitor Deal Aggregator Websites
Deal aggregator websites like BlackFriday.com collect and publish information about Black Friday deals from a wide range of retailers.
These sites often feature previews of upcoming deals, including those that may be accessible before the official Black Friday date.
By regularly checking these aggregator websites, you can stay up to date on early Black Friday offers from your favorite stores.
3. Sign Up for Deal Alerts
Deal alert services like DealNews and Brad's Deals allow you to sign up for email notifications tailored to your preferences.
These services send you alerts about early Black Friday deals and promotions based on your interests.
By subscribing to these alerts, you'll receive timely notifications about discounts and offers, helping you prepare for your Black Friday shopping in advance.
4. Join Online Communities
Participating in online forums and communities focused on deals and discounts is a fantastic way to learn about early Black Friday deals.
Communities like Reddit's r/blackfriday are filled with members who share information about early discounts they discover.
These communities often provide valuable insights, insider tips, and links to promotions that can give you a head start on your Black Friday shopping.
5. Contact Customer Service
Reaching out to the customer service teams of your favorite retailers can yield valuable information about early Black Friday deals and promotions.
Inquiring via phone, email, or live chat about any upcoming sales, discounts, or early access opportunities can provide you with insider knowledge.
Retailers may be willing to share details about exclusive offers with their customers, ensuring that you're among the first to know and benefit from early Black Friday deals.
Wrap Up
In the quest for the best Black Friday deals, these strategies are your allies in saving money and securing the hottest discounts.
From tracking early deals to utilizing loyalty programs, price alerts, and online communities, you have a toolkit to maximize your savings.
As you embark on your Black Friday shopping adventure, remember that being proactive and well-informed is key.
By implementing these hacks, you'll navigate the shopping frenzy with confidence, making the most of your budget and snagging the best bargains available.
Related Posts:
Earn Everything… nearly!
Join Ipsos iSay, one of the few Faithful and Honest survey panels and earn prizes, gift cards and donations. Stack your points and redeem them: Simple! No hidden fees and completely free!