15 Best Spotify Alternatives for 2023 (Free or Cheaper)
Updated on: by Amy Kennedy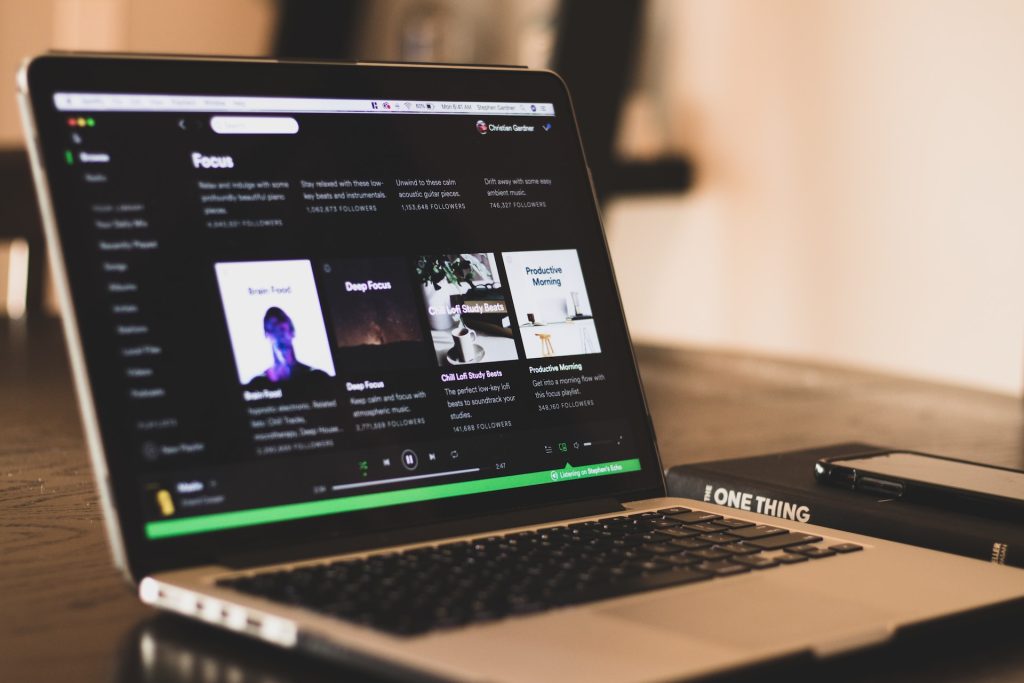 Music streaming has revolutionized the way we experience and enjoy music, and while Spotify reigns supreme as a favorite for many, there are numerous other platforms vying for the top spot.
Need Easy Extra $350+/Month For Free?
As the digital landscape evolves, these alternatives bring their own unique features, pricing models, and user experiences to the table.
Whether you're seeking a more curated experience, better sound quality, or simply a change of pace, these Spotify alternatives for 2023 might be your next go-to.
Overview
Apple's foray into music streaming, Apple Music boasts a robust library and seamless integration with the Apple ecosystem. It's renowned for its exclusive releases, artist interviews, and live radio shows.
Features
Beyond its extensive music library, Apple Music offers curated playlists by genre, mood, and activity. "Beats 1 Radio" brings exclusive interviews and tracks, while the platform also suggests tracks based on your listening habits.
Pricing
Apple Music comes with a monthly subscription fee, but its family plan offers cost-sharing, making it more economical for multiple users. There's also a free trial available for new users to explore the platform before committing.
Advantages
For those invested in the Apple ecosystem, Apple Music provides unparalleled integration with devices like the iPhone, iPad, and Apple Watch. Its exclusives and curated playlists also differentiate it from other platforms.
---
Overview
Amazon Music, part of the retail giant's extensive digital offerings, provides both free and premium listening experiences. Its ties to the Amazon Prime membership make it a preferred choice for many.
Features
Users can enjoy playlists and stations tailored to every mood. With Amazon Music HD, listeners also get access to high-definition audio tracks, enhancing the listening experience.
Pricing
There's a free version with ads, but Amazon Prime members get an ad-free experience with Amazon Music included in their membership.
Amazon Music Unlimited, the premium tier, offers an expanded library for an additional fee.
Advantages
The seamless integration with Amazon Echo and other Amazon devices gives Amazon Music an edge. The option for HD audio quality and its integration with Prime benefits make it a strong Spotify contender.
---
Overview
A successor to Google Play Music, YouTube Music capitalizes on YouTube's vast music video database, making it a versatile choice for both audio and video content lovers.
Features
YouTube Music offers a mix of official tracks, music videos, and user-generated content. Its smart search feature allows users to find songs through lyrics or even vague descriptions.
Pricing
While there's a free version supported by ads, YouTube Music Premium offers an ad-free experience, background playback, and offline downloads for a monthly fee.
Advantages
The combination of music videos and tracks sets YouTube Music apart. The platform's smart search and extensive user-generated content ensure a unique and expansive music experience.
Need Easy Extra Cash?
Pinecone Research, a leading name in online survey panel honesty, absolutely guarantees $3 cash for every survey you complete!
Take advantage of their time limited New Membership drive and register NOW. Join today: 100% free!


Overview
Originating from France, Deezer has grown to cater to a global audience with a vast library of songs and a unique "Flow" feature that recommends and plays tracks based on user preferences.
Features
Apart from its rich music catalog, Deezer offers personalized playlists, podcasts, and even radio stations. The "Flow" feature plays a dynamic mix, introducing users to new music while interspersing familiar favorites.
Pricing
Deezer offers a free ad-supported version. Its premium tiers – Deezer Premium and Deezer Family – come with added benefits like offline listening and multiple account setups, respectively.
Advantages
Deezer's Flow stands out as an innovative music recommendation tool. Its high-fidelity sound option, Deezer HiFi, appeals to audiophiles seeking lossless sound quality.
---
Overview
Co-owned by renowned artist Jay-Z, Tidal emphasizes superior sound quality and exclusive content. It's often the go-to platform for audiophiles and fans seeking exclusive album releases.
Features
Tidal is not just about music; it offers high-definition music videos, exclusive content, interviews, and live concerts. Its dedication to high-fidelity sound provides a distinct listening experience.
Pricing
While Tidal doesn't have a free tier, its Premium and HiFi tiers cater to standard and high-quality sound enthusiasts. Periodic promotions and bundle offers make it more accessible for new users.
Advantages
For those prioritizing sound quality, Tidal's HiFi option offers lossless audio. The platform's exclusive releases and behind-the-scenes content give users a closer connection to artists and their craft.
---
Overview
One of the pioneers in internet radio, Pandora provides both radio-style streaming and on-demand music listening, depending on the subscription tier.
Features
Pandora's strength lies in its music recommendation engine. Users can start radio stations based on artists, songs, or genres, and the platform introduces tracks accordingly.
Pricing
Pandora's basic version is free with ads. Its premium versions, Pandora Plus and Pandora Premium, offer ad-free listening, offline access, and on-demand track selection.
Advantages
The platform's curated radio stations, coupled with its Thumb-up and Thumb-down feature, allow users to effortlessly discover new music tailored to their tastes.
---
Overview
SoundCloud stands out as a platform for both artists and listeners. Independent musicians often upload their tracks, making it a hub for discovering emerging talent.
Features
Beyond mainstream music, SoundCloud hosts remixes, live recordings, and indie tracks. Its community-driven approach allows listeners to comment on tracks, fostering direct artist-listener interaction.
Pricing
SoundCloud operates on a freemium model with a free ad-supported version. SoundCloud Go and Go+ are its premium tiers, offering expanded libraries and ad-free experiences.
Advantages
For those seeking fresh and unique tracks, SoundCloud's vast indie collection proves unmatched. Its artist-centric model promotes new talent and diverse music genres.
---
Overview
Rebranded from its original name, Rhapsody, Napster offers a vast library without the constraints of ads. Its focus on music discovery makes it a favorite among enthusiasts.
Features
Napster offers curated playlists, radio stations, and track recommendations. Its music match feature introduces users to new songs based on listening habits.
Pricing
Napster doesn't provide a free tier. However, its premium subscription offers unlimited access to its library, offline listening, and high-quality audio streaming.
Advantages
Napster's emphasis on a pure, ad-free experience ensures uninterrupted listening. Its robust discovery tools introduce listeners to a diverse range of music genres and artists.
---
Overview
Bandcamp offers a unique model where artists can sell music directly to their fans. This platform is especially popular with indie artists and their communities.
Features
Unlike typical streaming platforms, Bandcamp operates more as a marketplace. Listeners can explore, stream, and purchase music. The Bandcamp Weekly offers curated music and interviews from emerging talents.
Pricing
Streaming is free, but users are encouraged to support artists by purchasing tracks or albums. Many artists offer a "pay-what-you-want" model, giving fans the flexibility in pricing.
Advantages
Bandcamp champions indie artists, offering them a fair revenue share. For fans, it's a platform to discover and directly support emerging talents and unique genres.
---
Overview
Qobuz sets itself apart by focusing on high-resolution audio streaming. It's designed for serious audiophiles who prioritize sound quality.
Features
Beyond its high-res music, Qobuz provides in-depth editorial content, including articles and interviews. Users can purchase and download tracks in lossless quality, furthering their collection.
Pricing
While there's no free version, Qobuz offers different subscription tiers based on audio quality and download options. Its Studio Premier plan offers unlimited hi-res streaming.
Advantages
Qobuz is a haven for audiophiles. Its emphasis on superior sound quality and rich editorial content offers a unique music appreciation experience.
---
Overview
Predominantly popular in the Indian subcontinent, Gaana boasts a massive library of Bollywood and regional music, in addition to international tracks.
Earn Everything… nearly!
Join Opinion Outpost, one of the few faithful and honest survey panels and earn cash and gift cards for your opinion. Stack your points and redeem them: Simple! No hidden fees and completely free!


Features
Gaana offers curated playlists based on moods, events, and genres. The platform also features radio and podcasts, diversifying its content beyond just music.
Pricing
There's a free version supported by ads. Gaana Plus, the premium tier, offers ad-free listening, HD quality music, and offline downloads.
Advantages
For fans of Indian music genres, Gaana is the go-to platform. Its extensive library ensures a comprehensive listening experience, spanning across various regional languages.
---
Overview
Another popular music streaming service in India, Saavn, now rebranded as JioSaavn, offers a blend of regional and international music.
Features
JioSaavn curates playlists based on artists, moods, and events. The platform also offers original podcasts and radio stations, adding diversity to its content.
Pricing
While there's a free ad-supported version, JioSaavn Pro offers added perks like offline listening, ad-free experience, and superior audio quality.
Advantages
JioSaavn is particularly strong in its curation, providing a tailored listening experience. With its wide array of regional content, it's a top pick for Indian music enthusiasts.
---
Overview
Originating from the Middle East, Anghami caters to Arabic music enthusiasts while also offering international tracks. It's the Spotify equivalent for many in the Arab world.
Features
Beyond its extensive music library, Anghami offers music videos, curated playlists, and even lyrics for sing-along enthusiasts.
Pricing
Anghami operates on a freemium model. The premium tier, Anghami Plus, offers unlimited skips, offline listening, and an ad-free experience.
Advantages
For fans of Arabic music, Anghami is a comprehensive platform. Its blend of regional and international tracks ensures a varied music experience.
---
Overview
8tracks is a unique platform where users can create and share playlists with at least 8 tracks, hence the name. It's a community-driven experience.
Features
Listeners on 8tracks can explore a myriad of user-curated playlists based on genres, moods, or themes. It's as much about music discovery as it is about community interaction.
Pricing
While the platform offers free listening with ads, there's also an 8tracks Plus subscription that provides an ad-free experience.
Advantages
8tracks offers a personalized and community-centric listening experience. For those looking to discover tracks outside mainstream playlists, it's a refreshing alternative.
---
Overview
Despite YouTube Music's rise, Google Play Music remains a viable choice for many. It offers both streaming and a platform to store one's music library.
Features
Users can upload their music, making it accessible from any device. Beyond personal collections, it offers radio stations based on artists, albums, or song preferences.
Pricing
There's a free version allowing users to upload and listen to their tracks. The premium subscription adds on-demand streaming of Google's music library.
Advantages
Google Play Music's strength lies in its blend of personal collection storage and streaming services. For those with extensive personal libraries, it offers a seamless listening experience.
Tips for Choosing Your Ideal Music Streaming Platform
When diving into the vast sea of music streaming platforms, it's crucial to find one that aligns with your needs and preferences. Here are some tips to consider:
1. Consider Audio Quality
For some, the quality of sound is paramount. Look for platforms that offer high-resolution audio streaming if you're an audiophile.
On the other hand, if you're more casual in your listening habits, standard audio quality may suffice and save you some money.
2. Evaluate the Music Library
Different platforms cater to various music genres and regions. If you have a penchant for a specific genre or regional music, choose a platform that specializes in that.
A diverse music library ensures you don't miss out on your favorite tracks.
3. Understand the Pricing Model
Some platforms operate on a freemium model, while others might require a subscription from the outset. Assess what you're willing to pay and whether the features offered align with the cost.
Some platforms might also offer student or family discounts, which can be advantageous.
4. User Experience & Interface
A streamlined user interface can significantly enhance your listening experience. Platforms that are easy to navigate, create playlists, and discover new music can make all the difference.
Reading user reviews can provide insight into the app's user-friendliness.
5. Offline Listening and Downloads
If you're frequently in areas with limited internet access, platforms that offer offline listening can be a boon. Evaluate how easy it is to download tracks and the limitations on the number of downloads.
6. Additional Features
Look beyond just music. Some platforms offer podcasts, music videos, lyrics, and other additional features. If you enjoy a multifaceted entertainment experience, platforms that provide a mix of content might be more appealing.
Wrap Up
The world of music streaming in 2023 offers a vast array of options beyond Spotify.
From specialized platforms catering to niche genres to all-encompassing music libraries, there's something for every music enthusiast.
Prioritize your preferences, and you're bound to find a platform that resonates with your musical soul.
Always remember, the right platform can elevate your auditory experience to euphoric heights.
Related Posts:
Earn Everything… nearly!
Join Ipsos iSay, one of the few Faithful and Honest survey panels and earn prizes, gift cards and donations. Stack your points and redeem them: Simple! No hidden fees and completely free!