10 Best Ways to Earn Gift Cards by Playing Games
Updated on: by Amy Kennedy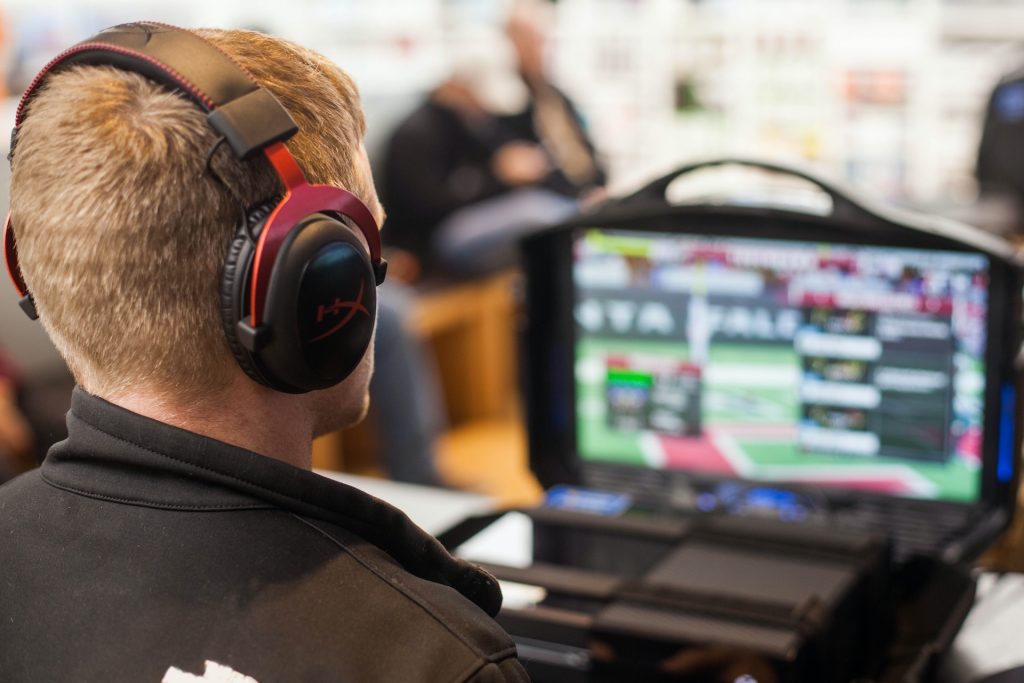 Earning gift cards by playing games has become a popular and enjoyable way to get rewarded for your time and skills.
Need Easy Extra $350+/Month For Free?
In an era where digital entertainment is at our fingertips, why not turn your gaming passion into a source of tangible rewards?
Gaming enthusiasts of all ages can now leverage their gaming prowess to earn gift cards for their favorite stores, apps, or online services.
Imagine being able to unlock exciting discounts, freebies, or even purchase necessities without spending a dime of your hard-earned money.
This guide explores the fascinating world of how to earn gift cards by playing games, uncovering the strategies and platforms that can turn your gaming hours into valuable rewards.
Best Apps to Earn Free Gift Cards for Playing Games
Below are the best apps that can help you earn free gift cards while doing what you love – playing games:
Swagbucks is a versatile rewards platform known for offering a multitude of ways to earn.
One of its popular features is the opportunity to play games for rewards.
Users can access a wide selection of games, from casual puzzles to action-packed adventures.
By playing and achieving specific goals within these games, you accumulate SB points.
These SB points serve as the platform's virtual currency and can be exchanged for a range of gift cards, including those for major retailers like Amazon, Walmart, and more.
Swagbucks also extends its earning potential through surveys, cashback offers, and other activities, making it a comprehensive rewards platform.
Mistplay specializes in rewarding mobile gamers for their time and dedication.
Upon signing up, users can browse a curated list of mobile games available on the platform.
As you play these games and reach certain milestones, you earn units, which represent your progress and dedication to a specific game.
The longer you engage with these games, the more units you accumulate.
Need Easy Extra Cash?
Pinecone Research, a leading name in online survey panel honesty, absolutely guarantees $3 cash for every survey you complete!
Take advantage of their time limited New Membership drive and register NOW. Join today: 100% free!


Once you've collected a sufficient number of units, you can redeem them for gift cards from various retailers and app stores.
This unique approach combines gaming enjoyment with tangible rewards, making it an enticing choice for mobile gamers.
AppNana offers a straightforward method for earning points, known as Nanas.
Users can earn Nanas by testing new apps and playing games recommended by the platform.
Simply download the apps and games from the provided list, engage with them for a brief period, and earn Nanas in return.
The accumulated Nanas can then be redeemed for gift cards from prominent platforms like Amazon and Google Play.
Additionally, AppNana features a referral program that lets you earn extra Nanas by inviting friends to join the platform, enhancing your overall earning potential.
FeaturePoints is designed for users who want to explore new apps and games while earning rewards.
The process is simple: download and interact with the apps and games showcased on the platform.
Users receive points for engaging with these apps and games, and the more you interact with them, the more points you accumulate.
These points can be redeemed for gift cards to a variety of retailers or converted into PayPal cash, providing flexibility in how you use your earnings.
FeaturePoints continuously updates its selection of apps and games, ensuring ongoing opportunities to earn rewards while discovering new content.
CashPirate offers an engaging way to earn rewards by testing and playing various apps and games.
Users can download and interact with recommended apps, complete offers, and achieve specific in-game tasks to earn coins.
These coins can be converted into gift cards for popular retailers or cashed out via PayPal, making it a convenient way to earn rewards while exploring new apps and games.
CashPirate's approach encourages users to dive into the world of mobile apps while reaping the benefits of their time and interaction.
AppBounty is a platform that rewards users for trying out and playing new games and apps.
Users accumulate points by engaging with the recommended content on the platform, which can be done by downloading and interacting with the apps and games provided.
As you earn points, you have the opportunity to redeem them for gift cards from popular retailers.
AppBounty's user-friendly interface and straightforward earning process make it an accessible choice for those looking to enhance their digital experiences and earn rewards simultaneously.
InboxDollars is known for its surveys, but it also offers a gaming section where users can earn cash by playing games.
The platform features a diverse selection of games, each offering cash rewards upon completion of specific tasks or achieving specific levels.
Users can then redeem their earnings in the form of gift cards for various retailers, enhancing the variety of rewards available through gaming.
InboxDollars provides a dual benefit, allowing users to engage in entertaining games while accumulating valuable rewards.
Gamehag presents a unique approach to earning rewards by playing games.
Users earn "Soul Gems" by participating in games and completing tasks within those games.
These Soul Gems serve as a versatile currency that can be exchanged for gift cards to popular stores and digital platforms.
Gamehag also offers a vibrant community where users can interact, share gaming experiences, and explore new games.
This social dimension adds an extra layer of engagement to the platform, making it an appealing choice for gamers looking to earn rewards while connecting with like-minded individuals.
Earn Everything… nearly!
Join Opinion Outpost, one of the few faithful and honest survey panels and earn cash and gift cards for your opinion. Stack your points and redeem them: Simple! No hidden fees and completely free!


Play and Win offers a variety of games that allow users to earn tickets.
These tickets serve as entries into sweepstakes for valuable gift card prizes.
The more you play and accumulate tickets, the higher your chances of winning these enticing rewards.
Play and Win's gaming experiences are designed to provide both entertainment and opportunities for users to earn exciting gift cards.
With a range of games and frequent chances to participate in sweepstakes, the platform offers an enjoyable path to earning valuable rewards.
Lucktastic offers a distinctive scratch card experience in the form of a mobile app.
Users can play games and scratch digital cards to reveal prizes and tokens.
These tokens represent your earnings and can be exchanged for gift cards to popular retailers, allowing users to enjoy their favorite brands without spending their own money.
Lucktastic offers a casual and enjoyable way to earn rewards through gaming, making it an accessible option for those looking to have fun while accumulating valuable prizes.
Tips for Beginners in Earning Gift Cards Through Gaming
Here are some tips for beginners looking to earn gift cards through gaming:
1. Choose Reputable Apps
When embarking on your journey to earn gift cards through gaming, it's paramount to begin with reputable apps and platforms.
These apps have a proven track record of delivering on their promises, providing legitimate opportunities for you to earn rewards.
Opting for reputable apps ensures that your time and effort will be translated into tangible gift card earnings, rather than wasted on unreliable or scammy platforms.
Apps like Swagbucks and Mistplay have established themselves as trustworthy options in the gaming rewards space.
They offer not only a wide variety of games but also a diverse selection of gift card options, catering to different preferences.
2. Diversify Your Games
To maximize your gift card earnings, it's wise to explore a diverse range of games.
Different games come with various reward structures and mechanisms.
By diversifying your gaming portfolio, you can discover which games align best with your skills and interests.
Some games may provide more generous rewards, quicker progress, or unique opportunities for earning gift cards.
Experimenting with different genres and titles allows you to identify the most rewarding options that suit your gaming style, ultimately enhancing your overall gift card earnings.
3. Complete Tutorials and Objectives
Many games and gaming apps incorporate tutorials and in-game objectives into their designs.
These introductory tasks serve a dual purpose: they help you understand the game mechanics and reward you with initial points or virtual currency.
Completing these tutorials and objectives is an excellent way to kickstart your gift card earnings journey.
It's a straightforward yet effective strategy that can make a significant difference in your overall rewards.
Plus, these initial rewards can be used as a foundation to further boost your earnings as you progress in the game.
4. Set Realistic Goals
Earning gift cards through gaming can be an exciting endeavor, but it's crucial to set realistic goals.
Understand that accumulating enough points or virtual currency to redeem for gift cards may take time.
It's essential to exercise patience and not get discouraged if you don't see immediate results.
By setting achievable milestones and maintaining a positive mindset, you'll be more likely to stay committed and motivated.
Consistency and perseverance are key factors that will ultimately lead to success in your quest to earn gift cards through gaming.
5. Engage Daily
Many gaming apps offer daily rewards or bonuses as incentives for consistent engagement.
It's a smart practice to make daily gaming a habit, even if you can only spare a short amount of time.
These daily interactions can add up significantly over time, helping you earn points or virtual currency at a faster rate.
This accelerated pace brings you closer to your gift card rewards and ensures you maximize your potential earnings.
By maintaining regular daily engagement, you'll make the most of the opportunities presented by the gaming app.
6. Participate in Challenges
Gaming apps often introduce challenges or competitions to add excitement and variety to the gaming experience.
Participating in these events can yield extra rewards, such as bonus points or entries into prize draws.
Challenges not only make your gaming experience more enjoyable but also boost your overall gift card earnings.
They provide a sense of achievement and competitiveness, motivating you to play more actively and efficiently.
7. Refer Friends
Many gaming apps feature referral programs that reward you for inviting friends to join the platform.
Leveraging these programs can significantly enhance your gift card earnings.
Simply share your referral links with friends and family who share an interest in gaming.
When they sign up and start gaming through your referral, both you and your referrals can earn additional rewards.
This mutually beneficial arrangement not only strengthens your gift card earnings but also encourages social interaction and gaming with friends, making the experience more enjoyable.
8. Read Terms and Conditions
Before diving into any gaming app, it's crucial to thoroughly read and understand the terms and conditions, especially those related to gift card redemption rules and options.
Familiarizing yourself with these details ensures you have a clear grasp of how the rewards system operates.
It helps you make informed decisions about your gaming strategy, such as which games to prioritize, how to accumulate points, and when to redeem your gift cards.
Knowledge of the terms and conditions empowers you to maximize your earnings while avoiding potential pitfalls or misunderstandings.
9. Stay Safe Online
Safety should always be a top priority when gaming online.
To protect your privacy and security while earning gift cards, exercise caution in several areas.
Avoid sharing personal information unnecessarily, especially sensitive data like your financial details.
Stick to well-established and trusted gaming platforms and apps to minimize the risk of encountering scams or fraudulent activities.
Additionally, be wary of downloading apps and games from unofficial or unverified sources, as these can pose security risks.
By taking these precautions, you can enjoy your gaming experience while safeguarding your personal information and digital well-being.
10. Keep an Eye on Updates
Gaming apps frequently release updates, and staying informed about these updates can be highly beneficial for your gift card earnings.
Updates may introduce new features, challenges, or opportunities for earning rewards within the app.
By keeping an eye on these developments and regularly updating your gaming app, you can take full advantage of the latest opportunities to boost your gift card earnings.
Being proactive in this regard ensures that you stay competitive and well-informed in the dynamic world of gaming rewards.
Wrap Up
In the world of gaming, the path to earning gift cards can be both exciting and rewarding.
By following the tips outlined above, you can embark on a journey where your gaming skills and dedication translate into tangible, real-world benefits.
From choosing reputable apps to setting realistic goals and engaging with challenges, each step brings you closer to the coveted gift card rewards.
Remember, patience and consistency are key, and with time, you'll discover that gaming isn't just about entertainment—it's also a means to unlock valuable gift cards, enhancing your gaming experience in more ways than one.
Related Posts:
Earn Everything… nearly!
Join Ipsos iSay, one of the few Faithful and Honest survey panels and earn prizes, gift cards and donations. Stack your points and redeem them: Simple! No hidden fees and completely free!