Best Way to Buy the Right Domains to Sell for Profit in 2023
Updated on: by Amy Kennedy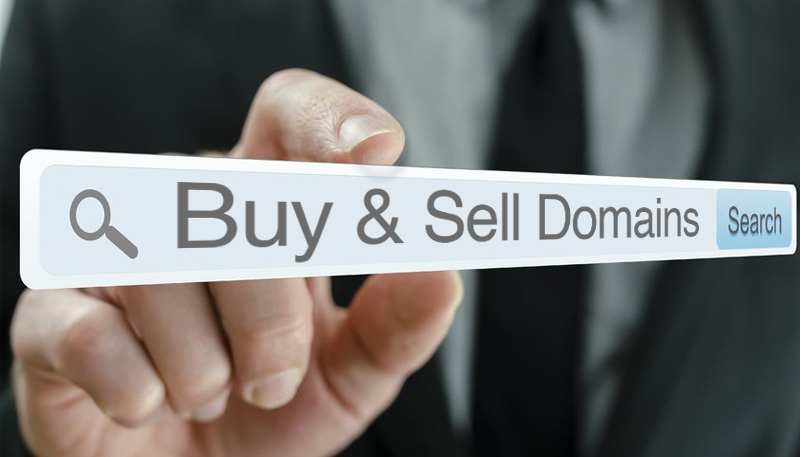 A domain name for a website is something you can purchase for, in many cases, $10 or less.
Why, then, do people get into the domain trading business?
Is there really a profit to be made on a $10 domain?
Absolutely.
That's why people do it!
It's a legitimate way to make money, and it's called domain flipping.
People who get very good at it do it as a business.
They earn money by buying domain names and selling them for a profit.
Those who really want the perfect domain name for their website will have no problem paying top dollar to be the lucky one to snag it.
For example, the domain Insurance.com sold for $35.6 million.
It was obviously one of those domains that someone knew would be profitable and worth the cost.
Most domains won't sell for nearly as high, but it's possible that you can average between $2000 and $5000 for a profitable domain name once you learn how it all works.
I'll explain how to make domain flipping work for you in this post.
Let's get started!
Flipping Domains for Profit: How Does It Work?
This type of business isn't something most people start and get rich from quickly.
It takes time to understand the domain market, what's trending, and what can make you a decent profit.
This guide will hopefully get you moving in the right direction to break into the domain flipping business.
The first step is to, of course, find domain names to purchase.
The buying part is easy, but understanding what you should buy is where it gets tricky.
Buy a Mix of Domain Types
You've heard of the stock market.
I want you to think of the domain market kind of like that.
When you invest in stocks, it's smart to diversify your portfolio.
It lowers your risk when you choose stocks from different types of companies.
That's because if one industry takes a major hit due to the economy, business trends, etc., you'll still have the security of your stocks in other industries to not give you as big of a loss.
Buying domains is a similar process.
It's best to diversify the types of domains you buy to give you a well-rounded selection of domains to flip.
Simply, some domains do better than others, so you minimize your loss risk by doing this.
Here are some of the domain types to consider buying for a well-rounded domain portfolio:
Location-based names. These domain names refer to a country, city, town, etc.
Business names. These can be either expired domain names of a business, or you can target up-and-coming business and brand names of those who haven't started their websites yet.
Generic names. These domain names focus on products or services, but you should be very careful in purchasing them. It's possible that you could land yourself in legal trouble if you purchase a domain name that includes a copyrighted name.
Time-based names. A timely domain name is one that relates to a particular event, date, or timeframe.
You have two main choices when it comes to purchasing domain names.
You can focus on trending topics, businesses, services, products, etc. and purchase domains that relate to those.
In other words, you'll look for domain names that could potentially be very desirable in the near future.
Alternatively, you can purchase expired or current domain names that already have a good amount of traffic, profitability, etc.
These will cost more to purchase, but you also could sell it for a larger profit to the right buyer.
Expired domain names, especially, are ones you may be able to score for cheap prices.
No matter what, though, it's in your best interest to purchase some domains of different types so that you can have a diverse portfolio and find what works best for you.
Where to Look for Domain Names
Now you know what to look for, but where do you find these domain names to purchase?
There are actually quite a few places, but some are better than others in providing the cheapest domain names that can give you the best profit.
One of the first places you should always look is with domain name registrars.
These are places like GoDaddy that offer you a domain registration service.
Often, they double as web hosting companies.
You can find domains through places like SiteGround, HostGator, Dreamhost, Bluehost, and other top hosting companies.
Or, search through companies that focus more on domain names, but may have some other services mixed in, like:
Most domain registrars have sales throughout the year, so it's a good idea to keep up with the sales to score the best deals.
But, you might be able to get domain names for even less through an online auction.
This method will give you expired and deleted domains, which are often the ones that can give you a lot of money when you flip it.
The right person could always come along wanting your domain name and offer a huge price tag to buy it from you.
You might want to try some of the top online auctions for domains to see what's available:
You can also use a domain-finding tool if you don't feel like searching through auctions for the right domain.
ExpiredDomains.net helps you find a domain based on your criteria, like its age and traffic information.
It's completely free to use.
Finally, you can always buy domains from the owners themselves.
This can get a little risky because you'll essentially be asking the owners of the domain if you can buy it from them.
Some people have their domains for a specific purpose with intent to build a website, and they won't want to part with it.
You might even offend someone with your offer.
But, if you have a good enough offer, some domain owners may not be able to refuse.
Either way, you'll never know unless you ask!
Now comes the fun part: selling your domains for a profit!
Where to Sell Domain Names
Just like finding a place to buy domains, you won't have a problem finding a place to sell them.
There are a lot of domain marketplaces on the internet, but some are a lot more active than others.
These are good ones to target because they have a lot of traffic and people searching for the perfect domain:
How to Sell Domain Names
You can choose to sell your domain for a fixed price or on an auction.
Determining what one you should use for each domain will be the tricky part, but that expertise will come in time.
If you have a good idea of what a domain might sell for and you don't have to sell it quickly, setting your price and leaving it on a marketplace is a good idea.
Some marketplaces will let you and buyers make offers and counteroffers with each other after you set your price.
For example, if you set a price of $100, but someone offers you $50, you can counter their offer with $75 or another price you're comfortable with. Or, refuse the offer altogether.
It's good to have some wiggle room and get something out of your domain, especially if it's been sitting on a marketplace for months with no bites.
But, if you want a domain to sell quickly and you think it might be something that people will pay a hefty price tag for, you might want to consider an auction.
This is also a good option if you really have no idea how much your domain will go for and want to see just how high it'll sell for.
You might be surprised how high your listing gets!
Of course, this method could be risky, and you may end up getting less than you paid for it.
What Risks are Involved with Domain Flipping?
As with almost any type of flipping business, domain flipping isn't without its risks.
You always run the risk of losing money instead of profiting.
It's much like those who buy houses to flip, spend a lot of money making the houses look the way they want, and find out that they could only sell it for the same amount they've invested.
You could end up spending hundreds on your domains, only to get just about the same amount back, or maybe even less.
This isn't likely, though, once you get a hang for how it all works.
But, in the beginning, it's a possibility.
Also, you should be aware that some of your domains could take months, or even years, to sell.
It's not always a quick process, so you should prepare to have some money available for your upfront investment that you won't need back right away.
And then there are always some legal issues involved.
You could wind up purchasing a domain name with a trademarked name without realizing it.
If that company wants to go after you for doing so, it can.
Or, if you buy a domain name that includes someone's real name, he or she can fight you for ownership of your domain.
Things can get a little sticky when flipping domains, so it's very important that you understand what you're doing, and know what to avoid, before you purchase domains for your portfolio.
5 Tips of Domain Flipping
Research and Identify Valuable Domain Names
Explore Market Trends and Demand
Stay updated on current market trends and identify niche industries or emerging technologies that have a high demand for domain names.
Research keywords, popular phrases, and industry-specific terms to find potential domain names that could be in demand.
Conduct Competitor Analysis
Analyze your competitors in the domain flipping market. Look for successful domain flippers and examine the types of domain names they are selling, the prices they set, and the platforms they use.
This analysis will help you gain insights into what works and what doesn't, guiding your own domain flipping strategy.
Acquire Domain Names Strategically
Register Expired Domains
Keep an eye on domain names that have expired but might still hold value. Expired domains can be found through domain marketplaces, registrar notifications, or by using specialized tools.
Look for expired domains that are relevant to popular industries or have a history of backlinks and traffic.
Consider Brandable and Memorable Names
Brandable domain names that are catchy, easy to remember, and represent a specific industry or product tend to have higher resale value.
Avoid lengthy or complex domain names that are difficult to spell or pronounce, as they may be less desirable to potential buyers.
Build and Enhance Domain Value
Create Landing Pages
Develop simple landing pages for your domain names, highlighting their potential use and benefits. This adds credibility and increases the perceived value of the domain to potential buyers.
Use persuasive copywriting techniques to make a compelling case for why someone should purchase the domain.
Improve Search Engine Optimization (SEO)
Optimize your domain names for search engines by implementing relevant keywords, meta tags, and descriptive content. This can enhance the visibility of your domain names, making them more attractive to buyers.
Additionally, consider building backlinks to increase domain authority and improve search rankings.
Leverage Online Marketplaces and Auctions
Utilize Established Marketplaces
List your domain names on well-known domain marketplaces such as Sedo, Flippa, or Afternic. These platforms have a large user base, increasing the exposure of your domains to potential buyers.
Take advantage of their features, such as auction functionality or premium listing options, to maximize visibility.
Participate in Domain Auctions
Consider participating in domain auctions to sell your domain names. Auctions can create a sense of urgency among buyers and potentially drive up the selling price.
Research popular domain auction platforms like GoDaddy Auctions or NameJet, and understand the rules and bidding processes before participating.
Negotiate and Close Deals Effectively
Set Competitive Prices
Determine realistic and competitive prices for your domain names based on market demand, similar sales, and potential buyer expectations.
Avoid overpricing, as it may discourage potential buyers, but also ensure you don't undervalue your domain names and miss out on potential profits.
Negotiate with Confidence
Be prepared to negotiate with potential buyers. Understand the value and unique selling points of your domain names to justify your asking price.
Be open to reasonable offers and consider counteroffers if necessary. Polite and professional communication can help build trust and increase the likelihood of closing a deal.
Conclusion: Learn How to Make Money Buying and Selling Domain Names
There's no doubt that domain flipping is an interesting business model.
Once you get good at it, it could even become your job (albeit, a risky job to depend on for full-time income, but some people manage it!).
I recommend taking advantage of the many online resources on this subject to delve a little more in-depth with buying and selling domain names.
There are even some helpful eBooks available on the subject that will only cost you a few dollars to purchase, like Domain Flipping Formula 2017 and Domain Name Flipping: Quick Flips & Fast Cash!
If it's something you're interested in, hopefully, this guide helped you understand the basics so you can get started with this unique business idea.
If you've had success with domain flipping, or are interested in starting out, we'd love to hear from you!
Please leave us a comment!
Related Posts: