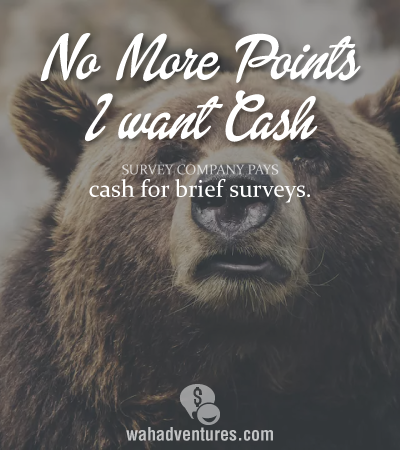 Do you enjoy earning extra money from taking surveys?
Need Easy Extra $350+/Month For Free?
Do you believe that surveys should pay cash and not prizes and points?
Do you like "short and sweet" surveys that don't go on forever?
Then Paid ViewPoint might be something for you to look into. 
What Exactly is Paid ViewPoint?
Paid ViewPoint is a marketing research survey site, where interested individuals go to create an account to take surveys.
Paid ViewPoint is powered by Ask Your Target Market, a survey and marketing platform, which caters to entrepreneurs needing to find information on their target market.
Membership is free.  After you do sign up for an account, you will be asked to verify both your email account as well as your phone number.
You will get paid to register and take a "traits survey", both of which are short and to the point.  (Nice little incentive, don't you think?)
The traits survey is actually a patent-pending system called TraitScore, which was developed to help evaluate the candor and consistency of the survey participants.
It basically asks you about your feelings/moods/characteristics for that day and is an algorithm for how trustworthy you are with a survey.
Once your TraitScore reaches 9000, you will get paid more for taking the surveys.
How is Paid ViewPoint Different From Other Survey-Taking Sites?
Paid ViewPoint believes four things about survey participation:
You should be paid cash for every answer and every survey.
You should not be screened out once you have been invited.
You should not have to be bored while taking surveys.
You should never be asked for your real name or physical address.
Does Paid ViewPoint Have an App?
Paid ViewPoint does NOT have an app, but you don't need one to be able to pull up the survey on your cell phone.
Just follow the link in your email, and you may take surveys while on the go!  Or you can relax at home with your laptop and favorite cup of herbal tea and just log into your account.
Whether you are using your laptop or phone to take surveys, Paid ViewPoint uses Google Chrome, Internet Explorer 8+, FireFox 3.6+, Safari, and Opera as browsers.
How Much Money Can You Earn With Paid ViewPoint?
Of course, the money made with Paid ViewPoint will vary from survey to survey.  Most surveys are between 5 to 6 minutes or less and can pay between $.03 to $.10 for completion.  You will be using a dropdown menu or "sliding scale" to answer the questions, so no need to type lengthy answers.
Once you reach $15, you may cash out via PayPal.  Usually, the money will hit your PayPal account within 72 hours.
You will receive email notifications when you can cash out as well as notifications via email, text or phone when there is a survey for you.  You will also receive notifications when there are other trait surveys to take as well.
Does Paid ViewPoint Allow Survey Participants From Countries Other Than the United States?
Absolutely!   There are 114 participating countries outside of the United States.
What Do I Think of Paid ViewPoint?
I don't think anyone will break the bank working Paid ViewPoint, but I do think it is a side egg to enjoy.  The surveys really are short and easy to complete.
Need Easy Extra Cash?

Join e-Poll, one of the few faithful and honest survey panels and earn cash - paid via PayPal - gift cards for Amazon, Best Buy, iTunes, Starbucks, and Walmart, plus Retail e-vouchers.
The surveys are aimed at entertainment-related research, covering such things as personal TV watching habits, give feedback on new TV commercials or to review DVDs that are sent to your home.
For USA residents aged 13+. No hidden fees and completely free!


What Do Others Think of Paid ViewPoint?
As always, opinions seem to vary.  A link has been posted below for you to read the reviews for yourself.
https://www.google.com/webhp?authuser=1#authuser=1&q=review+of+Paid+ViewPoint
Overall, most of the views were favorable with the only real complaints being that the surveys do not pay much, and sometimes when you change your PayPal account it can take months to cash out.  Other than that, some reviewers even stated that it was one of the "better" survey sites.
Does Paid ViewPoint Have a Referral Program?
Yes, Paid ViewPoint has a referral program and you can earn up to 20% of your referrals' earnings.  There is also no limit to the number of friends that you can invite
How Do Interested Individuals Sign Up at Paid ViewPoint?
Go to the website and sign up.  Remember you will even get paid to register and complete your first trait survey.
Related Posts:
Want more money?

Join Surveyo 24 #1 paid survey site. It's easy - complete a survey and receive payment. No hidden fees and completely free!