17 Creative Ways to Make Money
Updated on: by Amy Kennedy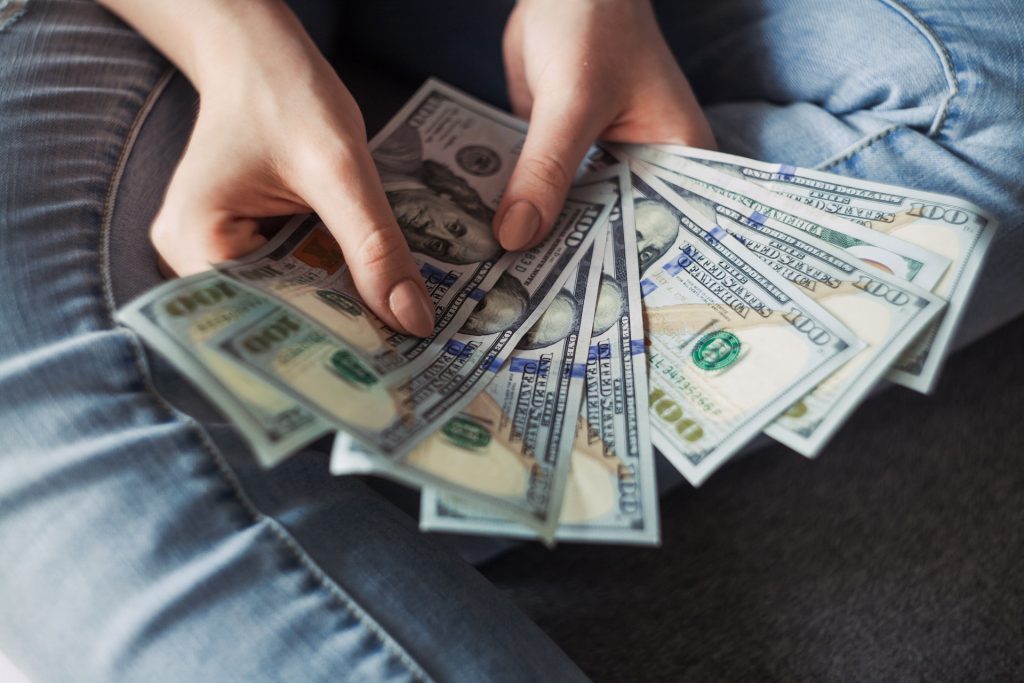 There are countless creative avenues to earn money while pursuing your passions in the current commerce world.
Need Easy Extra $350+/Month For Free?
This comprehensive guide delves into 17 imaginative and resourceful ways to boost your income.
Whether you're an artist, tech enthusiast, or a DIY aficionado, these creative money-making strategies cater to a range of interests and skill sets.
1. Freelancing
Content Writing
Freelance content writers can find numerous opportunities on platforms like Upwork and Freelancer. They create blog posts, articles, and web content for businesses and individuals, providing a flexible income stream.
As a content writer, you can specialize in various niches, from technology and healthcare to travel and lifestyle, catering to a wide range of clients and earning potential.
Graphic Design
Talented graphic designers have a thriving freelance market on platforms like Fiverr and 99designs. These platforms connect designers with clients seeking services like logo design, digital illustrations, and branding materials.
Freelance graphic designers often enjoy the creative freedom of choosing projects that align with their skills and interests, making it a fulfilling way to make money.
Freelance Programming
Programmers and developers can explore opportunities on sites like Toptal and Guru. By offering services in web development, app creation, or software engineering, freelancers can build a solid client base and establish themselves as experts in their respective fields.
Freelance programming offers the flexibility to work on diverse projects, from building websites to developing mobile apps, while earning competitive rates for their expertise.
2. Online Courses
Teach on Udemy
Monetize your expertise by creating and selling online courses on platforms like Udemy. Courses on topics ranging from coding to photography offer passive income opportunities.
As an instructor, you'll have the flexibility to set your course prices and reach a global audience of learners.
Become an Instructor on Coursera
Collaborate with universities and institutions to teach on platforms like Coursera. Sharing specialized knowledge can result in substantial earnings.
Coursera's extensive reach and reputation in the online education space provide opportunities to educate students from around the world.
Skillshare Educator
Skillshare allows creative professionals to teach their craft. Instructors earn royalties based on the number of premium members who watch their classes.
The platform covers a wide range of topics, from art and design to entrepreneurship, providing ample opportunities for instructors to share their expertise and earn money.
I'll continue with the remaining creative ways to make money:
Need Easy Extra Cash?
Pinecone Research, a leading name in online survey panel honesty, absolutely guarantees $3 cash for every survey you complete!
Take advantage of their time limited New Membership drive and register NOW. Join today: 100% free!


3. Crafting and Artistry
Etsy Shop
Artisans and crafters can showcase their creations on Etsy. Handmade goods, art, and vintage items can be sold globally, providing a platform for creative entrepreneurship.
Etsy's large and diverse community of buyers and sellers offers exposure to a broad customer base.
Print on Demand
Artists and designers can turn their creations into profit by using platforms like Printful and Redbubble. These services handle printing, shipping, and customer service, while creators earn a portion of the sales.
Whether it's designing custom apparel, artwork, or home decor, print-on-demand platforms allow artists to monetize their art without the hassle of inventory management.
Freelance Photography
Photographers can offer their services on platforms like Shutterstock and Getty Images. Licensing photos to businesses and publications can generate recurring income.
By submitting high-quality images to stock photo websites, photographers can earn royalties whenever their photos are downloaded or purchased.
4. Podcasting
Start Your Podcast
Creating an engaging podcast on a topic you're passionate about can be a rewarding venture. Monetize through sponsorships, ads, and listener support, building a dedicated audience over time.
Engaging content and consistent episodes are key to attracting advertisers and generating revenue.
Offer Podcast Editing Services
If you have audio editing skills, consider offering your services to other podcasters. Many content creators are willing to pay for professional editing to improve the quality of their episodes.
You can provide services like audio cleanup, sound design, and episode mixing to enhance their podcast content.
Sell Merchandise
Design and sell podcast-related merchandise like T-shirts, mugs, and stickers. You can use print-on-demand services like Printful or CafePress to handle printing and sales.
Creating unique and appealing merchandise can be an additional income stream for podcasters.
5. Online Consulting
Business Consulting
Leverage your industry expertise to provide business consulting services. Offer guidance on strategy, marketing, or operations to startups and established businesses looking to grow.
Your insights can help clients make informed decisions and improve their business performance.
Career Coaching
Help individuals advance in their careers by offering coaching services. Assist with resume writing, interview preparation, and career strategy to empower others professionally.
Your coaching can make a significant impact on clients' job search and career progression.
Financial Advisory
If you have financial expertise, become a financial consultant. Provide investment advice, retirement planning, and budgeting assistance to individuals and families.
Helping clients manage their finances and achieve their financial goals can result in a loyal client base and steady income.
6. Renting Assets
Rent Your Home on Airbnb
Utilize platforms like Airbnb to list your extra space as a vacation rental. It's a great way to earn money from your property while providing travelers with unique accommodation options.
Effective property management and guest satisfaction can lead to positive reviews and more bookings.
Car Sharing
Join car-sharing platforms like Turo to rent out your vehicle when you're not using it. This can be especially lucrative if you have a well-maintained car in high demand.
Providing excellent customer service and maintaining your car's condition are essential for success in this side hustle.
Equipment Rentals
If you own equipment like cameras, power tools, or outdoor gear, consider renting it out on platforms like Fat Llama.
Many individuals and businesses are in search of equipment rentals for short-term projects. Properly maintaining and insuring your equipment is crucial to building trust with renters.
7. Remote Work
Virtual Assistance
Offer administrative support services to businesses and entrepreneurs as a virtual assistant. Tasks may include email management, scheduling, data entry, and more.
Building strong organizational and communication skills is essential for success in this role.
Online Tutoring
Share your expertise by becoming an online tutor on platforms like VIPKid. You can teach various subjects to students worldwide, helping them achieve their academic goals.
Effective lesson planning and adapting to individual learning needs are key to becoming a sought-after online tutor.
Remote Tech Support
If you're tech-savvy, offer remote tech support services to individuals and small businesses. Assist with troubleshooting, software installations, and hardware maintenance.
Earn Everything… nearly!
Join Opinion Outpost, one of the few faithful and honest survey panels and earn cash and gift cards for your opinion. Stack your points and redeem them: Simple! No hidden fees and completely free!


Staying updated with the latest tech trends and problem-solving abilities are essential in providing valuable tech support.
8. Affiliate Marketing
Choose Niche Products
Select niche products or services that align with your interests and expertise. This makes it easier to create authentic and compelling content to promote them.
Create High-Quality Content
Develop engaging content, such as blog posts, videos, or social media posts, that highlight the benefits of the products or services you're promoting. Include informative reviews and valuable insights to attract potential customers.
Leverage Affiliate Programs
Join affiliate programs offered by companies or online marketplaces like Amazon Associates, ShareASale, or ClickBank. These programs provide unique affiliate links to track your referrals and earnings.
9. Dropshipping
Select a Niche
When dropshipping, it's crucial to choose a niche or product category to focus on. Research market trends and competition to identify profitable products to sell.
A well-defined niche can help you target the right audience effectively.
Set Up an E-commerce Store
Create an online store using platforms like Shopify or WooCommerce. Customize your store's design and layout to attract potential customers. An appealing and user-friendly website can significantly impact your dropshipping success.
Source Products
Identify reliable suppliers or wholesalers who offer dropshipping services for your chosen products. Ensure seamless order fulfillment and reliable shipping to maintain a positive reputation among customers.
10. Online Content Creation
YouTube Channel
Starting a successful YouTube channel requires creating and sharing engaging videos on topics you're passionate about. Monetize through ads, sponsorships, and merchandise sales.
Building a dedicated subscriber base takes time, so consistency is key.
Blogging
Launch a blog and produce high-quality written content. Generate income through affiliate marketing, sponsored posts, and ad revenue.
Building a blog's readership involves producing valuable content and optimizing for search engines.
Twitch Streaming
If you're into gaming or have unique skills to showcase, consider streaming on platforms like Twitch. Earn revenue from subscriber donations, ad revenue, and sponsorships.
Growing your viewer base requires consistent streaming and interactive engagement.
11. E-books and Self-Publishing
Write an E-book
Author an e-book on a subject you're knowledgeable about. Publish it on platforms like Amazon Kindle Direct Publishing (KDP). Craft compelling content and an eye-catching cover to attract readers.
Promote Your E-book
Market your e-book through social media, email newsletters, and your website or blog. Positive reviews and effective promotion can boost sales.
Consider offering limited-time discounts or free promotions to garner initial interest.
Create Multiple E-books
To maximize earnings, consider creating a series of e-books or exploring different genres. Diversifying your e-book offerings can attract a broader range of readers and boost your income potential.
12. Real Estate Investments
Rental Properties
Invest in rental properties to generate passive income from monthly rent payments. Careful property selection and management are essential for success in this venture.
Ensure properties are well-maintained to attract and retain tenants.
Real Estate Crowdfunding
Participate in real estate crowdfunding platforms like Fundrise to invest in a diversified portfolio of properties. Crowdfunding allows you to access real estate opportunities with lower initial investment requirements.
House Flipping
Purchase properties, renovate them, and sell at a profit. Successful house flipping requires knowledge of the real estate market, renovation skills, and a keen eye for profitable opportunities.
13. Peer-to-Peer Lending
Choose a P2P Platform
Select a reputable peer-to-peer lending platform like LendingClub or Prosper. These platforms connect lenders with borrowers. Evaluate the platform's terms and borrower profiles carefully.
Diversify Investments
Spread your investments across multiple loans to mitigate risks. Evaluate borrowers' profiles and loan terms carefully.
Diversification helps protect your investment portfolio.
Earn Interest Income
Earn interest income as borrowers repay their loans with interest. The interest rates you earn can vary based on the loan's risk level and terms.
Peer-to-peer lending can provide a steady stream of passive income.
14. Online Surveys and Market Research
Sign Up for Survey Sites
Register with legitimate survey websites like Swagbucks and Survey Junkie. Participate actively in surveys to earn rewards or cash. These platforms offer a variety of surveys on different topics.
Participate Actively
To maximize your earnings, complete surveys regularly and engage in market research activities. Some platforms offer focus groups and product testing opportunities for additional earnings.
The more actively you participate, the more you can earn.
Cash Out Your Earnings
Once you accumulate enough rewards or cash, redeem them for gift cards, PayPal cash, or other payout options offered by the survey sites.
Be patient, as it may take some time to reach the payout threshold.
15. Print-on-Demand Merchandise
Design Custom Apparel
Create unique apparel designs and sell them on platforms like Printful and Redbubble. These services handle printing, shipping, and customer support, allowing you to focus on creating new designs.
Home Decor and Accessories
Expand your merchandise range to include items like posters, home decor, phone cases, and more. Diversifying your product offerings can attract a broader audience and increase sales potential.
Niche Markets
Identify niche markets with passionate audiences. Tailor your designs to specific interests, hobbies, or communities to stand out and increase your earnings.
16. Remote Tech Support
Troubleshooting and Repairs
Offer remote tech support services to individuals and businesses. Assist with troubleshooting software and hardware issues, making repairs when necessary. Exceptional problem-solving skills can lead to satisfied clients and repeat business.
Software Installations
Help clients with software installations, updates, and configuration. Offer guidance and solutions for optimizing software performance.
Prompt and efficient service can lead to positive referrals.
Data Recovery
If you have expertise in data recovery, provide services to individuals or businesses facing data loss situations. Safely recover lost data from various devices, and emphasize data security and confidentiality.
17. Online Stock Trading
Educate Yourself
Before venturing into stock trading, invest time in learning the basics of the stock market. Understand market trends, trading strategies, and risk management.
Choose a Reputable Broker
Select a reputable online brokerage platform like E*TRADE or Interactive Brokers. Ensure the platform offers research tools and resources for informed trading decisions.
Diversify Your Portfolio
Spread your investments across different stocks and industries to reduce risk. Keep a close eye on market news and company performance to make well-informed trading decisions.
Conclusion
In a world brimming with opportunities, the pursuit of financial stability and personal fulfillment is more accessible than ever.
By exploring these 17 creative ways to make money, you can not only expand your income streams but also tap into your unique talents and interests.
Whether you choose to monetize your hobbies, embrace the gig economy, or embark on entrepreneurial ventures, the path to financial empowerment lies at your fingertips.
Related Posts:
Earn Everything… nearly!
Join Ipsos iSay, one of the few Faithful and Honest survey panels and earn prizes, gift cards and donations. Stack your points and redeem them: Simple! No hidden fees and completely free!