Best Way to Get Paid 50 Dollars Per Survey in 2023!
Updated on: by Amy Kennedy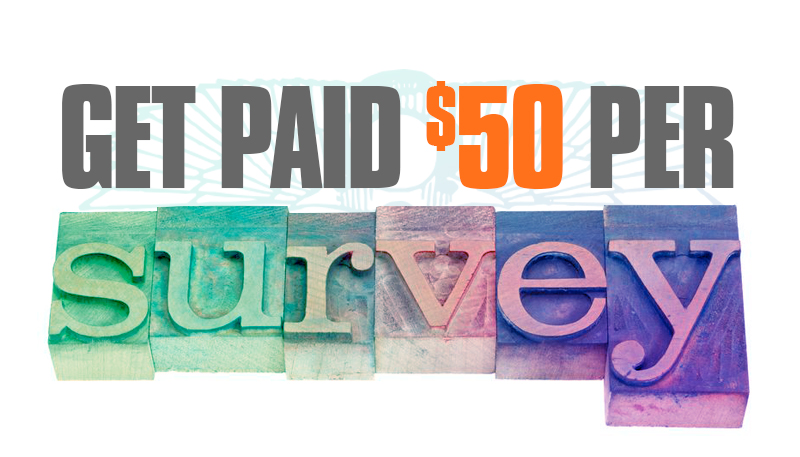 If you're looking for ways to earn cash online, you probably won't find many jobs that pay 50 dollars an hour unless you have highly-coveted skills that pay or are a professional in your field.
Need Easy Extra $350+/Month For Free?
But you don't need a job that pays $50 an hour.
Why?
Because I'm going to show you in this article how to earn $50 just from taking one survey online.
I know – it sounds too good to be true.
Most online surveys don't pay more than a few cents or a couple dollars, if you're lucky.
But, the website I'm going to talk about today pays you $50 for one survey.
The best part?
Each survey will only take about 20 minutes.
So, if you're doing the math, that works out to a rate $150 per hour!
I know you're excited to find out more about this money-making opportunity, so let's get started.
Earn Big Money for Surveys with MindSwarms
MindSwarms is not your typical survey site.
Instead of completing surveys with questions through an online form, you'll complete video surveys!
It already sounds more fun, doesn't it?
When a company enlists the help of MindSwarms, the research team will evaluate the request to make sure it's a good fit for survey takers.
Basically, just about any type of company can ask MindSwarms for help from people like you, so you can have the opportunity to work with all types of brands and industries.
Need Easy Extra Cash?
Pinecone Research, a leading name in online survey panel honesty, absolutely guarantees $3 cash for every survey you complete!
Take advantage of their time limited New Membership drive and register NOW. Join today: 100% free!


This mobile research company is much different than other survey sites, so I'm going to be detailed with the rundown so you can understand how it works and decide if it's a good place for you.
Who Can Join MindSwarms?
MindSwarms allows people from any country to sign up.
You must be at least 18 years old to join, or at least 13 with parental permission.
Of course, you should check your locality's legal policies to make sure that this type of research panel is approved in your area.
And, although people from any country can be approved, you must respond to surveys in the same language they're in.
Most will be in English, so you'll probably have much more opportunities available if you speak and read English fluently.
But, if a survey is in Spanish, you must answer in Spanish. Bilingual people could potentially have the most opportunities!
How Does MindSwarms Work?
Okay, let's get into the nitty-gritty.
MindSwarms is all about video research.
You know how, when you complete surveys online, you'll use your mouse to click your answers or your keyboard to type a response?
Well, MindSwarms lets you answer the questions through it's app, using the camera on your mobile device!
Essentially, you'll video yourself answering the questions.
Each survey will be anywhere from 1 to 7 questions and will take between 10 and 20 minutes.
You can log into the MindSwarms app and view surveys that are available.
Apply for the ones that interest you and that you think you'll be a good match for.
MindSwarms will use the information it has on file for you, which you'll complete when you sign up, to match you with the best surveys for you.
As with most survey sites, MindSwarms makes sure you're a good fit for the researching company.
Sometimes, they look for specific types of people or ages to complete their surveys. This one is no different.
Once you're invited to take a survey, you should respond as soon as possible.
Every survey will have a limited number of spots available, so you'll want to grab yours quickly.
When you sign up to be a participant, you'll need to create a sample video.
This helps researchers get an idea of how detailed you are when you answer questions.
The more time and effort you put into this video, the better your chances are of being selected for more surveys.
Be sure to have good lighting and video quality too!
How to Complete Surveys for Cash on MindSwarms
You'll receive an invite to a study you qualify for through your email account.
You can click the link in your email to get directed to the survey.
You can also access it via your MindSwarms dashboard.
Make sure you have your phone in a well-lit area and that you check your audio and video quality before you record.
Once you're ready, you can begin!
Earn Everything… nearly!
Join Opinion Outpost, one of the few faithful and honest survey panels and earn cash and gift cards for your opinion. Stack your points and redeem them: Simple! No hidden fees and completely free!


Read each question thoroughly. Then, take between 45 to 60 seconds to give your answer.
You'll basically be giving your opinions in verbal form, rather than choosing from multiple choice options like you would in a regular survey.
When you're done recording one question, you can click the 'Next Question' button to record your answer for the next question.
Keep doing this until you've completed the survey in its entirety.
After you've completed the survey, you might get 'flagged' by MindSwarms.
If this happens, don't panic.
In most cases, this means that there was an audio or video problem with one or more of your responses.
MindSwarms gives you the opportunity to re-record in this case.
However, there are times you might get flagged for not answering the question properly, using foul language, etc.
You'll still have a chance to re-record yourself if that's the case.
Of course, excessive flaggings could make you ineligible for future surveys, so be careful.
If you've been flagged but re-recorded your responses, you'll receive an email confirming that everything's been corrected.
Some of the specific things MindSwarms looks for in videos it accepts right away are:
Thorough answering of questions
Good lighting where your face is shown clearly
No background noise that affects your audio quality
Concise, relevant answers
High-quality video
Casual dress (dress like yourself!)
Being honest and showing your emotions when appropriate
If a product is involved, you show it clearly on the video
You use the full 60-seconds, or close to it, that you're allotted for each question
Are There Other Ways to Earn Money Here?
Unlike many other survey sites that offer other ways to make money, such as a referral program or paid emails, MindSwarms focuses only on video surveys for cash.
Occasionally, there is an opportunity for a $50 sign up bonus, but they're rare.
If you don't like joining sites that don't give you multiple ways to earn money, then this one may not be for you.
But, remember that you're getting a much higher payment for less work here, so it can definitely be worth it for most people!
How Does Payment Work?
Payment here is relatively simple.
Complete your survey correctly. If you don't get flagged at all, you can typically expect your payment after about 24 hours after submission.
During that time, the review team will look over your videos and make sure everything was answered completely and correctly.
If there is a delay in your payment, it might be because several surveys got turned in close together and the review team has a lot of work to catch up on.
In that case, you can send an email to the support team to ask about your payment.
MindSwarms pays all participants via PayPal.
The downfall of this is that, if you live in a country that doesn't accept PayPal, you won't be able to get paid.
But, for those who can use it, you'll get an instant payment as soon as it's released by MindSwarms.
You can sign up for PayPal here.
MindSwarms pays $50 per survey.
There's no other costs to try to figure out and no confusing points.
It's one simple, flat fee for every participant, as long as their survey's been accepted.
Alternatively, you may also have some opportunities for quicker surveys with just one question. Those pay $10.
Is MindSwarms a Scam?
One of the most common questions for people to ask when it comes to any survey site (or any way to make money online, for that matter!) is "Is this a scam?".
I get it.
No one wants to waste their time doing something that promises to make them money if there's no intention of a company actually paying them.
But, I can say with certainty that MindSwarms is a legit place to make money from surveys.
Several people who've used it are quick to talk about earning their first $50 from MindSwarms and continuing to earn after that.
So, paying isn't a problem with this company.
However, there are two complaints that sometimes pop up, but neither has to do with the company not being legit.
First, some people say that there aren't many surveys available.
Unfortunately, this is the case with many survey sites.
The available surveys can fill up very fast, so if you're not able to apply to them quickly, you'll lose your chance.
Another complaint is that, even after people apply for surveys, they don't get selected.
This, again, is a common complaint from survey takers all over the web and isn't specific to MindSwarms.
The likely cause is just that you don't meet the demographics needed for the survey.
It seems that English-speaking Millennials tend to have the most opportunities, and those in large cities may also qualify for more surveys.
It's the luck of the draw, really.
But, MindSwarms does pay and is a 100% legitimate company.
And, even if you only qualify for one survey a month, that's still an extra $50 in your pocket for 20 minutes of your time.
You can't beat that!
How Can I Sign Up?
Signing up for MindSwarms is a simple process.
First, go to the MindSwarms website and click the sign-up button.
You'll fill out a basic profile that includes your email address.
Then, you can go through the screening process that will include some more detailed questions and a sample video.
You'll have to submit the sample video to complete the process.
Luckily, you can always re-record your sample if you aren't happy with it!
Make sure it stands out so that you'll have as many opportunities as possible to get matched with surveys.
Also, the answers to your questions aren't necessarily super important at this point, although you'll want to make sure you answer them thoroughly.
Instead, your sample video should focus on your lighting, video, and audio quality and showing your true self as much as possible.
Once you're accepted into the system, you can start applying for the surveys you find in your dashboard.
Alternatively, you can download the iOS or Android app and sign up through your mobile device!
The sign-up process will be the same.
Conclusion: Get Paid 50 Dollars Per Survey Online!
I hope this article was informative and showed you how you can earn $50 per survey online with MindSwarms.
Even if you don't qualify for a survey a week or more, you can likely qualify for at least one a month.
An extra $50 per month is better than no extra money each month, right?
MindSwarms is a legit way to earn some extra cash, and it could be the perfect alternative for people who aren't into taking online surveys the traditional way.
This type of survey lets you be yourself and have more fun with the process!
Have you tried MindSwarms?
Please let us know about your personal experience with the site in a comment below!
Related Posts:
Earn Everything… nearly!
Join Ipsos iSay, one of the few Faithful and Honest survey panels and earn prizes, gift cards and donations. Stack your points and redeem them: Simple! No hidden fees and completely free!