Best Way to Make 60 Dollars Fast Using One Money-Making Site!
Updated on: by Amy Kennedy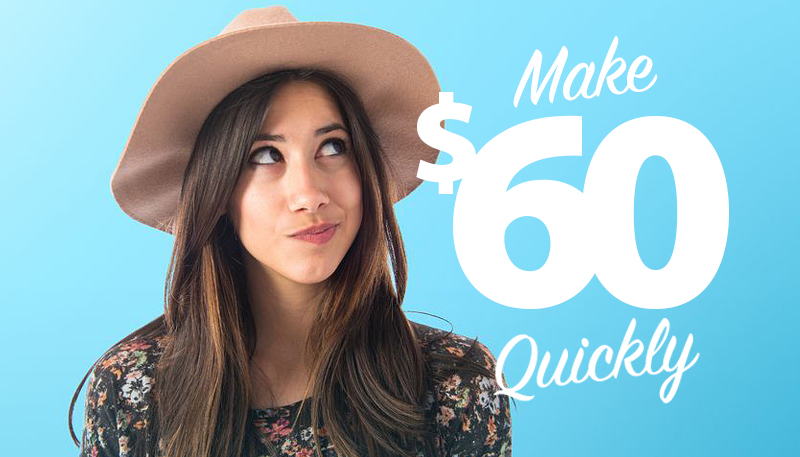 You need to make some fast cash online but aren't quite sure where to start?
Here at Work at Home Adventures, we outline numerous opportunities to earn money online.
But, this article is going to give you some helpful tips for making really fast cash using one site.
I don't want to fool you, though.
You shouldn't expect to make $60 and have it in your hands in one day.
Instead, this article will show you how to use a top rewards site to make $60 quickly.
Then, you can cash out your earnings and receive a check within a week or two.
Still, if you're looking for a fast way to earn some extra cash online to help you pay a bill or two this month, this is the perfect way to do it.
"I Need 60 Dollars Now!"
Hey, I get it – I've been there too.
One of the most common reasons for people to start looking online for ways to make money is that they need money fast.
The internet is the perfect place to make fast money because there are so many things you can do that don't require any special skills.
Instead of bombarding you with tons of sites to try to earn some fast cash on, I decided to make the focus of this article on ONE site that's been a lifesaver for me.
That site is known as SendEarnings.
Let's dive in and learn more!
What is SendEarnings?
SendEarnings is a sister company of InboxDollars, one of my absolute favorite places to earn money online.
I've been a member of InboxDollars for years and have had several on-time payments just for doing things I do online anyway.
SendEarnings is very similar in its setup, reward options, and more, so I signed up with it, too, to give me, even more, earning potential.
What I found is that it's just about as active as InboxDollars and you can earn money fast here!
Since we've talked about InboxDollars quite a bit on this site, I decided to dig deep into SendEarnings, too, so that you can learn the best ways to earn cash quickly.
SendEarnings has been on the web since 2000, making it one of the longest-running reward sites.
It's a good place for people who aren't into just taking surveys online.
That is an option for making money here, but there is so much more you can do to unlock high payouts and earn cash faster.
I'm sure you're wondering, "Is SendEarnings legit?".
It's a valid question.
As someone who uses the site, I can personal say that yes, it's legit and it pays.
But, if you want to see further proof, check its BBB profile.
The whole InboxDollars company has an A+ rating on the BBB and is an accredited business as well.
Do a little research online, and you'll see plenty of happy members and payment proofs.
Read More: Is SendEarnings A Scam? I Signed Up To Find Out.
Who Can Sign Up?
SendEarnings accepts members who are 18 years old or older.
You also must abide by your country's laws governing age and these types of sites.
There are no country restrictions here, so you'll also need to check with the laws of your country to be sure that it allows you to join reward sites.
With that being said, people from countries like the United States, United Kingdom, and Canada tend to have more offers and surveys available to them than those in other countries and may have more success.
How to Make Money with SendEarnings
Now, for the good stuff!
How can you make money with SendEarnings?
Here are some of the best options:
You can earn cash by sharing your opinion with market research companies and brands. Just for filling out the profile survey, you get $0.50!
SendEarnings partners with GSN to bring you games that you can play for cash. Enter tournaments or play casino games to win some big money.
Paid searches. You can simply search the web using the built-in search function to earn a few cents per search.
Watch videos. Watch advertisements and other videos to boost your earnings.
Refer friends. You can earn 10% on all your friends' earnings!
Read emails. Yes, you can even earn a few cents just for checking and reading the emails that SendEarnings sends to your inbox.
Free and paid offers. Sign up for 100% free offers to earn cash, or buy things you'd purchase anyway and earn money for your purchase.
Cashback shopping. Earn a percentage of your purchase back when you shop with a partnered retailer.
Complete the bonus tasks. Each day, you'll have bonus tasks available on your homepage. Complete the full set, and you'll get a bonus reward!
As you can see, it's almost impossible not to make money here.
With so many options for earning cash, you can surely find a way to boost your earnings fast.
But, I'm going to show you what works the best for me to earn that $60 fast, or potentially get 70 dollars in one day!
Make Your First $30 with Surveys and Free Offers – and Just for Signing Up!
One of the best things about this site is that you can earn your first $5 just for signing up.
Congratulations – one minute of your time gave you an easy $5 toward your $60 goal!
You'll get your reward once you complete your profile with all your basic information and confirm your email via the link sent to your inbox.
Next, you'll want to focus your attention on 100% free offers.
These are offers from SendEarnings partners that pay you simply for signing up for a website, service, or free trials.
You won't have to spend any money, and you'll get paid to do it.
In the Offers section of your homepage, scroll to 100% Free Offers.
You can sort the offers to show those with the highest payouts on top.
These are the ones you'll want to target to earn money the fastest.
Most offers in this category range from a payout of $0.10 to $1 or more.
But, they take only a few minutes of your time and are completely free to do.
Some survey panels pay $2 or more just for signing up to become a member!
Another way to quickly earn your first $30 is by taking surveys on SendEarnings.
You won't qualify for all of them, but you should be able to qualify for a few.
After you first sign up, you should complete your profile survey, which gives you $0.50 just for filling out information about yourself.
Then, fill out the shorter profile surveys for $0.10 each.
You can then take up to 5 surveys through Peanut Labs each day to earn more!
It's a good way to build your way up to your first $30.
Make Your Second $30 with Cash Back Shopping, Paid Offers, Referrals, and More
You should be able to arrive at your first $30 fairly quickly.
But, once you complete most of the free offers and initial profile surveys, the earnings will slow down a bit.
Now, it's time to move onto working toward your 2nd $30.
The best way to do this is through cash back shopping, which you can start using as soon as you sign up for SendEarnings.
Anytime you want to shop online, visit your SendEarnings account first.
Click the link for the retailer you want to shop with, get directed to the website, and make your purchase.
You'll see your earnings from your purchase reflected in your SendEarnings account.
It's important not to use this feature unless you're going to shop anyway.
Otherwise, you'll end up spending money to make money, which is counterintuitive.
Now, focus on paid offers.
Again, these offers are ones you'll want to target only when you see ones that have something you want to sign up for or purchase anyway.
But, these are where the big money is on the site.
Airbnb, for example, has a current offer of $100 for anyone who creates a rental listing on the site!
If that's something you want to do anyway, you might as well sign up through SendEarnings and get some cash back for it.
Again, you can sort the offers by the highest payout amounts to find the ones that will give you the most money for your time.
Right now, you can get $8 to sign up for Hulu, $5 for subscribing to Ladybug Magazine, or $5 for making your first purchase with Vistaprint!
During this time, you'll want to utilize the other money-making features of the site too.
Get your friends to sign up using your unique referral link, and you'll earn 10% on everything they earn.
Use the site to complete paid searches, watch videos, play games, and more, and you'll soon see your earnings rack up to $60.
How Will I Get Paid?
You can cash out your rewards once you have $30 – so you don't even need to wait until you reach your goal of $60 if you don't want to!
Here's how payment works:
You can request a check once you reach $30.
You'll get your payment, in most cases, in about two weeks.
Once you get your first payment out of the way, you're automatically eligible for Gold Member status.
When you're a Gold Member, you can get your payments faster, and you'll also have the option of redeeming your earnings for a gift card or prepaid Visa instead of a check.
Other Sites That Have High Payout Potential
As great as SendEarnings is, the truth is that it may not work out the same way for everyone.
Some members have more earning potential than others, depending on the surveys and offers that are available to them.
So, I decided to put a few of my other favorite rewards sites in this article.
These three sites are some of the best options for earning cash fast, and the ones that I've personally had the most luck with, in addition to SendEarnings.
Hopefully, you find one that helps you earn your $60 fast!
InboxDollars, as I mentioned, is the main site of Cotterweb Enterprises, the owner of SendEarnings.
This is also a favorite of mine because I find that there's almost always new offers and surveys available for me to make money with.
This site has many of the same money-making opportunities and features as SendEarnings, and the payment also works the same way.
Members in some locations might find that they can make a little more with InboxDollars than SendEarnings.
Swagbucks is my all-time favorite rewards site.
It offers just about all the same ways to earn cash as SendEarnings, plus some!
One of my favorite features of the site is the cash back shopping.
I've found that Swagbucks has some of the best rewards for shopping online and it partners with most of the online retailers I shop with.
Plus, there are almost always bonus rewards with certain retailers that can give you even more earnings potential.
You can cash out with Swagbucks and receive your earnings right to your PayPal account, or choose from one of several gift cards.
Fusion Cash is another popular rewards site.
This one also pays you $5 just to sign up, so you've already got a good head start on your first $60.
Here, you can get paid to play games, refer friends, take surveys, complete offers, and more, similar to SendEarnings and other reward sites.
You can cash out to your PayPal account when you have $25, $15 of which has to come from personal earnings rather than referrals.
Survey Junkie is a top-rated survey site known for its high payout potential.
Members can sign up for free and start taking surveys right away.
Each survey typically takes between 10-20 minutes to complete, and the pay is proportional to the time invested. What makes Survey Junkie stand out is its point system – 100 points equals $1.
Once you reach 1,000 points, or $10, you can cash out through PayPal or choose a gift card.
Vindale Research is another high-potential online survey site.
Unlike many other platforms, Vindale Research pays in cash rather than points, which makes tracking your earnings simpler.
Surveys are sent directly to your email and payment is made via PayPal.
Additionally, Vindale offers other earning opportunities such as product testing and reward codes.
MyPoints offers a variety of ways to earn, including watching videos, shopping online, reading emails, and taking surveys.
Similar to Swagbucks, you can also earn cash back for shopping at your favorite stores.
Once you've accumulated enough points, you can redeem them for gift cards or cash out through PayPal.
The site also offers a $10 sign-up bonus to help you get started.
Conclusion: How to Make 60 Dollars Fast!
Hopefully, this post gives you some good insight as to how to earn a quick $60 from SendEarnings and other rewards sites.
Remember that this guide is only meant to show you how to earn $60 fast.
You will still have to wait for your activities to credit into your account and to receive your first check.
But, once you start using the site regularly, you'll continue earning cash and won't have to wait so long to get paid.
Do you use SendEarnings?
Please let us know what you do to earn money there in a comment below!
Related Posts: