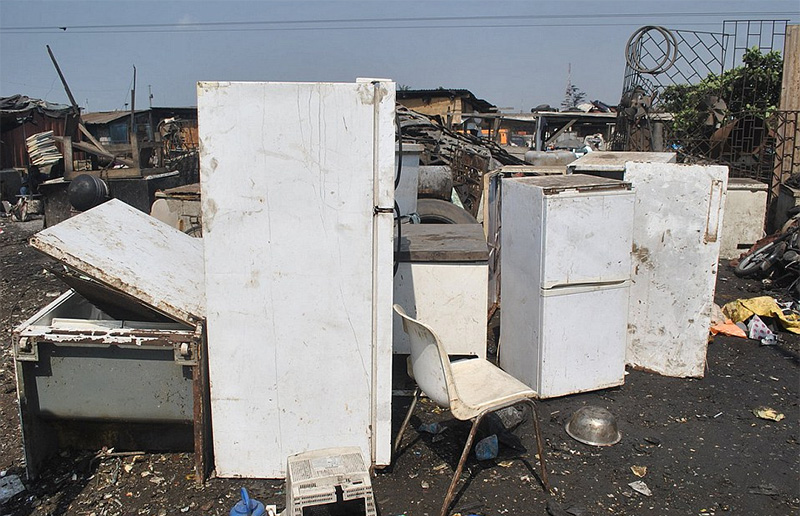 Do you support keeping the air clean and the waters free of pollution?
Need Easy Extra $250+/Month For Free?
Do you support keeping the planet healthy? If so, you will definitely want to consider recycling old appliances like a partially broken refrigerator.
The best part of recycling some kitchen items is that it can actually put more cash in your pocket! You can get cash for old appliances with as much as $50 for an old or broken fridge.
Who buys old appliances, you may ask?
There are energy companies around the country that can offer you a rebate for recycling old refrigerators.
These businesses can come pick up your broken fridge or freezer for free and even give you cash in return.
If you're excited to learn that non working refrigerator recycling can get you more money in your wallet, then read on about states and cities in the US that offer cash back programs for recycling old appliances.
Cash for Old Appliances at These State and City Programs
Take a look at the list below to see what energy companies and what cities or states are offering recycling programs for old appliances. You can get cold, hard cash for old freezers or refrigerators through these programs.
Southern States and Cities that Offer Money for Old Fridges
Arizona and APS
The company APS in Arizona can offer you money for an old fridge or other old kitchen appliances. Check out the savings you can make on your energy costs as well as the rebate you can get through the company. Click here to learn more!
New Mexico and PNM
The state of New Mexico has an energy company called PNM that can pay you $50 for recycling an old refrigerator. In fact, you can schedule a free pickup of your fridge from PNM.
The company can pick up your fridge, leave you with a receipt, and ensure you get a rebate check in the mail for $50. You may need to wait as much as six weeks before getting the check in the mail.
North Carolina
In North Carolina, there's a great company called Duke Energy that will pay you as much as $50 to recycle your old fridge and kitchen freezer appliances.
Duke Energy picks up your refrigerator for free, recycles it for parts, and sends you a check for $50. Check out its website for more info!
South Carolina
In South Carolina, Duke Energy also offers similar services. Give them a call to pick up your fridge and recycle it for parts. You can get at least $50 for the fridge.
Kentucky
In Kentucky, the company PPL Corporation can pay you $50 for recycling an old and broken refrigerator. For every appliance you recycle, you can get paid through the Fridge and Freezer Recycling Program.
San Antonio, Texas
If you live in San Antonio, you can make even more money for recycling a broken refrigerator.
CPS Energy is one company that offers as much as $65 for your fridge. You'll get these fridges picked up for free and hauled away without any fees on your part.
Once your fridge is processed and recycled, your energy account will be credited for the $65.
Middle America States with Refrigerator Recycling for Cash Programs
Missouri
If you live in the state of Missouri, you can get $50 from the company Ameren for recycling your old refrigerator. The company picks up your old fridge for free and recycles models from 2001 or older.
Illinois
In Illinois, the same company Ameren runs the program ActOnEnergy, which also ensures you get paid $50 for recycling a broken or old fridge. They also take freezers!
Wisconsin
In Wisconsin, you won't make as much but still a good amount for recycling your old freezer or fridge. The business Focus on Energy gives $40 in cash to customers residing in Wisconsin looking to recycle these old appliances.
Michigan
Efficiency United helps people in Michigan with their old appliances. If you have a refrigerator that needs recycling in Michigan, Efficiency United will pick it up and haul it away for free while providing you with a $50 check.
Indiana
Do you have a working refrigerator you want to get rid of? Are you looking for a newer and better version? Then leave your working fridge with Duke Energy.
Duke Energy offers a $50 rebate for a working freezer or refrigerator.
Want more money?

Easy Extra Cash! Join the famed Vindale Research site and earn rewards by doing nothing more than sharing your experience of using the internet. Guaranteed 100% free membership.


Ohio and Duke Energy
The company Duke Energy ensures you get $30 for your old fridge. It's a bit less than other states, but if you live in Ohio, you can get at least $30 from this company.
Ohio/Indiana
The company Vectren Corporation offers rebates for old appliances in both Ohio and Indiana. The business can pay $30 for every kitchen appliance that qualifies by their standards.
The appliance can also be picked up for free!
Some Other States, Cities Where You Can Get Cash for Old Appliances
Imperial, California
The organization Imperial Irrigation District (IID) can pick up your used refrigerator and freezer while giving you $50 in return. The fridge will be picked up and recycled free of charge.
The fridge must be in working order and you must be a residential electric customer of IID. There is a limit of two appliances per household.
You will get a $50 check mailed to you within eight to ten weeks after your fridge is picked up from your house.
Oregon
Depending on the size and functionality of your old, used refrigerator, you can get two separate payments from the company Energy Trust of Oregon.
This company offers either $20 or $40 for an old refrigerator for residents in Oregon. It's a simple and great way to make sure your old appliances are recycled!
New York City
For old appliances like fridges or freezers, New York City residents can work with the business Con Edison to recycle these items.
Con Edison specialists will come out to remove and recycle your appliances while giving you a check for $50.
The company also offers rebates for washing machines, room air conditioners, dehumidifiers, and dishwashers.
You can make anywhere from $20 to $50 for each of these appliances.
Long Island
If you live out on Long Island, you'll need to reach out to Public Service Enterprise Group.
This company will pick up your old fridges as long as they are in working order.
If you have an old freezer, that can also be recycled at Public Service Enterprise Group. Best of all, they'll remove your fridges for free and give you a $50 check in return!
Fort Collins, Colorado
If you live in Fort Collins, Colorado and you need to recycle an old fridge, you're one lucky man or woman!
This is because the City of Fort Collins partnered with Efficiency Works and Sears Appliance to help you save as much as $120 on a new Kenmore ENERGY STAR®refrigerator, model # 60602.
And what will you do with your old fridge or freezer? You will be able to recycle it through Fort Collins Utilities and get a $35 credit for your bill.
You can schedule a pickup and your old refrigerator will be hauled away for free.
Massachusetts
Is your freezer or refrigerator getting old and you want to get a new one? Well then consider recycling that fridge through Mass Save, which is sponsored by Cape Light Compact, Eversource, National Grid, and Unitil.
You'll be able to get a $50 rebate as well as free pickup and removal.
What to Do If Your State Wasn't Listed
If you haven't seen your city or state on this list, you aren't out of luck! Do you know the name of your local energy company?
Search for your city's power company online and look through their website. Look at their site specifically for rebates and incentives.
If you forget the name of your local power company, search for your city's name and power company through Google.
Don't Forget to Ask about Other Appliances that can be Recycled
Now that you know what companies are available to take away your fridge for free and give you a nice rebate, don't forget to ask these same organizations whether they can take care of other kitchen appliances.
Many of these same places can recycle an old stove, dishwasher, or washer/dryer. Instead of merely throwing away these items, you could make more money for recycling the appliances.
Did you get a rebate from recycling your old kitchen appliances? How did it go? Let me know by commenting below!
Related Posts:
Earn Everything… nearly!

Join e-Poll, one of the few faithful and honest survey panels and earn cash - paid via PayPal - gift cards for Amazon, Best Buy, iTunes, Starbucks, and Walmart, plus Retail e-vouchers.
The surveys are aimed at entertainment-related research, covering such things as personal TV watching habits, give feedback on new TV commercials or to review DVDs that are sent to your home.
For USA residents aged 13+ No hidden fees and completely free!