29 Places to Get Free Old Newspapers in 2023
Updated on: by Amy Kennedy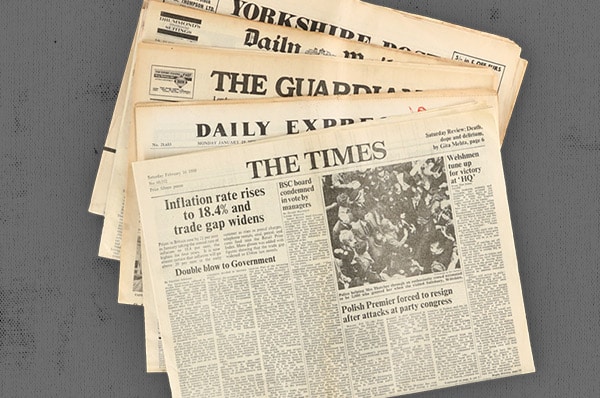 Need Easy Extra $350+/Month For Free?
Old is gold. And so are old newspapers! 
The paper may be thin and inexpensive, but it could do absolute miracles around your house. 
However, getting a collection of newspapers can be a tiresome task. 
It might cost you a lot of effort and time to make the collection you so desperately need. 
Old newspapers aren't completely worthless. Get creative and turn your old newspapers into crafts and arts. Also, you can use old newspapers as insect trappers and even soil conditioners. 
When relocating to a new home or business location, you can use old magazines as packing materials. You could find magazines helpful for cleaning windows or gardening purposes.  
But how do you find and collect old newspapers for your projects? Check out these twenty-eight places, and you may be lucky to collect enough papers for any purpose. 
So, Where Can I Get Free Newspapers?
Here are places where you can get a hold of complimentary newspapers. However, you might have to make arrangements before collecting them.
1.    From Local Libraries
A local library is a perfect place for you to get free newspapers.
Libraries have newspapers to read daily. As a result, they are likely to have large chunks of free newspapers to dispose of.
Visit your local library and arrange with the administrator to collect out-of-date newspapers for you.
Most libraries have special subscriptions with local dailies that provide copies of newspapers.
Many established libraries in your city or town have subscribed to newspapers from different suppliers. These magazines are offered to members at a fee or free of charge. Libraries usually donate or sell newspapers for recycling every other week. These organizations can donate out-of-the-date papers to willing users. Therefore, when next you need outdated newspapers for any purpose, stop by your local library, and you may be lucky enough to grab a few. 
2.    Post Classified Ads
Create catchy ads and post them on classified
You can post in your local newspaper or on craigslist. Don't forget to provide your contacts so that people may get back to you. In the post, you can designate a drop-off point and also indicate your availability.
Need Easy Extra Cash?
Pinecone Research, a leading name in online survey panel honesty, absolutely guarantees $3 cash for every survey you complete!
Take advantage of their time limited New Membership drive and register NOW. Join today: 100% free!


Posting an Ad is simple yet very convenient.
Hundreds of people buy magazines on a daily basis. Sadly, they rarely know the perfect way to dispose of these papers. The few who know where to dispose of the papers are too busy to meet the strict deadlines and regulations. However, many wouldn't mind bringing the out-of-the-date papers to the closest collection point around your location. You can connect with dozens of such people by creating classified ads online on your social media pages or local online magazines. 
3.    From Nursing Homes
Many nursing homes have residents almost throughout. The residents do not have many activities to do in a day.
Reading keeps them engaged and free from thoughtfulness. Some of the nursing homes have free magazine subscriptions from non-governmental organizations. They enjoy reading daily papers to keep themselves in touch with current issues.
The nursing facilities provide them with almost as many newspapers as they are in the nursing home.
Nursing homes are designed in a way that suggests the rooms are for private residents. If you need old newspapers, the nursing home may be the right place for you.
Many residents will have a stock of old newspapers stuck in their rooms. However, due to holding capacity, they cannot keep them for long.
Reach out to a facility near you and arrange with the administrators. You may agree with the administrator that you pick the used newspapers regularly.
One of the free services nursing homes provide to residents is free newspapers. Of course, high-end facilities have multiple channels for residents to catch up with the latest news, including Wi-Fi connections and cable TVs. However, many nursing home residents are used to reading newspapers and denying them such opportunities could leave them depressed. 
Although most nursing home facilities have daily magazine subscriptions, they don't have collection subscriptions. So, many homes have amassed hundreds of outdated newspapers every month. If you stop by these homes, you can collect enough magazines for your unique needs. 
4.    Visit Banks
Banks provide newspapers and magazines for their customers in the lobby.
As the customers wait for their turn to be served, they can go through the newspaper.
You may reach out to the bank attendants and request if they can hold the newspapers for your collection.
Banks are other great places to stop by when searching for free outdated magazines. These facilities receive hundreds of fanatic newspaper readers. 
Furthermore, bank attendants need newspapers daily to stay updated. Sadly, many banks don't have reliable plans to dispose of the out-of-the-date magazines, and stopping by every month to collect the newspapers could save them a great deal. 
5.    From Local Recycling Centers
Recycling centers are the biggest consumers of used newspapers.
If you are looking for parts of a newspaper, e.g., you may not fail to find coupons or cuttings. Recycling centers have newspapers – old and new in bulk.
Visit a recycling center and request to go through their collection. But, you might need to pay. The reason being, recycling centers make money out of the used newspapers by sending them to paper mills for reuse.
You may need to contact the recycling center before the visit to confirm if they allow people to make the cuttings.
Check out recycling centers near you and get in touch with them.
Newspaper recycling is a big business in the United States. The paperboard and paper recycling rate in the United States currently stands at 68%. In other words, more than 68% of papers consumed in the US are recycled. Therefore, it's not impossible to find several recycling centers in your location. A quick Google search or asking around can help you locate these centers. The good news is that most of these organizations dish out old newspapers once in a while. 
6.    Inquire At the Attorneys' Offices
As you wait to see an attorney, you may go through magazines and newspapers provided for clients at the waiting lobby.
Ask at the customer desk what they do with the used newspapers. Request if they can hold them for you instead of disposing of them.
When you next visit your attorney's office, grab that opportunity to check through the newspapers and magazines provided to customers. Don't shy away from inquiring about the disposal means the attorney's office uses. You'll be surprised to note that they dish out the papers and magazines to willing clients every other week. 
7.    From Car Dealerships
Car dealerships provide their customers with complimentary newspapers as they wait to be served.
Again the administrators may pile the used newspapers for days before disposing of them. If you are lucky to have a friend there, ask them if they are willing to use newspapers.
If you are a shop customer, your good rapport with them may play to your advantage.
Car dealerships receive hundreds of clients every day. To keep each client busy before they are attended, they often provide free magazines and newspapers. Mostly, they pile up these papers and dispose of them every week. Stop by these dealerships occasionally, and you will likely get a few old papers for your specific application. 
8.    At the Doctor's Offices
Whenever you visit your doctor's office, you will most likely be served a cup of tea and offered a newspaper.
Earn Everything… nearly!
Join Opinion Outpost, one of the few faithful and honest survey panels and earn cash and gift cards for your opinion. Stack your points and redeem them: Simple! No hidden fees and completely free!


No kidding!
A newspaper will keep you engaged as you wait for the doctor or for your turn to see them.
You can request the office attendant to give you used newspapers, which they will readily agree to because it helps keep the office neat and clean.
Ever wondered where the papers you find your doctor, nurse, or patients reading before they are attended to go? Health facilities have some of the tightest schedules and rarely give attention to insignificant roles, such as the disposal of old newspapers. It's not impossible to find dozens of newspapers in their dustbins. The good thing is, if you speak with the management, you may be granted free access to the papers, ensuring you'll never lack newspapers for your varied uses. 
9.    Through Advertising Pickup Services
You can advertise pickup services for free magazines and old newspapers.
Social media is a convenient tool to promote on. Take, for example, Facebook Marketplace, YesBackPage, Bedpage, 5miles, and Craigslist.
In case you get a positive response, you can create a collection schedule and designate collection points.
Pickup services will save you many costs such as transport money. It will save your time as there are no inconveniences like failing to get anything when you visit a particular place.
Ever seen a friend or family advertise a pickup service for old newspapers and magazines? Were you left wondering how that works? It's simple. You place an ad telling your followers on Facebook, Twitter, or Instagram about your need for old newspapers. Those willing to donate the papers will organize a pickup point. You can even use marketplaces and advertising channels such as Craigslist. 
10.  At the Airports
Airports have complimentary newspapers at airport terminals.
Passengers en route to different locations are provided with newspapers to keep themselves busy as they await planes to transit from one place to another.
Customers relax and read local newspapers in addition to other forms of entertainment like televisions. The newspapers are recycled at the end of the day.
You can contact local convenience stores within the airport terminals and inquire how they handle the unused and dispose of the used ones.
You can offer to collect them periodically.
Airports flock thousands of travelers per week, meaning the volumes of newspapers in these facilities is enormous. The papers could be from travelers or the airport terminals' complimentary supplies. You can offer to be collecting the newspapers regularly. 
11.  Inquire at Hotels
Hotels provide customers with newspapers as a complementary service.
The guests are given a free copy every day for the period they spend in the hotel. The hotel attendants collect these newspapers every day.
They pile up very fast. In most cases, the hotels have no clear way to dispose of them.
Visit the hotels near you or call them up and inquire if they have used a newspaper.
Ask if you can collect them periodically. It could be that they spend money to dispose of them off as trash and that you are a blessing to them if you wish to be collecting the newspaper.
12.  Search on online site
You may find online ads on sites where people can buy or sell their stuff like 5miles, Bedpage, or Facebook Marketplace.
Check out the locations for used newspapers. You might want to check out these top ten alternatives to craigslist offering outdated newspapers and magazines for free.  
13.  Ask at Local Newspaper Offices
Without a doubt, local newspaper offices have a massive collection of old, unused, and unprinted newspapers.
They also had large chunks of unsold newspapers because they were misprinted. Others are excess plain unprinted rolls.
Newspaper offices may recycle excess rolls and misprints.
Reach out to your local newspaper offices and check whether they can allow you to collect the unused newspapers or misprinted rolls.
You could be lucky to be allowed to collect unwanted and unprinted rolls.
Unprinted rolls are safe for many purposes because they don't have ink which can cause damage to your clothing, hand, or wrapped commodities.
14.  From Schools and Colleges
Schools and colleges have their libraries where they keep newspapers for staff and students.
Additionally, they receive newspapers daily for student use in studies.
Students need newspapers for class projects. As a result, schools subscribe to receive hundreds of them.
Some daily publishers also offer free copies to schools to support particular programs. Since the schools receive them daily, the newspapers are often recycled at the end of the day.
Some schools have little space to keep the used newspapers. You can get in touch with a school in your neighborhood and offer to collect the newspapers.
This may go a long way in helping decongest the school's libraries.
Schools and colleges are a perfect source if you need a continuous supply of newspapers.
15.  From Local Administration Offices
Local administration offices like police stations and courthouses receive newspapers and magazines daily through subscriptions.
Get in touch with the attendant at the reception desk and inquire if they hold them for you to collect.
Remember, most local administration offices, including courthouses and police stations, have strict procedures for collecting anything from the facilities. Don't be surprised if you are asked to sign up for certain documents or agree to certain terms to be granted the chance to collect the newspapers. Besides, you may be forced to become the station's primary newspaper collector  
More Great Local Places to Find O

LD N

ewspapers for Packing
If the above fifteen methods don't work for you or you're so committed to a point you won't have the time to visit these places, you could try your collection options within your vicinity. There are dozens of places within your locality providing newspapers for free to willing collectors. The following are the top 8 options to consider. 
1.    Local Retail Stores
You are most likely to find stores selling newspapers. Local stores like book stores, gas stations, grocery stores, and convenience stores sell newspapers.
They may offer free booklets or magazines as adverts for their products. Some of these stores keep unused newspapers and booklets.
You may visit them and request to collect the unused material for you to pick periodically.
You can also collect many newspapers when they are giving them for free. However, not all stores hold the reminders of complimentary newspapers; some distributors may require what remains behind.
Contact the stores before visiting them to inquire if they can keep them for you.
If you live in a big town or city, the closest retail stores to your home could be a great place to find old newspapers and magazines. It's not guaranteed you will find newspapers in these facilities, but if you book with the management, they may agree to keep the used newspapers for you. It'll only require you to accept the burden of visiting the stores several times a week to collect the newspapers. However, some stores will only donate used papers to their clients, so if you are not an ardent client, don't bother. 
2.    Coffee Shops
I'm sure coffee shops are all over your neighborhood.
If you are looking for free newspapers, then your local coffee shop could be your perfect place. Clients at coffee shops like to read newspapers as they sip their coffee.
Customers buy a newspaper and may leave the newspapers for other customers as a courtesy.
Coffee shops collect the newspapers left behind.
Additionally, they keep the unsold ones.
Visit local coffee shops in your neighborhood and request the shops' owners to hold the newspapers for your collection.
It's almost expected for coffee lovers to read magazines and newspapers. You may never lack one or two bundles of old newspapers in these facilities. But since you are not the only customer visiting the coffee shops, you might have to book early enough for the coffee shop keepers to keep some papers for you on the agreed dates. 
3.    Salons and Barber Shops
In most cases, when you visit a salon or a barbershop, you might have to wait for your turn.
Most salons and barbershops have newspapers to keep their clients busy as they wait between services.
Ask the attendant how they dispose of the newspapers. Offer to collect the used newspapers.
It might help if you are a regular customer.
These two businesses receive dozens of clients simultaneously, and the best way to entertain them is to offer an additional service to keep them busy as they wait for their turn. Almost every barbershop and salon has a Wi-Fi connection and cable TV. Adding newspapers to the scene could make more customers choose your services. As a regular client, you can ask the barbers and hairstylists to keep the newspapers for you after use. 
4.    Neighbors
If your neighbors have a newspaper subscription, you can request them to keep the newspapers after reading for your collection instead of recycling or giving them away for disposal.
When you collect the newspapers, you are helping them dispose of them in case they need to.
If you need bundles of newspapers monthly, you might need to talk with several neighbors, including those living in homes several meters away from your home. Don't be shy to ask around, as that's the only way to access as many old newspapers as you desire. 
5.    Friends and Family
Reaching out to all of your loved ones is a great way to get free used newspapers.
Friends and family can provide a great source of bulk newspapers. Contact them and offer to collect used newspapers from them.
6.      Local Gas Station 
Selling newspapers is an additional service provided in local gas stations. Yes, almost all gas stations sell newspapers. While it's a lucrative business, selling newspapers doesn't guarantee that all newspapers will sell every day. Sometimes, the local gas station attendants don't sell all the newspapers. Additionally, they might have additional stock of clients who read and returned the papers after use. If you talk with the local gas station attendants, they could keep a few such papers for you to collect whenever you need them.
7.      Grocery Stores
Groceries stores are also great locations for anyone searching for free old newspapers. Grocery stores sell newspapers, and the owners wouldn't mind giving out the papers that don't sell to their ardent clients. However, old magazines and newspapers are always in demand, and your grocery store receives multiple clients daily. You might need to book a collection date and alert the grocery storekeeper on time to keep some for you.
8.     Drugstores 
If you're an avid newspaper reader, you likely have bought several newspapers from your nearby drugstore. Drug stores have joined the range of many businesses that combine selling target products with papers. Like gas stations and grocery stores, drug stores have many customers needing papers that don't sell. You'll have to book a collection date with the drugstore keeper. 
9.    Dollar  Stores
Known as variety stores, dollar stores are also other places to find old newspapers. These stores sell everything from toys, home furnishings, groceries, automotive parts, apparel and newspapers. They'll likely have some of the newspapers that haven't sold, so contact them to inquire if you can collect them. 
10.     Local Apartment Complexes
Apartment complexes have multiple people living or running businesses in different rooms. Most many of these people, especially the business operators, order newspapers frequently. Unfortunately, they rarely know how to dispose of the newspapers. They could dish out the old papers for free if you stop by and talk with them. 
11.      WALMART Stores 
The last great place to find old newspapers is Walmart stores. Walmart stores locally available in cities and counties in the United States sell newspapers. You'll often find these stores disposing of old newspapers that didn't sell. Contact them to inquire about newspaper sales and old paper disposals.
12. Retirement Homes
Retirement homes are excellent sources of old newspapers. These homes often receive newspaper subscriptions for their residents to enjoy. As a result, they accumulate a surplus of old newspapers that they are willing to give away.
To obtain old newspapers from retirement homes, reach out to them and inquire about their disposal practices. You may find that they are happy to provide you with their old newspapers.
13. Community Centers:
Community centers often offer a variety of amenities and resources for the local community. These centers frequently have reading materials available, including newspapers, for visitors to peruse.
As time goes by, community centers accumulate old newspapers that they may no longer need. It is worth contacting community centers in your area to inquire about their disposal practices for old newspapers.
They might be willing to provide you with these newspapers for free.
14. Bookstores
Bookstores occasionally have sections dedicated to discounted or free materials, including newspapers. These establishments may have old newspapers available for anyone to take.
Visit local bookstores and ask if they have any old newspapers that they are willing to give away.
Final Word
Getting free newspapers should not cost you an arm and a leg. There are many simple ways to get as much as you wish. Choose a place to find used newspapers from among the list above and start enjoying the countless benefits of used newspapers.
All these are great ways to collect free newspapers within your location. You could as well keep the papers you buy and read every day. Over time, you will have enough to sort out your recycling or crafts. 
All the best!
Related Posts:
Earn Everything… nearly!
Join Ipsos iSay, one of the few Faithful and Honest survey panels and earn prizes, gift cards and donations. Stack your points and redeem them: Simple! No hidden fees and completely free!