Stop Paying for Data: 20+ Ways to Get Free Cell Phone Internet
Updated on: by Amy Kennedy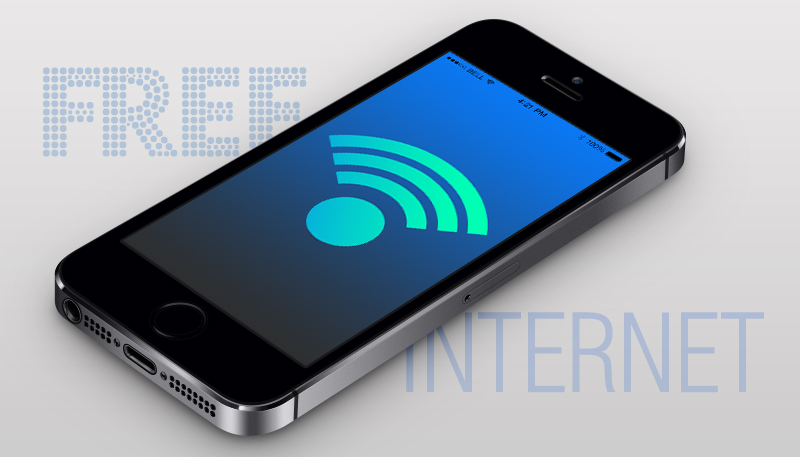 Is that unlimited data plan costing you a pretty penny?
Need Easy Extra $350+/Month For Free?
It's normal for iPhone and Android cell phone plans to cost $50 or more per month, and that's sometimes without unlimited data.
Add that service to the mix and you'll likely end up paying closer to $70 or more every month.
Data is necessary when you're not in Wi-Fi areas to be able to access the internet on the go, like when you need GPS for a road trip or aren't in a building with public Wi-Fi.
But there's really no need to shell out a bunch of cash every month to do it.
Read on to learn ways to get FREE internet for your cell phone!
How to Get Free Cell Phone Internet
While there are several free, legit ways to get cell phone internet, there are also a lot of scams you might come across.
Scams exist in areas like this where people are desperate to try to cut costs.
Scammers know they're easy targets, unfortunately.
One scam that's prevalent in the free mobile internet world is typically known as a "hack" for Android phones that'll magically give users free internet.
You'll likely find a few of these results if you search for ways to get free internet for your device.
The tutorials will explain how to essentially hack your device or browser to get free mobile data you don't have to pay for.
Unfortunately, what tends to happen is that you'll harm your phone to the point of not being able to use it anymore.
Other scammers will go a different route and invite you to pay for a hacking guide or some service that'll supposedly give you free internet on your device.
They're usually bogus and will take your money and run.
Trust your gut and the old saying: "If it seems too good to be true, it probably is."
Need Easy Extra Cash?
Pinecone Research, a leading name in online survey panel honesty, absolutely guarantees $3 cash for every survey you complete!
Take advantage of their time limited New Membership drive and register NOW. Join today: 100% free!


The following 19 ways to get mobile internet for free are tricks that actually work!
Get Free Mobile Data with FreedomPop
FreedomPop is a unique company that offers 100% free cell phone plans to people in qualifying areas.
With FreedomPop plans, you can get access too:
Free international and domestic calling
Free Wi-Fi calling
Unlimited texting and calls to other FreedomPop customers
Access to over 8 million hotspots
Free 4G internet each month with referrals
Unlimited free data when you complete offers
Basically, it's like a rewards program and internet service all in one.
By completing offers and referring your friends, you can get yourself free data every month.
The company even has a wide range of some of the most popular smartphones for you to choose from.
100% free plans are also available that don't even require you to do any of the above to keep them free, like one on the Sprint network with 500 MB of data, 200 minutes, and 500 texts.
You can, of course, participate in the rewards tasks to earn more data if you need it.
Wait for Deals from Mobile Providers
Mobile providers are always competing with each other.
While it might be annoying to always have companies bugging you to switch to them, it can also work out to your advantage!
These companies frequently have special deals to entice you to switch to them.
And those deals can include an offer like free or discounted mobile internet for your new plan and phone!
I've seen offers by some companies that give you a free month or two of unlimited mobile data when you switch over.
Others give you unlimited data for a ridiculously low price for the first year or two of your plan.
The promotions differ by company and seasonally, so you'll just have to keep checking to see what's available.
You can do this by visiting the websites of mobile providers.
But it's also a good idea to follow their social media accounts and subscribe to their email newsletters.
It's usually in these spots where you can find updated news from companies about their latest promotions that could save you a bunch of money on your cell phone's internet plan.
Get a Plan with Rollover Data
You won't necessarily get free mobile data when you have a plan with rollover data.
Technically, you're paying for that data that rolls over.
But a plan with rollover data that moves with you month to month when you don't use some of it can definitely save you money.
There may be some months when you use a lot more data than other months.
Instead of having your unused data go to waste, it's better to have a plan with data that rolls over so that you can use it when you need it most.
So, in a way, it's kind of like getting some free data on your busier months of internet usage.
Just be sure to read the fine print when you sign up for a plan.
Some plans will let you roll over an unlimited amount of data from month to month while others will cap it a 1 GB or so of extra data.
Some other plans will have your rollover data expire after a month or two, also.
To get the most bang for your buck, look for plans that will let you roll over as much data as possible without expirations and a bunch of restrictions.
The Lifeline program is a program for low-income people to help them afford internet and telephone services.
Earn Everything… nearly!
Join Opinion Outpost, one of the few faithful and honest survey panels and earn cash and gift cards for your opinion. Stack your points and redeem them: Simple! No hidden fees and completely free!


The program doesn't typically pay your full cost of phone service for the month, but it will pay some if you qualify, which could help you at least cover the cost of data every month.
To be eligible for the program, you must currently be receiving some type of federal assistance, like Medicaid or SNAP.
Or, you could qualify based on your income alone, even if you don't receive any benefits.
Along with your application, you'll need to send along your most recent pay stubs, tax return, and benefit letters you have to prove your eligibility.
You'll then use Lifeline's online tool to find a company that works in your area.
You'll get a monthly bill from that company and Lifeline's credit will automatically go toward your bill every month so you can pay just the balance.
Try CellNUVO
CellNUVO is an app that lets you earn rewards on your cell phone to put toward your mobile data service.
On CellNUVO, you'll play games and complete quick tasks that get you points, which you can redeem for gift cards to Amazon or a check or prepaid debit card.
CellNUVO is basically a phone plan in itself.
You can keep the phone you have or get another one from the company for free.
But you'll need to use the app to continue your access to the internet.
CellNUVO works with some of the biggest cell phone companies in the business, like Verizon and Sprint, so you can choose the company with the network that covers your area the best.
Tag Mobile is one of the providers that participates in the Lifeline program.
The great thing about this company, though, is that it has some super low-cost plans that could make it possible for you to pay nothing every month if you're eligible for Lifeline.
For example, Tag Mobile features a free service with unlimited talk and text and 3 GB of LTE data.
It's currently only available for California customers, but the company has other offers for different states.
There are also prepaid plans starting as low as $10 a month.
Ask Your Boss
Your job might have a program for employees to get free cell phone service that includes mobile data.
If you're not sure, you can always ask.
The only downside is that you might be limited to only using your work phone for work purposes only, but that's not the case with every company.
Some are happy to pay for both personal and business use if you'll frequently need to use your cell phone to stay connected to your work.
If your company doesn't have anything like this in place, you still might benefit from asking if it's something the company can consider in the near future as a perk for its hard-working employees.
Check with Your Local Department of Job & Family Services
Some localities have special programs for low-income residents that help them get a free cell phone and plan to let them stay connected with their friends, loved ones, jobs, etc.
If you're unsure of what your local Department of Job & Family Services (also sometimes referred to as a welfare department) offers, you can always call or stop in to ask about its programs.
Even if they don't have a specific program for cell phones and service, they may have other programs that can help you cover the cost so you can afford to buy some data.
Connect to Free Wi-Fi When Possible
To save the data that you pay – and gain access to the internet for free – you'll want to make sure you connect to Wi-Fi whenever you're in an area with it.
It can be difficult to remember to do it, though.
Most modern phones will have a setting you can turn on to automatically check for Wi-Fi networks and ask you if you want to connect.
This is great because, every time your phone detects that you're in an area with Wi-Fi, it'll try to connect for you to save your data.
Most public places are jumping on the public Wi-Fi bandwagon, like libraries, museums, and restaurants, but many retail stores are also offering the service.
You can also use apps like OpenSignal's WiFiMapper to find Wi-Fi coverage maps wherever you are.
Share Someone's HotSpot
If you have a friend who doesn't mind sharing some of their unlimited data with you, you can always ask them to turn on a mobile hotspot on their device if it has that function.
Most smartphones made within the past couple of years do have a mobile hotspot setting.
What this does is sets the phone up similar to a wireless router.
The phone shares its data with others after they connect to the hotspot, just like they were connecting to a Wi-Fi connection.
That person's data will get used in the process, but if they have unlimited data without caps and overage charges, then it shouldn't matter.
Of course, this will only work if you're within close range of your friend, so it's not something you can do when you're apart.
Take Advantage of Your Plan's Rewards and Bonuses
Cell phone companies will usually do a lot to keep their loyal customers sticking around, including giving them perks and exclusive promotions throughout the year.
I suggest checking in on your account at least once a month (a good way to remember is to do it when you pay your bill!).
Look on the website for any offers for current customers.
Sometimes, companies will have promotions for a free data upgrade or other promotions that may save you money on your bill each month.
Some companies also have rewards programs for members who have been with them for a certain length of time where you can earn rewards for purchases or other tasks.
The rewards are usually in the form of a credit on your bill, which could help you pay for your data plan!
Swagbucks is an online rewards program where members can get paid to play games, shop online, watch videos, and participate in fun bonus games and offers.
Swagbucks also has several offers that rotate consistently where you can earn SBs (points) for completing them.
Some offers are free, others are trials, and some require you to pay for something in return for a bunch of SBs in your account.
Swagbucks sometimes has offers from different cell phone services where you can get free data for completing it.
For example, a current Verizon offer gives Verizon customers 100 MB just for entering and confirming your phone number and account (check it out here).
I've also seen offers for other companies that give discounted plans or free data plan upgrades for new sign-ups or the addition of a new line on an existing account.
You can view current offers by heading to the Discover tab.
Or, browse the Rewards tab for free data rewards when you trade in SBs.
Read More:
Swagbucks Review: The #1 Survey Site to Earn Real Rewards
15 Other Websites Like Swagbucks That Pay Cash and Rewards
Use Apps That Give Free Data
The following apps are reward-type apps that pay users in data when they complete specific tasks!
Not only does Databack save some data you use with your favorite apps (some of them are data hogs!), but it also has a Spin & Win game that could give you free data if you win.
A winning spin pays out 50 MB in data, which isn't a lot, but it's still good for free mobile internet you wouldn't otherwise have.
The app also features a data tracker to help you see what apps are using the majority of your data.
Earn Talktime is another app you can use to get rewards that will help you top off your mobile data and talk time.
All you need to do is complete fun tasks and games to keep earning points.
You can fill out surveys, download and try new apps, refer your friends, and more – just like the reward sites and apps you're used to.
Only this one gives you the option to get paid in mobile talk time and data.
You can put your earnings toward an already paid mobile bill or recharge your prepaid phone with more talk time or mobile data.
It just depends on your service and what works best for you.
Instabridge is an app available on Google Play and the App Store.
You can use this app to find free Wi-Fi near you, whether it's in a store, a restaurant, at a gas station, or any other spot in town.
This can especially come in handy if you're a frequent traveler and aren't sure where to go at your next stop to get free Wi-Fi so you won't have to use mobile data.
The best part about the app is that you can also find the passwords to locked Wi-Fi networks in the area.
So say, for example, you stop at a hotel to use its Wi-Fi in the parking lot before you get back on the road, only to find out that its network is password protected to allow patrons only to use it.
You can use the Instabridge app to find the password and connect to the internet on your break.
Other Instabridge users submit passwords for Wi-Fi networks, which is how the system stays updated.
You can also have the app instantly connect you to the Wi-Fi networks that work so you don't have to keep connecting or wondering if your Wi-Fi is on.
KickBit is an app from Verizon Wireless that's available for both iOS and Android users.
The app works similarly to rewards apps like Swagbucks and InboxDollars, where you can get paid to watch videos, take surveys, shop online, and more.
You'll earn free data for the tasks you complete, which then get moved to your Verizon account and add to your current data plan.
The app currently only works with Verizon Wireless prepaid smartphones, so you won't be able to use it with contract plans or tablets.
Mcent is a browser you can use on your mobile device that helps you save data and gives you data back for using it.
Just use the browser in place of your regular one and earn free mobile internet every time.
The browser has similar functionality of browsers you're used to, like bookmarks, incognito browsing, and other convenient features.
PayTunes is an interesting app that works differently than many of the others on this list.
When you download this app, you'll start to hear advertisement jingles on your phone instead of your usual ringtones.
Because it's a form of advertising, you'll get paid to have them play on your phone because PayTunes is helping its clients advertise their businesses.
Once you rack up enough points, you can turn them in as a payment for your already paid mobile bill or as talk time or mobile data recharges for a prepaid phone.
You can also earn extra points from trying new apps, referring your friends, completing offers, and more.
Use TaskBucks to get rewarded in the form of mobile data for stuff you do every day anyway, like download apps and take surveys.
You can also refer your friends to the app to earn more.
TaskBucks has daily sweepstakes and contests that can help you get free internet too!
DataEye
DataEye is an efficient app that helps you manage your mobile data usage and potentially save on your data plan.
By running in the background, it monitors your data usage in real-time, providing visibility into which apps are consuming the most data.
Furthermore, DataEye offers a list of data-efficient apps and lets you control which apps can access your data, ensuring that only necessary data is used.
Through this app, users can also discover new apps that are recommended based on their interests.
Gigato
Gigato is a unique app that provides free unrestricted Internet data for its users.
By using the app, you can earn data packs as you use your favorite apps. For example, if a user uses 20MB of data on WhatsApp, they will be rewarded with a 20MB data pack.
This enables users to essentially get free data while doing what they already enjoy.
Gigato has partnered with some of the biggest telecom companies to provide this service to its users.
Free Data Recharge & Data Saver 4G
Free Data Recharge & Data Saver 4G is a two-in-one app serving as both a data saver and a free data recharge platform.
As a data saver, it helps users track their data usage and restrict apps that use too much data. As a free data recharge platform, it offers users the opportunity to earn free data by performing simple tasks like watching videos, installing apps, or participating in surveys.
The app supports all telecom networks, making it accessible to a wide range of users.
Dent Wireless
Dent Wireless is an innovative app that allows users to earn free data and voice minutes for their mobile phone.
Through the app, users can earn "DENTs" by watching ads, filling out surveys, or other activities. These DENTs can then be exchanged for mobile data or voice minutes.
One of the unique aspects of Dent Wireless is its ability to send mobile data to others, allowing you to share your rewards with friends or family.
This app's innovative approach to data rewards makes it a unique addition to the landscape of apps offering free data.
Read More: 11 Totally Legal Ways to Get Your Internet at Home Without Paying for It
Get Free Internet on Your Cell Phone!
Getting free data for your phone has never been easier with all the great programs and apps that now exist.
Cell phones are everywhere.
Information is everywhere.
Technology is everywhere, too.
It seems like more companies are catching onto the importance of keeping everyone connected in this techie world, which is why they're making data plans more accessible for everyone, regardless of their income level.
Take advantage of the many ways to get some free data every month to save on your phone bill.
Do you know of any other ways to get free mobile internet that we haven't mentioned?
Let us know in a comment below!
Related Posts:
Earn Everything… nearly!
Join Ipsos iSay, one of the few Faithful and Honest survey panels and earn prizes, gift cards and donations. Stack your points and redeem them: Simple! No hidden fees and completely free!