All About Car Wrap Advertising: Earn Up To $1,000 Per Month To Drive!
Updated on: by Amy Kennedy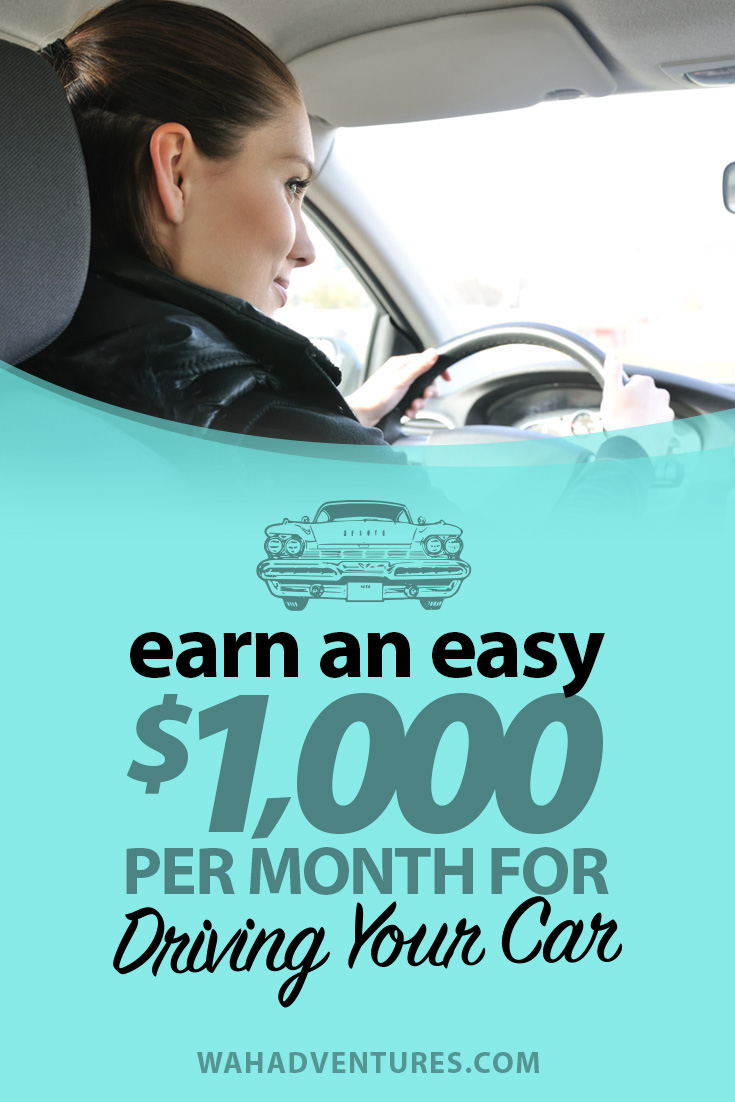 Are you ready to drive for money?
Need Easy Extra $350+/Month For Free?
I'm not lying when I say that your car can make money for you.
It's a legit thing: get paid to drive your car to work, the store, or wherever else you need to go.
How? You'll have logos on your car to advertise for companies.
Basically, your car will be a moving billboard that makes you money.
It may even pay for itself (and then some!) each month.
So, let's dive in to find out what it's all about.
How to Get Paid to Drive Your Car
You know what billboards are for, right?
They're huge advertisements made to get your attention on the road.
Car wrap advertising works similarly, only you'll be using your vehicle as the billboard.
Companies go this route in the hope of reaching more eyeballs.
If you drive long distances frequently, the company's advertisement can potentially reach huge audiences wherever you go – much more than a traditional billboard can.
And, they're willing to pay you for it.
How it usually works is by fully wrapping your car in the company's advertisement.
This method will also give you the biggest chunk of change – up to $1,000 per month, if you meet all the requirements.
Once you're approved, you'll need to take your car to a specific car wrapping center to get the decals applied.
Need Easy Extra Cash?
Pinecone Research, a leading name in online survey panel honesty, absolutely guarantees $3 cash for every survey you complete!
Take advantage of their time limited New Membership drive and register NOW. Join today: 100% free!


They're removable, so you don't have to worry about your car being covered forever (which can obviously be a tough selling point for your car in the future!).
But, to get paid, it has to remain in place.
Some car advertising companies have other options too, such as small decals or bumper stickers.
Of course, they'll pay a lot less.
What are the Requirements?
To get paid, you'll need to meet some requirements. These vary by company, but here are some general rules you'll need to adhere to:
Must be at least 18 years old with a valid driver's license
Must drive a minimum number of miles each month, usually between 800 to 1,000
Fully legal and safe vehicle, including insurance coverage, routine maintenance complete, and all repairs taken care of
Vehicle must be no more than a few years old in most cases
Must be able, and willing, to sign a legal contract.
How Much Can I Really Make?
How much you'll make by placing ads on your car depends on a few things:
The company you're working with
The length of your contract
What type(s) of advertising you'll have on your car
The company that's advertising
How often you drive
What kind of car you drive and what condition it's in
Where you drive
Some people get paid $50 a month, while others can earn up to $1,000.
Regardless of how much you are offered, it's still extra money that you weren't making before, just to place some ads on your car and drive it.
Other Important Things to Know About Making Money with Your Car
Who Can Make the Most Money with Advertising?
Generally, the people who are most successful with car wrap advertising are those in busy cities.
A vehicle that's in a bustling area every day is much more appealing to advertisers than one in a rural area filled with backroads and not many people.
That's not to say that those in smaller areas won't have any opportunities.
They could, but they'll likely be few and far between unless you happen to have several local advertisers in your area.
You never know until you sign up with different advertising companies and see what they offer.
What Else Can Influence How Much I Make?
Where you drive, your age, and your overall demographic can also influence the availability of opportunities for you.
Advertisers want to make sure that people interested in their business will likely see the ads.
So, if you're a business woman who commutes to an office job every day, an advertisement for college dorm furniture may not be the best match for you.
Also, have a reliable way to track your mileage, such as an on-board GPS system.
This will provide proof that you're meeting your mileage obligations and driving where the advertiser expects you to.
Basically, the more you drive the better opportunities you can get, but you should also be interested in what you're advertising.
Advertisers will expect you to make a good impression for their company if someone were to ask you about your car's ad.
If you're caught bad-mouthing a company or not agreeing with whatever it is the company sells, then you could violate your contract and not get paid for the time you've advertised.
Can I Drive for a Ridesharing Company and Get Paid to Advertise on My Car?
If you're a rideshare driver, you may find more success than a regular driver with this form of advertising.
Advertisers will like that you use your car often and that it gets seen by several people during a day's work.
The only problem is that some ridesharing companies may have an issue with you advertising using one of these companies.
It's always a good idea to check with the company you drive for just to be sure.
In most cases, though, your car is your car and you're free to do what you want with it when you rideshare.
Can Everyone Join These Advertising Companies?
No, unfortunately.
Almost anyone is eligible to apply if they meet the basic requirements of the company (you can typically find the requirements on the website).
However, a lot of people mention applying and never getting a phone call or email back about their application, even after follow-ups.
Earn Everything… nearly!
Join Opinion Outpost, one of the few faithful and honest survey panels and earn cash and gift cards for your opinion. Stack your points and redeem them: Simple! No hidden fees and completely free!


The thing is, a lot of people likely apply for these gigs every day.
Companies probably get bombarded with hundreds of new applications each day, and potentially even more.
If you don't hear back for a few weeks, don't worry too much.
It might take the company a bit to respond to you and accept you.
However, if you don't hear back for three months or so, you should assume that you didn't make the cut.
From what I've heard, these companies don't contact everyone who doesn't make it into their databases because that's incredibly time-consuming.
Like any company looking to make money, car advertising companies need to be selective with their applicants.
Even if you meet the basic requirements, you or your car might not meet more in-depth requirements not listed on the site.
You can always try to get approved for a different site; you might have better luck!
Keep an Eye Out for Scams
Unfortunately, this way of earning cash isn't without its flaws.
Several car advertising companies have come and gone just as quickly.
Why? Because they were fraudulent.
Still, others seem to pop up every now and then.
Some internet users have talked about a cashier's check scam involving car advertising companies.
A company will offer to send you a cashier's check that covers your monthly advertising payment plus the cost of wrapping your car.
But, the check bounces weeks later, and you'll get stuck footing the full bill for wrapping yourself – and have no advertising payment.
The FTC has even warned about this type of scam, and others, that involve car wrap advertisements.
To keep yourself safe from the scams, here are a few tips to remember:
Never pay any money to sign up for a car wrap advertising company. Some companies ask for a monthly "fee" to match you with advertisements. The fee isn't refundable and you may never get matched.
Never accept a job unless there's a legal contract to sign. Make sure you read all the fine print before signing.
Don't give out your personal or financial information. Legit companies will not need such information.
Look for the company's contact information. Search for reviews online. Look it up on the Better Business Bureau. Spend some time digging before you jump in.
A legitimate company will want to know about your vehicle and driving habits before they send you an offer. If it doesn't, it's likely not a legit opportunity.
Legitimate Car Wrap Advertising Companies
These car wrap advertising companies are ones that have been proven to work for people.
Still, do your homework before you apply or sign anything!
These companies work for United States residents unless otherwise noted.
Canadian drivers can sign up with Ads to Go, a car advertising service that's been around since 2001.
There's little information on the site about payments and requirements, but you can always fill out an application and wait for someone to contact you.
This site admittedly doesn't look the fanciest, but I've seen several people online mention it in discussions about these types of advertising gigs.
It doesn't seem to have as many requirements as some other sites of its kind, but that also might mean it won't pay as high.
In fact, the FAQ section states that most people make about $50 a month, and that's for advertising that practically covers the car.
Anything less, and you're probably looking at more like $10 to $20 a month.
Still, if you're looking for a place that accepts most applicants, this is probably it.
Car-Bucks offers 3, 6, and 12-month advertising plans, so it's good for people who don't want to get stuck with a long-term advertising gig.
These ads will only go over your back window, rather than wrap your whole vehicle.
You can't choose from ads you want to place, but you can either accept or decline an ad offered to you.
Car-Bucks pays $1 per commuting hour, which can work up to $20 per month for a short-term contract, or $25 per month for a 12-month contract.
Payments are made with PayPal the following month.
Carvertise is one of the most well-known advertising companies for cars.
You need to have a 2005 or newer vehicle, drive at least 25 miles per day, have a clean driving record, and have a factory-finish paint job.
You can earn a flat fee of $100 per month as long as you adhere to the requirements.
Most campaigns will only cover your rear window or sides of the car and last between three and six months.
Free Car Media says that you can earn up to $400 per month, depending on the advertiser, for using its service.
Campaigns may be smaller decals or a full car wrap.
Most campaigns are about six months long, but some may be two years or more.
The company suggests spending some time filling out your application to your best ability, since that's what will help you get matched with campaigns.
Once Free Car Media can match you with a campaign, it will notify you by e-mail.
Free Car Solution offers a whole different way to make money by advertising on your car.
Actually, it's not advertising on your car.
Free Car Solution will actually give you a car that has advertising for a company on it already!
It sounds crazy, but this company just does things differently than others while offering the same service.
The good news is that you'll never need to do anything to your own car when you use Free Car Solution.
Instead, you can search for places in your area that offer the keys to a new car in exchange for you driving it with its already placed ads.
You won't get paid, but you'll have a brand-new vehicle in your hands that you don't have to pay for.
You'll need to be at least 18, with a valid driver's license, and able to pass a credit check for some companies to approve you.
Pay Me for Driving is a company that focusses only on St. Louis, Missouri drivers and advertisers.
You must live, and work, in St. Louis to qualify for campaigns through this company.
You also need to be at least 18, have a near-perfect driving record, drive frequently, and be prepared to report any changes in driving habits.
This company will pay the car wrapping company directly and set you up with a contract beforehand.
Campaigns can take anywhere from a few months to a few years.
StickerRide is an app version of car wrap advertising websites.
You can use the app to apply for campaigns you're interested in and track your earnings.
StickerRide also has fun "quests" for drivers to participate in that can earn them extra cash.
You even have control over the look and placement of your stickers so you can be 100% satisfied with the end design.
You earn money per mile, which the app will help track.
You just have to remember to launch it before you start driving!
The app's available for iOS and Android devices.
Wrapify is another company that uses an app to help track your miles for campaigns.
This company has various campaigns, from small panel advertisements to full car wraps.
For full wraps, you can earn $400 or more per month, depending on how much you drive and where you live.
Once you download the app, you can apply and get matched with potential campaigns.
Wrappli (Australia Only)
Wrappli is one of the most popular companies of its kind in Australia, offering car wrapping services to drivers who want to get paid.
Drivers receive up to $600 per month to drive their cars, which can easily pay for a car payment plus some!
Even for just the back or side windows to be wrapped, you can make up to $200 a month, depending on the company and how much you drive.
Cars must be younger than 8 years old and in good working condition.
It'll take around four hours to install the wrap, but it will all be paid for.
Use the Wrappli app to track how much you've driven for that month, and Wrappli will pay you accordingly!
Nickelytics offers a unique platform for out-of-home (OOH) advertising, focusing specifically on vehicle wraps.
Vehicle owners submit details like their car model, typical driving routes, and mileage per week, and Nickelytics matches them with relevant ad campaigns.
Depending on the campaign, full, partial, or rear-window wraps are installed on the car, with drivers earning money based on the amount they drive with the ad wrap.
MyFreeCar pairs advertisers with drivers to transform private cars into moving billboards.
Drivers provide their vehicle details and driving habits during sign up, and if they match an advertiser's requirements, their vehicle gets wrapped in high-quality vinyl advertisement.
Drivers earn money based on their driving habits, geographical location, and the campaign's requirements.
ReferralCars offers a flexible vehicle advertising service that provides drivers with opportunities to earn additional income.
The company doesn't require specific driving habits, focusing instead on commission-based campaigns.
Drivers display either a rear-window decal or a full car wrap and are paid a commission for any successful referrals generated from the displayed advertisement.
Car Quids is a UK-based company that offers car owners the opportunity to earn money by placing adverts on their vehicles.
Car owners provide details about their car and driving habits, and if they match with an advertiser's needs, their car gets wrapped in advertisement.
The pay varies based on the campaign, the amount the car is driven, and the areas it is driven in.
Other Ways to Make Money Advertising on Your Car
You don't always have to work with an advertising company to get paid for this type of gig.
In fact, when you search for your own gigs, you might even make more money than you would with a company taking its cut from your pay.
Here are other places to find car advertising gigs:
Check Craigslist
Craigslist is always an option if you can't find work with the companies I listed above.
Of course, some of the listings here are sketchy at best, so you'll have to use your best judgment to weed out the good from the bad (which you should be doing anyway!).
Craigslist isn't all bad, though.
The site is completely free to use and it has a whole section related to jobs and gigs.
You can look there, or search for "car advertising," or something similar, to find paying gigs.
You don't have to look in your area, either, because Craigslist allows you to search in neighboring towns – or even across the country – if you're not having luck in places near you.
Contact Car Wrapping Businesses
Some people have luck contacting car wrap advertising businesses (those that provide businesses with wrap advertisements) to see if there are any companies who might want a regular driver as an advertiser.
It doesn't hurt to ask! Look for some local places and call them to see if they've had any businesses looking for regular drives like you to place their ads on their car.
Contact Your Favorite Companies Directly
I'm saving this one for last because it's going to be the most difficult one to do.
However, it can also pay the most if you happen to contact the right companies who are willing to pay.
There's no rule book saying that you can't contact companies you'd love to advertise for directly.
But you should have something to offer the companies, too.
Maybe you're a huge fan of Nike apparel and shoes.
You wear Nike clothing on your days off, and maybe even to coach soccer on the weekends.
That's great, because you can prove what a big fan you are already, making a company more likely to want to partner with you for car advertising.
Contacting random companies you don't know much about isn't going to get you far.
The thing is, you also need a really good pitch as to why a company should work with you for something like this.
You'd need to be reliable, verify that you drive often, and be willing to update the company with photo proof that you're driving around its ads.
Like I said, it's a long shot that most companies will collaborate with you, but it's not impossible.
You might want to try your hand with some small, local businesses first and move up to larger companies as you get more clients under your belt.
How Else Can I Make Money with My Car?
Not finding much luck with advertising?
Don't let your car let you down.
It can still make you money. Here's how:
Ridesharing
Ridesharing is becoming one of the most popular gigs now because of how flexible it is and how much money drivers can make without a traditional job.
If you have a reliable vehicle and some spare time, you can become a rideshare driver with companies like Uber or Lyft.
Make either a part-time or full-time income; the choice is up to you because you get to decide when you want to work!
People will hop in your car when you come to pick them up and you'll get paid for bringing them to their destination, just like a taxi service.
Rent It
With ridesharing becoming so popular, it's no wonder that there are now companies that pay people to rent their cars to rideshare drivers.
Think about it: Maybe you want to be a rideshare driver but your car just isn't reliable enough.
You want to start ridesharing to be able to afford something better, but you can only do that once you start making money.
Renting a car could help you get started or save wear and tear on your regular vehicle.
HyreCar is one service that helps people find rideshare drivers who want to rent their cars.
The site claims that some renters make up to $1200 a month renting their cars for ridesharing services!
And then there's Turo, another service that lets you rent your car for airport shuttling, taxi services, and more.
Depending on the value of your car and how often you rent it, you could make $500 or more a month.
Rent Your Parking Space
Yes, you can even rent your car's parking space!
Do you have a parking spot on the road or in your driveway that rarely gets used?
If so, you can let someone else have it all the time, or for specific hours or days when you don't need it, and make money from it.
Pavemint helps you rent your full driveway.
And SpotHero can help you find someone who wants to rent your spot at college, a parking garage, or outside your home.
Delivering
Use your car to deliver stuff!
You can deliver anything from Amazon packages with Amazon Flex, to food from restaurants using GrubHub.
Amazon Flex pays up to $25 an hour, depending on where you live, to deliver Amazon packages to people who live near you.
You work on your own schedule based on available time blocks and you can work any day of the week.
You can even become a personal grocery shopper with Instacart, complete your clients' shopping lists, and deliver the groceries to their homes!
Or, look for people who are moving in your neighborhood by checking Craigslist or your newspaper to see if you might be able to help hauling some stuff.
You can always ask your neighbors, too, if they need rides or help getting anything delivered to their homes.
In other words, get creative and carve your own path to money-making success with your vehicle!
Ready to Get Paid to Advertise on Your Car? Here are a Few Things to Consider
So, this definitely is not something that you should quit your job for. Campaigns may come few and far between, and you're not automatically guaranteed one just because you signed up.
It's more like a luck of the draw type of gig.
Plus, it is quite a commitment. Most companies make you sign a contract promising that you'll keep the decal or wrap on for the full campaign.
You may get stuck with it on there for a year or more, and it's unlikely that you can back out of the contract very easily if you decide it's not for you.
And, if your car is fully wrapped, be prepared to answer questions from curious folks who want to know more about the product or service you advertise.
You should know a good amount about whatever you advertise, or you'll chance making the company look silly.
You're basically a representative, so you'll need to act the part if the occasion arises.
That also means driving responsibly. Hot rodding in a car with an advertiser's campaign on it doesn't look so great.
You'll need to decide if the potential pay is worth it to you. Don't forget – you won't be able to sell your car until your contract is done, so you should fully consider your contract's timeline.
But, if your car wrap will pay for your car and insurance every month and you don't mind it covered in decals, then this could be the perfect gig for you.
Would you consider wrapping your car to earn money every month? Sound off in the comments!
Related Posts:
Earn Everything… nearly!
Join Ipsos iSay, one of the few Faithful and Honest survey panels and earn prizes, gift cards and donations. Stack your points and redeem them: Simple! No hidden fees and completely free!