52+ Sites That Will Pay You to Play Games for Free (Plus 19 Job Ideas!)
Updated on: by Amy Kennedy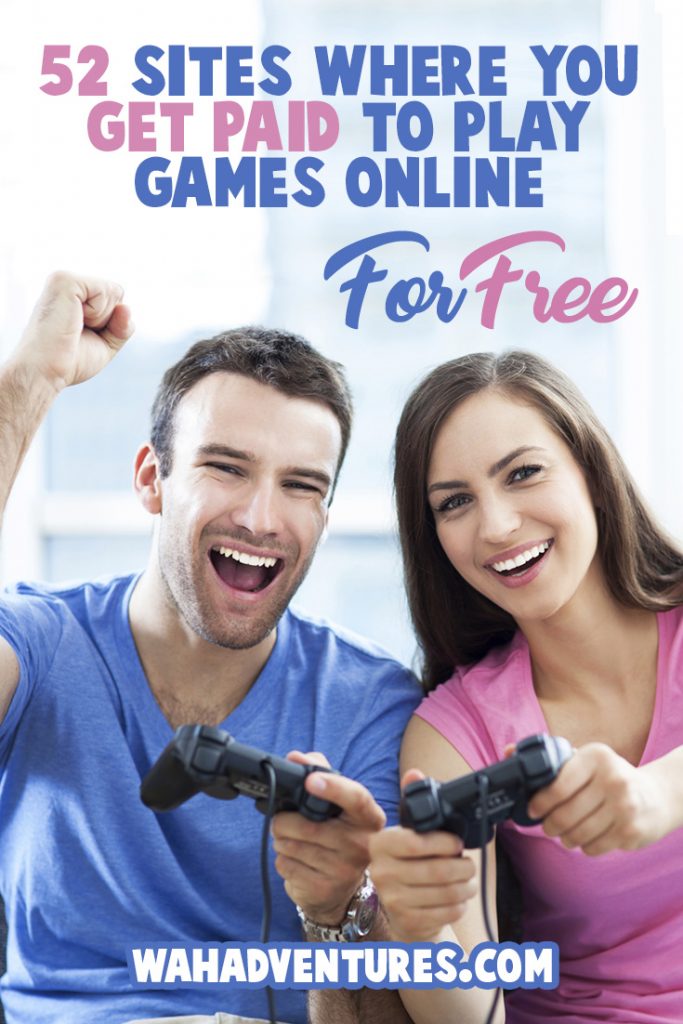 Making money can now be more fun than you ever imagined.
Need Easy Extra $350+/Month For Free?
You can play games for money, right from your computer!
No need to buy games for your Playstation, Wii, or Xbox console.
These websites are completely free for you to join and play web-based games for a chance to win some real cash.
Playing games on the web for cash won't make you an instant millionaire.
But, it's probably the most fun way to make money and gives you a way to make a little side income.
Pay a few bills, or use the money to splurge – either way, it's free, and it couldn't be more fun to rack up some easy cash.
Can I Really Play Games for Money?
Yes, you really can! These websites will give you money for trying out new games, winning tournaments, earning a certain score, etc.
So, it might be best for you to stick to one or two sites at first, get familiar with their games and how to play, and learn what works the best to make some money.
Once you feel comfortable enough to sign up for some other sites, go for it!
But, make sure you don't spread yourself too thin.
It can take some time to get the hang of the games to start earning some decent money, so put your focus into just a few to start with.
Also, consider signing up for PayPal if you don't have it already.
Some of these websites will offer you rewards in the form of products or gift cards as well, but if you want cash, most deliver it in the form of a deposit to your PayPal account.
Our Pick: Skillz eSports network
Skillz is an eSports network that works with gaming sites and platforms to help them broaden their audiences, get more players, and therefore offer more money for their tournaments and competitions.
Although you won't play games directly on Skillz, you can find several gaming sites and standalone games that pay you to play them using the Skillz website!
Need Easy Extra Cash?
Pinecone Research, a leading name in online survey panel honesty, absolutely guarantees $3 cash for every survey you complete!
Take advantage of their time limited New Membership drive and register NOW. Join today: 100% free!


Solitaire Cube, Cube Cube, and Strike Bowling are among some of the most popular games, but you can find a full list of Skillz partners here.
The best part?  They're all mobile games and most of them can be played on both Android and iOS devices! They are not currently on the play store due to Google restrictions on skill based gaming.
The Most Popular Games from Skillz eSports Network:
Here's Where to Get Paid to Play Games
InboxDollars offers tons of ways to earn some cash, like reading e-mails, searching the web, completing offers, and more.
One of the most fun ways to earn money, though, is through its paid games.
The games here are powered by GSN Games.
So, if you're a member of the site, sign up for InboxDollars, too.
InboxDollars will reward you 18% cash back if you spend money on token packs to play games on GSN, so it's a good way to earn some extra cash if you plan on spending money on tokens.
But, you can also earn money from certain games for free on InboxDollars.
For example, the Spin That Wheel game gives you a daily chance to earn cash straight into your InboxDollars account.
Swagbucks is a "Get Paid To" site that earns you Swagbucks for doing online tasks, like shopping, searching, watching videos, and even playing games.
Every day, Swagbucks will have featured promotions for certain games that can earn you extra Swagbucks. Start with those first for better earnings!
But, you can also play your favorites, like Deal or No Deal or Wheel of Fortune.
Some will require a purchase and you'll receive cash back for every dollar you spend in the games.
However, you can play Swagbucks' free games, like Swag Memory and Swag Jump, to earn Swagbucks just for playing.
You can redeem your Swagbucks for a PayPal deposit of $25 once you earn 2,500 points.
You must be at least 13 years old to register, and reside in the US, UK, Canada, Australia, Ireland, or India.
Cash Crate is another GPT site similar to InboxDollars and Swagbucks that lets you play games to earn cash.
You can enter tournaments here that give you points for completing specific actions in your games. They only cost a couple of points to enter, and you can easily rack up points during your games.
You can cash out when you have the equivalent of $20 in your account.
Earn Everything… nearly!
Join Opinion Outpost, one of the few faithful and honest survey panels and earn cash and gift cards for your opinion. Stack your points and redeem them: Simple! No hidden fees and completely free!


This mobile app pays you to download advertiser's apps to your mobile device!
Many of the apps are games, so essentially, you're getting paid to download and play games.
This won't give you a lot of cash, and some app downloads will pay you more than others. But, it's still a way to earn a little extra just from games.
You'll get paid in Coins, which you can then redeem for your choice of gift card, like Amazon, Starbucks, or Steam. There is also a Bitcoin and PayPal option!
AppLike is an app for Android devices that I tried a few months ago and have been addicted to ever since.
If you like being introduced to new games you may not have found otherwise, then AppLike could be for you.
This app pays you to download, install, and play new games on your device.
Every day, it'll show you a few new games and how much you can earn if you download it. Your earnings come in mCoins, which are AppLike's version of points.
After downloading the game, you can also play it to earn more points. The longer you play, the more you can earn – just be sure to click on the game through the app before you play to get credited!
AppLike has several gift cards to places like Burger King, Amazon, CVS, and Google Play that you can use your points on.
There's even a great referral program where you can earn 250 points for each sign-up, plus another 25% of everything they earn on the app.
AppNana is a similar concept to AppLike, offering Nanas, or points, for discovering, downloading, and playing new games and apps.
This app is available for both Android and iOS devices.
Most of the apps that give points in AppNana are completely free to download and play, so you can earn money without spending any.
AppNana gives Xbox, Amazon, Google Play, and iTunes gift cards to participants when they reach enough points to cash out.
Make sure you browse the app every day because doing just that will give you 400 free Nanas daily! Plus, you can invite friends and earn bonuses for everyone you sign up.
This website is the place for gamers who love to provide feedback on games to go.
It's basically a testing site where users can play free games and get paid to write reviews about them.
The site gives you quests for the games you play, which help you do certain tasks that developers want to learn more about to check for bugs, ease of gameplay, etc.
By completing the quests, you'll earn points. When you write reviews about the game, you'll earn more!
All your points – known as Bananas – go toward real prizes, like gift cards, games, prepaid cards, and more.
Bananatic also has an affiliate program where members can share the site with others, convince them to join, and get paid for their referrals.
This is an app available for iOS and Android devices that literally pays you to play its games.
You'll get tickets when you play, and the more of them you earn, the higher your chances of winning the game.
The winner of the round gets cash deposited into their bank account via a wire transfer.
Who doesn't love playing Bingo?
Bingo for Money is almost as good as playing in person with friends for a fun night out.
This site lets you play with virtual friends!
There is a wide variety of Bingo games here to keep things interesting and fresh.
They're all free to play, so you can try them out and see what ones you like best. There are also other types of games on the site if you ever want to play something different.
If you're ready to start making money, you can make deposits and wagers in games, but this isn't necessary. You're also in control of how much you bet, so you can deposit as little as $1 if you'd like.
Members can level up on Bingo For Money, with higher levels giving higher payout limits and faster payouts.
Update May 2023: Bingo For Money is now GamblingClub.com, an online casino.
If you're a Bingo lover, you're in luck.
Bingo! Zone comes from the makers of Gamesville, another site that pays you to play free games. But, this one is all about Bingo!
Once you register, you can play a variety of daily Bingo games for free.
Prizes start at $1, and keep increasing until someone wins.
Update May 2023: Bingo! Zone has now been taken over completely by Gamesville.
Cash Dazzle offers a wide variety of games. You can play free games to earn tokens, which you can then cash in to play games that will earn you cash prizes.
The prizes are by chance, so the more you play, the better your chances to win.
On the main page is also a "Spin the Wheel" game that gives you a chance to win the current jackpot!
The cash prize will keep rising until someone wins, so it's a good chance to earn some serious cash.
Update May 2023: Cash Dazzle is no longer available.
Clip2Play has tons of games to play and it offers daily tournaments of many of them. If you get really good at any of them, you may have a chance to win some cash prizes!
The good thing about this site is that it has 50 winners every day, which is a lot more than many other sites have. So, you have a good shot at winning here!
You can also have referrals here, which gives you more points toward your cash account.
Update May 2023: Clip2Play is no longer available.
Use this app to discover new and fun games to play – and make money while you do it.
You'll get points the longer you play the game, and you can redeem your points for prizes like Amazon gift cards, Steam gift cards, or PayPal cash.
Corporation Master is a game in which players can simulate a real economy. It's all web-based and there's nothing to download.
You can do things like invest in companies, sell and buy stocks, work, and even enter a war.
It's a pretty strategic game, so it's not the kind you can just sit back and watch for casual gaming.
You might find that you need to invest some money to make money, but several online guides show that, much like real life, investing in your corporations and other things can have significant benefits to your cash flow.
Still, it's not necessary to spend anything, and you can register and start playing for free.
You can also purchase referrals, which gives you extra money whenever your referrals do certain things within the game, like withdraw money from a corporation.
Dollar Candy is a 60-second puzzle game that can earn you some cash for every game.
It costs a few cents to enter a game, and the cost depends on the difficulty level. Of course, higher difficulties cost a little more to enter and will be harder to win, but they'll also pay out the biggest prizes – up to $300 for a game!
You'll be entered into a tournament with three other players, so you have a 1 in 4 chance to win! If you win, you'll move up a level, which will give you more money if you win again.
Update May 2023: Dollar Candy is no longer available.
This rewards site is more than just games, but playing games is one of the many money-making tasks you can do on the site.
With instant gift card deliveries for places like Amazon, Barnes & Noble, and StubHub, it's a great way to play games and earn free gift cards to stores you love.
Exodus 3000 is a multiplayer role-playing game (RPG).
After the demise of planet Earth, its inhabitants are transported to Mars to begin a new life there.
You're set up with a new home, and you need to search for money, materials, food, and more.
You can earn cash by trading in the money you earn in-game, known as Mars Dollars (MD).
However, you'll need some of your MD to purchase things in the game, like weapons, armor, and essentials.
So, it will take some strategy on your part to earn money to be competitive in the game, but also make enough to cash out some real money.
You get 5,000 free MD just for signing up to get you started in the game.
It takes 300,000 MD to be able to cash out, and this amount is worth $20.
This free app comes from the same company that makes Coin Pop, so it works similarly.
Open the app, find games you want to play, and get rewarded in your Fitplay app as you do.
PayPal, Google Play, and PlayStation gift cards are just a few reward options.
Love playing the lotto but hate having to go to the store to buy tickets?
With FreeLotto, you don't have to leave your house or pay for tickets! It's a free way of playing the lottery, just like the name suggests.
FreeLotto has a few different lottery games you can play to help you win cash, vehicles, or even money to pay off your mortgage.
Although playing is free, you can opt for the FreeLottoPlus+ membership, which gives you more chances to win and enters you into each lotto drawing automatically, so you don't have to remember to do it yourself.
You'll also get faster payments if you do win and more entries into the games.
Plus+ members are also eligible to win the weekly $1k giveaway every Friday and can get up to 14 chances to win each week.
This site is the ultimate place for Slots lovers to play to win money.
There are over 80 different Slots games, which is much more than you can find in a casino!
Every month, the site gives out free prizes to players, and some games pay cash if you win their jackpots.
The best part is that each game is free to play!
You can join a tournament, for example, and receive $150 for first place, $100 for second place, and $50 for third place, without having to pay anything to join.
Just be sure to check the time limit to claim prizes for anything you've won, as there are claiming deadlines for each game.
In most cases, you can expect your payment within 14 days.
Gamesville is one of the first, and most well-known, free web-based games site on the internet.
And, it pays you cash to play and win games!
Gamesville awards GV Rewards, the name for its game currency, when you win tournaments, high scores, slots, etc.
You can then turn your GV Rewards into cash or other prizes.
There are also pure cash competitions on Gamesville to compete for cash prizes, rather than GV Rewards.
Gamesville is open to players worldwide, who are at least 18 years old.
GetPaidTo is a Get Paid To (GPT) site that offers rewards for a variety of tasks you can do in your spare time – and they're fun!
One of these tasks is playing games.
GetPaidTo offers points for playing games, like Sudoku, Mahjong Solitaire, puzzles, and more.
There are plenty of games to choose from, but there are also tons of other ways to earn on the site if you ever get bored and want to earn more quickly.
You can also complete surveys, sign up for offers, watch videos, refer your friends, or even win free points from a daily prize draw.
Redeem your points for one of several gift cards to places like Lowe's and Best Buy, or you can cash out your points for PayPal cash.
Givling is an interesting concept for anyone who would rather have money they win go toward student loan debt, rather than cash in their pocket.
If you have a lot of debt accumulated and are having trouble affording your payments, this site can help!
Givling is a trivia game that allows the top winners to score cash toward their student loan debt, up to $50k.
You get two free plays per day, and additional ones are 50 cents each.
The 50 cents goes toward the funding for that day, so the more everyone plays, the more money there is to fund student loans.
GSN Cash Games offers card, arcade, word, strategy, and more types of games to appeal to the masses. And, it lets you try out games first before entering competitions so you can get a feel for the game before playing against more experienced players.
GSN Cash Games also makes sure that you are matched fairly with your competitors, using its FairMatching System that puts you against people with a similar skill level. So, you have a higher chance at winning with these games!
You must be at least 13 years old to register and play.
Update May 2023: GSN Cash Games has now become WorldWinner (you can read about it below!).
Love trivia?
Try your hand at this app, which features daily live trivia games that not only test your knowledge, but also give you a chance to earn real cash.
Prizes can be thousands of dollars, which the winners of the game will split among themselves.
iRazoo is a site that rewards you for playing games. The longer you play, the more you can earn!
The iRazoo database of games is large, so there's likely a game for everyone here. Plus, it updates daily with new, fresh games to try out.
When you sign up and enter your email, you'll get 100 free points, and then you can earn more by referring friends, completing offers, watching ads, and downloading new apps.
You can redeem your points with PayPal, or turn them in for prizes or gift cards to places like Amazon, Microsoft Xbox, or iTunes.
LaLa Loot offers a variety of fun games for you to enjoy and try to win some money. On the front page, you can play the slots game to try to win the current jackpot, which can be hundreds to thousands!
For the first 5 days after you join, you'll get free tokens to play the games and try to win some cash.
After that, you can complete offers to earn more free tokens to play. Once you reach $20 in your account, you can cash out for a check or VISA gift card.
Update May 2023: LaLa Loot is no longer available.
Lucktastic is an app that works on iPhone and Android devices and has fun scratch off games for you to play for free.
You can get new scratch cards daily and play them just like you would real scratch cards, only you don't need to pay for them.
You'll get tokens if you win with a scratch card, which you can then redeem for one of several instant gift cards, or choose from different payment methods for cash.
Long Game is both a paid gaming experience and an opportunity to save some cash.
When you connect your debit card to the app, you'll get rewarded for using it. You'll also get rewards for saving money in your bank account.
Plus, the app rewards you for playing games within the app!
The Make Money app is kind of like a rewards site for your phone.
Use it to complete tasks, offers, surveys, and even play games right from your device.
You'll get paid in PayPal cash when you earn enough money.
With the Mistplay app, you can discover new games to play on your smartphone or tablet and get paid to try them out.
You'll get points for the games you try, which you can turn in for rewards like VISA cards, Google Play cards, or Amazon gift cards.
Sign up for free for MyPoints and take advantage of everything from cash back shopping to getting paid to play games!
MyPoints has tons of gift cards as rewards to choose from. There's a little something for everyone.
You can register for a free Paid Game Player account to access over 600 games on the site.
You must be at least 18 to register.
Paid Game Player includes casino, arcade, puzzle games, and more.
It also includes high-level "skill" games, where you can earn more money, like Family Feud or Bejewelled 2.
Take some time to get familiar with these for the best chance at earning more cash!
Publisher's Clearing House is a well-known way to win some huge cash prizes. But, the company also offers a gaming site where you can win instant cash prizes from playing simple games.
There are also other games that will give you tokens to use toward entries for the $1,000 cash prize. Every time you play, you earn more tokens, so you can have an even higher chance of winning!
Play And Win has tons of different games to choose from. You can earn tokens from playing games to enter into drawings for cash prizes.
Or, enter tournaments in games for a chance to earn some more money. Cash prizes will be delivered via PayPal.
PlaySPL is formerly a website called Skill4Win.
Now, it's an app that offers free games and tournaments to help gamers win cash.
You can practice games in the app before entering cash tournaments.
If you do win, you can redeem your earnings via your bank account or your Paytm wallet.
Pogo is a long-lasting web-based game site where you can earn badges to win surprises, like cash, from tournaments and challenges. Play Jackpot Games for a chance to win up to $500 per day!
There are also chances for daily cash prizes, just by visiting Pogo.
Pogo offers rewards up to $50, three times per day.
You must be at least 13 years old, with a parent's permission, to join and receive prizes on Pogo.
Quick Rewards is a "Get Paid To" site, where you can earn money from shopping, searching the web, taking surveys, and playing games.
You must live in the United States, Canada, or United Kingdom, and be at least 18 years old to register.
Its cash-earning games are in the form of trivia games and guessing games, like "Guess My Number".
They won't earn you big bucks, but it's a way to earn a little extra just by playing some fun games.
Razor Zone offers you a chance to earn some points for playing games you own that are in its library.
Each month, new games are rotated into the library, and there will always be five available.
You'll get paid by Razor Zone in points for the length of your play time, up to 300 minutes per day.
You can't redeem your points for cash, but you can redeem them for some prizes perfect for gamers, like a new keyboard or headset.
UPDATE 5/2023: Razer's Paid to Play program is currently under suspension while Razer attempts to work out some kinks.
Update May 2023: Razor Zone is now Razer – check it out above!
Razer is formerly known as Razor Zone (below).
This place lets you play some of your favorite games, like World of Warcraft and Smite, to earn Razer Silver, the site's currency.
The site sometimes has featured games, too, that can earn you twice as much Razer Silver for playing.
Repeat.gg lets you play some of today's top games with tournaments that help you win real prize money for winning.
You'll get scored based on how well you did in the game.
You don't even have to install anything to start playing!
Second Life is one of the most popular web-based, multiplayer games, celebrating its 13th year.
Think of it like The Sims, but with virtually endless options of what you can do with your characters.
People have actually become millionaires playing Second Life.
Although this result isn't going to happen for everyone, it's possible to make some good money with this game.
Basically, you have virtual currency that can translate into real cash if you know what to do in the game.
Big money lies in selling fashion, real estate, and other goods in the game.
People spend real cash to exchange for Second Life currency. If they buy your stuff, you can earn money.
It can take a while to understand how to make money with Second Life.
Check out some free online guides if it looks like something you might be interested in.
If you used the internet back in the days of AOL, you probably remember the hit game called SLINGO.
It's a mix of Slots and Bingo, and it was ridiculously addictive!
SLINGO was so popular, in fact, that it now has its own site dedicated to the game and its various forms.
You can still play the game for free, but you now have chances to win prizes, too, when you enter tournaments.
You'll use your in-game currency to enter, so it won't cost you real money.
You can also wager real money in other SLINGO games, allowing you to win real money if you win the game.
This app for Android devices is a fun, unique way to play games and have a chance to win prizes.
Open the app and wait for the countdown to the next game.
Once it starts, Suprize will tell you what you need to do to try to win.
If you get the task done in the quickest time, you can win the prize for that game, which could be just about anything.
Suprize gives you prizes like new clothing or shoes, cash, and more.
You can usually see what the prize will be before each game starts, so you can decide if you want to play that round or not.
You can win multiple rounds, too, so feel free to play as much as you want!
SwagIQ is one of the newest ventures of Swagbucks, and it's a great way to boost your SBs if you already use the reward site.
SwagIQ is an app for iOS and Android that has free, daily trivia games. They're only 10 questions long, so you don't have to play for hours on end for a chance to win.
The questions can be tricky, but they're all multiple choice.
If you get one wrong, you can choose to pay some SBs to get back in the game for a chance at the grand prize. However, if you get another one wrong, you won't be eligible for the prize anymore.
The grand prize is a bunch of SBs, which will vary depending on how many people make it to the end.
SwagIQ usually has some bonus games that pop up occasionally, too, so if you can't usually make it to the daily live game, you'll still have other available games to play that might work better with your schedule.
Update May 2023: SwagIQ has changed its name to Swagbucks Live, but still functions the same!
This app rewards you when you download other apps through its interface.
Many of those apps are games that you can try.
There are also surveys, offers, and other tasks to complete for more cash.
When you're ready, request your earnings via PayPal.
This rewards site is one of the oldest on the web and it's a little outdated, but it's always another option for playing games for cash.
Treasure Trooper has a couple of ways you can play to win, like its Jungle Slots game, Dragon Lair game, and BINGO.
There are also plenty of other ways to earn, like completing offers, taking surveys, and even answering calls with your phone.
When you refer friends, you can also move up the pyramid as you get more referrals, giving you better bonuses each time.
Reach the top of the pyramid and get a $5 bonus when a referral cashes out for the first time, extra commission for surveys, and a $300 cash bonus!
Twitch is a video game platform that allows you to stream your gameplay and watch others do so, too.
You can actually make money doing this, as streaming games is becoming more and more popular with gamers.
One way people make money using Twitch is by asking for donations when they stream.
Twitch has a donation button that you can add to your streaming channel if you want, so your fans can donate money to you to keep your stream going.
If you become popular enough, you may even make enough from donations to turn into a job!
You can also sign up to become a Twitch Partner if you have more than 500 regular viewers on your channel.
This lets you get even more money because, as a Twitch Partner, people can subscribe to you, which earns you a couple bucks each time someone subscribes.
Once you're a partner, you can also earn money from ad revenue on Twitch. The more subscribers you have, the more money you can get from ads.
Dota 2
Dota 2 is a popular multiplayer online battle arena (MOBA) game where players compete in teams. 
The game offers a vibrant esports scene with numerous tournaments throughout the year, such as The International. Skilled players can participate in these tournaments and earn substantial cash prizes. 
Additionally, Dota 2 has an in-game marketplace where players can trade cosmetic items, which can be sold for real money on third-party platforms like the Steam Community Market.
PlayerUnknown's Battlegrounds (PUBG)
PUBG is a battle royale game where players fight to be the last person standing. It has a competitive esports scene with events like the PUBG Global Championship. 
Professional players and teams can earn significant winnings by participating and performing well in these tournaments. 
Additionally, PUBG offers cosmetic items and crates that players can sell on the Steam Community Market for real money.
Counter-Strike: Global Offensive (CS:GO)
CS:GO is a popular first-person shooter game with a strong esports presence. It features competitive gameplay and hosts major tournaments like the ESL Pro League and the Intel Extreme Masters. 
Skilled players can compete at a professional level and earn substantial prize money. 
CS:GO also has an extensive marketplace where players can trade and sell in-game skins and items for real money.
League of Legends (LoL)
LoL is another highly popular MOBA game with a thriving esports ecosystem. It features regular regional leagues and a World Championship that offers substantial prize pools.
Professional players and teams can earn money through sponsorships, salaries, and prize winnings. 
Additionally, the game offers cosmetic skins and items that can be purchased and traded within the game.
Learn more about League of Legends
Apex Legends
Apex Legends is a free-to-play battle royale game that rewards skilled players with opportunities for cash prizes. 
The game has a competitive scene, including tournaments like the Apex Legends Global Series. 
Winning or performing well in these events can lead to financial rewards. Apex Legends also has a marketplace where players can buy and sell cosmetic items and skins.
XY Gaming gives you a chance to challenge, and compete against, other players, and even your friends, for some cash.
The interface matches you against players with a similar skill level, so you have a better chance at winning.
XY Gaming is a little different than others, as it doesn't offer web-based games. Instead, you use games you already have on Xbox, PlayStation, and your PC.
Using your internet connection, you connect to them through XY Gaming, where you can challenge other players.
You must be at least 18 years old, or 19 if you live in Alabama or Nebraska.
Worldwide players can join, but check with your country's requirements on age and legality of playing games for cash prizes.
Update May 2023: XY Gaming is now Repeat.gg – check it out above!
WorldWinner is the former GSN games, offering many of the same games you know and love, plus some extras.
This site has several free games to play for fun, but you can also enter tournaments to play against other players.
The FairMatching System works the same way as it did on GSN, so you can get matched to other competitors with similar ratings as you.
More Ways to Get Paid to Play Games!
Aside from free game websites that you can earn cash from, there are other ways to make money playing games, and they're definitely worth a try.
Sell Accounts or Virtual Property
This is where big money comes in, like those who earn thousands by selling virtual property on Second Life.
Gamers used to be able to sell accounts or characters on eBay, but the auction site no longer allows these sales.
However, other websites focus specifically on buying and selling game accounts, like Player Auctions and Armory Bids.
Skilled gamers spend time leveling up accounts or characters to sell for a big profit to those who want already-skilled characters.
Like Second Life, some games are designed for player profits, by selling things like unwanted items to other players.
Just make sure that, before selling any character or virtual property, you check with your game's Terms of Service to ensure that you aren't in violation.
Become a Mystery Shopper for Games
Teenagers can become mystery shoppers for games, also known as game auditors.
Some game retailers will pay teenagers to visit their stores and attempt to purchase games with ratings that are not intended for purchase by teenagers without proper identification.
You can usually get paid about $10 per mystery shop.
Post Your Gameplay on YouTube
Tons of gamers are starting to make an income by posting their gameplay on YouTube.
They do this by using free game recording software and uploading the videos to their channels.
But how does the money come in? The trick is that they're setting up ads on their channels, which allows them to make money from their content.
The more their videos are viewed, the more money they can make from ads.
Game Marketing
If you're a well-known gamer with influence, you may be able to get paid for sharing about your favorite, or new, games online.
If you love games, you may want to consider starting a gaming blog with social media channels to share your posts and the content of other big gaming influencers.
Game companies may become inclined to come to you to share big news about their games, test out new games, and pay you for your time!
Game Testing
You can also get paid to become a game tester!
PlaytestCloud lets gamers test out beta versions of web-based and mobile games.
Not only can you have fun playing brand new games and sharing your opinions, but you'll also get paid to do it.
As you play, the company software will record what you say on your microphone and everything you do on your screen.
So, speak your opinions as you play for about 30 minutes. You get paid between $7 and $9 via PayPal for each game test that you complete!
You can also become a beta tester for:
Buy a Gaming Server and Share It
Online games need servers to work, so it's possible that, depending on the games you play, you could buy your own server and charge others to use it.
If the games you play tend to have overcrowded servers, others might be willing to pay for sharing yours just to avoid the crowds and get better gameplay.
However, this isn't allowed with all online games, so it's important that you read through the Terms of Service for your games before trying it and getting yourself in trouble.
If it is allowed, you might consider setting up a monthly or annual subscription for membership to the server, which you can do through a service like PayPal.
You can always start off small by having just a few members join and, as you make more money from subscriptions, you can upgrade the server and allow more people to join and pay.
Become a Gaming Coach
There are coaches for just about anything nowadays, from business coaches to life coaches, so why not a gaming coach?
Beginning players may jump at the chance to have an expert at the game walk them through gameplay so they can soon reach the top, too.
If you're not really sure how to start, you can always become a Sensei at Gamer Sensei, helping others who need it with specific games.
Or, do it on your own by creating a website and setting up pages for your services and contact information so others can learn from the best.
You might even want to create your own tutorials or courses and sell them on a place like Udemy, which hosts courses for you and will even do all the marketing for a fee.
Boost Gaming Accounts
Game boosting is something that happens, although a lot of games are taking measures to try to get it to stop happening.
As a booster for games, you'll need a lot of experience in the game you're working with.
That's because you'll work to level up player accounts with your expertise.
Some people hire game boosters to get them to higher levels more quickly than they could themselves.
This usually happens with secondary characters the gamer wants to level up faster.
And they're willing to pay big money to do it!
Depending on how much time it will take for you to boost an account, you could earn hundreds to thousands of dollars from just one gamer.
It's important to remember that this type of playing isn't okay on some games.
You should always check the Terms of Service for any game before offering to boost someone's account for cash.
Start a Gaming Blog
It's no secret that people all over the world are making money through blogging, but I'll admit that it's not as easy as some make it seem.
Still, you can always create a gaming blog for a hobby and grow it slowly with the hope of making it a business one day.
There are several big-name gaming blogs out there that make money through advertising, sponsored posts, and more, like GameInformer and RPG Site.
Look at them for inspiration of what works well to grow a gaming audience (check out their social media networks too!).
You can also focus solely on your favorite game, writing up in-depth tutorials and fun tips to help others excel, although it can be difficult to continue to grow a blog like that in the future as new games come out and overshadow older ones.
Having a blog that makes money will take time, but it could be worth it once you build up your audience.
Ask for Donations
If you do have a gaming website or a YouTube channel with a large gaming audience, you might try to set up a donation account to feed your gaming habit.
You might be surprised by how many people are willing to donate money to you just because they love watching your gaming experiences or reading gaming content on your blog.
You can add a free PayPal donate button to your website, for example, for people to donate cash right to your PayPal account.
But there's also DonorBox, GoFundMe, and plenty of other donation sites you can use to post links on your social media accounts, YouTube channel, website, and more.
Write Game Reviews on Other Blogs
Maybe you don't have the time or energy to start a blog from scratch.
I understand – it's a process!
But, you can still get paid to write gaming reviews or tutorials on other blogs if you're a good writer.
It's called freelance writing, and it's actually one of the ways that a lot of bloggers get paid (although they don't always mention it!).
Several websites and blogs look for other writers to contribute to them because keeping up with all the content using just one person can be a daunting task.
Instead, they'll pay others to help.
A good way to find blogs that pay is by searching for them in Google using a term like, "gaming blogs that pay" or "game blogs that accept submissions."
Just be sure to read through the contributor guidelines to boost your chances of getting pitches accepted.
A couple of places to try:
BestReviews – BestReviews is a site that focuses on reviews in all kinds of categories, but Toys & Games is a popular one.
You can email the owners of the site to ask about becoming a writer for the site who reviews various video games, consoles, and more.
Listverse – Listverse is a site that focuses on list-form articles. It pays $100 for every accepted article to the site.
And here is a list of gaming websites that you can write for!
Try Your Hand at Tournaments
You might be able to find private tournament sites for the games you love to play.
It's also known as competitive gaming.
eSports games are known for their many tournaments, but you can sometimes also find them for RPGs and other types of games.
You can always do a Google search for tournaments for your games, but here are some general tournament sites to check out:
Become a Game Writer
Many games require stories to walk you through the game.
Of course, those games need writers!
It's possible to find game writer jobs on freelance marketplaces like Upwork or Freelancer.
But, it's even more possible to find them with actual gaming companies.
They tend to look for writers with a lot of experience in storytelling to work with the team and put together amazing stories to help their games come together.
Create Puzzle Games
Check with puzzle books and websites to see if you can become a puzzle game creator, if that's more your style of gaming.
Crossword puzzles, Sudoku, and word searches, for example, all require real people to create them – and that could become your next game-focused job!
Become a Gaming Affiliate
You can become an affiliate for gaming-focused companies and earn money through your social media channels or website for purchases people make using your links.
PWNGames is a notable gaming affiliate network where you can find tons of cost-per-action (CPA) opportunities to make money with.
Use it to promote your favorite games while making some money!
Run Tech Support for Gamers
Have you thought about offering tech support for your favorite gaming companies?
You can put your expertise of various games to use by helping others with technical issues as they play.
You might even need to hop onto games yourself to replicate problems others are having.
Check the Careers pages of game company websites to see if there are any openings.
Some of them may even let you work remotely on a contract basis with a flexible schedule.
Be a Social Media Manager for Gaming Companies
Take over the social media accounts of gaming companies!
Social media management is a fast-growing career choice because almost every company nowadays has social media accounts – and they need help managing them.
You can handle new posts, responses to comments, and answering questions via Instagram, Twitter, Facebook, and other social media platforms.
Get Sponsored
If you play your cards right and gain a bunch of experience in a game, you might catch the attention of its company!
When that happens, you could become eligible for a sponsorship.
Sponsored game opportunities are for gamers with large audiences who have shown skills and influence in a specific game or genre of games.
You might do this through a website, YouTube channel, or Twitch.
Sponsorships can be great for gaining consistent income for your love of gaming.
You can try to reach out to some of your favorite game companies to see if sponsorships are available and if you fit the bill to become an ambassador for the game.
Become an eSports Gamer
eSports is a form of competitive gaming where the best players play each other in various games and have the chance to earn real money.
Building your gaming network and joining leagues can help you break into this career, but just playing and getting noticed by other eSports players or gaming executives can also happen.
So, keep playing – you never know who's watching.
Get Paid Real Money to Play Games!
Ready to start making money by playing games?
As you can tell, there are several ways to do it – probably way more than you ever dreamed of.
Whether you just want to hop onto a site and start playing for some extra cash, or you want to make a career out of gaming, these ideas will help you figure it all out.
Now, go and make some money!
If you have any other websites, apps, or ideas that pay you to play games, please let us know down in the comments.
Related Posts:
Earn Everything… nearly!
Join Ipsos iSay, one of the few Faithful and Honest survey panels and earn prizes, gift cards and donations. Stack your points and redeem them: Simple! No hidden fees and completely free!