How Much Money Should You Spend on a Wedding Ring?
Updated on: by Amy Kennedy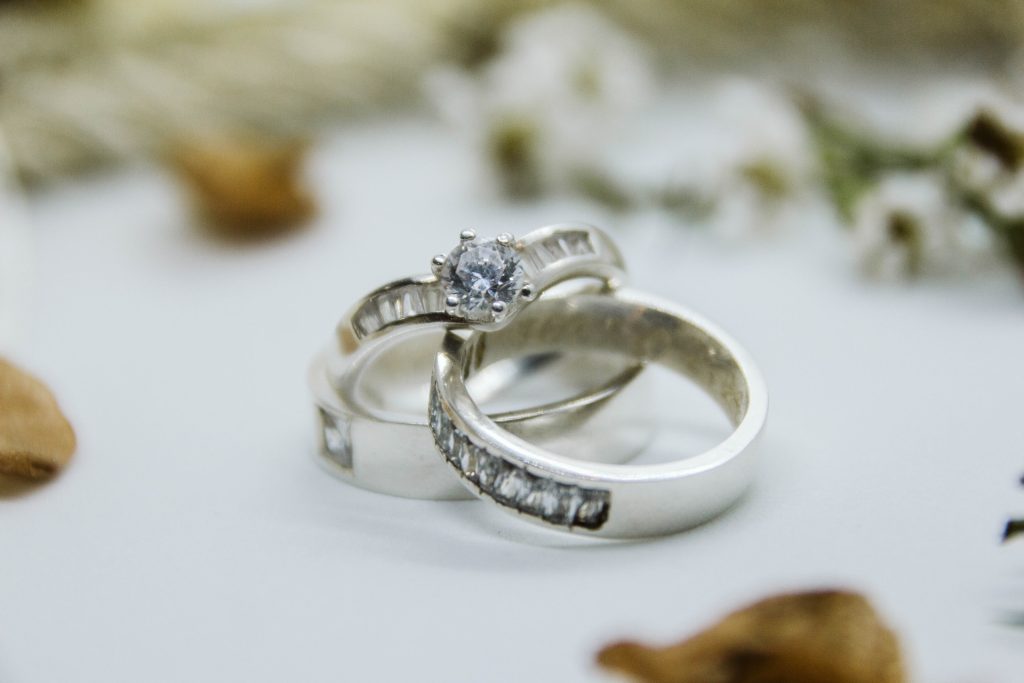 Purchasing a wedding ring is a significant decision in your life, marking the commitment you're ready to make.
Need Easy Extra $350+/Month For Free?
But figuring out how much money to spend on a wedding ring can be confusing.
Let's explore how you can make an informed decision without straining your finances.
Understanding the "Two Months' Salary" Rule
The Origin of the Rule
The "two months' salary" rule was popularized in the mid-20th century by De Beers, a diamond mining and trading company, in one of their ad campaigns. Their marketing strategy was simple but effective: convince men that the amount of money they should spend on an engagement ring should be equal to two months of their gross salary.
This rule has been ingrained in our culture for decades and has set a somewhat arbitrary standard for wedding ring expenditures.
The Rule's Relevance Today
However, times have changed, and this rule is often viewed as outdated in our current socio-economic climate. A report from The Knot, an online wedding planner, shows that most couples spend far less than this suggested amount.
Today's couples are focusing more on finding a ring that fits their personal style and less on adhering to a specific financial standard set by a diamond company.
Decide What Works for You
The amount you spend on a wedding ring should reflect what you're comfortable with and what you and your partner value. Whether that means spending two months' salary, one month's salary, or any other amount is entirely up to you.
Keep in mind, it's not the price of the ring but what it symbolizes – your love and commitment to one another.
Evaluating Your Financial Situation
Assess Your Finances
Take a comprehensive look at your finances before deciding how much to spend on a wedding ring. Use resources like Mint or YNAB to help you review your income, expenses, savings, debt, and overall financial goals.
With a clear picture of your financial situation, you'll be in a better position to determine a budget for the ring that won't jeopardize your financial health.
Don't Overstretch Yourself
Remember, starting your married life in debt for the sake of a ring is not advisable. As you move forward together, you'll likely encounter additional expenses, like buying a house, starting a family, or furthering your education.
These financial commitments could significantly impact your budget, and it's important to consider them when determining how much to spend on a ring.
Financial Priorities
Determine your financial priorities. These could include paying off student loans, saving for a house, or building an emergency fund.
Ensure that the amount you're planning to spend on a ring doesn't interfere with these goals. Remember, the wedding ring is a symbol of your commitment and love for each other and doesn't necessarily need to cost a fortune to be meaningful.
Considering Your Partner's Expectations
Open Communication
Understanding your partner's expectations will help guide your budget. Have a frank conversation about what they envision in a ring. This conversation could reveal that your partner may prefer a more modest ring or even a non-traditional ring.
Need Easy Extra Cash?
Pinecone Research, a leading name in online survey panel honesty, absolutely guarantees $3 cash for every survey you complete!
Take advantage of their time limited New Membership drive and register NOW. Join today: 100% free!


The critical part is ensuring the ring reflects the wearer's style and personality.
Style and Preferences
Take time to understand your partner's style and preferences. For example, they might prefer a unique, vintage ring found on Etsy or a local antique shop, which could be less expensive than a new diamond ring.
Alternatively, they might value a high-quality stone and be willing to compromise on size for the sake of quality. Knowing these preferences will help you make a choice that suits your partner and fits within your budget.
Incorporating Family Heirlooms
Family heirlooms can add a unique and personal touch to a wedding ring. If you or your partner has a family gemstone or piece of jewelry, consider having it incorporated into your wedding ring.
Not only can this save you money, but it also adds a sentimental value that can't be bought. Be sure to discuss this option with your partner and family members before making any decisions.
Exploring Different Types of Rings and Their Costs
Diamond Rings
Traditional diamond rings are the most popular choice for wedding rings but can vary greatly in cost depending on the quality of the diamond and the complexity of the setting.
Alternative Stones
Alternative stones like sapphires, emeralds, and moissanites are less expensive options that can also make for a beautiful ring.
Band Materials
The choice of band material, from platinum to gold to more budget-friendly sterling silver, also impacts the cost of the ring. Be sure to research different materials to find one that suits your budget and your partner's preferences.
Researching the Cost of Wedding Rings
Compare Retailers
Different retailers can offer significantly different prices for similar rings. Be sure to compare prices from different stores and online platforms.
Consider Custom Design
While it might sound expensive, getting a ring custom-designed can sometimes be cost-effective. You can control the materials used and the design complexity, allowing you to work within your budget.
Look for Discounts
Keep an eye out for discounts and sales. Many jewelers offer sales around major holidays, so if you're not in a rush, waiting for these can help save money.
Determining Quality: The 4Cs of Diamonds
Understand the 4Cs
When buying a diamond ring, it's essential to understand the 4Cs — cut, color, clarity, and carat. These four factors significantly impact a diamond's quality and, therefore, its price.
Prioritize the 4Cs
Decide which of the 4Cs is most important to you. Some people prioritize carat size, while others might value a high-quality cut more. This can help you get the most value for your money.
Get a Grading Report
Ensure that the diamond comes with a grading report from a reputable laboratory like the GIA or AGS. This will verify the quality of the diamond and ensure you're getting what you pay for.
Thinking Long-Term: Insurance and Maintenance
Consider Insurance
Don't forget to consider the long-term costs associated with a wedding ring. One of these is insurance. For expensive rings, it's often advisable to get it insured against theft, loss, or damage.
Regular Maintenance
Rings may require regular maintenance, including cleaning and potential resizing. Some jewelers offer these services for free, while others do not. Be sure to factor this into your budget.
Future Upgrades
Some couples choose to buy a modest ring initially and then upgrade to a more expensive ring later in life when they're more financially secure. If this is something you're considering, check if the jeweler has a trade-in or upgrade policy.
Wedding Ring vs. Engagement Ring: Is there a difference?
Understanding the Difference
Traditionally, an engagement ring is given at the proposal, while the wedding rings are exchanged during the wedding ceremony. Engagement rings are often more elaborate and expensive, while wedding rings tend to be simpler.
Cost Distribution
If you're planning to buy both an engagement ring and a wedding ring, consider how you want to distribute your budget between them. Some might spend more on the engagement ring and opt for a simple wedding band, while others might distribute the cost more evenly.
Coordinating Rings
Many couples choose to buy matching or coordinating wedding bands. If this is something you're considering, remember to budget for two rings instead of one.
Tips to Save Money on Wedding Rings
Buying Online
Online retailers often provide lower prices than brick-and-mortar stores because they don't have the same overhead costs. Trusted online jewelers like Blue Nile and James Allen offer high-quality rings at competitive prices.
Plus, they often have extensive virtual inventories, giving you a wide range of options to choose from, right from the comfort of your home.
Buying Secondhand
Buying a secondhand ring can also offer significant savings without sacrificing quality or style. Websites like I Do Now I Don't and The Real Real offer pre-owned rings at a fraction of their original cost.
Additionally, a vintage or heirloom ring can also bring a unique history and character that a new ring might not offer.
Choosing a Lower Cost Setting
The setting of the ring can significantly impact its cost. Simpler settings like a solitaire are often less expensive than more complex ones like a halo or pave.
Talk to your jeweler about your budget and ask them to show you different styles within your price range. This way, you can find a ring design that fits your aesthetic preferences while also keeping your budget in check.
Considering Alternative Stones
Diamonds might be the traditional choice for wedding rings, but they're not the only option. Considering alternative stones such as moissanite, sapphires, or even lab-grown diamonds can help save money.
These stones often have a similar appearance and durability to natural diamonds but come at a fraction of the price. Websites like Brilliant Earth offer a wide variety of alternative gemstone rings.
Timing Your Purchase
Jewelry retailers often offer significant discounts during certain times of the year like Black Friday, Cyber Monday, or after Valentine's Day.
Earn Everything… nearly!
Join Opinion Outpost, one of the few faithful and honest survey panels and earn cash and gift cards for your opinion. Stack your points and redeem them: Simple! No hidden fees and completely free!


Planning your purchase during these periods can result in substantial savings. Just make sure to verify the ring's quality and return policy before finalizing your purchase.
Investing in Experiences vs Material Goods
Value of Experiences
Some couples choose to spend less on a wedding ring and use the savings to invest in experiences like a dream honeymoon or a down payment on a home. Remember, the value of a ring is not only monetary but also emotional and symbolic.
Personal Preferences
Everyone values things differently. What's most important is that the ring is meaningful to you and your partner, whether that's a high-end diamond ring or a simple band.
Budget Distribution
Again, it's all about how you choose to distribute your budget. Some couples prioritize the wedding ceremony and honeymoon, while others might prioritize the ring.
It's all about what makes the most sense for you and your partner.
Balancing the Wedding Budget
Consider Overall Wedding Expenses
When determining your ring budget, it's crucial to consider it as part of your overall wedding budget. Weddings can be expensive, and you don't want to spend so much on the ring that you're struggling to cover other expenses.
Allocating Funds
A typical guideline is to allocate about 3-5% of your wedding budget to the rings. However, this will depend on your personal preferences and financial circumstances.
Prioritize Your Budget
Decide what's most important to you and your partner for your wedding. If the ring is a top priority, you might choose to allocate more of your budget towards it and cut back in other areas.
The Value of a Wedding Ring: More Than Just Money
Symbolic Value
Remember that a wedding ring is first and foremost a symbol of your commitment to your partner. Its value comes more from its symbolic significance than its price tag.
Emotional Significance
A ring becomes priceless when it is imbued with memories and meaning. It's the love and commitment that the ring represents that truly matters.
Making a Personal Decision
In the end, how much you should spend on a wedding ring is a personal decision that only you and your partner can make. It's about finding a ring that you love and that represents your unique love story, not about how much it costs.
Creating a Budget for Your Wedding Ring
Establishing a Budget
Once you've considered all the factors, it's time to create a budget for your wedding ring. This should be a number that you feel comfortable with and that won't put you in financial strain.
Stick to Your Budget
Once you have a budget, stick to it. It can be easy to get swept up in the moment and spend more than you intended, but remember that there are many beautiful rings available in every price range.
Make a Wise Decision
Buying a wedding ring is a significant decision. Take your time, do your research, and make sure you're making a wise financial decision.
A ring is meant to last a lifetime, so it's worth putting in the effort to find the right one within your budget.
Conclusion
Deciding how much to spend on a wedding ring is a deeply personal decision, based on your financial situation, your partner's expectations, and your personal values.
It's essential to remember that the value of a wedding ring is in its symbolism and the love it represents, not its price tag.
By considering these factors and carefully planning your budget, you can find the perfect ring that fits both your love story and your financial situation.
Related Posts:
Earn Everything… nearly!
Join Ipsos iSay, one of the few Faithful and Honest survey panels and earn prizes, gift cards and donations. Stack your points and redeem them: Simple! No hidden fees and completely free!