15 Easy Ways to Make Money on Halloween
Updated on: by Amy Kennedy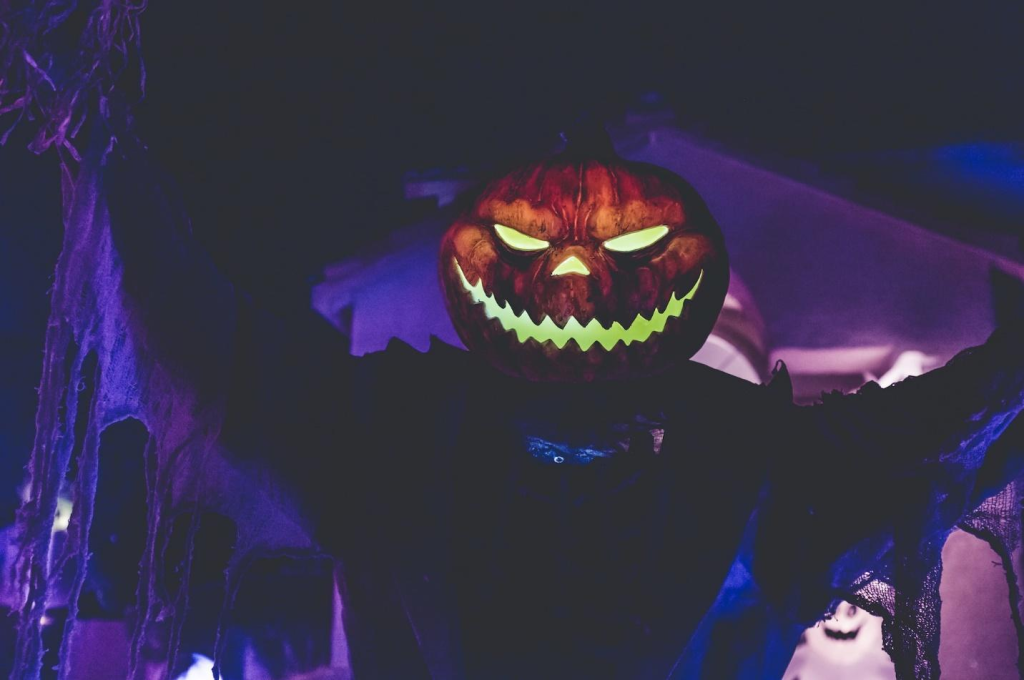 Halloween, the spookiest time of the year, isn't just about costumes and candy—it's also an excellent opportunity to make some extra money.
Need Easy Extra $350+/Month For Free?
Whether you're a creative crafter, a social media whiz, or just someone looking for a fun side hustle, there are countless ways to cash in on the Halloween spirit.
From crafting and selling homemade decorations to organizing haunted house tours or leveraging your social media presence for affiliate marketing, this eerie season offers a treasure trove of money-making possibilities.
This guide uncovers 15 easy and creative ways to turn the magic of Halloween into a financial treat.
How to Make Money on Halloween
The ideas below tap into the creativity and spookiness of Halloween, making it a fantastic opportunity to have fun while making some extra money.
They include the following:
1. Escape Room Designer
Are you a master of suspense and puzzles? Turn your skills into a lucrative Halloween venture by becoming an Escape Room Designer.
Create immersive, spooky-themed escape room experiences that challenge participants to solve mysteries and escape from eerie scenarios.
These attractions are perfect for haunted houses, corporate events, or private parties.
Use your creativity to craft intricate puzzles, design creepy settings, and add spine-tingling surprises.
You can market your services to event planners, team-building organizers, or Halloween enthusiasts.
Remember, the scarier and more challenging, the better! For inspiration, check out renowned escape rooms like Escape the Room.
2. Halloween Lawn Decor Rentals
Transform your love for Halloween into a profitable business by offering Halloween Lawn Decor Rentals.
Many people want to go all out with their outdoor decorations but may not want to invest in pricey items they'll only use once a year.
Stock up on inflatable ghosts, tombstones, witches, and other spooky décor, and rent them out for Halloween.
Promote your rental services on social media, neighborhood forums, or through local event planners.
Need Easy Extra Cash?
Pinecone Research, a leading name in online survey panel honesty, absolutely guarantees $3 cash for every survey you complete!
Take advantage of their time limited New Membership drive and register NOW. Join today: 100% free!


Make sure to include delivery, setup, and removal in your packages. Be sure to offer unique and high-quality decorations to stand out in this market.
3. Ghoul-for-Hire
Unleash your inner creature of the night as a Ghoul-for-Hire.
Dress up as a ghost, zombie, vampire, or any other spine-chilling character and offer surprise appearances at parties, haunted houses, or even for pranks.
Your services can include creepy performances, eerie interactions, and terrifying moments that will leave a lasting impression on your clients and their guests.
Create a portfolio of your ghoulish personas and advertise your availability on platforms like GigSalad.
As Halloween approaches, demand for your haunting talents is sure to rise.
4. Tarot Card Readings
Embrace the mystique of Halloween by offering Tarot Card Readings at parties and events.
Many people are intrigued by the idea of peering into the future during this mystical season.
Invest in a quality tarot deck and hone your skills as a reader.
You can promote your services on social media or create a simple website to attract clients.
Remember, authenticity and a touch of spookiness in your presentation can add to the Halloween charm of your readings.
For inspiration, take a look at renowned tarot readers like Biddy Tarot.
5. Halloween Event Planner
Become the go-to expert for all things Halloween by specializing as a Halloween Event Planner.
Organize and curate spooky gatherings, haunted house tours, or costume parties for individuals and businesses looking to celebrate Halloween in style.
Offer a range of services from event conceptualization and theme design to coordinating vendors and managing logistics.
Develop a portfolio showcasing your past Halloween events and use it to attract clients.
Your love for the holiday and your event planning skills can combine to create memorable and frightfully entertaining experiences.
6. Spooky Storytelling Services
If you possess a captivating storytelling ability, consider offering Spooky Storytelling Services.
Halloween is the ideal time to chill spines with tales of the supernatural and the unknown.
Craft original or classic ghost stories and offer to narrate them at gatherings, campfires, or even virtually.
You can market your services to event planners, schools, or families looking for a unique Halloween activity.
Use your storytelling prowess to transport your audience to a realm where the line between the living and the dead blurs.
7. Ghostwriting for Scary Tales
Turn your writing skills into a source of Halloween income by becoming a Ghostwriter for Scary Tales.
Many people and businesses seek captivating and spooky content during the Halloween season.
Offer to write ghost stories, eerie blog posts, or haunting social media content for clients.
Market your services through freelance platforms like Upwork or by creating a professional website showcasing your portfolio of spine-tingling work.
Your words can send shivers down spines and fill clients with Halloween spirit.
8. Zombie Makeup and SFX
If you're skilled in makeup artistry and special effects, you can make a killing by offering Zombie Makeup and SFX services.
Zombies are a staple of Halloween, and many revelers want to look the part.
Earn Everything… nearly!
Join Opinion Outpost, one of the few faithful and honest survey panels and earn cash and gift cards for your opinion. Stack your points and redeem them: Simple! No hidden fees and completely free!


Provide professional-grade makeup and prosthetics to transform people into gruesome zombies, vampires, or other Halloween creatures.
Market your services to individuals attending costume parties or haunted attractions.
Your ability to turn ordinary faces into horrifying monstrosities will be in high demand during the Halloween season.
9. Witchcraft Workshops
Unlock the mysteries of the occult and offer Witchcraft Workshops during Halloween.
Many people are fascinated by witchcraft, spells, and potions, especially during this mystical time of year.
Create and host workshops that teach the basics of witchcraft, like potion-making, tarot reading, or herbology.
Promote your workshops through local community centers, online event listings, and social media.
Share your knowledge of the mystical arts to help others embrace their inner witches this Halloween season.
10. Halloween Plant Sales
Bring a botanical twist to Halloween by selling unique, Halloween-themed plants.
Create eerie plant arrangements, like "spider plants" or "cemetery succulents," and market them as Halloween Plant Sales.
Offer these spooky yet delightful plants at local markets, online platforms like Etsy, or even through social media.
Decorative plants with a Halloween twist are a unique addition to the seasonal décor and make for great gifts.
Incorporate care instructions to ensure your customers can enjoy their spooky plants long after Halloween is over.
11. Halloween-Themed Food Truck
Get in on the Halloween festivities by running a Halloween-Themed Food Truck.
Offer an array of spooky and tasty treats such as "Witch's Brew" beverages, "Mummy Dogs," or "Monster Burgers."
Decorate your food truck with Halloween flair, and target events, festivals, and even neighborhoods with trick-or-treaters.
Use social media platforms to announce your locations and menu items.
Your unique Halloween-themed dishes will attract foodies and Halloween enthusiasts alike, making your food truck a holiday hit.
12. Paranormal Investigation Tours
For those who have an interest in the supernatural and a knack for storytelling, consider offering Paranormal Investigation Tours.
Lead groups on ghostly adventures to reputedly haunted locations, sharing eerie tales and conducting investigations.
Promote your tours through local tourism boards, event websites, and social media.
Ensure you have the necessary equipment, like EMF detectors and voice recorders, to give participants a genuine paranormal experience.
As the Halloween season approaches, the demand for spine-tingling experiences is likely to increase.
13. Horror Movie Nights
Create memorable experiences by organizing Horror Movie Nights during the Halloween season.
Host outdoor or indoor movie screenings of classic horror films, contemporary thrillers, or cult favorites.
Select a suitable venue, advertise your event on social media, and offer themed concessions like "Vampire Bites" (popcorn) and "Witches' Brew" (beverages).
Charge admission fees or partner with local businesses for sponsorship.
Give movie enthusiasts a spine-tingling night of cinematic scares they won't forget.
14. Halloween-Themed Online Courses
Share your expertise and passion for Halloween by offering Halloween-Themed Online Courses.
Create and sell digital courses that delve into the history, traditions, and DIY projects associated with Halloween.
Promote your courses on educational platforms, social media, and your website.
Cover topics like pumpkin carving, costume design, or even the history of ghost stories.
These courses can attract Halloween enthusiasts, parents, and educators looking for engaging seasonal content. Transform your knowledge into a valuable online resource.
15. Custom Tombstone Engraving
Turn the spooky into the artistic with a Custom Tombstone Engraving business.
Offer personalized tombstone engraving services for Halloween decorations, pet memorials, or even as unique gifts.
Market your services on platforms like Etsy or through your website, showcasing your craftsmanship and attention to detail.
You can offer various materials, from foam to real stone, and customize inscriptions to fit the theme.
As Halloween approaches, people seeking one-of-a-kind decorations and memorabilia will be eager to enlist your services.
Ways to Market Your Halloween-Themed Products Effectively
Here is how you can effectively market your Halloween-themed products:
1. Create a Spooky Social Media Presence
Building a spooky social media presence is essential for reaching a broad audience.
Utilize platforms like Instagram, Facebook, and Pinterest to visually showcase your Halloween products.
Share captivating images and videos of your items in Halloween-themed settings to captivate your audience's attention.
Engage with your followers by posting polls, quizzes, or spooky anecdotes related to your products.
Don't forget to use relevant hashtags like #Halloween, #SpookySeason, and #Haunted to increase your posts' discoverability.
2. Leverage Influencer Marketing
Harness the power of influencer marketing to expand your reach.
Collaborate with Halloween influencers or bloggers known for their love of all things spooky.
By partnering with individuals who have a substantial following, you can leverage their credibility and reach a broader audience.
Check out platforms like Instagram, YouTube, and TikTok to find influencers who align with your Halloween-themed products.
Influencers can authentically promote your products, increasing brand trust and visibility.
3. Optimize Product Listings
Optimizing your product listings is crucial, especially if you sell on e-commerce platforms like Etsy, Amazon, or eBay.
Craft attention-grabbing titles and descriptions, including Halloween-related keywords such as "spooky," "costume," or "decorations."
Use high-quality images to showcase your products and create an irresistible appeal.
Ensure your tags and categories align with Halloween themes to enhance your products' visibility in search results.
By optimizing your listings, you can attract more potential buyers looking for Halloween merchandise.
4. Run Halloween Giveaways
Organizing Halloween giveaways can be a fun and effective way to generate buzz around your products.
On social media platforms like Instagram and Facebook, encourage users to participate by sharing your content, tagging friends, or using a specific hashtag.
Reward winners with your Halloween-themed products, creating excitement and engagement among your audience.
By doing so, you not only increase brand awareness but also grow your social media following and reach.
5. Create Halloween-Themed Content
Developing Halloween-themed content adds value to your audience while promoting your products indirectly.
Create blog posts, videos, or infographics that share Halloween-related tips, DIY ideas, or spooky stories.
Share these content pieces on your website, YouTube, or Medium to attract Halloween enthusiasts interested in your niche.
Offering valuable information builds trust and positions your brand as an authority in the Halloween market.
6. Email Marketing Campaigns
Leverage the power of email marketing campaigns to keep your audience informed and engaged.
Create and send out newsletters featuring exclusive Halloween promotions, discounts, and product updates to your email subscribers.
Tools like Mailchimp or Constant Contact can help you design eye-catching emails.
By nurturing your email list, you can retain customers and entice them to make Halloween-themed purchases.
7. Engage in Pay-Per-Click (PPC) Advertising
Running PPC advertising campaigns during the Halloween season can help you reach potential buyers actively searching for Halloween products.
Platforms like Google Ads and Facebook Ads allow you to target specific keywords and demographics.
Craft compelling ad copy that highlights your unique Halloween offerings and directs traffic to your website or product listings.
8. Collaborate with Local Businesses
Building partnerships with local businesses can expand your reach within your community.
Consider co-hosting Halloween-themed events, such as pop-up shops or Halloween parties, with complementary businesses like costume shops, bakeries, or event venues.
These collaborations can attract a wider audience and increase foot traffic to your store or website. Promote these partnerships through local event listings and on social media.
9. Offer Limited-Time Discounts
Generate a sense of urgency and excitement by offering limited-time discounts during the Halloween season.
Promote these offers on your website's homepage, through email marketing, and on social media platforms.
Phrases like "Halloween Flash Sale" or "Buy One, Get One Spooky Deal" can capture the attention of shoppers looking for a good deal.
The time-sensitive nature of these promotions encourages quick action, resulting in increased sales during the Halloween season.
Wrap Up
In the enchanting realm of Halloween, myriad opportunities await those seeking to conjure up extra income.
From crafting captivating costumes to hosting haunted escapades, these tenacious ventures bring life to the holiday spirit.
Embrace the magic of social media and influencer collaborations, mesmerize with Halloween-themed content, and ignite anticipation with limited-time discounts.
By illuminating the path with creativity and collaboration, these easy ways to make money on Halloween promise a spellbinding journey toward seasonal prosperity.
Related Posts:
Earn Everything… nearly!
Join Ipsos iSay, one of the few Faithful and Honest survey panels and earn prizes, gift cards and donations. Stack your points and redeem them: Simple! No hidden fees and completely free!