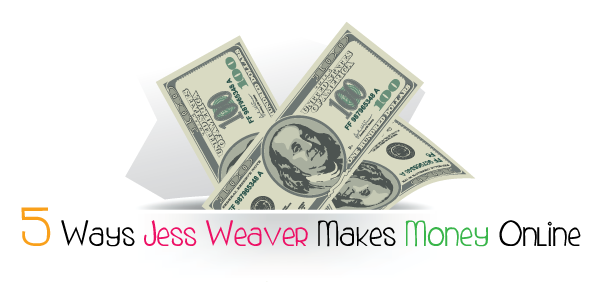 Need Easy Extra $350+/Month For Free?
Since I wrote my last "five ways to make money" things have changed a little bit. You know, that's what I like about this freelance world. All of this changing allows me to express the true entrepreneur waiting to get out of me. I've been writing for almost a year and a half now, professionally anyways. I love the groove of writing and the sound of my fingers hitting the keyboard.
I almost forgot what I was writing here. I wanted to share some of my ways for making money while working from home. In the "ideal" work at home world, we would all have 50 grand stashed and we would never be in a pinch for cash. By the way, I envy those of you who really do have that much cash in your stash.
Way # 1
My top favorite way to make money at home is through working. I'm serious! I treat my job like it's a job and I don't back down. *Sigh* This job is just like any other, it's full of excitement and disappointment. The only true difference is that any given day I can be sprayed with poop from a cloth diaper (yes, I cloth diaper) or I could have two kids sitting under my desk at various instances. So, with that said, my top favorite way to make money is "to do my thang."
Way # 2
Branch out and try a little "something something" different. At the start of the year I started dabbling in social media. Now social media follows me to bed at night. I ask him to leave me alone, but he still bothers me. No, truly I love being a social media manager because it's a breath of fresh air. Just one word of advice, don't charge too little to do social media because it can be a true headache sometimes.
Way # 3
Forums. Yes, I just said forums. You are missing out on a lot if you are not a part of any work at home forum. Get your toushy over to one, so you can start learning the ropes. I'm serious when I say that you can learn so much from these forums. Besides my work at home mentors(coughMirandacoughAnnacough), these forums have taught me a lot. Just avoid the drama if you can because where there are ladies there will be drama. You can pick up a lot different money making jobs on these forums.
Way #4
Let me spell it out for you O D E S K. People have their opinions about this planet, but I would never give you bad advice. You're not always going to find the hidden jewels, but they are in there somewhere. This past week I landed a gig writing 1500 words for $50. Look frequently and ignore the weirdos that want you to write 400 words for $1. Unless you plan on moving to the moon, in which you would not need cash to survive because you could just bounce around all day.
Way #5
My fifth favorite way to make money is still the good old content mills. I still check Grandpa Textbroker every once in a while to see what he has to offer. I'm a level three (yeah, you probably think I stink), but it's honestly not my fault ;). Textbroker is the content mill king and he shall forever be on the thrown.
As you can see this post is a little silly, but that's because I'm in my personality writing mode. If you are serious about making money from home, then get to it. Your biggest critic will always be yourself (and your kids). But if you have the passion and desire, you can also have five ways to make money from home.
Till next time…
Related Posts:
Want more money?

Join Surveyo 24 #1 paid survey site. It's easy - complete a survey and receive payment. No hidden fees and completely free!


Need Easy Extra Cash?

Join e-Poll, one of the few faithful and honest survey panels and earn cash - paid via PayPal - gift cards for Amazon, Best Buy, iTunes, Starbucks, and Walmart, plus Retail e-vouchers.
The surveys are aimed at entertainment-related research, covering such things as personal TV watching habits, give feedback on new TV commercials or to review DVDs that are sent to your home.
For USA residents aged 13+. No hidden fees and completely free!