How Resourceful Do You Have to Be to Work at Home?
Updated on: by Leisa Good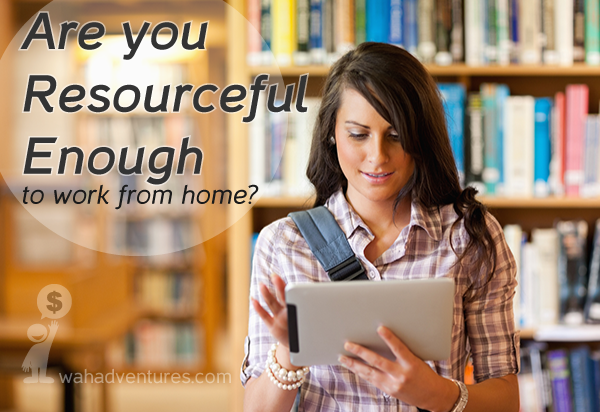 Need Easy Extra $350+/Month For Free?
Do you know how to find information quickly and then organize it?
Are you the "go-to" person that others come to when they have a question?
Can you work effectively, but also plan for any problems which may arise?
Then you, my friend, have a great business skill available to you for working at home—resourcefulness. Hopefully, it will help you endure when questions and problems arrive.
What Exactly is Resourcefulness?
The Webster's Dictionary defines resourcefulness as "full of resources; able to deal creatively and effectively with problems, difficulties."
I also like the equation for resourcefulness on Lifehack.
Resourcefulness = Necessity + Creativity + Persistence
In other words, having not only the resources (books, networks, finances, etc.) to work at home and overcome the obstacles, but also maintaining a certain amount of creativity and effectiveness. While it may sound easy, most creative people will tell you that they are not always the best at time management. While most of the better time managers will admit they could probably be using more and sometimes, better resources to accomplish what they need.
It really comes down to being able to find and organize the information you need to get the results you want. Sometimes this includes a backup plan to solve any problems that should arise.
What Does Resourcefulness Have to Do With Working at Home?
Problems will arise when working from home and you will need to be the type of person who can list both the pros and cons. You must also be able to put together a work schedule and think about things such as computer problems and how to fix them or which contract or client to work for when you cannot work for them both.
If you have been working from home for any length of time, you know that situations will happen and you won't know what to do.
Some of these situations will be:
  how to fix a computer problem
  how to use a particular software to do a task
  how to find information about a company
  how to prepare your taxes
And the list goes on and on. While most of us who work at home are intelligent and motivated, we have to admit that we don't know everything. We also can't know everything, and really don't need to know everything.
Need Easy Extra Cash?
Pinecone Research, a leading name in online survey panel honesty, absolutely guarantees $3 cash for every survey you complete!
Take advantage of their time limited New Membership drive and register NOW. Join today: 100% free!


Are You Using the Henry Ford Principle?
Most of you are familiar with the story of Henry Ford. He fully assembled the first American automobile, the Model T, in 1908 and became very wealthy and famous. While he did not invent the automobile or the assembly line, he made it at a price that most people at the time could afford. He also made labor and parts affordable, so that automobile owners could afford those too. In other words, he perfected and implemented an already great idea.
Upon becoming wealthy, he realized that while he was still an expert mechanic, he was not as learned or educated as most of the other wealthy men of his day. In fact, sometimes he was even made to feel less than deserving of his wealth. However, he never let any of this stop him from enjoying his success as he went on to found the Ford Motor Company. He realized he didn't know everything, but he didn't need to either.
What he didn't know he had a network of other businessmen, inventors, and professionals that he could ask. So his philosophy became why waste your time learning a set of useless facts. Turn to your network and just do what you are good at, which in his case was continuing his mechanical talents and legacy.
There is a wonderful recount of this story in the book, Succeed And Grow Rich Through Persuasion, by Napoleon Hill and E. Harold Keown.
Is Resourcefulness Just About Finding Alternative Solutions?
Resourcefulness is not just about finding alternative solutions as it is about networking and being able to ask for help when help is needed. Sometimes asking for help can be a prideful thing, so be certain that you are the type who can ask for help. It is also being able to create backup plans and ways to foresee any hidden problems.
How Can I Use Resourcefulness in All Areas of Life?
Yes, resourcefulness is something that you can use in all areas of your life. Some questions to ask yourself to check your resourcefulness are:
  Is this the best way to do this?
  Are there alternative ways to get the same result?
  Who do I know that can help me do _______?
  Where can I find the information to do _______?


How Do I Learn to be Resourceful?
The best way to learn to be resourceful is to put together your resources. You will want to include:
  books (paper, downloadable or e-books)
  periodicals or newsletters (online and offline)
  networks of colleagues
  lists of organizations
  lists of directories
  lists of government agencies
  lists of small business agencies
These resources should have information pertaining to home based businesses, business start-up guides, planning and management, legal and financial information, marketing and publicity, and special interest groups.
Can Someone Be Too Resourceful?
While I don't think that you can be too resourceful, I do think you can become a victim of information overload–especially in this Information Age that we are living. In this case, learn to narrow your search for information. Do a boolean search instead of just a Google or Bing search. Limit the number of online newsletters that you are going receive in your inbox. Also, limit the so-called experts that you follow or just follow a few.
So, In Summary, How Resourceful Do You Have to Be to Work at Home?
Well, it's all up to you. You will need to learn this important skill be able to sustain your work-at-home business or client list for the duration of time. Those who aren't resourceful or who don't become resourceful usually either don't last or miss out on so many opportunities. They also give up or become discouraged in working from home.
In Conclusion
Becoming resourceful will help you work better and more efficiently to get the results you want. You will also feel relieved in knowing that you don't have to know everything or how to do everything, just know where to find it or whom to ask.
Related Posts:
Earn Everything… nearly!
Join Ipsos iSay, one of the few Faithful and Honest survey panels and earn prizes, gift cards and donations. Stack your points and redeem them: Simple! No hidden fees and completely free!