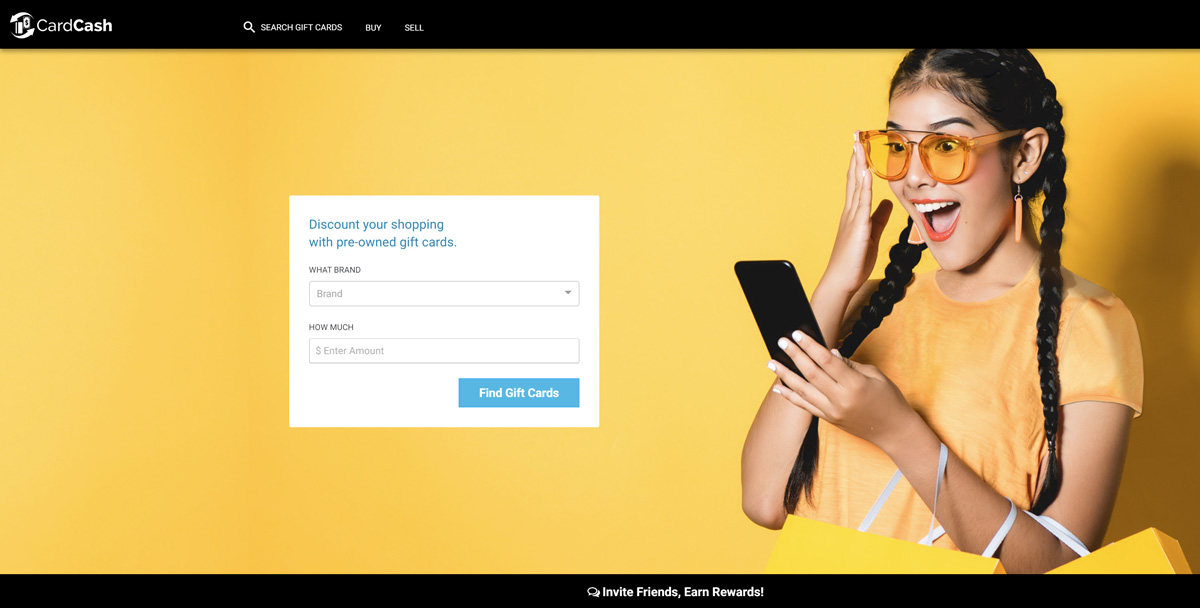 I always seem to get a random gift card as a gift here and there to somewhere I'll never use because I either don't go there or don't have a location near me.
Need Easy Extra $350+/Month For Free?
Apparently, a lot of other people do, too, because there's a need for places like CardCash, which let you turn in gift cards you don't need for cash.
I've sold gift cards online before with places like eBay, but there are a lot of scams involved in doing so, like people buying the card and then asking for a refund claiming they "never got it."
However, websites that are made specifically for selling gift cards can be safer because they have practices in place to prevent scam artists from doing things like that to you.
Is CardCash worth your time though?
Will it really work to turn gift cards you don't want into actual money?
I'm bringing you a full review right here so that you can see how the site works, what its perks are, and if it's a viable choice for you.
What is CardCash?
CardCash is a site that helps people buy and sell gift cards for less cash than their value.
In other words, you won't get back the full price of a gift card when you sell it.
But you also won't pay full price for a gift card if you want to buy one.
The site gives you a way to get the gift cards you want rather than hanging onto ones you'll never use.
Because you can sell gift cards you don't need, you can also make a little money in the process.
The site was founded in 2009 and has been going strong as one of the leaders in the buying/selling gift cards industry.
How Does It Work?
CardCash is basically a one-stop shop for buying and selling your gift cards.
So, you can make money here, but you can also save money here when buying gift cards.
It makes it convenient for you to find the gift cards you need and get rid of ones you don't, all in one place.
Need Easy Extra Cash?

Pinecone Research, a leading name in online survey panel honesty, absolutely guarantees $3 cash for every survey you complete!
Take advantage of their time limited New Membership drive and register NOW. Join today: 100% free!


You can even use the money you get from selling cards to turn around and buy ones you'll actually use.
How does it all work?
Here's what you need to know.
Selling Gift Cards
Currently, you can get up to 92% of the cash value of your gift card when you sell it.
How much you'll actually make depends on how much is left on the card and what kind of card it is.
Some brands are simply worth more than others because more people want them.
You can click on the site's Sell link to enter your card information and get an immediate quote of how much you can make for it.
Let's play with a few examples so you can get an idea of what your card might be worth:
Build A Bear $25 card: You'll get $14.50
Target $100 card: You'll get $78
eBay $75 card: You'll get $61.50
Restaurants Unlimited $50 card: You'll get $32.50
When you sell a gift card, you can choose to get your cash via PayPal, a mailed check, or direct deposit.
Or, you can choose to trade your gift card for a different one that's already on CardCash, which I'll get into in a moment.
In most cases, you can expect your payment within one to two days of your card's approval, but mailed checks will take longer to arrive, of course.
You may need to send in some gift cards to CardCash before they can be approved, but most of them are eligible to be entered online with their card number and PIN.
When you use the Sell page to begin a sale, CardCash will let you know if you have a card you can enter online or if you need to send it in.
You need to make sure your gift card does not have an expiration date when you try to sell it because CardCash will not accept it.
One last note about selling cards that seems to get some people upset with CardCash is that you'll need to verify your identity before selling a card.
You can do that either by entering your credit card information or using one of the site's digital methods for verification.
The company does this solely to prevent gift card fraud, which as I mentioned at the beginning of this review, is a very real thing (I've had it happen to me before!).
If you're nervous about entering your credit card information, you can choose to use one of the other verification methods that you feel comfortable with.
But you'll have to do it before CardCash lets you sell.
Buying Gift Cards
Buying gift cards won't give you any money, of course, but it could be an excellent way to save some money off gift cards you want or need, like cards for Amazon or Barnes & Noble.
The cards you buy all come from other CardCash customers who sell them.
So, you could end up with cards that don't have even amounts on them, like $50 or $20, because you can sell your card balances.
You can get some pretty solid discounts on gift cards on the CardCash website.
What's great about buying cards here is that anything you buy falls under the 45-day guarantee.
This guarantee protects your purchase in the event that a gift card you buy doesn't have the same cash value as you were told it did when you bought it.
Although it's rare for this to happen, some mistakes could occur in the selling process, giving you a card that's lower than what you thought it was when you bought it.
Under the 45-day guarantee, you have 45 days to contact CardCash and let them know about the blunder.
You can then get your money back for your card after CardCash reviews everything.
Trading Gift Cards
Trading gift cards is an option for people who might want to get a little more out of the card they're selling and find a different card they want to use on the site.
Earn Everything… nearly!

Join Opinion Outpost, one of the few faithful and honest survey panels and earn cash and gift cards for your opinion. Stack your points and redeem them: Simple! No hidden fees and completely free!


You can get up to 11% more from your traded card's value when you trade it instead of selling it.
That's because CardCash basically gives you store credit to shop on its website, so it's willing to pay you a little more for trades because it's guaranteed to get some money back out of the deal.
You can start a trade from the Sell page, just as you would if you're trying to sell a gift card.
CardCash will walk you through the process to trade your card for another one on the site with a similar value.
Is CardCash Legit or a Scam? Is Card Cash Safe?
CardCash is a real site for buying and selling gift cards, but that doesn't mean it's perfect – nor that I'd call it 100% legit.
I'd honestly need to try it for myself to find out for sure, but after reading reviews online, I don't think I want to chance losing a gift card here.
I've read through several reviews from people who have used it; some of them are thrilled with the process while others have some harsh words about their experience.
I also checked the BBB.
The site isn't accredited with the BBB, but people can still leave praise and complaints there.
Currently, CardCash has over 400 complaints but still has a B rating, which at least shows that CardCash is dedicated to responding to complaints and trying to make things right for its customers.
I also looked at review sites like TrustPilot, where CardCash and GiftCard.com reviews are very similar.
GiftCard.com, if you aren't aware, is a site with the same business model as CardCash, offering a place to buy and sell gift cards easily online.
They both have an average 4-star review there.
So, what are the common complaints about CardCash? Here are some I kept coming across:
Theft/Shady Sales?
One of the most common – and somewhat disturbing – complaints I've seen about CardCash is that people have sold or traded gift cards on the site only to be left without a traded gift card or money for their sold card.
Although these are very concerning, I also can't say, from CardCash's perspective, what happened.
It's possible that these people didn't complete the verification process you're supposed to when you sell or trade, and therefore, the site automatically deemed them fraudulent.
Still, the fact that these people aren't getting their card back or anything in return is a definite concern.
However, I've also seen plenty of people saying their transactions have gone through without a hitch, so I'm not sure where the problem lies.
But it's still important to mention here.
Issues with the Guarantee
I can't find detailed information on the CardCash website about the 45-day guarantee you have in case a gift card you bought doesn't have the value it was promised.
I'm not sure what kind of information you need to provide with your claim to get everything settles.
Unfortunately, I've seen some people mention that they've tried to make use of the guarantee only to have their claim shut down and make it impossible for them to resolve the issue.
It's possible that these customers didn't have enough proof to follow through with the claim, but again, this is a point worth mentioning.
Disappearing Balances
Again, this one goes back to that 45-day guarantee that CardCash promises you.
The company says they'll return your money if a card isn't what was promised, as long as you file your claim within that window.
The problem that many people have who buy cards here is that, if they try to use their gift card after that 45-day window, they find out that the card doesn't have any balance on it.
So, someone's using that card after the 45-day guarantee is up because they know nothing can be done about it.
To me, this seems like more of an issue on behalf of the person who sold the gift card rather than CardCash.
For example, say you bought a $50 Amazon card from a guy named Bob (sellers remain anonymous, but I'm just using this as an example).
You buy the card on CardCash on July 10th.
You try to use the card on August 30th, only to find out that there's not a balance on it anymore.
It's possible that Bob jotted down the card numbers and PIN before selling it so that he could use it once those 45 days were up before you got a chance to.
Basically, he gets paid to sell a card and he still gets to use the card.
CardCash really isn't to blame for this, but perhaps it should put some better measures in place to make sure it doesn't happen.
Your best bet is to make sure you use that card as soon as possible after you buy it.
CardCash Review: Is It Worth Your Time to Sell?
From the information I've gathered about CardCash, it seems like more buyers have issues with the company than sellers.
For the most part, the selling process is straightforward and relatively quick.
Just make sure you complete the identification process when you're ready to sell so that everything goes through smoothly.
I'm not sure that I'd attempt to buy cards here, though, unless I was going to use them right away after receiving their codes.
I'd rather use a place like Swagbucks, where I can earn points for stuff I do online and use those points to buy gift cards that really work (I've gotten several and never had a problem with them).
But for selling cards I don't need, CardCash seems like it could be a good option.
Have you used CardCash to sell or buy? Let us know your thoughts down below in the comments.
Related Posts:
Earn Everything… nearly!

Join Ipsos iSay, one of the few Faithful and Honest survey panels and earn prizes, gift cards and donations. Stack your points and redeem them: Simple! No hidden fees and completely free!