The Ultimate Guide to Making Money with GrindaBuck
Updated on: by Amy Kennedy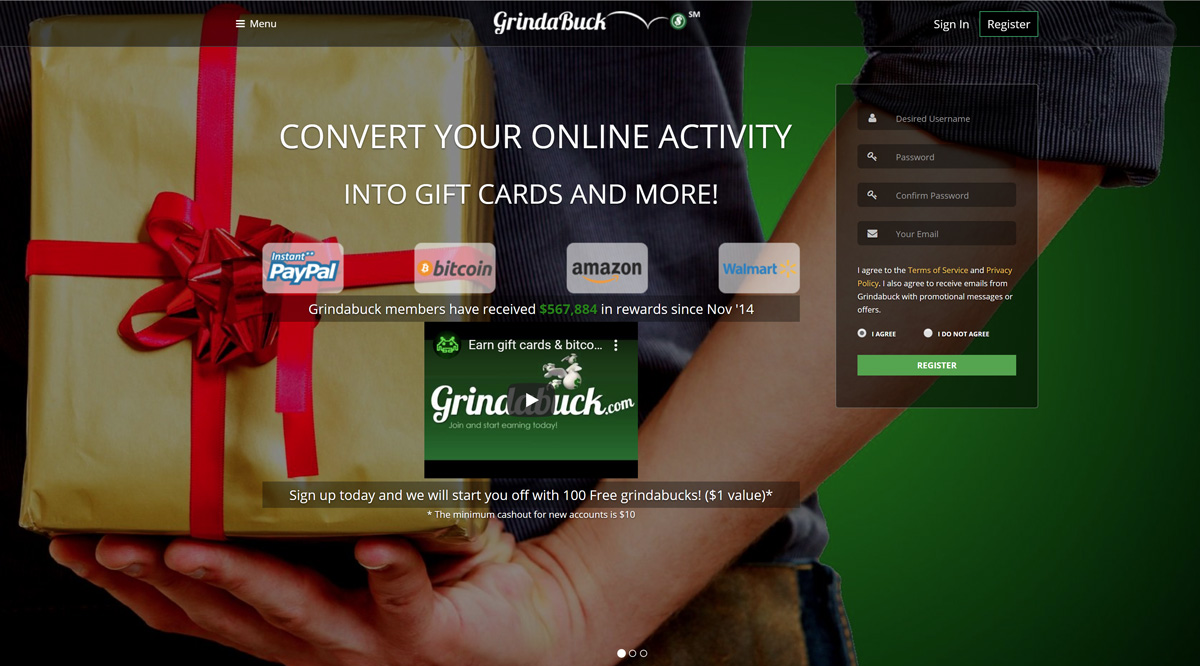 As someone who wants to make money online, you've probably already heard about Get Paid To (GPT) sites which reward you for doing things online that you normally do anyway, like taking surveys, checking emails, and registering for services.
There are plenty of these sites out here, but they definitely aren't all the same.
GrindaBuck is one of those sites that rewards you for doing things online that are fun.
Best of all, it's free to register and use, so you can always try it out and see if it's something you want to continue with.
This review is all about GrindaBuck and how it can help you earn money online, so keep reading if you're interested in learning if it's the right place for you.
What is GrindaBuck.com?
GrindaBuck is a GPT site that's been around since 2014 and is part of Grindabit Interactive, Inc.
It's 100% free to use and makes its money from advertising and partnering with other companies, so you get to have a share of its earnings when you participate in its many tasks for making money.
The site offers plenty of earning opportunities, from its referral program to its offer walls, so it seems like there's something here for almost everyone.
Who Can Join GrindaBuck?
GrindaBuck currently only accepts people of legal age (18) who reside in the United States, United Kingdom, Canada, Germany, and Australia.
You also can only have one account per household, so other people in your household can't join if you're a member.
You'll also need an active email address to register.
How to Join GrindaBuck
Signing up for GrindaBuck is easy.
You'll need to register for GrindaBuck by going to the home page and filling out your name and information in the registration form.
GrindaBuck asks for an email address that you'll need to verify before continuing with the site.
To do this, just visit your email inbox and find the email that GrindaBuck sent you.
Copy its verification code, and enter that into the box on the GrindaBuck website.
Once you do this, you should be able to login and continue with the rest of the site and start earning money.
Make sure when signing up, you enter your correct birthdate because GrindaBuck will use this information when verifying your account to get your rewards.
How to Earn Money on GrindaBuck
GrindaBuck offers several ways for you to make money on the site.
In fact, there's something for everyone here.
If you don't love taking surveys, then try completing mobile offers instead.
Hate watching videos to earn pennies?
Check out the offerwalls to get paid more for less time.
Here's what GrindaBuck offers:
Offerwalls: The Offerwall section of GrindaBuck is where you can likely make the most money. This section has offers for services or products to buy or complete free trials of to earn money into your GrindaBuck account. Remember that, most of the time, you'll need to pay for something or have a credit card on file, so use these wisely (in other words, only when you were planning to pay for it anyway!).
Surveys: GrindaBuck has surveys from a few survey panels that help you earn some cash in your spare time by sharing your opinions. There is also a Daily Surveys section where you'll find quicker surveys than usual to take for points.
Email submits: These aren't always available, but email submits basically require you to submit your email address to websites, email newsletters, etc. for some extra cash. You need to use a real email address because most offers will require you to confirm your email before rewarding you.
Referrals: You can earn some money on GrindaBuck by referring people you know to the platform. When they sign up and name you as a referral, you'll get 10% of everything they earn on the site and they'll get 100 free points to get them started.
Videos: Watch videos, which are basically advertisements for services or companies that partner with GrindaBuck, to earn some points easily.
Sweepstakes: GrindaBuck sometimes has sweepstakes and contests you can enter using the points you have in your account, so you don't actually have to pay anything to enter them and can have the chance to win a good amount of money.
Downloads: The Downloads section offers an easy way to earn some points by downloading software or mobile apps. Just be sure to research what you're downloading first to make sure you're not putting anything potentially harmful onto your devices.
Microtasks: GrindaBuck partners with Figure Eight, a crowdsourcing company with quick tasks you can do to make money, like simple research or data entry tasks.
VIP and VIP bonuses: As you earn more on the site, you'll be eligible for different VIP statuses. Everyone starts at level 1, which gives you access to a $10 minimum cash-out amount and instant credit of up to 250 points per day. Higher levels give you lower cash-out amounts and more points immediately credited. You'll reach these higher levels by earning more points. You can also earn points bonuses each month by hitting targets, like 50 completed offers.
Cashing in for Rewards
I know that you probably want to know how and what you can earn on GrindaBuck before deciding if it's a place you should join, so let's dig into the money aspect.
GrindaBuck pays in points rather than actual cash, so any reward you want to get will require you to work a little math magic to figure out what your points are worth.
Types of Rewards
GrindaBuck offers PayPal, Bitcoin, and gift card rewards.
For PayPal, you can request as little as a $1 payment if you're a VIP who has that option.
As a level 1 VIP, you'll need to wait until you have at least $10 in your account to cash out that much with PayPal, which equals 1025 points.
$1 in PayPal cash is 125 points.
Bitcoin payments cost less – $5 is 500 points and you can get a bit of a discount for $25 in Bitcoin with 2450 points.
GrindaBuck currently only offers Amazon and Walmart gift cards, or at least that's all my account shows as options.
Amazon cards are in $1, $5, $10, and $25 denominations, while Walmart cards are in $5 and $10.
Each one will cost you 100 in points for every dollar (so 1000 points for a $10 gift card, for example).
GrindaBuck says that all gift cards and payments should arrive within 12 hours, but sometimes can be even quicker (like as little as an hour!).
Account Verification
GrindaBuck may require some members to verify their identities before they're able to get paid.
This is just to ensure that nothing fraudulent is going on with your account.
To do this, you'll need to give GrindaBuck your name, email address, and an identification number, like your driver's license number.
Then, answer five questions that will help verify your identity.
As long as you can complete this process successfully, you should see your rewards within a few hours, although some cases may warrant a manual review (like if you weren't able to answer one or two questions correctly).
Manual reviews can take up to 24 hours.
Accounts that are thought to be fraudulent may be shut down immediately.
The Pros of GrindaBuck
I used GrindaBuck for a few days to get a feel for it before writing this review.
I was pleasantly surprised by how much I enjoyed some aspects of it because, at first glance, it seemed kind of messy and outdated, which usually scares me off.
However, I found that there are a lot of opportunities to earn money here and the site is actually set up well to find everything I need.
One of the best things about GrindaBuck is its knowledge base, which you can access by clicking the Earning Guide button on the homepage.
This section literally outlines everything you need to know about the site so you won't get left in the dark about what to do once you sign up.
There are also tons of offerwalls on GrindaBuck, so it's almost like virtually neverending opportunities to earn points just by signing up for stuff.
Drawbacks of GrindaBuck
Although there were a lot of things I liked, there were also some things I'm not a fan of.
I'll outline some of my personal cons here along with some other drawbacks I found from reviews on Reddit and other forums.
Earnings Cap
For every VIP level except for the highest one (7), you'll be capped on points you can earn immediately from offers.
For example, let's say you're level 3.
You'll be able to get up to 500 points awarded immediately from an offer.
Anything over that will be held for 14 days.
So, if an offer was supposed to pay you 1,000 points, you'll get 500 immediately upon approval, but you'll need to wait two weeks for your other 500 to show.
By then, you could end up forgetting about those points altogether, not to mention that it makes it challenging to see where your earnings are.
"Not Available" Tasks
I've noticed that, although the site has a lot of stuff to do, most of it isn't available to me.
I've seen other members say the same thing.
I'm sure it depends on your location and how many companies the site's currently partnered with, but it's tough to earn points on a site with so many things not available to do.
PayPal Costs More Than Other Rewards
It's strange to me that PayPal payments will cost you more in points than Bitcoin and gift cards.
Often, it's the other way around on these sites because PayPal is usually one of the most convenient payment methods to use.
I assume that GrindaBuck wants its members to help cover PayPal fees by paying more in points, but it seems unnecessary to me.
Alternative to GrindaBuck
If you are looking for alternatives to GrindaBuck, you can try the following options:
Swagbucks is a popular GPT site that offers various ways to earn money or gift cards.
Users can earn rewards by taking surveys, watching videos, searching the web, shopping online, and participating in other activities.
Swagbucks has a large user base and provides a user-friendly interface.
InboxDollars is another GPT platform that allows users to earn money by completing online surveys, watching videos, reading emails, and playing games.
It offers a straightforward way to earn cash rewards and has been operating for a long time.
Mturk (Amazon Mechanical Turk) is a platform that connects businesses and individuals who need tasks completed with workers willing to perform them.
Users can earn money by completing tasks known as Human Intelligence Tasks (HITs), which can include data entry, content moderation, surveys, and more.
Upwork is a popular freelancing platform where individuals can offer their skills and services to clients from around the world.
Users can create profiles and find a wide range of job opportunities in various fields, such as writing, design, programming, marketing, and more.
Upwork provides a platform for long-term projects or short-term tasks.
Clickworker is a platform that offers microtask opportunities for users to earn money online.
Tasks may include data categorization, web research, content creation, and more.
Clickworker provides a flexible work environment and allows users to complete tasks based on their availability and skill set.
GrindaBuck Review: Is It Legit or a Scam?
From my experience, I'd say GrindaBuck is a legitimate site with a lot of earning potential.
I don't love everything about it, but I do like that there is a variety of stuff to do, so it shouldn't get boring for anyone.
I've seen payment proofs and read a lot of reviews to back up my thoughts that this is a legit site.
I do wish that there weren't VIP levels and that everyone had access to $1 minimum cash outs and no caps on offer reward points, but I'm sure the site uses these perks to keep people active, so I understand why they're in place.
GrindaBuck is free to join and you'll get 100 points for free when you sign up, so there's no harm in trying it out.
Be sure to come back here and let us know how it works for you!
Related Posts: