The Ultimate Guide to Saving Money Through Couponing
Updated on: by Amy Kennedy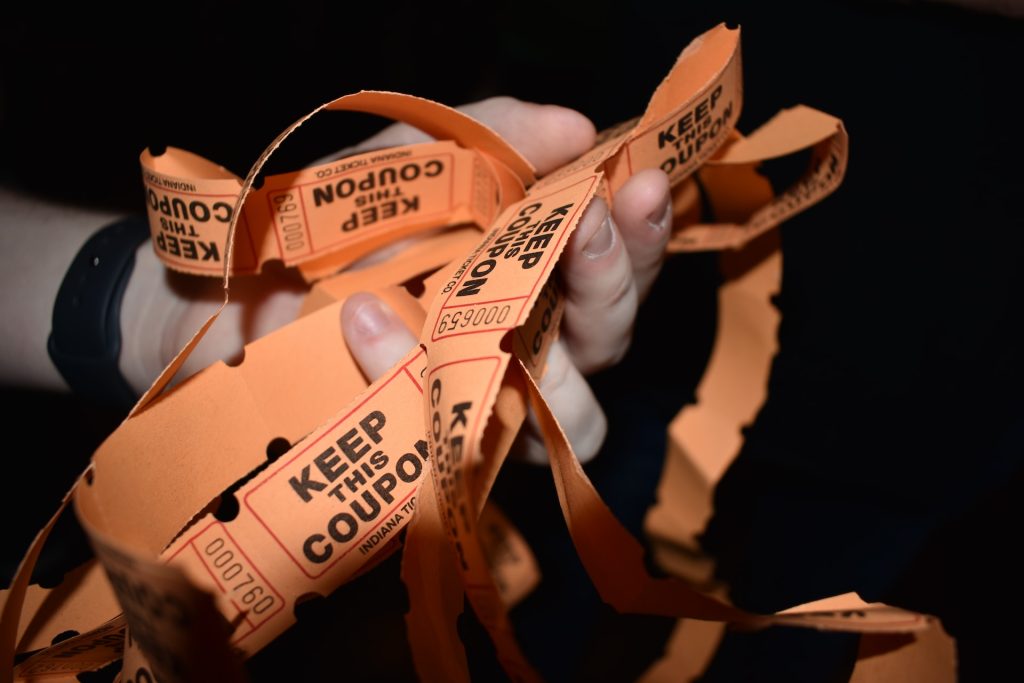 Couponing offers a powerful way to save money on everyday expenses by utilizing discounts and promotions.
Need Easy Extra $350+/Month For Free?
In this comprehensive guide, we'll explore the different types of coupons, where to find them, and how to strategically use them to your advantage.
Whether you're new to couponing or looking to enhance your savings, this guide will equip you with the tools and knowledge you need.
The Basics of Couponing
Couponing is a strategy that has long been embraced by savvy shoppers, but getting started requires understanding some foundational elements.
Below, we will explore different types of coupons, where to find them, the importance of understanding their terms, and how to organize them effectively.
Different Types of Coupons
Printable Coupons
Printable coupons can be found on brand websites or coupon aggregator sites and printed at home. These can include grocery items, retail offers, and more.
Brand Websites: Many brands offer printable coupons directly on their websites, such as P&G Everyday.
Aggregator Sites: Websites like Coupons.com compile various printable coupons for ease of access.
Usage Tips: Always check the expiration date and specific terms before printing.
Environmental Considerations: Be mindful of paper usage and only print coupons you intend to use.
Digital Coupons
Digital coupons are electronically attached to a store's loyalty card or accessed through mobile apps.
Store Loyalty Cards: Many grocery stores offer digital coupons that can be loaded onto loyalty cards through their website or app.
Mobile Apps: Apps like RetailMeNot provide digital coupons for both online and in-store shopping.
QR Codes: Some digital coupons may be scanned via QR codes at the point of purchase.
Convenience: Digital coupons offer a paperless and convenient option for savings.
In-store Coupons
In-store coupons are often found within the retail location and can include flyers, tear pads, or booklets.
Flyers: Weekly flyers might include store-specific coupons.
Tear Pads: Located near the product, these coupons can be taken and used immediately.
Checkout Coupons: Sometimes generated at checkout based on purchases.
Exclusivity: In-store coupons may offer exclusive discounts not available elsewhere.
Where to Find Coupons (Websites, Newspapers, Apps)
Websites
Many websites specialize in offering various coupons, including printable and digital formats.
Aggregator Websites: Sites like CouponSherpa compile various coupons.
Brand Websites: Manufacturers' websites may offer exclusive coupons.
Subscription Services: Some sites offer email subscriptions for personalized coupon alerts.
Browser Extensions: Tools like Honey can automatically find online coupons.
Newspapers
Newspapers remain a traditional source for coupons, especially in Sunday editions.
Sunday Newspapers: Often contain coupon inserts from brands and stores.
Local Papers: May offer community-specific coupons and discounts.
Magazines: Lifestyle and cooking magazines often include relevant coupons.
Recycling Centers: Some savvy couponers find extra inserts at recycling centers or neighbors.
Apps
Apps for mobile devices have become an indispensable tool for accessing digital coupons.
Store Apps: Many retail chains have apps offering exclusive digital coupons.
Couponing Apps: Apps like Ibotta provide cash back and coupon opportunities.
Barcode Scanners: Some apps include barcode scanners to quickly find coupons for specific products.
Personalized Experience: Apps may offer personalized recommendations based on shopping habits.
Understanding Terms and Conditions
Expiration Dates
Understanding and adhering to expiration dates ensures that coupons are valid.
Validity Period: Most coupons have a specific time frame in which they can be used.
Seasonal Considerations: Seasonal or holiday coupons may have shorter expiration periods.
Extensions: Some stores might honor recently expired coupons; always ask if in doubt.
Digital Monitoring: Digital coupons often automatically remove themselves after expiration.
Usage Restrictions
Many coupons come with specific rules regarding how they can be used.
Quantity Limits: Restrictions on the number of identical coupons or products.
Combination Rules: Some coupons cannot be combined with other offers or discounts.
Location Specifics: Some coupons may only be valid at specific store locations or online.
Understanding Fine Print: Always read the fine print to understand all restrictions and maximize savings.
Ethical Considerations
Using coupons ethically ensures a positive experience for all shoppers.
Copying Coupons: Duplicating coupons is usually against the terms and can lead to penalties.
Reselling Products: Buying products at discounted rates with coupons for resale may be prohibited.
Fair Use: Be considerate of others; for example, leave some tear pad coupons for other shoppers.
Brand Integrity: Following ethical practices reflects positively on you and the brands you support.
Getting Started with Organizing Coupons
Physical Organization
For printable and in-store coupons, a physical organization system can be beneficial.
Binders: Using a binder with clear pockets can help sort coupons by category or expiration date.
Accordion Files: Compact and portable, these can be useful for categorizing coupons.
Envelopes: Simple and cost-effective for small collections.
Regular Purging: Regularly remove expired or used coupons to keep your system efficient.
Digital Organization
Managing digital coupons requires a different approach.
Need Easy Extra Cash?
Pinecone Research, a leading name in online survey panel honesty, absolutely guarantees $3 cash for every survey you complete!
Take advantage of their time limited New Membership drive and register NOW. Join today: 100% free!


Store Apps: Utilize store-specific apps that allow you to load coupons directly to a loyalty card.
Couponing Apps: Apps like SnipSnap allow you to store and manage digital coupons.
Screenshots: Taking screenshots of digital coupons can make them easy to access at checkout.
Stay Updated: Regularly check apps and emails for new offers and remove expired ones.
Balancing Time and Savings
Organizing coupons is essential, but it must be balanced with the potential savings.
Time Management: Spend time organizing based on the volume of coupons and potential savings.
Prioritizing: Focus on coupons for products you regularly buy or need.
Setting Goals: Have a clear understanding of your savings goals to guide your organization.
Trial and Error: Experiment with different methods to find what works best for your shopping habits.
Strategies for Effective Couponing
Once you've understood the basics of couponing, it's time to move on to strategies that will help you take your savings to the next level.
This section offers insights into matching coupons with store sales, utilizing cash back and rebate apps, stacking coupons, and planning shopping around coupons.
How to Match Coupons with Store Sales
Understanding Store Sales Cycles
Most stores follow sales cycles, and knowing them helps in matching coupons for maximum savings.
Tracking Sales: Keep track of sales cycles at favorite stores, often 6 to 8 weeks.
Seasonal Sales: Be aware of seasonal and holiday sales; they often offer great deals.
Leveraging Apps: Apps like Flipp can help track store flyers and sales.
Joining Store Clubs: Membership may provide exclusive insight into upcoming sales.
Pairing Coupons with Sales
Pairing coupons with sales can lead to significant discounts or even free items.
Strategic Timing: Use coupons during a sale rather than regular-priced items.
Online Tools: Websites like The Krazy Coupon Lady offer match-up services.
Creating a Price Book: A personal record of prices helps you recognize when a sale is truly a good deal.
Patience: Holding onto a coupon until a sale occurs can maximize savings.
Building a Stockpile
Matching sales with coupons allows for building a stockpile of regularly used items.
Sensible Stockpiling: Focus on items that you use regularly and can store easily.
Avoiding Waste: Be mindful of expiration dates on perishable items.
Bulk Buying: Utilize coupons with bulk purchases during sales for long-lasting products.
Ethical Considerations: Stockpile within reason to leave products for other shoppers.
Utilizing Cash Back and Rebate Apps
Cash Back Apps
Cash back apps offer rewards or cash back on purchases, often in addition to coupons.
Understanding Offers: Apps like Rakuten provide cash back on online purchases.
Double Dipping: Utilize cash back apps with store rewards and coupons for extra savings.
Payout Thresholds: Be aware of minimum thresholds for cashing out rewards.
Security Considerations: Choose reputable apps that protect your financial information.
Rebate Apps
Rebate apps offer money back after the purchase of specific products.
Rebate Offers: Apps like Ibotta provide rebates on specific in-store and online purchases.
Submitting Receipts: Most rebate apps require submitting a photo of your receipt.
Combined Savings: Rebates can be used with coupons and sales for more savings.
Regular Checking: Regularly check for new offers and understand their expiration dates.
Stacking Coupons for Maximum Savings
Understanding Stacking Rules
Stacking involves using more than one coupon for a single item or purchase, subject to rules.
Store and Manufacturer Coupons: Often, one store and one manufacturer's coupon can be used together.
Reading Fine Print: Always read the terms and conditions of both store and manufacturer coupons.
Store Policies: Check the specific store's policy on stacking; policies may vary.
Digital and Physical Coupons: Some stores allow stacking a digital coupon with a physical one.
Creating Combinations
Strategically combine coupons to achieve the greatest possible savings.
Mixing Percentages and Amounts: Combine percentage-off coupons with fixed-amount savings.
Utilizing Rewards: Stack coupons with store reward points or gift cards.
Loyalty Programs: Combine with loyalty program discounts or offers.
Calculating Final Price: Consider the order of coupon application to reach the lowest final price.
Planning Shopping Around Coupons
Weekly Planning
Plan weekly shopping trips around available coupons and sales to maximize savings.
Utilizing Shopping Lists: Create lists based on matched sales and coupons.
Meal Planning: Base meal plans on discounted products available through coupons.
Time Management: Designate a specific time for planning to make the process efficient.
Store Selection: Choose stores with favorable coupon policies or great sales.
Seasonal and Long-Term Planning
Long-term planning can lead to significant savings over time.
Seasonal Buying: Utilize seasonal sales and coupons for items like school supplies or holiday gifts.
Bulk Purchasing: Plan for bulk purchases of non-perishable items during optimal sales.
Subscription Services: Some services offer regular deliveries with couponing options, such as Amazon Subscribe & Save.
Setting Savings Goals: Establish and track long-term savings goals to stay motivated.
Mistakes to Avoid in Couponing
Couponing can lead to substantial savings, but it's essential to avoid certain pitfalls to ensure it remains a rewarding and ethical practice. This section highlights common mistakes, legal and ethical considerations, and how to balance the time invested with the potential savings.
Common Pitfalls and How to Avoid Them
Overspending on Unnecessary Items
Sometimes coupons can entice you to buy things you don't need.
Setting a Budget: Stick to a predefined budget and shopping list.
Needs vs. Wants: Focus on coupons for products you regularly buy.
Avoiding Impulse Buys: Even if there's a coupon, an impulse buy may not be a bargain.
Tracking Spending: Regularly review what you are spending to avoid unnecessary expenses.
Misunderstanding Terms and Conditions
Failing to understand coupon terms can lead to disappointment at checkout.
Reading Fine Print: Always read the coupon's terms and conditions.
Understanding Expiry Dates: Note when coupons expire so you don't miss out.
Item Specifics: Be clear on the specific products or sizes the coupon applies to.
Store Policies: Familiarize yourself with the store's coupon policy, available on most store websites.
Poor Organization
A lack of organization can lead to missed savings opportunities.
Utilizing Organizers: Invest in coupon organizers or use digital tools.
Regular Sorting: Sort coupons regularly to remove expired ones.
Systematic Approach: Develop a system that works for you, whether by date, product type, etc.
Prioritizing Coupons: Keep track of high-value or soon-to-expire coupons.
Legal and Ethical Considerations in Couponing
Following Laws and Regulations
Coupon fraud is a legal issue that must be avoided.
Avoiding Counterfeits: Don't use or distribute counterfeit coupons.
Understanding Limitations: Adhere to limits such as "one coupon per purchase."
Digital Alterations: Don't alter digital coupons; it's illegal and can lead to penalties.
Reporting Issues: Report accidental use or receipt of counterfeit coupons to the store or manufacturer.
Ethical Coupon Usage
Using coupons ethically ensures fairness to retailers and other customers.
Respecting Policies: Always follow store and manufacturer coupon policies.
Considering Other Shoppers: Don't clear shelves or misuse coupons.
Honest Representation: Only use coupons for their intended products.
Sharing Knowledge: Consider teaching others ethical couponing, e.g., through community workshops.
The Balance Between Time Invested and Savings
Evaluating Time Investment
Time spent on couponing should correlate with the savings achieved.
Setting Realistic Goals: Define what you hope to save and ensure it's worth the time invested.
Monitoring Time Spent: Keep track of the time spent to assess if it aligns with your savings.
Utilizing Efficient Tools: Tools like Coupons.com can save time in finding relevant offers.
Flexibility in Approach: Adapt your strategy if you find you're spending too much time for minimal returns.
Considering Opportunity Costs
The value of time spent couponing can be evaluated against other opportunities.
Comparing Alternatives: Consider what else you could be doing with the time spent on couponing.
Balancing Hobbies and Savings: If couponing becomes a hobby, ensure it's a fulfilling one.
Family and Personal Time: Be mindful of the balance between couponing and personal or family time.
Adjusting Strategies: If the balance is off, consider changing your couponing methods or goals.
Conclusion
In this ultimate guide to couponing, we've covered essential strategies, tips, and techniques to help you save money effectively.
From understanding the basics to mastering advanced tactics, these insights can transform your shopping experience.
Embrace the art of couponing, and you'll discover a rewarding way to stretch your budget and enjoy more of what you love.
Related Posts:
Earn Everything… nearly!
Join Ipsos iSay, one of the few Faithful and Honest survey panels and earn prizes, gift cards and donations. Stack your points and redeem them: Simple! No hidden fees and completely free!