An Unbiased Review Of MintVine Online Surveys Panel
Updated on: by Amy Kennedy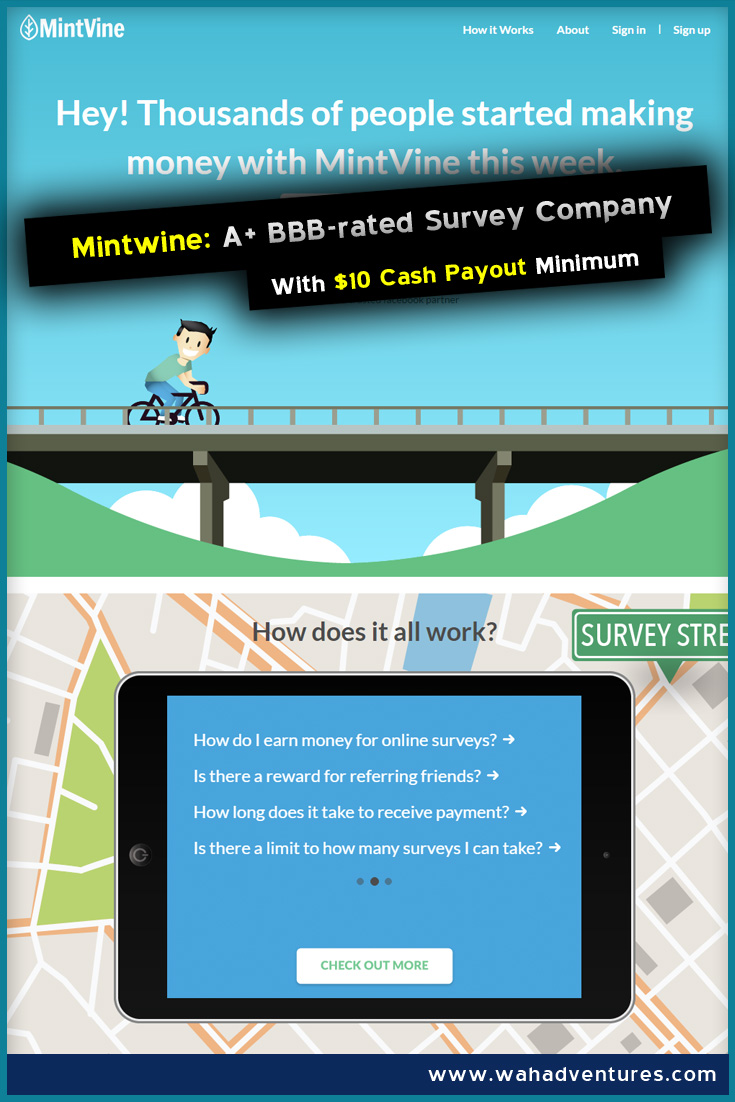 MintVine is a website that promotes itself as offering a variety of surveys for people to take.
But is it a website worth your time or is it one big scam?
Company Background
It was not very easy to find much information on MintVine's background.
While this might sound concerning to some, the survey page does at least appear to be a fully legitimate website.
The website is clearly designed as a place that offers surveys for people to take.
It offers surveys that are provided through a variety of noteworthy survey organizations.
The surveys are regularly listed on the site and are available to all sorts of people who sign up for the website.
MintVine is based out of San Diego and is run by Branded Research Inc.
Details on what Branded Research does is unclear.
Even so, the organization does have a full physical address in San Diego not too far from the San Diego Convention Center and Petco Park.
Still, the company has a 432 area code number.
This is intriguing in that the 432 area code covers parts of western Texas including the city of Midland.
It is uncertain as to why it doesn't have a 619 or 858 area code like what almost everyone else in the San Diego area uses.
What Are People Saying About It?
MintVine has been promoting itself as a trustworthy place for people to take surveys with. It has more than 6,000 reviews on Trustpilot.
The site has an 8.8 out of 10 rating. Nearly two-thirds of people on the site give it a perfect rating while about 20 percent give it four out of five stars.
MintVine also has its own listing on SiteJabber. It is getting mostly positive reviews from people on this site.
Mintvine Login – How to Sign Up
You can quickly sign up to take surveys with this site.
You will have to enter in your first and last name and email address plus a password.
You can also join the site with your Facebook account.
You will also have to provide your phone number to the site.
This is so you can be contacted to confirm your account on the site.
You can also add your zip code onto your account.
This can help you get information on local deals in the proper section of the site.
It is also to confirm that you can complete certain surveys that may be available only to those who live in specific geographic areas.
Managing a Profile
You will get a profile organization in a unique manner while on the site.
You will take a number of profile surveys on the site.
This is to give the page an idea of who you are and what your life is like.
This part of handling a profile is important in that it determines what surveys you may qualify for.
Some of the surveys provided by MintVine are designed with very specific people in mind.
You will have to get enough of these surveys completed to give the survey provider an idea of what types of surveys you are capable of completing regularly.
You should complete any personal surveys you receive.
This is to improve upon your potential to actually complete essays in the future.
Who Can Sign Up?
Anyone who is at least 13 years of age or older can use the survey service.
This is available to people in the United States, Canada and the United Kingdom.
Looking At Surveys
After you sign up for the website, you can start taking surveys.
You will get information on new surveys available for you through the email address you sent. You can also review new surveys on the website dashboard after you log into your account.
There are many points about surveys to notice on this site:
Surveys are offered on the site through a variety of prominent firms. These include such organizations as Nielsen, Harris Interactive, J.D. Power, H&P, Forrester and GfK.
The surveys vary based on subject matter and length. MintVine has a general standard where a survey will take around ten to twenty minutes to complete on average. The total length needed will be listed on the link to your survey.
Daily polls are also included. These are brief polls that can be taken each day and can entail some special rewards.
Some surveys are geared towards specific people on the site. These include teen-specific surveys for those who are underage.
The topics for surveys on the site are rather varied.
Some of them are about using certain products. Others are about shopping and consumption habits that you have.
How Are You Paid?
The payment process is easy to handle.
You will be given points for each survey that you complete.
The total number of points that you will get will vary based on the survey you complete.
You should be informed before completing an essay about the specific number of points that a survey of interest is worth.
There are a few key points to see with regards to getting points for surveys:
You will get 200 points to your account when you sign up. This is provided that your email address or Facebook account is valid.
Most surveys on the site are good for 100 to 200 points. Some longer options will be good for even more points although the terms vary by each one.
You will get 5 or more points for each daily poll that you complete.
You may get a few points in the event that you are disqualified from completing an essay because of the information you send. This may be because you don't qualify for it after answering some questions relating to the subject manner. You will get 5 points for your time if you are disqualified.
After you get 1,000 or more points, you will have the ability to withdraw money from your account.
Every 1,000 points on your account is good for $10.
There are no limits as to how much you can get out of your account.
When Do I Get Points?
You will get points on your account fourteen days after you complete a survey.
MintVine has this requirement for handling points as a means of ensuring that all surveys completed are handled properly.
You will only get a payout once the survey closes.
Referral Points
You can also get points on your account if you refer people to the site. You can send a referral message to another person's email address or Facebook account to do this.
The person who signs up to the site through your referral will do so through a referral code.
That code will be listed on your account.
This is to state that you have helped someone with signing up with the page.
You will get 15 percent from each referred member's earnings on all surveys that person completes.
You will also get a 50 point bonus when your friend completes one's first survey.
There are no limits to how many people you can refer to MintVine.
The key is to get more people to sign up and encourage them to keep on using MintVine to take surveys regularly.
Check Out Local Deals
One intriguing part of MintVine is the Local Deals section.
This offers information on local businesses in your area.
These include places that offer deals on products of all sorts.
This is a feature that allows you to get more points.
You can make a purchase with one of these retailers and then get a special bonus.
You can check on the Locals Deals section or your personal dashboard to get information on the specific deals that are available for your general use.
The specific businesses in the Local Deals section will vary based on the zip code you enter into your account.
This helps you find details on sales that are accessible and useful for your needs.
Cashing Out Your Money
When you have enough points, you can cash them out for a payout.
You will get a redemption button added onto your account under the Current Earnings section. Click on this to request the proper payment option.
You can choose to get a payment to a proper account with your points.
You can redeem 1,000 points or $10 at a time although there are no limits as to how much money can be involved in the transaction.
It could be worth 5,000 points or $50 if you have enough, for instance.
You can be paid through one of the following options:
Money getting moved to your PayPal account
Tango card transactions
Dwolla payment transactions
It will take about three to five business days for your transaction to go through after you request it.
The process is designed to be private and secure and will work with any account linked to your email address or Facebook account.
You must be specific with regards to the account you want to get your payment send out to.
You will still have to pay fees for getting your money depending on the service you use.
Check with the payment system you choose to get an idea of how much money it might cost to use a service for your payout needs.
What Other Rewards Are There?
There are many other rewards that you can benefit from while on this site.
These rewards vary by country:
American users can exchange their points for gift cards from a variety of retailers. These include retail shops like Macy's and Belk plus restaurants like Burger King, Red Robin and Papa John's. You can also get electronic gift cards for websites like Amazon, Boscov and iTunes.
Visa prepaid accounts are available as a payout option for American users. It will take a bit for a card to be sent out after you order it. The terms associated with using it will vary based on where you go.
Americans can also donate their points to different charities. 1,000 points can be spent on a $10 donation to one of various charitable organizations. These include the Clean Water Fund, Habitat for Humanity and the National Park Foundation among others.
Canadian users can choose from one of six businesses that they can exchange points for gift cards from. They can get cards from Amazon, Bass Pro Shops, Best Buy, the Gap and its retail partners, iTunes and Starbucks.
United Kingdom users can choose from one of eleven gift card options. Debenhams, House of Fraser and PizzaExpress gift cards are available. A Digital Restaurant Card or Great British Pub Card that is good for use at hundreds of locations in the UK can be chosen too.
The process for ordering a gift card will typically be done through a third party entity.
This is to ensure that the site will not take in your personal information as you get a card sent out to you.
Privacy Points
MintVine is a very secure website. It does not ask for a great deal of information from you.
The information you send will not be used by the site for any purpose other than to help you get surveys.
Demographic information is used by the site solely to determine which surveys and deals you can qualify for.
There had been some concerns in the past over people providing their phone numbers.
This is done simply with the intention of confirming one's account. A proper message can be sent to a phone number to be responded to and confirmed.
The goal of the confirmation is to see that you're not trying to use more than one account on the site.
This is to create a sensible and fair setup for providing surveys and money to people.
Are Pop-Ups An Issue?
There are some times when pop-ups might show up on the site.
These are for certain surveys that you may complete.
MintVine does not sell information from third parties on any pop-ups that appear.
All pop-ups are designed with the intention of helping you complete surveys.
Therefore, you should tell any pop-up blocker you use to ignore MintVine so you can allow those prompts to show up properly.
Conclusion: Is This Worthwhile?
MintVine is a great website that is rather intriguing.
While it is not necessarily the best place due to concerns over its identity and how long it takes to be paid, it is still a legitimate place.
It does protect your data and uses a fair and sensible approach to paying you.
The referral program is also very generous.
The surveys are also easy to handle. It's easy to find surveys relevant to your needs.
Still, you will need to complete the proper demographic surveys so you can actually qualify for certain surveys or to complete ones that are appropriate for your use.
Be sure to check out our listing of the best survey companies.
Take a look at all options to see which is right for your demands.
Related Posts: