Stash App Review: Can This App Really Invest Your Cash Intelligently for You?
Updated on: by Amy Kennedy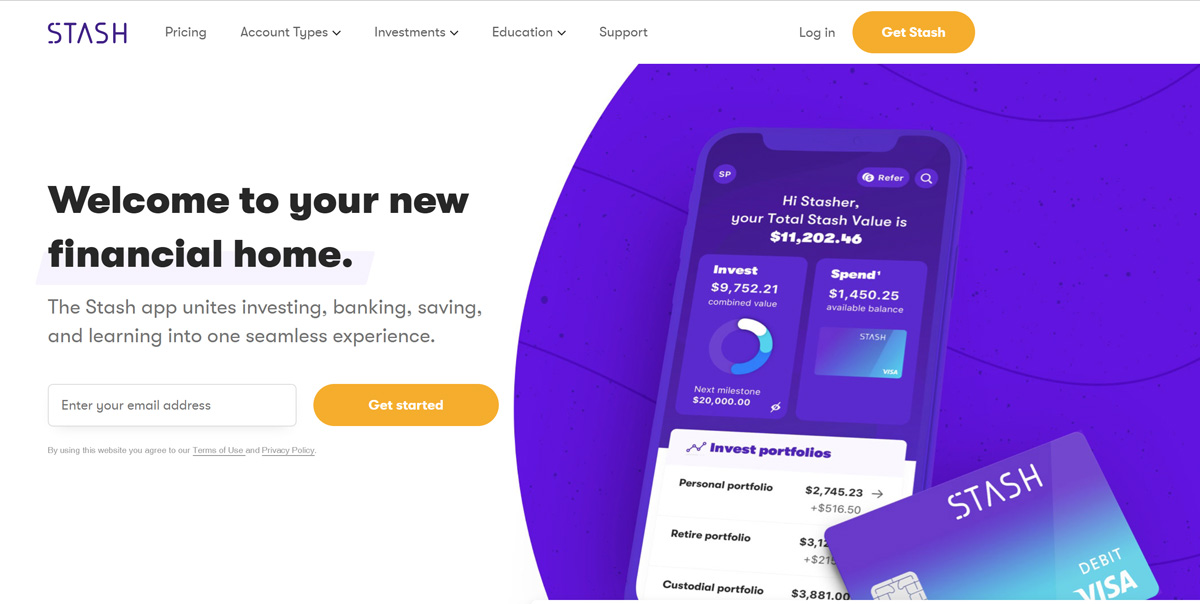 People who are new to investing can feel like total outcasts in the industry.
Need Easy Extra $350+/Month For Free?
It's confusing, to say the least, especially if you've never invested a cent and don't have a clue how best to invest your cash to save for the future.
Yet we all know how important it is to have money saved for retirement, emergencies, and other situations.
So, how can you start when you have no idea what you're doing?
The last thing you want to do is go into investing blindly; you'll only risk more cash than you'll potentially gain.
That's why there are apps like Stash, which are dedicated to helping even completely new investors kind of learn what they're doing.
These investment apps guide you along the process and give you the chance to grow your savings like an experienced investor would, but with a lot more guidance and even some automation.
Sound like the right kind of investing for you?
Let's learn more about Stash!
What is Stash?
Stash, also known as Stash App or Stash Invest, is a mobile app for Apple and Android devices that gives everyone a legitimate opportunity to start investing their savings.
Through the app, you can start investing with as little as $5 into a type of portfolio that you choose.
You can opt for something a little riskier that could grow your cash faster, or choose a safer, slower route.
Stash helps you along the way by giving you guidance about investing based on your future goals, what you want to save for, etc.
The app is mostly focused on beginners who are serious about investing but have no idea where to start.
You can register for an account and Stash will walk you through the process, explaining what everything means as you go.
How Does Stash Work?
You'll do everything with your Stash account on the mobile app (there's currently no option for using the website).
Need Easy Extra Cash?
Pinecone Research, a leading name in online survey panel honesty, absolutely guarantees $3 cash for every survey you complete!
Take advantage of their time limited New Membership drive and register NOW. Join today: 100% free!


You start by adding money into your Stash account from a linked bank account.
You can start with as little as $5, which is helpful if you want to try it out and see how it works for you without spending a ton of money to start.
Once you have your cash in your account, you'll choose from Stash's themed investments, depending on the type of investing you want to do, what goals you have for your money, and what kind of companies you want to invest in.
For example, if you want to place your confidence in big American groundbreaking companies like Facebook and Apple, you might invest in American Innovators.
Or, go for Clean & Green to place your money into companies that focus on green practices.
Stash works only with stocks and EFTs, so there aren't a bunch of confusing investment types you'll need to worry about.
Once you choose your investments, Stash will invest your money with the rate you choose (faster and riskier or slow and steady).
You can even set up an Auto Stash, which will take money from your bank account to automatically go in your Stash account for investing on a schedule you choose.
This is best for people who want to invest as hands-free as possible.
Does It Cost Anything?
Yes, there is a monthly fee to use Stash based on the features you want:
Beginner ($1/month): This plan gives you all the basics, like a personal investment account, debit account access, and educational resources.
Growth ($3/month): With this plan, you'll get tax benefits for retirement investing through Roth and Traditional IRA access, plus everything the Beginner account offers.
Stash+ ($9/month): This plan is as good as it gets, giving you all the features of Beginner and Growth, plus a debit card with 2x cash back into your Stash account and more in-depth information about the investment market.
The money to pay for your Stash subscription can come directly out of your Stash account balance.
Joining Stash
You need to be at least 18 years old to join Stash and have an active bank account.
You can sign up for a Stash account by downloading the app and registering within the app.
You'll only need to fill out some basic details, like your name, address, and email address.
Then, you'll need to link your bank account you'll be using with Stash.
Stash will ask you to verify that your information is correct by asking you for your login credentials.
If you don't want to do that, you can choose for Stash to make two small deposits in your account for you to verify that way.
Once you complete the process, you are ready to start investing.
Using Stash Invest to Save (and Make) Money
In addition to a regular investment account for investing your cash, you can use Stash's other features to make more money, or even start saving money for your kids.
Stash offers:
Debit banking: This feature gives you a debit account and card that gives you Stock-Back (like cash back) rewards into your Stash account when you use it.
Tax-beneficial retirement accounts: With Growth or Stash+, you'll be able to start a retirement savings plan using your invested cash to grow an IRA that has tax benefits to lower your tax bill.
Custodial accounts: With a custodial account (available on Stash+), you can grow cash for your children using Stash.
With Stash, you can choose to add money manually from your bank account, or you can set up an Auto Stash, which removes money from your account automatically based on a schedule you set.
Stash Reviews
I combed through several online reviews from real members in addition to using the app for myself to learn more about it to help you decide if the app is worth it to you to use.
Here are some of the most common pros and cons of Stash:
Pro: Awesome for Beginner and Hands-Off Investors
Stash has some educational resources that can help you learn more about investing as you go.
Not only does it explain basic terminology, but it'll also give you some guidance about picking your investments and how to figure out what's right for your needs.
Since Stash is so focused on inexperienced investors, the app is perfect for anyone who has a legitimate desire to learn but without constantly monitoring their investments.
Pro: Low Minimum Balance
I love that Stash lets you invest for as little as $5.
I'll admit that I'm one of those people who is scared to death about losing the hard-earned money I invest instead of growing it.
By only investing $5 to start, it gave me a chance to learn more about Stash and how it works without feeling like I was wasting a bunch of money.
Earn Everything… nearly!
Join Opinion Outpost, one of the few faithful and honest survey panels and earn cash and gift cards for your opinion. Stack your points and redeem them: Simple! No hidden fees and completely free!


Pro: Extra Features
Stash has retirement accounts, a debit account, and card, and even investment accounts for parents and guardians, so it's more than just basic investing.
Basically, there's an account and feature for everyone with this app!
Con: High Account Fees for Smaller Accounts
The monthly fees for Stash don't seem like a lot of money (I mean, $1 is really low for a subscription to anything nowadays!).
But if you can't afford to put much into your account every month, those costs can add up quickly.
Say you can only afford $20 per month to invest.
You're losing 5% of the cash you could invest every month just to pay the monthly fee.
If you're able to afford a decent chunk of change every month, then the costs aren't too bad.
But remember that you're also not getting access to tax-beneficial retirement savings unless you go for the Growth account or Stash+, which are more money each month.
Con: Not the Quickest Method for Building Cash
Stash isn't going to get you tons of money quickly.
It's more of a slow-and-steady process, even with larger investment amounts.
Most people that use Stash are beginners, so they probably won't be investing huge amounts of money.
You won't see quick profits with this method.
Con: A Lot of BBB Complaints
Stash isn't accredited with the BBB, which isn't necessarily an issue in itself.
Instead, the issue is that there are a lot of complaints about the company (although, to be fair, most people leaving reviews on the BBB site are usually there to vent about the issues they've had).
The company currently has a D+ grade and a 2.5 out of 5 stars rating.
A lot of the complaints have to do with people who have attempted to close their accounts and get their cash back from their Stash balance but haven't been able to do so.
It seems like Stash doesn't respond to most of its complaints, either, which could be a significant contributing factor to its overall grade.
Is Stash Legit or a Scam?
I'd call Stash a completely legitimate app for saving and investing cash.
There's plenty of transparent information about the app on Stash's website, especially in its Support section, where you can get answers to tons of common questions.
It's also been around and holding on strong for several years now, which is a good sign of a legitimate company.
Yes, it's had some notable issues with people having trouble canceling their accounts and stopping their Auto Stash transfers, but who knows what the circumstances were behind these issues.
It's possible that these members didn't cancel correctly when they thought they did.
The bottom line is that Stash works for many others and has plenty of positive reviews that prove it's the real deal.
Is It Safe to Invest Your Money with an App?
If it's a legitimate app, sure!
With Stash, you can stop investing at any time and close your account using the app or the website.
Stash will then transfer the money you had in your account back to your linked bank account within 10 days.
Stash is one of the best apps in the business with plenty of positive reviews from experts and members alike.
It uses high-tech tools to keep your money and information safe, so your money can stay secure in your account and investments.
You can learn more about Stash's security practices here.
Stash App Review: Conclusion
Stash is a helpful app for people who don't know how to invest but want to learn.
It's not going to give you a huge profit quickly, nor will it go in-depth with educational resources, but it certainly can teach you the basics to get you off on the right start.
Have you used Stash? What did you think of it? Feel free to share your thoughts in the comments section below!
Related Posts:
Earn Everything… nearly!
Join Ipsos iSay, one of the few Faithful and Honest survey panels and earn prizes, gift cards and donations. Stack your points and redeem them: Simple! No hidden fees and completely free!