Thumbtack Review for Freelancers
Updated on: by Amy Kennedy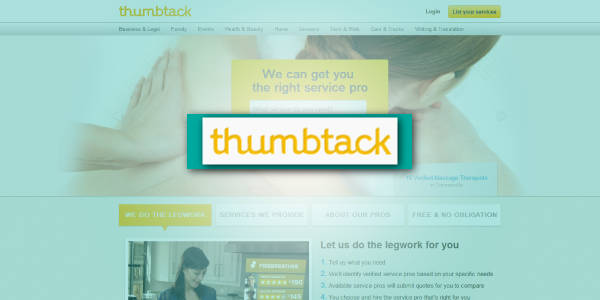 Need Easy Extra $350+/Month For Free?
For over a year, I have had a Thumbtack account for my resume writing service (not my virtual assisting) and never received any leads until March 2012. Then almost daily I began receiving up to five leads a day. So naturally, I became curious about this site and wanted to investigate it further.
Thumbtack is a cross between Angie's List and Odesk, where freelancers (writers, virtual assistants, web designers, and photographers) place bids on potential jobs or contracts as they become available. Thumbtack is unique for several reasons, which is what will be discussed in this article.
While Thumbtack has approved contractors (painters, plumbers, and electricians), it also has "Thumbtack verified" freelancers. Without getting too confusing, Thumbtack also offers other categories similar to Angie's List such as Business & Legal, Cars & Truck, Classes & Lessons, Events, Family Services, Health & Beauty, Home Services, Tech & Web Services, and Writing & Translation.
How do you get started with Thumbtack?
While Odesk users (as well as Elance, Freelancer.com, and others) don't require the freelancer to have a web site, Thumbtack does. In fact, it is part of the approval and verification process. If you do have a web site or blog advertising your freelance services, you may have received an email from Heather Madison inviting you to join Thumbtack for free. Later on you may want to add other freelance businesses—if you have any—to the web site.
How do you set up your profile at Thumbtack and how is it different from other bidding sites?
Upon putting together your profile, you will become "Thumbtack verified". The profile is different from other bidding sites in that you do not post samples of your work or take tests. Your profile is set up with your picture or company logo, any video you have talking about your service, and an online "interview". The interview is in written form and you merely type your answers for the potential client(s) to read.
Just as you collect feedback and improve your rating on other sites, you will do the same at Thumbtack. Based on the number of points you receive, you will either be ranked a Bronze, Silver or Gold membership.
You can earn points by linking to Twitter, taking surveys, referring your friends, and adding a Thumbtack button to your own web site. It is possible to move up in membership without receiving any client feedback as long as you have completed those tasks. On other bidding sites such as Odesk, you would need the client feedback to improve your rating or score.
How do freelancers bid for jobs and how is it different from other bidding sites?
With Thumbtack, you can only bid on the leads that were sent to your email address. Thumbtack will select them for you. The findings are based on zip code, but for freelancers there is flexibility.
I did like that all potential clients are Thumbtack verified even though sites like Odesk will let you know if clients have not been verified. One thing about Thumbtack that is different than other bidding sites is that you don't know who you are bidding against and what they are charging.
Once the email is received by you the freelancer, you may click on Submit Bid or Decline Job. If you click on Submit Bid and the client hasn't reached 10 quotes, you will select a fixed fate, hourly rate or incremental rate for a large job.
Only the first 10 service providers who responded can place a bid for this job. I was on Thumbtack for over a year before I even started to receive potential leads. I have found that you have to be quick to bid on these potential jobs, because the maximum number of bids are received quickly.
Then you will need to write a brief proposal in the correct field of your account explaining to the client why you are the right person for the job. There will be a description of the job and what the clients expectations both inside the email and again to the left of the proposal field.
One of the biggest differences with Thumbtack and other bidding sites is that you must pay to bid on jobs whether or not you get the job. Fees range from $3 to $20 per bid (based on the size of the job). Now, Thumbtack will refund your money if you wait one week after submitting an unsuccessful proposal and send an email to sup[email protected]. I unsuccessfully bid on two jobs and was refunded my money both times.
As you can imagine this could get expensive, especially if you plan on bidding on multiple jobs. Thumbtack does offer a monthly membership fee for unlimited leads for only $29.95. It is done month-to-month and you may cancel at any time.
When I contacted customer support about why this was, I was told that it is one of the many pay structures that they are experimenting with.
Need Easy Extra Cash?
Pinecone Research, a leading name in online survey panel honesty, absolutely guarantees $3 cash for every survey you complete!
Take advantage of their time limited New Membership drive and register NOW. Join today: 100% free!


How can you improve your rating on Thumbtack?
As stated earlier, you can earn points and move from Bronze membership to Gold membership. You can also have former clients or colleagues write a review for you on your review page. They will need to open a Thumbtack account in order to do this.
How is the pay handled at Thumbtack?
Usually a week after the job is successfully completed, payment is received either by PayPal or loaded on a credit or debit card of your choice.
What is my overall impression of Thumbtack?
It seems to get very mixed reviews. (http://www.vroooom.com/blog/marketing-tips/thumbtack-com-review/)
I can understand this especially if you are comfortable with bidding sites such as Odesk, Elance, and Freelancer among others. I also found the dashboard difficult to navigate unlike the one at Odesk.
Thumbtack has been written up in The New York Times, Washington Post, and Wall Street Journal as well as they do have a presence on Twitter (www.twitter.com/thumbtack) and Facebook (www.facebook.com/thumbtack).
I think it does have potential to eventually grow. And just going out on their Facebook page and seeing that there are freelancers slowly making headway on Thumbtack is encouraging. I have also chatted with some of them and read their posts.
I have found their customer service to be quick to answer as well as they did refund my two unsuccessful bids. After speaking with others and doing my own research, I am not sure how much longer, I will keep my own account open or if I'll get bold enough to try a monthly membership fee.
Is it really worth the monthly fee when I can join other sites for free?
I know there will be those that say why pay a monthly membership when you can go to Odesk and only pay if you get work and take months off to do other things. I have always been a believer in that if it's worth it to you to pay for it and you can justify the money with good quality leads, then go for it!
What strategies can freelancers employ to write compelling proposals on Thumbtack?
Writing compelling proposals is crucial for freelancers on Thumbtack to stand out from the competition and secure projects. 
Here are some effective strategies to craft engaging proposals that capture clients' attention:
Understand the Client's Needs and Goals
Research the Project Requirements
Before writing a proposal, thoroughly analyze the project details provided by the client. Understand their specific needs, goals, and preferences. 
Take note of any special instructions or requirements mentioned in the job description.
Tailor the Proposal to the Client's Vision
Customize your proposal to align with the client's vision. 
Show them that you understand their objectives and demonstrate how your skills and expertise can help achieve those goals. 
Use their language and tone to establish a connection and build rapport.
Highlight Relevant Experience and Expertise
Showcase Relevant Portfolio Samples
Include links or attachments to your portfolio samples that are directly related to the project. 
Choose examples that best showcase your skills and experience in similar projects. 
Demonstrate your ability to deliver high-quality work that meets the client's expectations.
Emphasize Relevant Skills and Expertise
Highlight your specific skills and expertise that are relevant to the project. 
Clearly articulate how your capabilities make you the ideal candidate for the job. 
Use concise and impactful language to convey your competence and convince the client of your suitability.
Demonstrate Value and Differentiation
Clearly Define Your Unique Selling Proposition
Differentiate yourself from other freelancers by identifying your unique selling proposition. 
What sets you apart? Whether it's your specialized knowledge, innovative approach, or exceptional track record, clearly communicate the value you bring to the table.
Offer Solutions and Benefits
Instead of merely describing your services, focus on presenting solutions to the client's challenges. 
Explain how your proposed approach will benefit their business or project. 
Articulate the outcomes and results they can expect by working with you.
Provide Clear and Professional Communication
Write Concise and Engaging Proposals
Craft your proposals with clarity and conciseness. Use short paragraphs, bullet points, and headings to make the proposal easy to read and understand. 
Keep the client's attention by providing relevant information without overwhelming them with excessive details.
Use Persuasive Language and Strong Calls-to-Action
Employ persuasive language to evoke a positive response from the client. 
Earn Everything… nearly!
Join Opinion Outpost, one of the few faithful and honest survey panels and earn cash and gift cards for your opinion. Stack your points and redeem them: Simple! No hidden fees and completely free!


Highlight the value they will gain by choosing you as their freelancer. 
Incorporate strong calls-to-action to prompt them to take the next step, such as requesting a meeting or accepting your proposal.
Follow-Up and Maintain Professionalism
Promptly Respond to Client Inquiries
Be proactive in responding to client inquiries and messages. 
Timely communication demonstrates your professionalism and commitment to the project. 
Address any questions or concerns they may have, and provide additional information if necessary.
Follow-Up After Submitting a Proposal
After submitting your proposal, send a polite follow-up message to express your continued interest in the project. 
Use this opportunity to reiterate your suitability for the job and offer any further clarification or information they may require.
How can I apply to Thumbtack?
Visit Thumbtack and fill out the "List Your Services" form. Listing your service is completely free.
Related Posts:
Earn Everything… nearly!
Join Ipsos iSay, one of the few Faithful and Honest survey panels and earn prizes, gift cards and donations. Stack your points and redeem them: Simple! No hidden fees and completely free!