15 Ways to Get Free Tickets to TV Show Tapings: A Behind-the-Scenes Guide
Updated on: by Amy Kennedy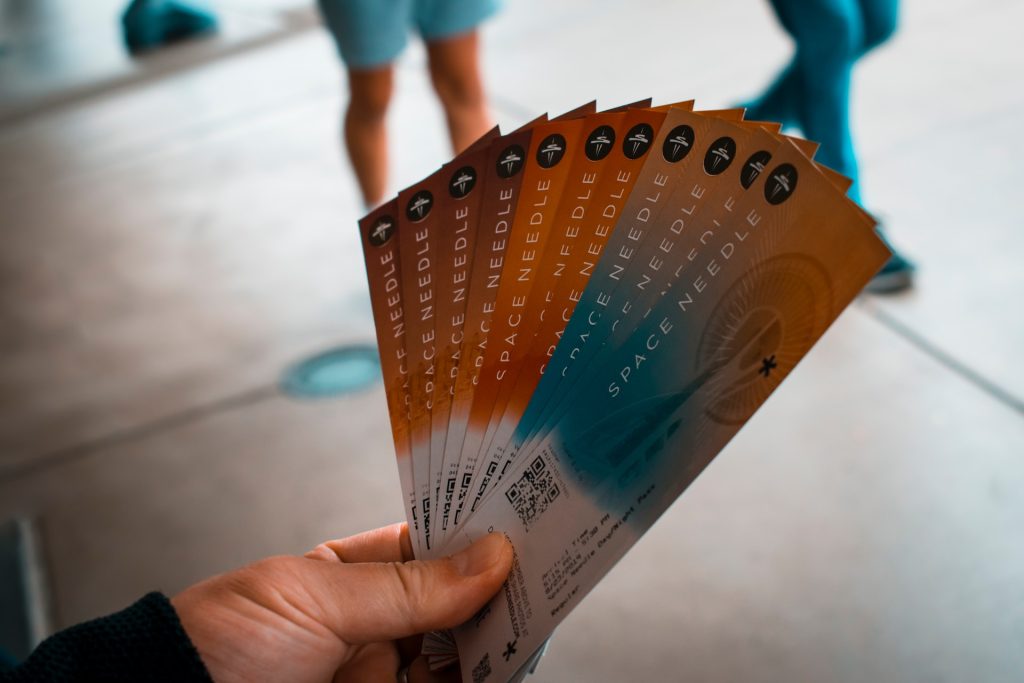 Ever dreamt of sitting in the audience of your favorite TV show, witnessing the behind-the-scenes magic, and maybe even getting a glimpse of your beloved stars?
Need Easy Extra $350+/Month For Free?
Securing tickets to TV show tapings might seem elusive, but in reality, they're often available for free – you just need to know where to look.
Our guide will navigate you through 15 proven ways to secure these coveted free tickets, taking you a step closer to the laughter, thrills, or drama of live television.
15 Proven Strategies to Get Free Tickets to TV Show Tapings
Experiencing the thrill of a live TV show taping can be a dream come true for any fan. Here are 15 successful strategies to land those elusive free tickets and be part of the excitement behind the scenes.
1. Harness the Power of Ticket Distribution Websites
Numerous online platforms specialize in distributing free tickets for a variety of television show tapings.
1iota: Your Gateway to Popular Shows
A reputable and popular platform like 1iota offers an array of tickets for top-rated shows, such as "The Voice" or "Jimmy Kimmel Live." You simply need to create a free account, explore the available show listings, and submit your interest.
On Camera Audiences: A World of Choices
On Camera Audiences provides a wide selection of tickets for iconic shows such as "America's Got Talent," and "The Price Is Right." The process is straightforward – locate your desired show and click on the "Order Tickets" tab.
TVTix: Don't Miss Out on the Fun
With TVTix, you can access free tickets for an array of shows, from exciting sitcoms to engaging game shows. The registration process is similar: sign up, browse, and apply.
2. Go Straight to the TV Networks
Many TV networks provide free tickets directly from their official websites. However, this method necessitates regular site checks, as tickets are highly sought after and get snapped up quickly.
NBC: A Plethora of Options
The NBC Tickets page provides a convenient ticketing calendar that lets you select your preferred dates and shows.
CBS: Be Part of the Buzz
On the CBS free tickets page, you can access shows like "The Late Show with James Corden" and "The Price is Right."
ABC: Join the Excitement
ABC's show tickets page invites you to join the audience of their popular shows. Simply choose your show, pick a date, and apply for tickets.
3. Try Paid Audience Companies
Paid audience companies compensate individuals to fill up seats when ticket distribution doesn't cover the entire audience. While this involves a minimal cost, it almost guarantees you a spot, and you could even earn some pocket change.
Standing Room Only: Get Paid to Watch
Standing Room Only pays audiences to attend TV show tapings. While the payment is minimal, it ensures your entry to the show.
Seatfillers and More: Be Part of the Scene
Seatfillers and More follows a similar model. They compensate audience members to attend a variety of events, including TV show tapings.
Audiences Unlimited: Unlimited Opportunities
Audiences Unlimited provides both paid and free audience opportunities, increasing your chances of experiencing a live show.
Need Easy Extra Cash?
Pinecone Research, a leading name in online survey panel honesty, absolutely guarantees $3 cash for every survey you complete!
Take advantage of their time limited New Membership drive and register NOW. Join today: 100% free!


4. Follow Shows on Social Media
TV shows often release news about free ticket availability on their social media pages. For those who are social media savvy, this strategy can be a direct ticket to your favorite TV show tapings.
Facebook: Connect and Score
Follow the official pages of your beloved shows on Facebook. These pages often announce ticket distributions, contests, and giveaways.
Twitter: Be in the Know
Twitter serves as a real-time source for ticket announcements. To stay updated, follow the official handles of your favorite shows and turn on notifications.
Instagram: Catch the Buzz
Shows frequently announce free ticket details on Instagram as well. By following the official Instagram pages of your favorite shows, you'll be informed about ticket details through posts and stories.
5. Visit Local Tourist Information Centers
Tourist information centers, particularly in cities like Los Angeles and New York, often have details about TV show tapings and might have tickets on hand.
Los Angeles Visitor Information Center
The Los Angeles Visitor Information Center can provide information about local TV show tapings. They often have tickets or contacts for securing a spot in the audience.
NYC Information Centers
Similarly, NYC Information Centers can help you find information about TV shows taped in the city. They often have resources and connections that can assist in securing free tickets.
London Tourist Information Centre
If you're in London, the London Tourist Information Centre may have information about local TV show tapings and can help you secure free tickets.
6. Participate in Online Contests
Online contests can be a fun way to win free tickets to TV show tapings. Keep an eye on the social media accounts of your favorite shows for such opportunities.
Social Media Contests
Shows often run contests on their official social media pages where they give away free tickets. Keep an eye on the pages of your favorite shows for such opportunities.
Radio Station Contests
Radio stations also run contests where they give away tickets to TV show tapings. Check the websites of your local radio stations for contest announcements.
Online Sweepstakes
Some websites run sweepstakes where you can win tickets to TV show tapings. Websites like Sweepstakes Advantage can be a good starting point.
7. Be Part of a Show's Fan Club
Joining a TV show's fan club can give you early or exclusive access to free tickets. Shows often reward their most loyal fans with such perks.
Official Fan Clubs
Many shows have official fan clubs that you can join for early access to tickets. Check the official website of your favorite shows for information on joining their fan clubs.
Online Fan Groups
Online fan groups, like those on Facebook or Reddit, often share information about how to secure free tickets. Join these communities to stay in the loop.
Newsletter Subscriptions
Subscribing to a show's newsletter can sometimes give you access to exclusive ticket offers. Check the show's official website for newsletter sign-up information.

8. Volunteer for Non-profit Organizations Associated with Shows
Some television shows collaborate with non-profit organizations, providing them with free tickets for their volunteers. This can be a great opportunity to contribute to a good cause and secure free TV show tickets.
Television Academy Foundation
The Television Academy Foundation often collaborates with TV shows, offering free tickets for volunteers.
Broadway Cares
Broadway Cares is another organization that often receives free TV show tickets to offer as incentives to their volunteers.
Entertainment Industry Foundation
The Entertainment Industry Foundation also receives ticket donations from TV shows, which are given to volunteers.
9. Try Local TV Stations
Don't overlook local TV stations, which often host live shows. The audience tickets for these shows are typically free and easier to access.
Local News Stations
Local news stations frequently tape live segments that require an audience. Reach out directly to your local stations to inquire about audience opportunities.
Public Broadcasting Service (PBS) Stations
Many PBS stations host local shows and concerts that need an audience. Check with your local PBS station for free ticket opportunities.
Community Access Television
Community Access Television networks host a variety of local programming. Contact your local community access station for audience opportunities.
10. Get Tickets Through a University or College
Universities and colleges often have access to free tickets for TV show tapings, especially those with communications or film studies departments.
University Student Unions
Student unions often have access to free tickets for a variety of events, including TV show tapings. Check with your university's student union for available tickets.
Film Studies Departments
Film studies departments may receive tickets for TV show tapings as educational experiences for their students. Contact the film studies department at your local university for possible ticket opportunities.
Communication Departments
Like film studies departments, communication departments often receive tickets for TV shows. Reach out to your local university's communication department for information.
11. Be Part of a Group or Organization
TV shows often reserve blocks of seats for groups, so being part of an organization can significantly increase your chances of getting a free ticket.
Earn Everything… nearly!
Join Opinion Outpost, one of the few faithful and honest survey panels and earn cash and gift cards for your opinion. Stack your points and redeem them: Simple! No hidden fees and completely free!


Social Clubs
Social clubs often have the resources to secure group tickets for their members. Join a local club and suggest a group outing to a TV show taping.
Local Businesses
Businesses may sometimes secure tickets for employees as team-building activities or rewards. If you work for a company that does this, take advantage!
School Groups
Educational institutions often secure tickets for students as part of media education or field trips. Check with your school to see if they have any connections.
12. Try Standby Tickets
Even if advanced tickets are sold out, many shows offer standby tickets on the day of the show. You'll need to arrive early, but this can be a great way to score a last-minute seat.
Arrive Early
Most shows that offer standby tickets operate on a first-come, first-served basis. Arrive as early as possible to increase your chances.
Be Flexible
Standby ticketing often requires flexibility, as you may not get a seat. Be prepared for this possibility and have a backup plan.
Be Prepared to Wait
Securing a standby ticket often involves waiting in line for a significant amount of time. Be sure to bring something to keep you occupied.
13. Attend Multiple Tapings
Some shows give priority to individuals who have previously attended tapings. If you're a frequent visitor, you might find yourself with easier access to tickets.
Frequent Visitor Priority
Shows appreciate loyal audience members and may offer them priority access to future tapings. The more often you attend, the better your chances.
Show Your Enthusiasm
Be enthusiastic and responsive during the taping. Shows want energetic audience members, and your enthusiasm could earn you a return invitation.
Provide Feedback
After the show, provide positive feedback and express interest in attending again. Shows appreciate this and may prioritize you for future tickets.
14. Contact Ticket Brokers
Ticket brokers often have access to TV show taping tickets. While they may charge a service fee, this can be a convenient way to secure a spot.
Online Ticket Brokers
Many online ticket brokers, like Ticketmaster, occasionally offer TV show tickets. It's worth checking their websites for available listings.
Local Ticket Brokers
Local ticket brokers might also have access to tickets for TV show tapings. Check with any brokers in your area.
Specialty Ticket Brokers
Some brokers specialize in TV show tickets. Companies like Audiences Unlimited can be excellent resources.
15. Apply for VIP Tickets
For a truly special experience, apply for VIP tickets. These are often more challenging to obtain, but they offer perks like priority seating and backstage access.
Network VIP Programs
TV networks often have VIP programs that offer priority access to show tapings. Check the network's website for information on how to apply.
Credit Card Rewards Programs
Some credit cards offer VIP experiences as rewards, including tickets to TV show tapings. Check with your credit card company to see what experiences they offer.
Celebrity Meet and Greet Packages
Some shows offer VIP tickets that include meet and greet opportunities with the stars of the show. These are often available through the show's official website or fan club.
Conclusion
Whether you're a fan of heartwarming sitcoms, exhilarating talk shows, or nail-biting game shows, attending a live taping can be an unforgettable experience.
Through our guide, we hope we've brought you closer to realizing this unique adventure.
Remember, patience and flexibility are key when trying to secure these free tickets.
Happy ticket hunting, and we look forward to hearing about your behind-the-scenes experiences!
Related Posts:
Earn Everything… nearly!
Join Ipsos iSay, one of the few Faithful and Honest survey panels and earn prizes, gift cards and donations. Stack your points and redeem them: Simple! No hidden fees and completely free!