15 Ideal Remote Jobs if You Are Retired
Updated on: by Amy Kennedy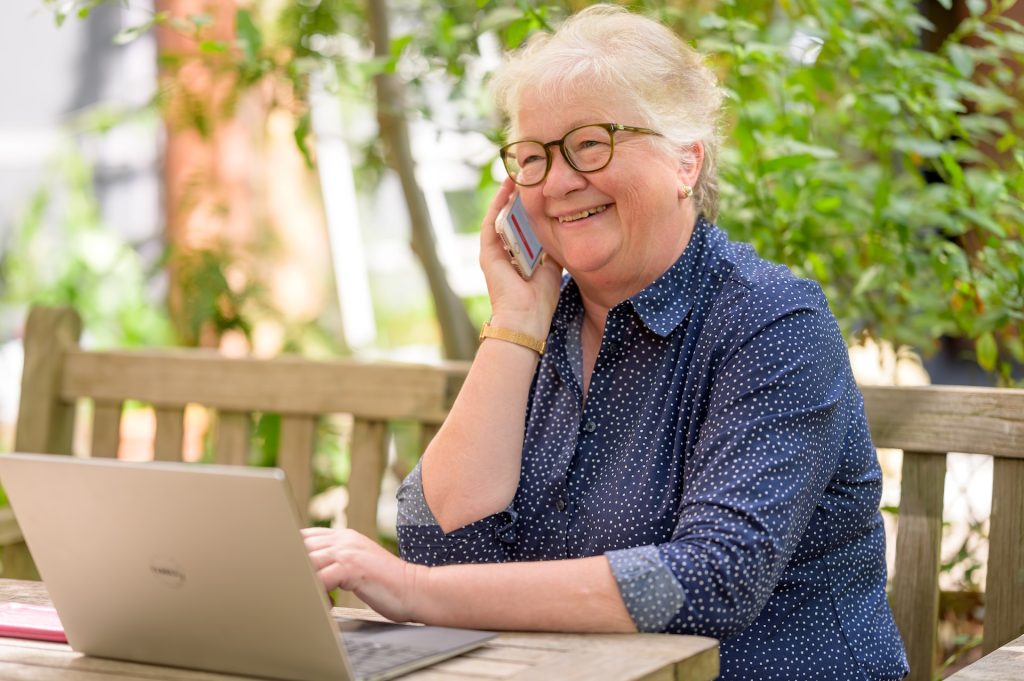 Retirement doesn't necessarily mean putting an end to work; for many, it's the start of a new chapter where they seek purposeful engagements or supplemental income.
Need Easy Extra $350+/Month For Free?
The digital age has made it easier than ever for retirees to find jobs that fit their schedules, expertise, and preferences.
Remote jobs, in particular, offer the flexibility that many retirees desire.
From consultancy to tutoring, the virtual workspace has a plethora of opportunities tailored for the seasoned professional.
1. Consultancy in Your Field
Tapping into Expertise
Over the years, retirees accumulate vast amounts of knowledge and experience in their respective fields. This makes them uniquely positioned to offer consultation services.
Organizations and budding professionals often seek seasoned experts to get insights, streamline operations, and optimize strategies.
Freedom of Choice
One of the highlights of consultancy is the freedom to choose projects. Retirees can decide how much work they wish to undertake, ensuring they strike the right balance between professional commitments and personal relaxation.
Online Platforms for Consultancy
Platforms like Upwork or Toptal cater to a broad range of consultancy niches. Whether it's business, IT, healthcare, or education, these platforms link consultants to global clientele.
2. Online Tutoring or Teaching
The Joy of Educating
The ability to impart knowledge is a rewarding endeavor. Many retirees, given their extensive experience in certain subjects, find fulfillment in tutoring students online, sharing their expertise, and witnessing the growth of their pupils.
Teaching Beyond Borders
Thanks to the digital age, retirees can connect with students globally. Websites like VIPKid or Chegg Tutors facilitate these connections, ensuring retirees can make meaningful contributions to education worldwide.
Personal Growth Through Teaching
Beyond just teaching, retirees often find themselves learning. The interaction with younger generations and the need to stay updated with current curriculums ensures they remain mentally agile and updated.
3. Freelance Writing or Blogging
Chronicling Wisdom
Writing offers retirees an outlet to chronicle their life experiences, insights, or delve into topics they're passionate about. From op-eds to memoirs or even fiction, the canvas is vast.
Connecting with Audiences
With platforms like Medium and WordPress, retirees can reach global audiences, forging connections through their words and stories.
Monetizing the Craft
Websites such as Contently or Freelancer provide retirees with opportunities to monetize their writing, whether it's through commissioned pieces, sponsored content, or selling e-books.
4. Virtual Assistance
The Need for Organized Management
With the digital shift, businesses and entrepreneurs require organized individuals to manage appointments, emails, and other day-to-day tasks. Retirees, often with a lifetime of organizational skills, fit seamlessly into these roles.
Skills Beyond Administration
Being a virtual assistant isn't just about administrative tasks. Some clients may need assistance with project management, events planning, or even customer service, areas where the seasoned expertise of retirees can shine brightly.
Need Easy Extra Cash?
Pinecone Research, a leading name in online survey panel honesty, absolutely guarantees $3 cash for every survey you complete!
Take advantage of their time limited New Membership drive and register NOW. Join today: 100% free!


Platforms Bridging the Gap
For retirees seeking to venture into virtual assistance, platforms like Zirtual or Virtual Assistant USA connect them to potential clients, allowing them to use their skills to benefit businesses and professionals alike.
5. Digital Marketing
Harnessing the Power of the Internet
The internet is an indispensable tool for businesses. Retirees with experience in marketing can adapt their knowledge to the digital space, helping businesses flourish in the online ecosystem.
Diverse Range of Opportunities
From content marketing and social media management to search engine optimization and pay-per-click advertising, the world of digital marketing offers a plethora of opportunities.
Retirees can pick areas they're most comfortable with or passionate about.
Continuous Learning and Adaptability
The digital marketing landscape is always evolving. Platforms like Google's Skillshop and HubSpot Academy offer courses to keep retirees updated, ensuring they remain relevant and marketable in this field.
6. Financial Planning and Advising
A Lifetime of Financial Wisdom
Many retirees, especially those from banking, investment, or finance sectors, are uniquely equipped to offer advice on financial planning, investments, and retirement strategies.
Helping Others Secure Their Future
There's immense satisfaction in helping younger generations or peers secure their financial future. Be it advising on saving strategies or navigating complex investments, retirees can make significant impacts.
Joining Virtual Financial Platforms
Platforms like Betterment or Personal Capital seek experts who can provide remote financial consultations, making it a suitable avenue for retirees with relevant experience.
7. Art and Design
Unleashing Creativity from Home
For retirees who've always had a penchant for art and design, the digital world offers avenues to bring those creations to life and monetize them, all from the comfort of home.
From Traditional to Digital
Transitioning from traditional art forms to digital doesn't have to be daunting. Software like Adobe Illustrator or Procreate can be leveraged to create magnificent digital pieces.
Monetizing Art Online
Platforms like Etsy for crafted goods or Redbubble for design prints allow retirees to reach global audiences, ensuring their artistic endeavors find the right patrons.
8. Translation Services
Language Proficiency Put to Use
Many retirees who are multilingual can provide translation services. As businesses become more global, there's an increasing demand for translators to bridge communication gaps in various languages.
Documented to Live Translations
The scope is vast; from translating documents, books, and articles to offering live translation services during webinars or international conferences, there are plenty of opportunities for those proficient in multiple languages.
Finding the Right Platform
For retirees seeking to utilize their language skills, platforms like TranslatorsCafé and ProZ are excellent hubs connecting translators to clients worldwide.
9. E-commerce Store Management
Years of Retail Experience Online
Retirees with a background in retail or those passionate about specific products can venture into e-commerce. With platforms simplifying online store setups, managing one remotely is feasible.
Diverse Product Choices
From handmade crafts and vintage items to specialized collections, retirees can decide what they wish to sell, making it a personalized business venture.
E-commerce Platforms to Consider
Popular platforms like Shopify and BigCommerce provide comprehensive tools for retirees to initiate and manage their online stores with ease.
10. Voice-Over Artist
Voice That Charms
Many retirees possess distinctive voices, which are perfect for various projects ranging from advertisements and documentaries to audiobooks.
The Growing Demand
With the rise of digital media and podcasts, there's a growing need for voice talents. Being a voice-over artist allows retirees to work on diverse projects and showcase their vocal prowess.
Platforms Connecting Voice Talents
Websites like Voices and Voice123 are dedicated to connecting voice-over artists with clients. These platforms make it easier for retirees to find projects matching their voice profiles.
11. Editing and Proofreading
The Eye for Detail
Retirees, especially those with backgrounds in literature, publishing, or journalism, have honed skills in spotting errors, ensuring content clarity, and refining written material.
Diverse Materials to Edit
From manuscripts and academic papers to website content and corporate reports, the range of documents requiring proofreading and editing is vast.
Platforms for Proofreaders
Websites like Scribendi and EditFast offer a centralized place for proofreaders and editors to find work, ensuring their expertise is well-utilized.
12. Customer Service Representative
The Charm of Interpersonal Skills
Many retirees have honed impeccable interpersonal skills over the years, making them perfect for remote customer service roles where effective communication is paramount.
Diverse Industries
From tech support and product inquiries to feedback collection and grievance handling, retirees can choose industries they're most familiar with or passionate about.
Platforms Offering Remote Roles
Companies like Liveops and Arise offer flexible, remote customer service roles suitable for retirees, ensuring they can interact and assist customers from the comfort of their homes.
13. Art & Craft Instructor
Passion Turned Profession
Many retirees have pursued hobbies like painting, knitting, or pottery over the years. These skills, when combined with their teaching prowess, can be turned into remote teaching opportunities.
Diverse Artistic Ventures
Whether it's teaching watercolor techniques, guiding on pottery creation, or sharing secrets of crochet, there's an audience eager to learn various art forms from seasoned instructors.
Platforms for Art Instructors
Platforms such as Skillshare and Udemy allow retirees to create comprehensive courses and share their artistry with a global audience.
Earn Everything… nearly!
Join Opinion Outpost, one of the few faithful and honest survey panels and earn cash and gift cards for your opinion. Stack your points and redeem them: Simple! No hidden fees and completely free!


14. Financial Consultancy
Years of Financial Wisdom
Retirees with a background in finance, whether it's in banking, investment, or financial planning, have a wealth of knowledge that can be beneficial to others seeking guidance.
Areas of Consultancy
Areas like personal financial planning, retirement planning, and investment strategies are particularly in demand, given the ever-changing financial landscape.
Platforms to Offer Financial Consultancy
Websites such as Upwork and Toptal connect seasoned financial consultants with individuals and businesses seeking expert advice.
15. Virtual Assistant
An Organized Professional
Having spent years in professional settings, many retirees have honed skills like administration, organization, and multitasking – perfect for the role of a virtual assistant.
Tasks Handled
From managing calendars, responding to emails, to event planning, the virtual assistant role can be diverse and tailored according to individual skill sets and preferences.
Platforms Connecting Virtual Assistants
Platforms such as Belay and Virtual Staff Finder can help retirees find businesses and entrepreneurs in need of their administrative expertise.
Tips for Landing Remote Jobs as a Retiree
Navigating the world of remote work as a retiree might seem daunting at first, but with the right strategies and mindset, it can be a smooth transition.
Here are seven tips to enhance your chances of securing that ideal remote position.
1. Update Your Resume with Relevant Skills
Your resume is the first point of contact with potential employers. Ensure it highlights your experience and any recent skills or trainings you've acquired.
While your extensive experience is valuable, also emphasize digital skills or recent courses that make you adept for remote work.
2. Network Digitally
Networking isn't restricted to in-person events. Platforms like LinkedIn can be invaluable.
Engage in discussions, join groups related to remote work or your field, and connect with past colleagues. Digital visibility can lead to unexpected opportunities.
3. Familiarize with Remote Work Tools
The remote work environment often uses tools like Zoom, Slack, and Trello. Gaining proficiency in these tools can give you an edge, showcasing that you're not only experienced but also adaptable to modern work environments.
4. Tailor Your Application
While it might be tempting to send out generic applications, taking time to tailor each one to the specific job can make a difference.
Highlight how your years of experience align with the job's requirements and how you can bring value to the position.
5. Showcase Willingness to Learn
Being open to learning new skills or methods can be a significant advantage. Employers value adaptability.
Highlighting any recent courses or a proactive approach to familiarizing with industry trends can position you as an eager and adaptable candidate.
6. Prepare for Digital Interviews
Many remote jobs conduct interviews through video calls. Ensure you're comfortable with the technology, have a professional background, good lighting, and a quiet space.
A successful digital interview showcases your adaptability to the remote work environment.
7. Highlight Soft Skills
While technical skills are crucial, soft skills like communication, collaboration, and time management are equally prized in remote roles.
Given your years of experience, emphasizing these can set you apart, showcasing your capability to thrive in both independent and team settings.
Conclusion
The flexibility of remote jobs ensures retirees can choose a pace suitable for them.
With a plethora of platforms available, their lifetime of experience and skills can be optimally utilized.
Furthermore, the digital realm offers retirees not just a means of income but also an opportunity to engage, learn, and contribute to diverse sectors from the comfort of their homes.
Engaging in remote work post-retirement can be an enriching experience, merging the wisdom of age with the opportunities of the digital age
Related Posts:
Earn Everything… nearly!
Join Ipsos iSay, one of the few Faithful and Honest survey panels and earn prizes, gift cards and donations. Stack your points and redeem them: Simple! No hidden fees and completely free!